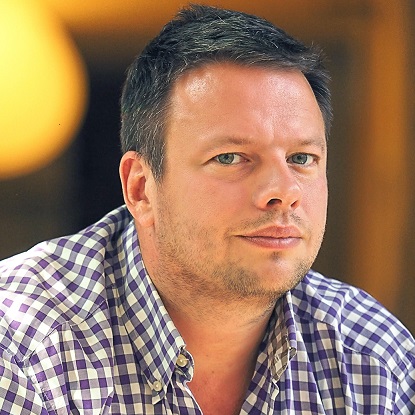 FoodPolice
Laszlo is an ad agency exec by day working for a multinational agency as CEO and a food writer by night. Born in Beijing, China, his parents state that he mastered eating with chopsticks at age 2, but that is the family legend. He then spent most of his childhood and school years in London getting to know great ethnic cuisine. Since then, he spends his time in Budapest and travels all over the world partly, on business, partly in search of food destinations.
Laszlo was one of the first bloggers in Hungary to write about restaurants and create reviews on FoodPolice and he still writes his popular blog today. He has been a contributor to Dining Guide top restaurant guide, as well as the Alexandra and Gault Millau guides, and he has written articles and interviews for Playboy magazine, featured as an expert judge in a local TV chef game show called The Millionaire Chef.
"Budapest has a very interesting and thriving food scene. Ten years ago, chefs were all trying to imitate French cooking using imported ingredients and the bistro dining level didn't exist. Now, after a revolution of sorts, Budapest has the most Michelin starred restaurants in Eastern Europe, as well as a bubbling bistro and street food scene. Chefs are constantly rediscovering long-lost ingredients, cooking with offal, and trying out seasonal vegetables and great fruit grown in the Hungary.
"It's great seeing all these amazing places popping up around the country. Budapest is already strong and now we see the same revolution taking place in major towns around the country. It also feels great being part of this revolution in some way."
You can follow Laszlo on Facebook and Instagram. To contact him, email laszlo.aczel@yr.com.
Foodpolice is one of the first foodblogs in Hungary since 2007. Since then hundreds of posts have been written on domestic and international restaurants around the world. FoodPolice aims to objectively rate and evaluate the performance of these dining institutions.
Visit Website
Contributed Reviews