SLC Food Radar
"I'm willing to wager at least 25 percent of my body is made of mac 'n' cheese and pizza," Hyrum Romrell boasts.
"Both my parents worked and I have six siblings, so pizza was a fallback choice in a lot of my childhood meals. Pizza also was associated with fun things in my childhood: school parties, roller-skating, baseball games, etc."
A relationship manager in investment banking in Salt Lake City, Hyrum says he's always been a huge fan of food and "finding awesome places to eat."
Born in Idaho Falls and raised in Ohio, he arrived in Salt Lake City in 1997 when he was called to serve as a missionary for the Church of Jesus Christ of Latter-day Saints.

"Missionaries are always hungry. I served all over the valley, and ate at many great places," Hyrum said.
He graduated with a degree in business management and stresses he's "not a literary major."
"I'm the type of guy who didn't do very well in English and did the bare minimum on papers. If the requirement was two pages, I would write one and a half, then increase the font size until it filled up two sheets."
After one too many work birthday celebrations in his early career life featured "gross, stale grocery store cupcakes with the 2-inch sugar frosting crap on top," Hyrum asked to be placed in charge of the workplace treats.
Once he demonstrated his knowledge of good, local restaurants, he also was charged with ordering the monthly work lunches.

In talking up a new place and describing how good the food was, a co-worker remarked that he sounded like a restaurant menu. Hyrum soon realized he enjoyed talking about and describing food so much that launching a blog was a natural next step.
"I am a firm believer that when you experience joy in life, your first reaction is to share that joy with others. That can be in the form of telling friends how great a movie is or how good a restaurant was. We are lucky to have blogging as a medium of spreading the joy of food with others."
Hyrum says he is constantly thinking about food and eats out a lot.
"There is something fun and exciting about finding a hole-in-the-wall or hidden gem of a restaurant, like I've just discovered something big. Ninety percent of my blog is dedicated to local restaurants that offer something unique. When I go on business trips, I never eat at chain restaurants because I like eating things that reflect something about that region."
He must be doing something right.

His blog, SLC Food Radar, a site for food lovers in Salt Lake City, is ranked the No. 1 food blog in Utah by Urbanspoon. It also has been featured on Salt Lake City's local NBC news affiliate and nominated for Best Blog by Salt Lake City Weekly.
His future plans include broadening his blog to include more regional recipes and video podcasts.
To contact Hyrum, email at buckeyespud@gmail.com.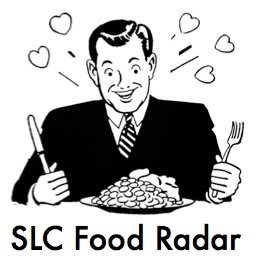 Food reviews of great places to eat in the Salt Lake City, Utah area.
Visit Website
Contributed Features
Contributed Reviews