10 Essential Pintxos in San Sebastián

Courtesy of Gabriella Ranelli
Casa Urola does everything well, but the chef has a particular genius for vegetables. The menestra is a restaurant dish, but it can be served at the bar as pintxo versions of whatever vegetable is in season.

Courtesy of Gabriella Ranelli
Crisp, salty and lashed with a garlic and parsley sauce, the pig's ear at Borda Berri will change your mind about offal and all the odd bits of animals. The chefs here cook the way your grandmother would have if she had been Basque

Courtesy of Gabriella Ranelli
Many bars have stuffed peppers, but Martinez has the best -- hands down. A wood-fired piquillo pepper is filled with albacore tuna (bonito del norte) mixed with homemade mayonnaise and a hint of tarragon. Ask for a fresh one instead of those on the bar and owner Jesus will make a quick vinaigrette to pour on top and soak up with the delicious bread once you've finished your pepper.

Courtesy of Gabriella Ranelli
Bar Antonio is all about product. The best anchovies in town are folded around a spicy house-charred Riojan pepper on freshly toasted bread. The perfect accompaniment to a glass of Txakoli.

Courtesy of Gabriella Ranelli
Maybe the best tortilla in Spain, this pintxos certainly is the best one in San Sebastián. Caramelized onion and soft potatoes are blended with a just slightly runny egg. No green peppers. But there's a catch. They only make one in the morning and one at night. The first one comes out at 1 p.m., so you should be there at 12:30 p.m. to put your name on the waiting list. The evening tortilla makes its debut at 8 p.m.

Courtesy of Gabriella Ranelli
Bergara is a classic spot in the Gros district, and the soft scrambled eggs filled with sweet peppers and savory fresh anchovies is a winner.

Courtesy of Gabriella Ranelli
For the best anchovies in town, try the "antxoas a la jardinera," white anchovies covered with a fresh onion, tomato and green pepper salsa; or the "antxoas con crema de centollo," anchovies with a spider crab cream.


Courtesy of Gabriella Ranelli
The grilled wild mushrooms with a one-step-from-raw egg yolk have deep rich flavors. Some are just slightly crisp on the edges and soft in the center with a judicious sprinkling of salt. There is almost nothing better, but you might want one of the mini croissants filled with ham while you wait.

Courtesy of Gabriella Ranelli
The twins who run this bar sauté ground beef with a light béchamel, stuff it into a wood-fired piquillo pepper, dip it in a light tempura batter and deep fry this satisfying and delicious dish.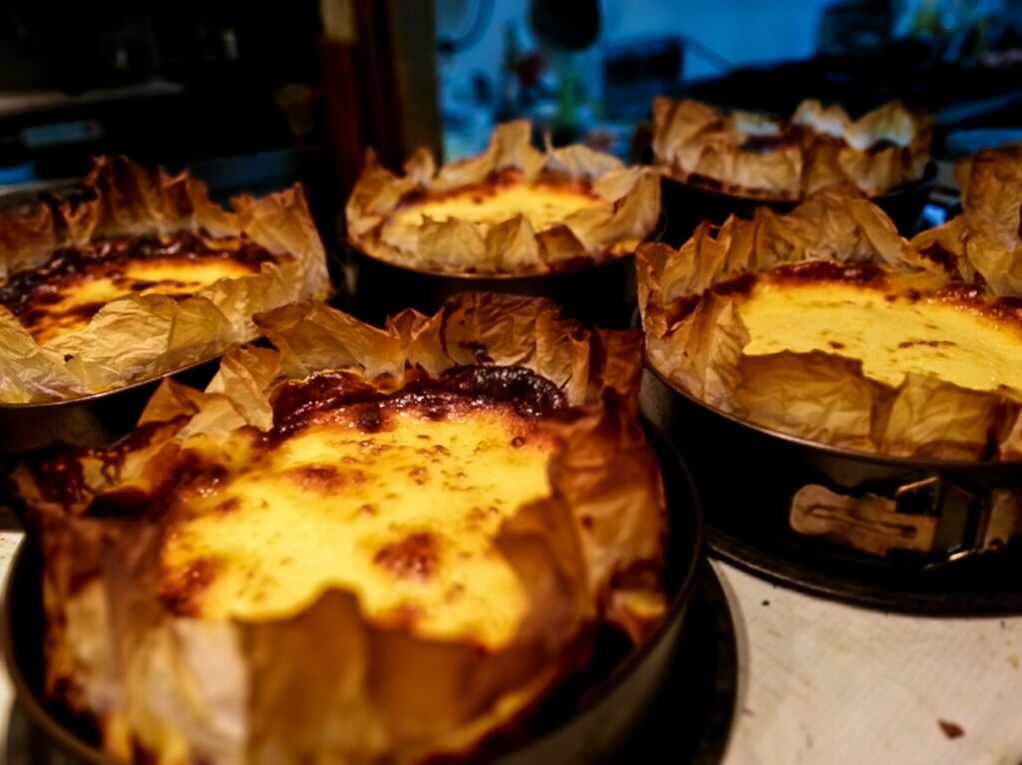 Courtesy of Gabriella Ranelli
The cheesecake at La Vina is a no-crust version baked in a springform pan and just slightly burned on top, which suits Basque tastes and yours, too. It is creamy smooth and the essence of what a good cheesecake should be.
Discover more
Meet the author