10 Essential Eats in San Juan
In order to understand Puerto Rico's cuisine, you have to delve into the Island's history. The Taíno Indians were the original inhabitants who ruled the verdant land and ate mostly a vegetarian diet including root vegetables and some fish. The Spanish arrived in 1493 and throughout the years introduced onions, garlic, cilantro and coffee (coffee is native to Africa). The African slaves introduced plantains, coconuts, mangos and the method of frying. In 1898, Spain lost the Spanish-American War and based on the Treaty of Paris, gave up control of the Island to the United States. American foods and customs were combined with Puerto Rican traditions and it was the beginning of a new era of Puerto Rican gastronomy. Lard was replaced by corn oil, cheese flan was born by adding American cream cheese and bacon was introduced.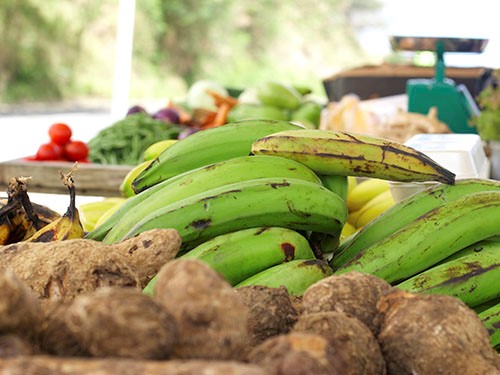 Puerto Rican cuisine is a unique blend of Spanish, African, Taíno and American influences, using such indigenous seasonings and ingredients as coriander, papaya and cacao. / Courtesy of www.topuertorico.org

Today, the new generation of chefs that have lived and traveled abroad are fusing international ingredients, experimenting with more complex cooking styles and working with local farmers to create fresh, light and sophisticated dishes. So Puerto Rican cuisine is in essence, a blend of a variety of cultures and modern influences, making it one of the richest in the world. There are so many incredible dishes to try on the Island but we've rounded our top 10 in the Island's capital of San Juan.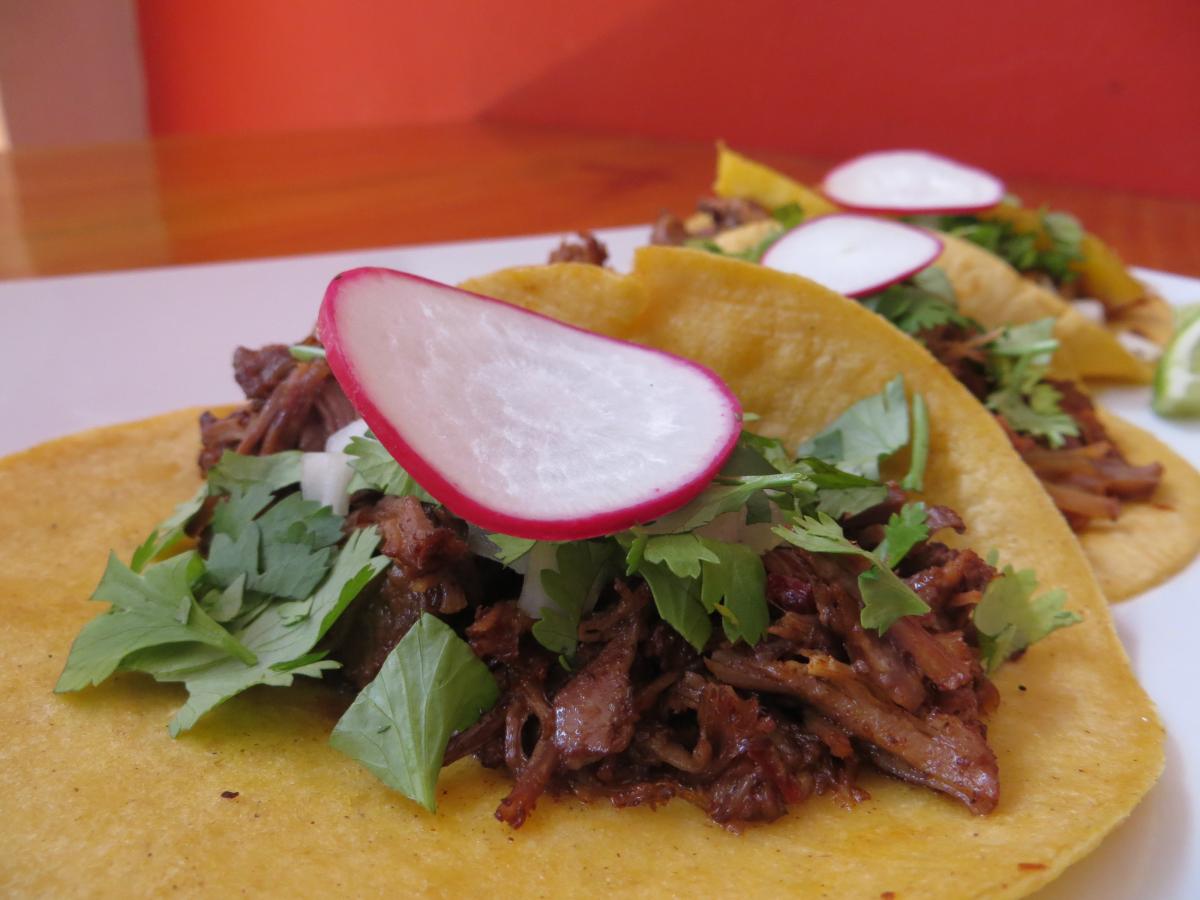 Tacos at Acapulco Taqueria Mexicana. / Courtesy of spoonfoodtours.com

You won't find yellow cheese or iceberg lettuce at this authentic taquería, tucked away off Calle Loíza. This quaint, family-run restaurant offers a choice selection of tacos. The favorite is al pastor, carved from the spinning rotisserie in the restaurant's open-kitchen. Cochinita pibil (spicy Yucatecan pork), barbacoa and even tongue are irresistible as well. There's a veggie option and fish tacos are served on Wednesday. The tacos are made to order and each filling is topped with a selection of cilantro, radish, pineapple and pickled onions.
Pair your dish with an agua fresca, made fresh daily. The watermelon, lime and basil is superb, up second is Jamaica. Get there early: the place is small and gets packed. Once the fresh tacos run out, they close.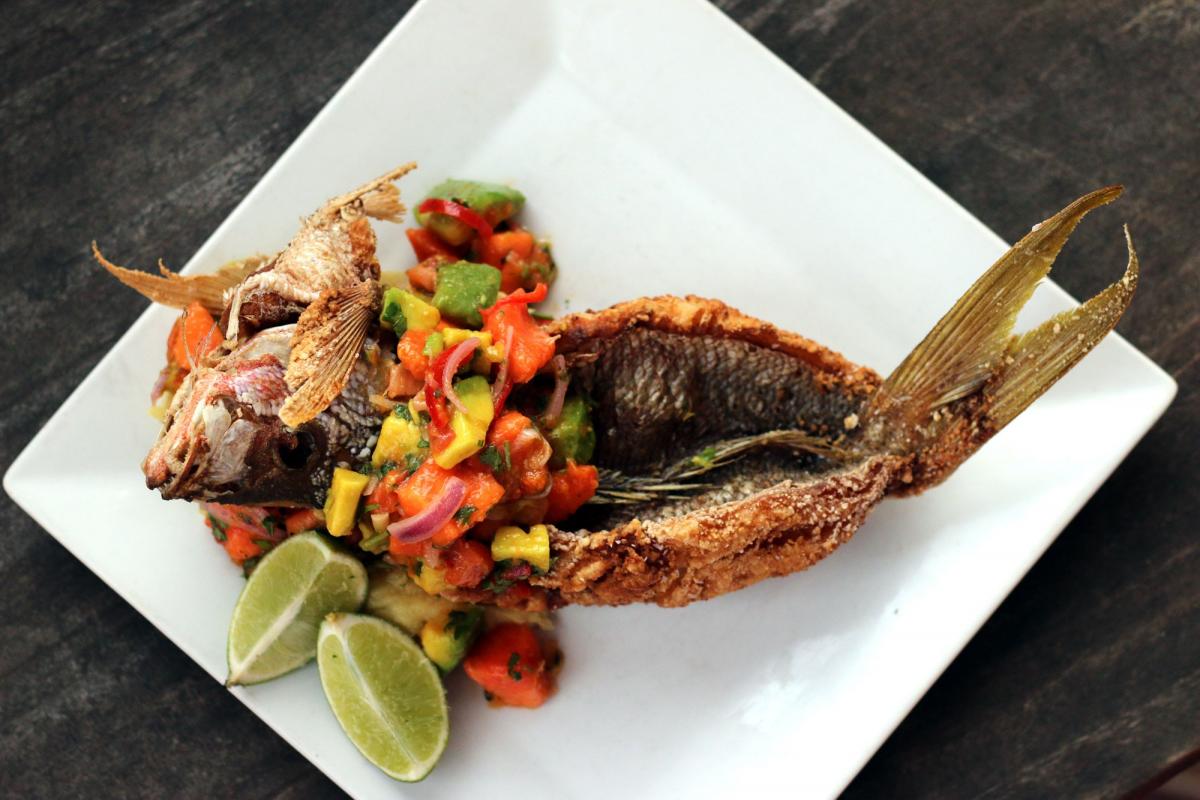 Snapper with mashed tubers and Papaya Mojo at Jose Enrique. / Courtesy of Gustavo Antonetti (spoonfoodtours.com)

The line at Jose Enrique is well worth the wait for the fried snapper with root vegetable mash and papaya salad. Fresh fish is always perfectly fried, crispy on the outside, warm, tender and moist within. The fish is frequently deboned and served whole, allowing you to pick at the cheek (best part!) and if you love the eyeball, go for it!
The fish is laid on a sweet and creamy mash made from batata amarilla. Root vegetables are a common side dish in Puerto Rican households. But the best and rarest is the yellow batata. It is slightly sweet, making it the perfect accompaniment for the savory fish. The papaya and avocado side is light and fresh, tossed with lime, cilantro, red onion and tomato. People have waited over two hours in line to get a taste of this incredible dish. Put your name and cell phone number on the list and then walk around La Placita, the local square surrounded by bars and restaurants. Pssttt … you can drink on the street.

Korean Fried Chicken at Gallo Negro. / Courtesy of Gustavo Antonetti (spoonfoodtours.com)

The menu at this eclectic, Brooklyn-esque restaurant is always changing and includes a mélange of cuisines from around the world. But there is one dish that has remained on the menu: Chef Maria Mercedes' Korean Fried Chicken. It is, hands-down, amongst the best fried chicken you will ever have.
The process takes two days and begins with air-drying the chicken overnight to achieve that perfect crispiness. Instead of flour, which dries out the meat, Chef María uses her secret tempura batter to seal in the moisture. (Her special ingredient is vodka). The chicken is twice fried and covered in a delicious gochujang sauce, a paste made from chile peppers, sticky rice, fermented soybeans and salt. Each bite is a burst of umami. It's sweet, salty, spicy, tangy and oh so crispy.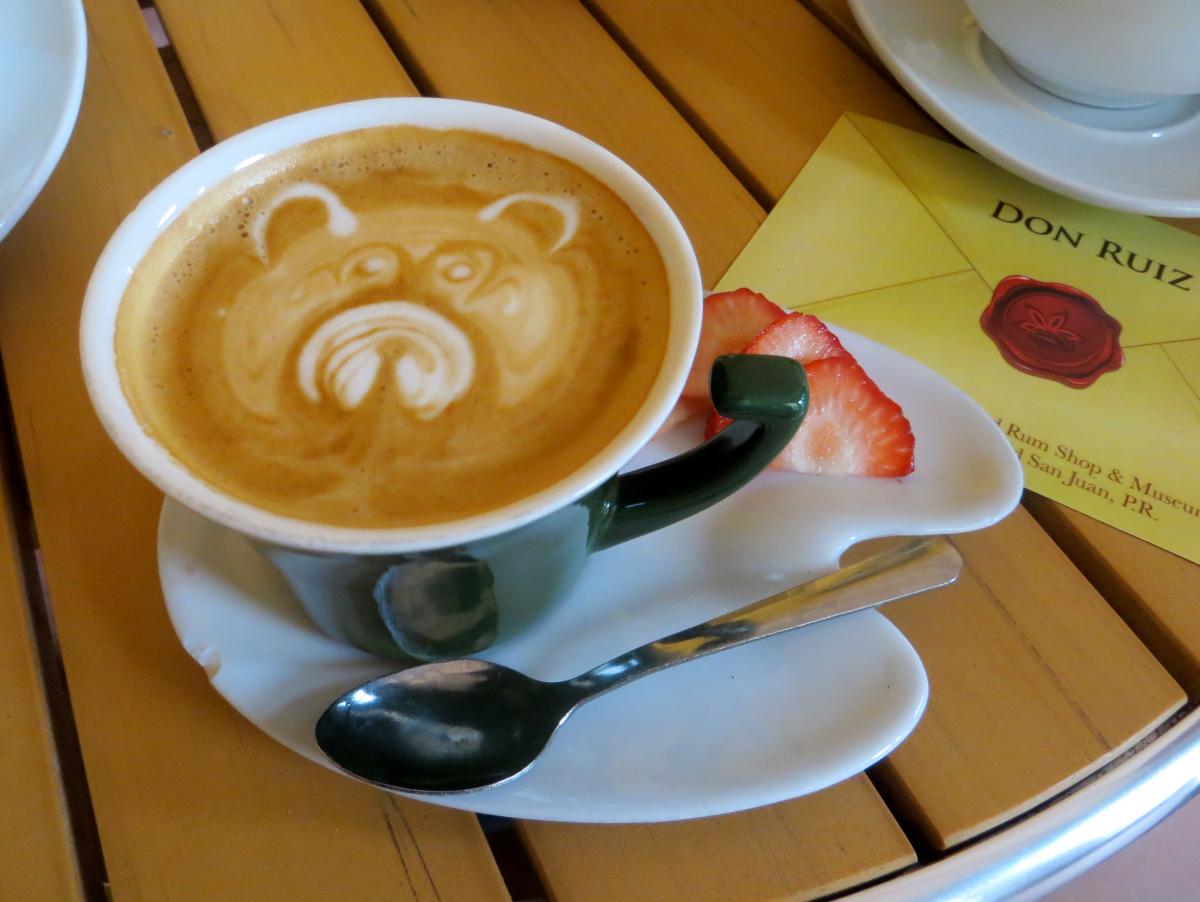 The latte art is as beautiful as the Café Latte is delicious at Café Don Ruiz. / Courtesy of spoonfoodtours.com.

Puerto Rico is known to produce some of the best specialty coffee in the world. So when in PR, a café latte is a must! If you don't like coffee, chances are you've been drinking a burnt, low-quality, watery beverage that tastes nothing like the killer latté from Café Don Ruiz.
The latté served at the shop is made from 100 percent Arabica beans that are grown 3,000 feet above sea level in Yauco, a mountain town in the southwest of the island. Their specialty, a medium-dark blend, has chocolate as well as citrus notes from the variety of orange trees on the plantation. The sugars in the vaporized milk give the coffee an ultra-smooth finish. The latté art is amazing: You might find a bear or a butterfly in your cup.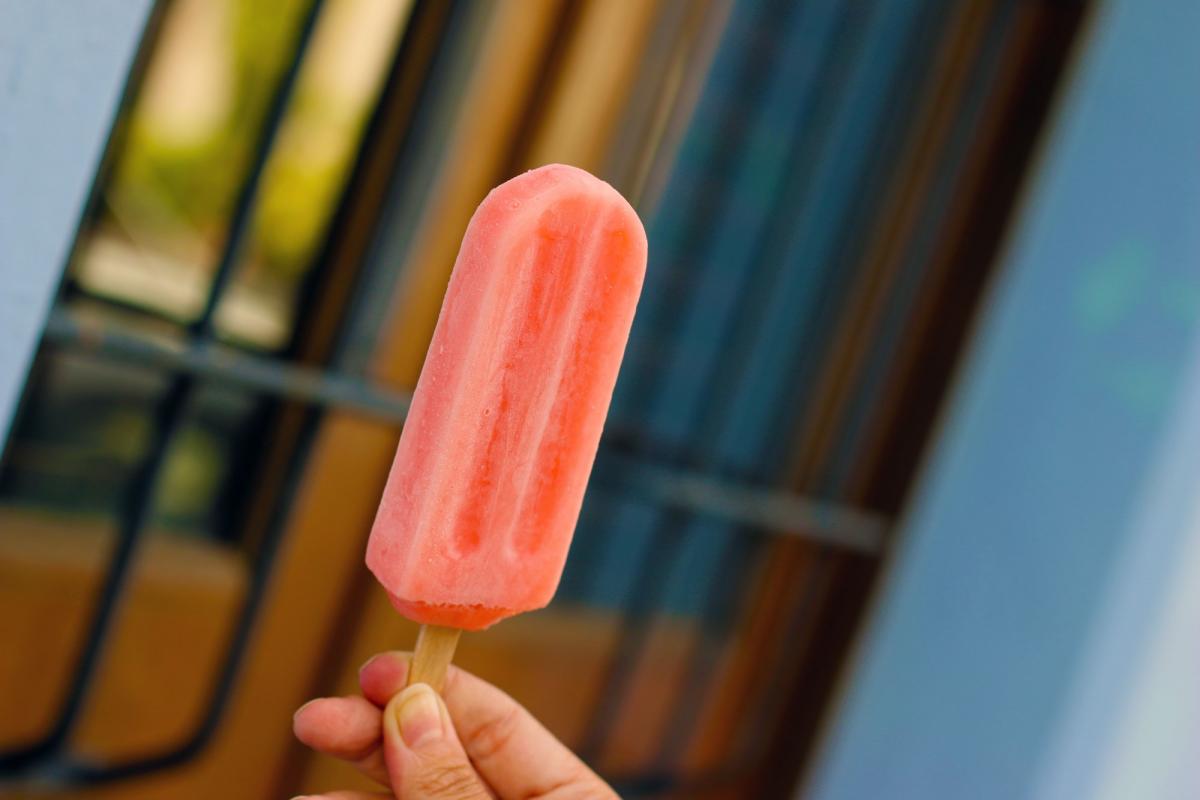 Beat the Puerto Rican heat with a cool paleta at Senor Paleta. / Courtesy of Gustavo Antonetti (spoonfoodtours.com)

You've toured the forts and taken selfies against the colorful homes of Old San Juan and now you are exhausted and hot! Well then, it's time for a refreshing paleta. Kudos to owner Ramon Ortiz who brought this great concept to Puerto Rico. He started selling his homemade popsicles at farmer's markets out the back of a tricycle. People loved it so much, he opened his first shop in Old San Juan. The paletas have become quite the rage, so be prepared for a short wait. Choose from such flavors as mango, watermelon, coconut, strawberry and mojito. All are homemade with lots of love and natural ingredients.

Local blood sausage is served with a spicy mayonnaise at Santaella. / Courtesy of Gustavo Antonetti (spoonfoodtours.com)

La Placita de Santurce is the ultimate locals' hangout. You can drink on the street and hop from bar to bar sipping whiskey with coconut water and Don Q rum with a fresh-squeezed juice. Near the main entrance on Canals Street is Santaella; it's an oasis at La Placita. With exposed walls, super cool ceiling fixtures and tropical wallpaper, this is one of the "it" places in San Juan. Everything is always on point and locals flock here nightly.
The Puerto Rican menu includes classic and contemporary dishes. One that stands out are Jose's morcilla rolls. Blood sausage is a Puerto Rican tradition, especially during the holidays, and the island has mastered the art of making it. These fried, bite-size beauties are delicious and paired with a spicy mayo made from house-made hot sauce. Don't leave without trying a creative cocktail. If pulpo (octopus) happens to be on the menu, make sure to order it as well.

La Casita Blanca. Courtesy of Gustavo Antonetti (spoonfoodtours.com)

Casita Blanca, which opened in the '80s, is in the heart of Santurce, a working-class neighborhood. It is a classic fonda (casual, neighborhood restaurant) serving Puerto Rican comfort food. Portions are large and dishes are very affordable. Tell your taxi driver you are going to La Casita Blanca and he'll know exactly where it is.
As soon as you step into La Casita Blanca, you are transported in time to grandma's house. The staff treats you like you are part of the family; you are brought chicken soup and bacalaitos (cod fish fritters) on the house as soon as you sit down. Then it's on to the main dish, patitas de cerdo. First boiled in salt for three hours, then stewed with garbanzo beans and sofrito, this is the essence of Puerto Rican cuisine. Every family has their own recipe of sofrito, but the base ingredients include cilantro, garlic, onions, ají dulce (small, sweet peppers) and a bit of tomato paste or sauce. Throw in some white rice, mix it up and devour. To get all the flavor from the patitas, don't be shy; eat them with your hands. If you refuse, you'll be missing out.

For the ultimate deep-fried treat, order alcapurrias at La Alcapurria Quema. / Courtesy of Gustavo Antonetti (spoonfoodtours.com)
Although many chefs on the Island work with fresh ingredients from local farmers, fried foods still reign supreme. Alcapurrias are perhaps one of the favorites. To try one of these fried goodies, head to La Placita and visit La Alcapurría Quemá. This small neighborhood bar has recently gotten somewhat of a revamp. You can now order a killer Old-fashioned and pair it with your alcapurría. Banana leaves or sea grapes are used to shape the dough. Then it is stuffed with beef that's been seasoned with, you guessed it, sofrito, and deep-fried. To give the dough that reddish color, achiote oil is added to the batter. Top it with mayo/ketchup and a dash of homemade pique (hot sauce) and voila!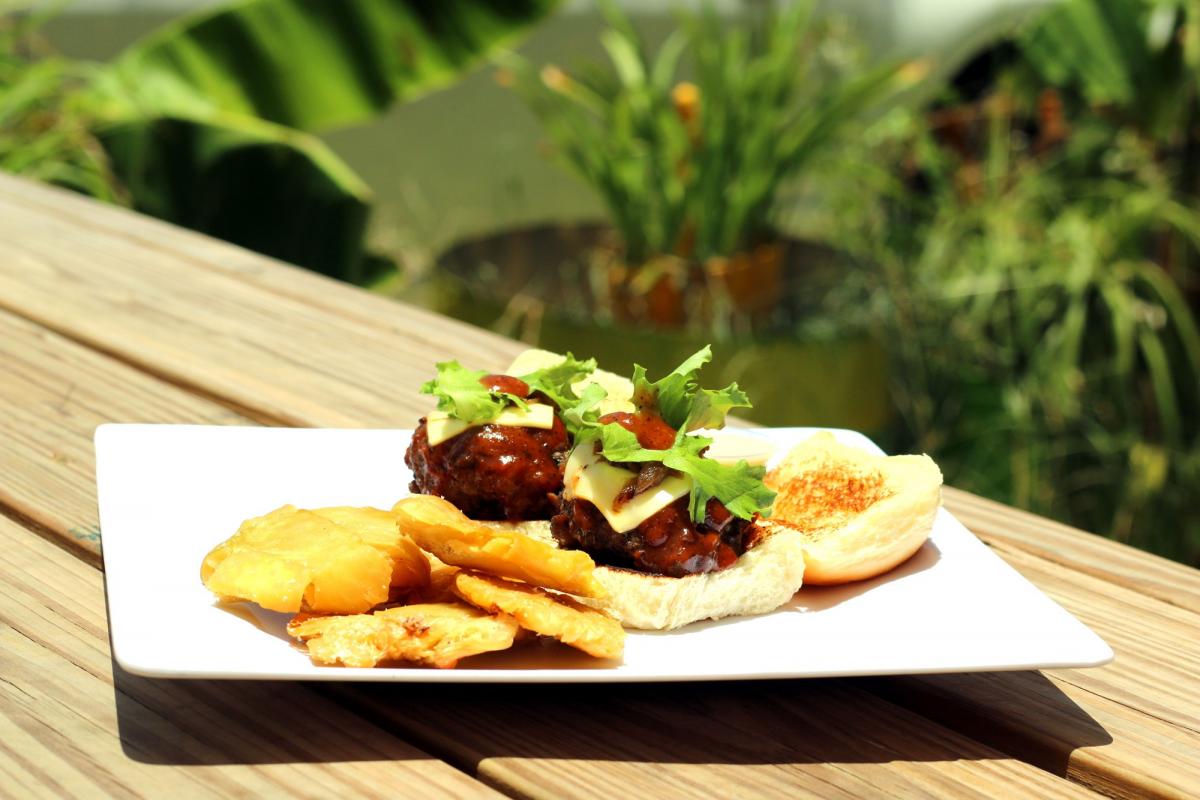 At Café Tresbe, beef sliders are topped with a tamarind, coffee and BBQ sauce. / Courtesy of Gustavo Antonetti (spoonfoodtours.com)

Steps from Condado and Ocean Park, La Calle Loíza has become a booming gastro hub. Before American mega-companies put mom-and-pop stores out of business, Calle Loíza was a thriving center of commerce. The street went through a period of decline, but chefs and restauranteurs have recently started opening businesses here. You'll find Peruvian food, a juice bar, cocktail bars, food trucks, vegetarian options, seafood restaurants, pizza shops, vintage stores, bakeries and more.

Housed in a shipping container, Café Tresbe boasts a state-of-the-art kitchen. / Courtesy of spoonfoodtours.com
Walking down Calle Loíza, it's hard to miss the neon-yellow shipping container with a state-of-the-art kitchen. Owned by Chef Mario Ormaza, who worked with Jean-Georges in New York City and helped open such places as Spice Market, Tresbé is a casual, kickback kind of place. Tresbé stands for "bueno, bonito, barato," a local saying that stands for good, pretty and affordable.
The beef sliders are a hit. They're served on sweet Hawaiian buns, topped with a tamarind, coffee and BBQ sauce and local micro greens. Tostones, made traditionally from green plantain, can also be made from pana (breadfruit): be sure to try them if pana is in season. Crispy on the outside and soft within, they make the perfect side.

Mofongo with chicken and a Caribbean Creole sauce at Café Puerto Rico. / Courtesy of Gustavo Antonetti (spoonfoodtours.com)
A simple Google search of Puerto Rican food will more than likely yield mofongo as a result. Traditionally made from fried green plantains, this dish can be found throughout the Island. The green plantain is fried, then mashed in a pilón with garlic and, traditionally, pork cracklings. Olive oil or butter is added and the whole can be eaten as a side or as a meal when stuffed with a protein. At Café Puerto Rico, a 20-year-old establishment in Old San Juan, the mofongo is made with fried yucca root stuffed with chicken in a Caribbean Creole sauce. Yucca is a lot creamier than plantain. The chicken is stewed in the tomato-based creole sauce with lots of onions, peppers and more garlic.
More about San Juan's essential eats
Meet the author