Extremefoodies curator creates #CookForSyria
By ExtremeFoodies on September 26th, 2016
A month long celebration of Syrian cuisine is under way to help relieve the largest humanitarian crisis of our time.
Restaurateurs, chefs, bakers and café owners across the UK are taking part in #CookForSyria by putting a "Syrian-inspired twist" on one of their favorite signature dishes or creating a new dish, then donating £2 from each sale to UNICEF UK's Children of Syria Fund.
A nationwide fundraising initiative, #CookForSyria was created by influential Instagrammer and curator of London's Essential Eats Clerkenwell Boy in collaboration with SUITCASE magazine and NEXTGen London, UNICEF UK's young professional movement.
The campaign also encourages home cooks to create Syrian dishes to fund this important cause.
An all-star cast of restaurants, chefs, sommeliers, public relations agencies, suppliers and food writers helped raise more than £50k in aid during the #CookForSyria charity dinner, hosted by The Store Kitchen on Monday, Oct. 31, at 180 The Strand.
During the event, top chefs Angela Hartnett, Fergus Henderson, José Pizarro, Nuno Mendes, Sami Tamimi, Yotam Ottolenghi and more served their signature dishes with a Syrian twist.
Watch Chef José Pizarro making his #CookForSyria dish of Marinated Lamb, Pistou, and hummus below
Watch Jeremy Lee, chef patron of London's Quo Vadis, below as he shares with you his #CookForSyria dish
Watch Ben Tish, chef director of London's Salt Yard Group, below as he shares with you his #CookForSyria dish: Honey and Potato Flatbread with twice-cooked Syrian spiced lamb, buttermilk dressing and fresh herbs
Watch Selin Kiazim, head chef and co-owner of Oklava in Shoreditch, below as she shares with you her #CookForSyria dish
Watch Nieves Barragan Mohacho, the Executive Head Chef of Barrafina, as she shares with you her #CookForSyria dish of Grilled Quail with Green Harissa, Pomegranate and Date Sauce at Barrafina's three locations dish
Special recipes from the event will be shared online, along with additional Syrian-inspired recipes from award-winning chefs, bakers and cookbook authors. To preorder the #CookForSyria Recipe Book, available Dec. 1, go to www.cookforsyria.com.
Campaign participants also include Amelia Freer, a "functional nutrition" practitioner and author of "Eat. Nourish. Glow"; cook, stylist and writer Anna Jones; British chef and TV personality Gizzi Erskine; Hemsley + Hemsley, hosts of "Eating Well With Hemsley + Hemsley"; Izy Hossack, author of "Top with Cinnamon"; award-winning columnist and author Jack Monroe; baker and cake designer Lily Vanilli; and Oliver Rowe, chef and author of "Food for All Seasons." They joined the campaign to encourage people to host their own #CookForSyria supper clubs and charity bakes (with top tips from supper club duo Jackson & Levine).
The campaign raises funds to help children caught in the ongoing conflict in Syria. The lives of more than 8 million children have been turned upside down by the brutal conflict. Many lost family, friends and schools and were forced to flee their homes with nothing but the clothes on their backs. These children face a bitter winter in refugee camps or on perilous journeys in search of safety. Without warm winter supplies, they will struggle to survive.
UNICEF is among the few humanitarian organizations working inside Syria, as well as helping Syrian child refugees in Jordan, Lebanon, Iraq, Turkey, Egypt and Europe. UNICEF is providing these children with food, clean water and vaccines, education and protection from violence and abuse.
Event organizers hope the initiative will spread globally.
"Through the #CookForSyria campaign, we will not only be able to raise significant and much-needed money for UNICEF UK's Children of Syria Fund, but we will also increase awareness of the plight of children in the war–torn country," Clerkenwell Boy said. "Through cooking, sharing recipes and the power of social media, we invite everyone to help make a difference and positive contribution toward this important initiative."
---
Restaurants and food partners committed to the November campaign include:
- Caravan
- Carousel
- Spring
- The Dairy Group (Counter Culture, The Dairy, The Manor and Paradise Garage)
- Yosma
Other campaign events include:
Nov. 26-27: A one-off Syrian inspired breakfast designed by Instagram sensation Symmetry Breakfast in collaboration with The Good Egg.
Nov. 26: A special one-night-only kebab feast in East London by Honest Burgers is sold out.
Jamie Oliver's Fifteen restaurant will host a special charity supper club, where the restaurant's graduates will cook alongside Syrian chefs.
Nov. 27: A Syrian-inspired brunch at Arabica Bar & Kitchen
Syrian cuisine, one of the oldest in the world, reflects the country's rich cultural heritage with influences from across the Middle East and beyond.
"I feel incredibly honored to be invited to participate in this charity dinner," said restaurant owner and chef Nuno Mendes. "We strongly believe in the cause, and it is always an interesting challenge as a chef to pull yourself out of your comfort zone and create something under a new set of parameters. We hopefully have come up with an awesome dish that represents the flavors of Syria, but is also in line with our cuisine at Firehouse."
For more information, visit NextGen London or Unicef.
---
Meet our contributors in this mission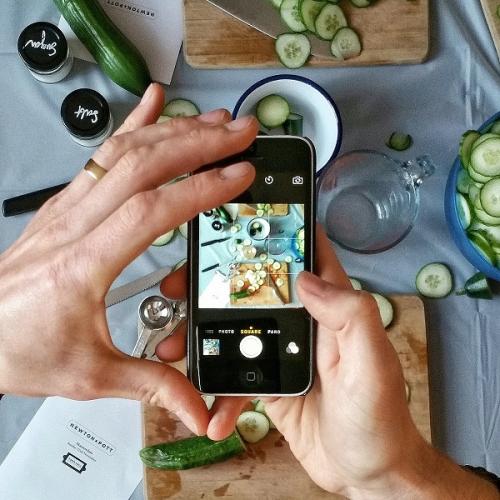 Clerkenwell Boy is an anonymous Instagrammer whose passion for sharing food and travel pictures through social media has seen him listed as one of "London's most influential people."...Read More
---
Download the ExtremeFoodies app for the Essential Eats wherever you are on the planet: ExtremeFoodies
For more fantastic foodie content, connect with ExtremeFoodies across social media: