The Essential Guide to Buenos Aires' Best Empanadas

Contents
Allie Lazar is a freelance eater based out of Buenos Aires, Argentina. An ex-vegetarian born and raised in Chicago, she was lured by the carnivorous spell of the chorizo sausage in 2006 and never turned back. She has managed to channel her unhealthy obsession for all things culinary into something a bit more socially acceptable: writing about food, wine and travel. She is also known for her master utensil-using skills, covering the Buenos Aires gastronomy scene on her food blog (and television show coming soon!), Pick Up The Fork.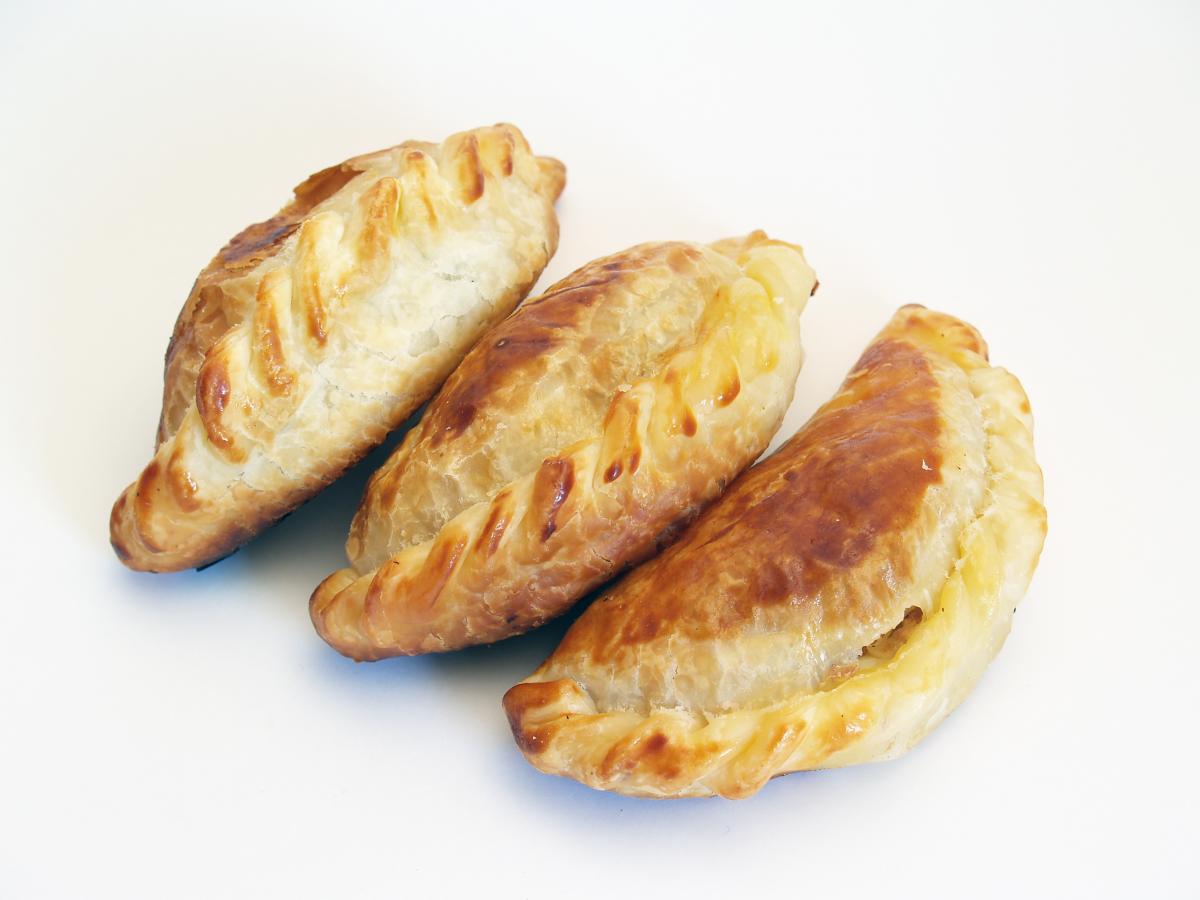 Argentina is all about the empanada. You won't walk a block in Buenos Aires without encountering some sort of establishment that sells the city's most beloved go-to snack. The empanada can be prepared in endless ways, stuffed with numerous fillings, representing almost every region of Argentina. Some choose to define it as a personalized mini savory pie; others a flakey turnover. But I like to see the coveted snack as a handheld pocket of pure empanada love.
So, what exactly is an empanada? The word empanada comes from the verb empanar, and can be literally translated to mean to be covered (or wrapped) in bread. Basically an empanada consists of dough or puff pastry rolled thin in a circular form, stuffed with a filling (most often meat or cheese), and meticulously folded in a repulgue formation before it is baked or fried. While the empanada phenomenon appears in many versions across Latin America, the concept is seen in food cultures around the world.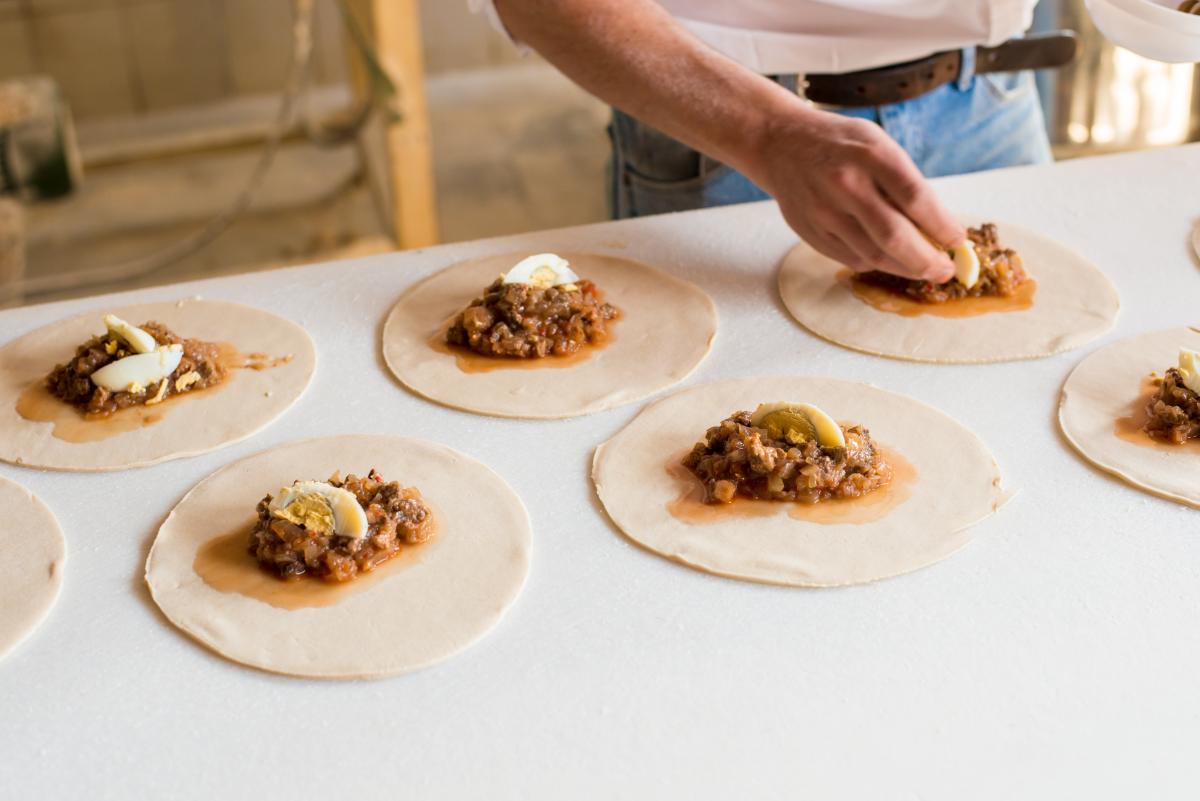 Empanadas can be traced to Spanish and Portuguese origins, first appearing in Goa and medieval Iberia during the Moorish invasions, where it was believed to be a dish influenced by the Indian samosa. Cookbooks as early as 1520 show reports of the empanada, where it was dough filled with seafood. In Galicia and Portugal, the empanada was prepared in a larger pie-like portion, filled with tuna, sardines or chorizo with tomato, garlic and onion, and portioned individually for workers to eat as a hearty midday meal. Then, as the Portuguese began to colonize Brazil, the empanada craze began spreading across Hispanic America, becoming a deeply engrained part of the Latin American food culture. The rest, as they say, is empanada history.
Every region (province) has a different take on how the empanada is made. The empanada salteña (different from the Bolivian salteña), hails from Salta in the north of Argentina, and is probably the most nationally beloved version. It is generally smaller in size, baked in a clay oven and filled with beef, potatoes and onion. It is served with a spicy tomato sauce on the side. Its sister flavor, a vegetarian version, is stuffed with onions and quesillo, a cheese similar to queso fresco.
Empanadas tucumanas, which come from Tucuman, are packed with beef, hardboiled egg and onion, while empanadas jujeñas from Jujuy are similar but contain peas, olives and raisins. In Buenos Aires, standard porteño flavors are cheese and onion; ham and cheese; caprese with tomato, basil and mozzarella; humita (sweet corn); spinach or Swiss chard in béchamel sauce; and the coveted carne picada (ground beef) or carne cortada al cuchillo (chopped beef).
There's an art form to making the empanada. The masa (dough) consists of a simple blend of lard or butter (or both), wheat flour, salt and water. It is then stuffed with the filling before it is shaped and methodically sealed (called the repulgue). Each type of empanada usually has a characteristic fold, which is a way to distinguish the empanada flavors. Then, the empanada can be baked or fried. While most empanadas are baked in a conventional oven or fried in a deep fryer, some regions of Argentina still bake empanadas in a clay oven and fry in a large disco, a deep cast iron pan over an open flame.
To distinguish the exceptional from the mediocre, we scoured food shacks, steakhouses, holes-in-the-wall and corner cafés for the dreamiest three-bite meat or cheese filled doughy wonder. Come along on this exhilarating virtual empanada journey to find out exactly what empanadas in Buenos Aires are all about.
Empanadas de Ossobuco at El Perón Perón was awarded the Best Modern Empanada in Buenos Aires during the ExtremeFoodies Latin American Awards announced on 22 September 2015 in Mexico City.

Courtesy of Perón Perón Resto Bar
It's not often you hear about an empanada that develops a crazy cult following. This sit-down restaurant, which honors Argentina's beloved political figures Juan and Evita Peron, might seem like an unassuming spot for making one of the best empanadas in the city. But Peron Peron's version has managed to cause somewhat of an unhealthy addiction in its fanatics. These empanadas are stuffed with braised ossobuco and then deep-fried.
Empanadas Salteña at Feria de Mataderos was awarded the Best Traditional Empanada in Buenos Aires during the ExtremeFoodies Latin American Awards announced on 22 September 2015 in Mexico City.
Head to just about any plaza or park on a Sunday, and there will most likely be a fair or festival happening. Head to the Feria de Mataderos on a Sunday, and you're in for the ultimate Buenos Aires street food fest and artisan craft fair. It's known as the gaucho fair (Argentine cowboy), where locals gather to partake in folklore singing, dancing and eating regional food. But I go straight to the empanada action on the outskirts of the fair, and to a women perched in front of a cast iron pan over an open flame on the street, frying hundreds of the most perfect beef empanadas I ever tasted.
If you don't know the exact address, you probably won't find this gritty hole-in-the-wall that specializes in regional food from northern Argentina. With only about 10 tables (ridiculously close together), this spot fills up for lunch and dinner with locals munching on empanadas by the dozens. It's impossible to eat less than three of the empanadas salteñas, made with perfectly flakey dough and baked in the oven.
This empanada dive in Recoleta seems to be always packed with old Argentine men getting down with wonderful baked empanadas from Catamarca. The signature empanada is the one to go home with: the Pikachu, loaded with cheese, onions and a mild spicy sauce.
Spice + dough + lamb + deep fry could only have one magnificent outcome. If it was legal to marry an empanada, I'd like to have a civil union with El Banco Rojo's lamb beauty. It's rare to find spicy food in Argentina, since the local palate is quite sensitive. So when I found this ultra-picante version, it was love at first taste. Spicy ground lamb meat is stuffed inside an empanada wrapper and deep-fried until golden brown.
La Fachada is an empanada shop, mostly on demand for delivery, with one of the largest selections of empanada flavors in the city. It is known for both the traditional and open-faced baked styles.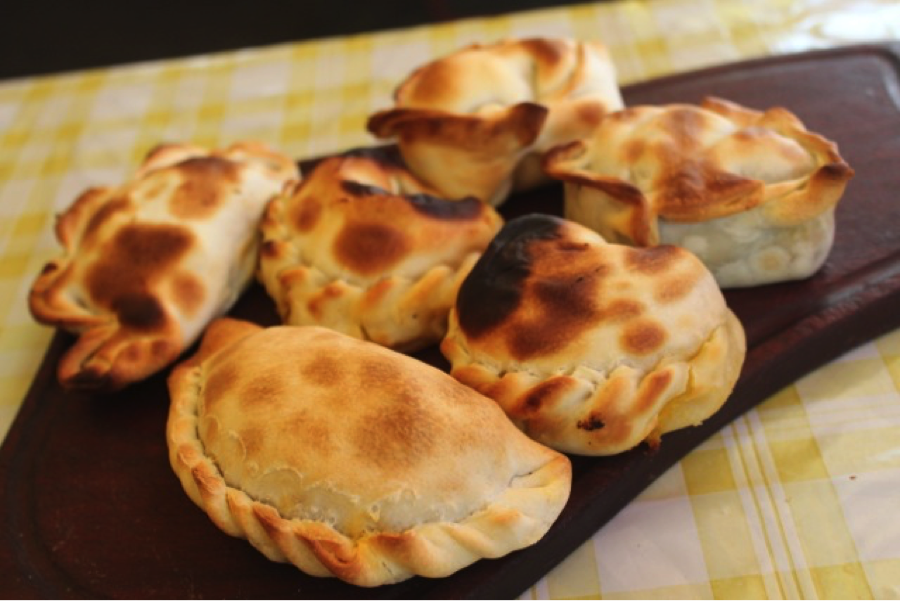 On a quiet corner in Palermo, El Nono Amigo brings a bit of a twist on the classic empanada shop. While this almacén and deli is known for its artisanal beer, sandwiches and charcuterie platters, it also does an interesting take on the empanada with unconventional flavors like humita (sweet corn), pickled eggplant, and my personal favorite, marinated artichoke. Pair it with a Campari, Cynar or Fernet aperitif, and you have a winning combination.
Take a beautiful piece of perfectly smoked brisket, pack it inside an empanada, seal it shut and deep fry that bad boy. Expat Larry Rogers pays tribute to his beloved Texas barbecue and his adopted country with this miraculous American-Argentine fusion empanada. It's pretty much a bite of absolute genius.
Pekin Bar - Chopped Lamb Empanadas

Courtesy of pickupthefork.com
I once wrote a love letter to Pekin's lamb empanada, which has saved me on numerous drunken occasions in the need for 4 a.m. Palermo munchies. Here's an excerpt, since you don't need to know much more than that: "I took a bite and my jaw locked, teeth began to sweat, stomach gasmed with delight — big chunks, perfectly seasoned, braised for what seemed to be for days in a flavorful cumin, onion and spice-infused mix, and served in an open-faced triangle — so I could subtly peek at your overwhelming sex appeal. From that day forward, I knew we were meant to be."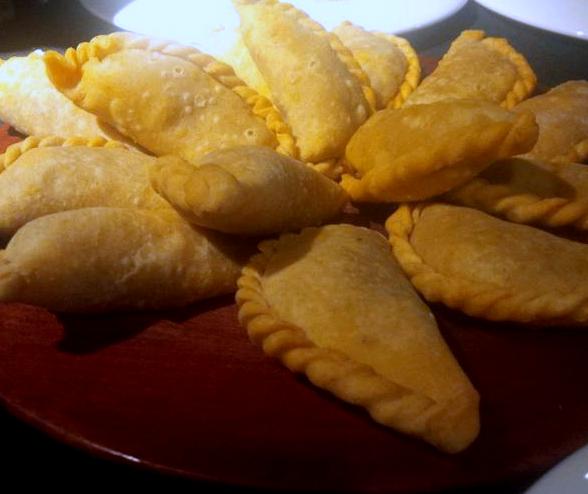 Adventurous eaters looking to really see what Argentine cooking is all about should put El Baqueano on the top of their list. Chef Fernando Rivarola's restaurant, which represents Argentina on Latin America's 50 Best Restaurant list, has traveled across the country to source local meats that aren't commonly seen on menus. His take on the empanada is stuffed with yacaré, a reptile in the alligator family.
Dine in, pick up to go or order by the dozens to be delivered right to your door. I'm all about the Tambo. Seven types of cheese, including a hint of blue cheese, are packed into this tucumanas-style empanada that has caused serious addictions in the Alto Palermo barrio.
This family-run Belgrano empanada joint specializes in Bolivian empanadas, larger in size with a thicker, sweeter crust, and packed with a stew-like filling. La Paceña is one of the only spots where the empanada actually packs some heat. Try the spicy beef or the al-to-ke, filled with albahaca (basil), tomato and queso (cheese).
This Palermo barrio favorite has pleased clientele with their Bolivian-style empanadas for more than 20 years. Try the Puka-kapa, filled with onion, cheese and Bolivian crushed peppers, or the spicy chopped steak, which swims in a delicious meaty sauce.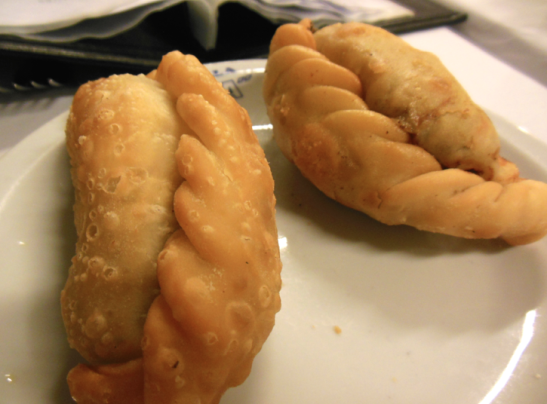 Courtesy of magaliviajante.com
Far from the city's overly trendy restaurants, Parrilla Peña remains one of the last standing authentic bodegones in Buenos Aires. It's not a place to be seen, nor should you go if you are looking for a chic atmosphere. It's a steakhouse for meat lovers who want to be transported back to the good ole days with waiters decked out in classic crisp white shirts and dapper bow ties. When you arrive, you'll be served an empanada that dreams are made of — flavored beef stuffed inside perfectly fried dough.
El Federal - Humita Dulce Empanadas

Courtesy of glamout.com
El Federal's kitchen travels virtually across the country to cook regional Argentine specialties. Chef Paula Comparatore does empanadas right, especially the humita, which shares the same name as the popular northern corn dish. The beautiful empanadas are stuffed with sweet corn and spices, then baked until golden brown.
Meet the author