The World's Essential Eats 2014
By ExtremeFoodies on April 28th, 2014
ExtremeFoodies, formerly known as Chowzter, showcases the top places to eat local food in more than 275 travel destinations around the world. ExtremeFoodies honored the Tastiest Fast Feasts on Earth on April 27, 2014, in London.
Local food experts and press, along with ExtremeFoodies's all-star lineup of the world's finest culinary writers, gathered for the awards ceremony at L'Anima Café in Shoreditch. It was a standing-room-only crowd for ExtremeFoodies's countdown of the 60 tastiest items on Earth and the top nominees in the categories of pizza, seafood, vegetarian, noodles, sandwich, rice and pastry – capped by the tastiest items of all.
The No.1 dish for 2014 is…
Javier Wong, chef/owner of Chez Wong in Lima, is recognized as a master of ceviche. He buys the best Pacific sole, breaks it down at a table at the head of the dining room and dices it, mixing it at the table with just the right amount of salt and lime, octopus or squid. Unbelievably simple, no one does it better.
ExtremeFoodies's Tastiest Item on Earth for 2014 was nominated by Nicholas Gill, founder of nicholas-gill.com.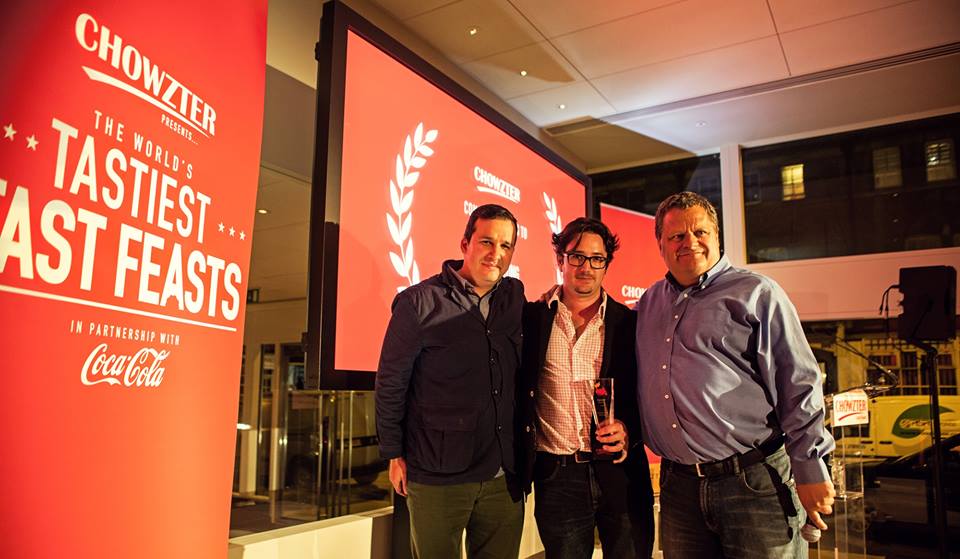 From left, Martin Morales, owner of Andina and Ceviche, London; Nicholas Gill, Food Expert for Lima; and Jeffrey Merrihue, ExtremeFoodies chairman.
Category winners were nominated by ExtremeFoodies's international collection of food experts, who provide timely tips to foodies around the world on where to get delectable fast feasts of the highest quality at a good price, anytime and anywhere.
The other winners are :
Watching Domenico DeMarco make pie is like watching an artist create his masterpiece. Every piece of dough is a blank canvas and his square, red pie with hand-cut pepperoni, fresh and aged mozzarella, grana padano, fresh cut basil and a splash of extra virgin olive oil is a New York City legend.
ExtremeFoodies's Tastiest Pizza on Earth for 2014 was nominated by Yvo Sin, founder of feistyfoodie.com.
Tourists and locals flock to experience Executive Chef Sam Leung's Alaskan king crab dinner. This feast features steamed garlic crab legs, deep-fried crab knuckles and baked Alaskan king crab fried rice with Portuguese curry sauce, crab salad and a soup and noodle course on a king crab steamed egg custard.
ExtremeFoodies's Tastiest Seafood on Earth for 2014 was nominated by Mijune Pak, founder of followmefoodie.com.
L'As du Falaffel, or the "Ace of Falafel," is home to a legendary sandwich. Deep-fried balls of ground chickpeas seasoned with onions and spices are heaped in a warm pita with grilled eggplant, crisp cabbage and crunchy cucumber, tomato, parsley, hummus, tahini and hot sauce.
ExtremeFoodies's Tastiest Vegetarian Fast Feast on Earth for 2014 was nominated by Mathilde DeWilde, founder of mathildescuisine.wordpress.com.
From an unassuming storefront, chefs cook quality ingredients over high-flying charcoal flames to give the stir-fried noodles, egg and bean sprouts a lovely smoky flavor. Patrons recommend the noodles cooked with juicy prawns and topped with chili flakes, crushed peanuts and a squeeze of lime.
ExtremeFoodies's Tastiest Noodles on Earth for 2014 was nominated by Mark Wiens, founder of eatingthaifood.com.
Under Madam Foo Kui Lian's watchful eye, rice is cooked in chicken stock and fat, ginger and pandan leaves, resulting in light, smooth and slightly buttery kernels with a hint of garlic. Delectable chicken meat is served chilled on a bed of rice, a refreshing counterpoint to the fierceness of red hot chili sauce, cool sliced cucumber, dark soy sauce and minced ginger.
ExtremeFoodies's Tastiest Rice on Earth for 2014 was nominated by Catherine Ling, founder of camemberu.com .
Fans call in orders to avoid the lines at this tiny, cash-only Cuban restaurant. Hunks of succulent, spicy, tender braised pork literally melt in your mouth in a crusty, chargrilled baguette, garnished with garlicky aioli, smoky caramelized onions, fresh cilantro, pickled jalapenos and crisp romaine.
ExtremeFoodies's Tastiest Sandwich on Earth for 2014 was nominated by Naomi Bishop, founder of thegastrognome.com.
At this small shop on Stanley Street, goose is barbecued to perfection and its crispy, succulent skin nearly shatters on bite. More than 20 ingredients — brown sugar, dark soy sauce, sesame oil, ginger, star anise, cloves and more — contribute to its sweet and salty flavors. Beneath this burnished layer lies rich, tender multi-colored meat. It's a heady combination of crisp and fat.
ExtremeFoodies's Tastiest Bird on Earth for 2014 was nominated by Juliana Loh, founder of Chicken Scrawlings, julianaloh.com/site/blog.
A crescent-shaped pastry will take your breath away at this award-winning bakery in Shoreditch. Wave after wave of flavors hit you -- from the flaky croissant and the fruity jam to the crunch of crystalized sugar and the creamy taste of salted butter.
ExtremeFoodies's Tastiest Pastry on Earth for 2014 was nominated by Niamh Shields, founder of eatlikeagirl.com .
---
ExtremeFoodies also announced its regional awards. The winners are:
Thin layers of beef and lamb, cooked to perfection, are shaved from its vertical spit, then served with homemade pide that absorbs all of the juices. Garnished with onions, pickles, tomatoes and peppers, fans chase the savory meat with a glass of ayran, a cold, tangy yogurt beverage.
ExtremeFoodies's Tastiest Fast Feast in Europe for 2014 was nominated by Tuba Satana, founder of istanbulfood.com .
Real chefs turn out this star in its "Haute Dog" lineup. A lemongrass and chicken sausage is piled with daikon and carrots, Sriracha mayo, jalapeno, cilantro and a spicy pickled duck egg, all nestled in an award-winning New England style lobster roll, lightly buttered and toasted to perfection.
ExtremeFoodies's Tastiest Item in North America for 2014 was nominated by Karen Valentine, founder of roamandhome.com .
A heavenly thick sauce infused with chiles, pepper, peanuts, almonds, cinnamon, anise seed, tomato, onion and garlic is served over chicken breast or thigh, striking the perfect balance between spicy and sweet.
ExtremeFoodies's Tastiest Item in Latin America for 2014 was nominated by Rebecca Smith Hurd, founder of puebla-mexico.com .
At Pepita's Kitchen, a private dining experience in Makati, the Stuffed Lechón is its shining star. The falling-off-the bone piglet is lifted off charcoal the moment dinner is served, and prepared with a French stuffing with truffles, Thanh Long de Leche, and such Filipino favorites as Binagoongan and Laing.
ExtremeFoodies's Tastiest Item in Asia for 2014 was nominated by Anton Diaz, founder of ourawesomeplanet.com .
---
Three additional awards were handed out that night:
Known as "gustatory nirvana," the cuisine in Thailand's capital abounds in the deliciously rich and bold flavors of Southeast Asia. Walking through the city, you'll be struck by fumes of frying chilies and garlic, catch a whiff of grilled meat from a street food cart, and inhale cinnamon-infused steam billowing from a noodle vendor. The smell of food is omnipresent in this sprawling metropolis. Thai food is not just a culinary feast, it's an unrivaled adventure.
Maria Luisa Rios, Food Expert for Caracas, created Recorridos MilSabores Food Tours to introduce tourists to the multicultural trends and tastes in Caracas and nearby cities. In 2005, she launched Mil Sabores, the first food journalism blog in Venezuela. To address the proliferation of new gastronomic blogs and web pages and increased coverage of gastronomical events by traditional media, she founded the Gastronomic Communicators' Association of Venezuela in 2011. On a personal and professional level, Maria has had a tremendous impact and influence on the ExtremeFoodies community.
At this small rural farmhouse, Victor Arguinzoniz is recognized as a world-class master in the art of charcoal wood fire ovens. Juicy, tender, almost sweet slices of Galician beef rib-eye are cooked over coals of smoky, gnarled old vine trunks in a custom-made contraption that grills steaks on both sides, highlighting, not masking, the beef's natural taste. Served with sea salt, no other seasonings are required.
More on the featured eats