20 Must-Eat Sandwiches Around the World
There's a whole world of excellent sandwiches out there, with many countries laying claim to one or more classics, and many more individuals arguing over who is responsible for creating them. We asked our Global Sandwich Expert, Helen Graves, to investigate. She selected 20, with links to the best places to try them in our global sandwich database.
1. The Reuben

Courtesy of omaha.com
What's in it? The Reuben is a hot sandwich of rye bread filled with corned beef (salt beef to UK readers), Swiss cheese, sauerkraut and Thousand Island dressing. It's a hot mess of meat and cheese with essential tang from the pickled cabbage and piquant dressing.
Where to get one: Crescent Moon Reuben, where it all started. This place is next to The Blackstone Hotel in Omaha, where the now-famous sandwich was invented.
---
2. The Banh Mi

Courtesy of Mark Wiens
What's in it? A product of the French colonial rule of Vietnam, this sandwich is a filled baguette made with rice flour for a lighter result. Fillings are a delightful mash up of French and Viet ingredients, so expect pate, pork in many forms, fish or tofu, plus chilli, coriander and pickled vegetables. The best bánh mi is sweet, sour and spicy with contrasting soft and crisp textures.
Where to get one: Banh Mi Huynh Hoa, considered by many to be makers of the best bánh mi in Ho Chi Min City.
See Our Ultimate Guide to Banh Mi in Ho Chi Minh City
---
3. The Grilled Cheese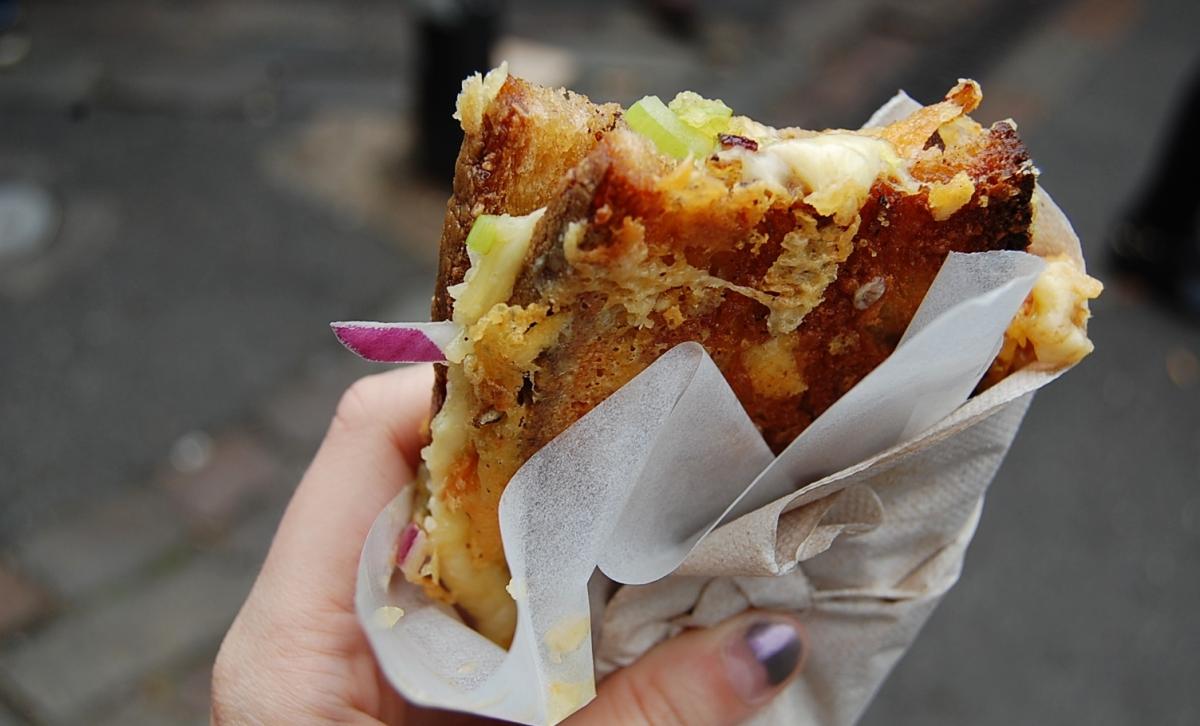 Courtesy of Emma Rose Tully
What's in it? Well, it's a whole lot of melted cheese. The points of difference here hang on the combinations of different cheeses, with vendors battling to find the best combination of flavor and melt, plus any extras inside like onions, pickles or even meat. We're purists when it comes to this world classic.
Where to get one: Kappacasein arguably makes one of the best cheese sandwiches in the world, despite a vast amount of competition in London and around the globe. The secret to their success is their mostly British cheese(s) and allium blend.
---
4. The Deli Sandwich

Courtesy of Langer's
What's in it? Pastrami and coleslaw are the main players here, along with a slick of Russian dressing and Swiss. The sandwich should be stacked high with pastrami, falling from the sandwich is floppy slices boasting plenty of wobbly fat.
Where to get one: Langer's and Katz's are the main contenders and although Katz's wins on the meat, we're always concerned with the overall effect when it comes to a sandwich, which is all about the sum of its parts. We say Langer's every time.
---
5. The Barbecue Sandwich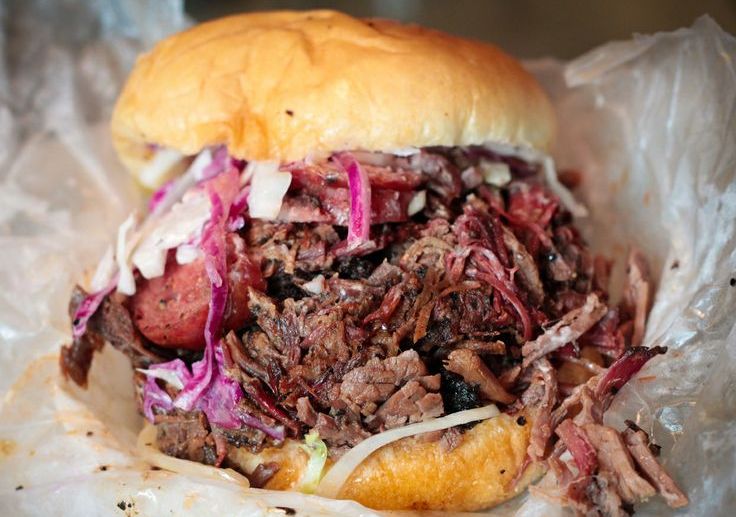 Courtesy of coolmaterial.com
What's in it? There are many variations on the barbecue sandwich, but we look for exceptional quality in the basics, meaning in the cooking of the meat. It should be slow cooked into submission, yet still moist and fatty with a light pink smoke ring to indicate proper cooking. Some pickled element is always necessary to counter balance all that protein and we like a cream slaw too for crunch.
Where to get one: Franklin Barbecue in Austin, Texas, is a master of the trade, keeping it simple in the cooking to let the flavor of the meat shine as the most important element of the sandwich.
---
6. The Mortadella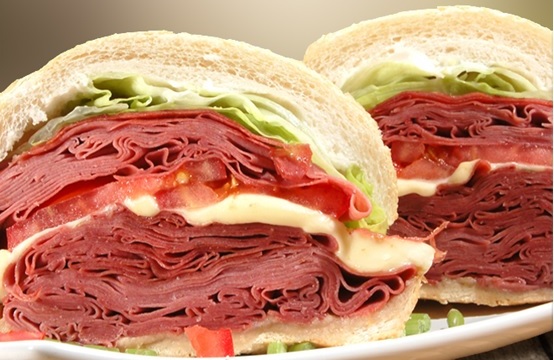 Courtesy of Hocca Bar
What's in it? Why, mortadella of course, and lots of it. This Italian sausage is made from pork, originating in Bologna, Italy. The key is in the flavorings, which are pepper, myrtle berries, spices and pistachios. It's sliced real thin, then piled inside a sandwich with any number of condiments.
Where to get one: Hocca Bar is a husband-and-wife run sandwich shop in Sao Paulo credited with making one of the best mortadella sandwiches in the world. It's certainly one of the largest.
---
7. The Cuban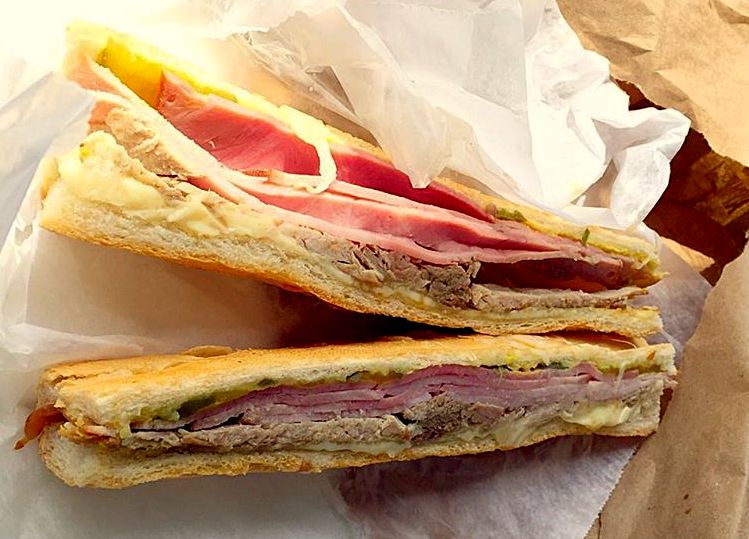 Courtesy of Las Olas Café
What's in it? This sandwich layers up ham, roast pork, Swiss, pickles, mustard and other ingredients on Cuban bread, a sort of plain white bread, served toasted. The resulting sandwich should be flat with clearly distinct layers, diagonally sliced.
Where to get one: Las Olas Café, a favorite of Anthony Bourdain.
---
8. The Po Boy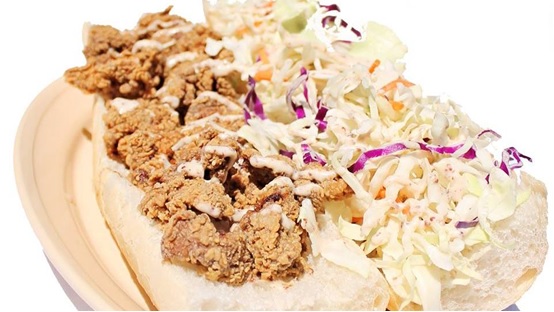 Courtesy of Mahony's Po Boys
What's in it? The name of this sandwich supposedly comes from the lingo used by two restaurateurs who gave the streetcar workers or "poor boys" free sandwiches. It's a Louisiana classic, wherever the name comes from, and must be made on New Orleans-style French bread. Fillings vary, but classics are fried oysters or prawns topped with a piquant sauce and fresh salad, or roast beef with gravy.
Where to get one: We told you they come with many fillings, so why not go left field and try the fried chicken liver version at Mahony's?
---
9. Philly Cheesesteak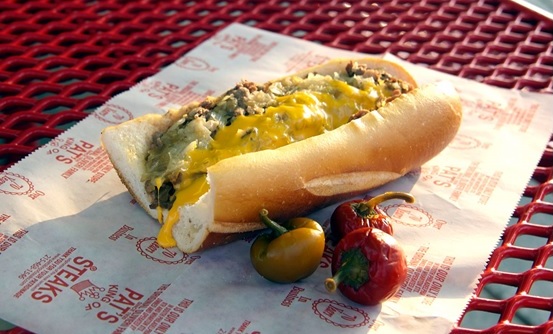 Courtesy of Pat's King of Steaks
What's in it? A classic that seems to be hard to get right for many, but when it is done right … it's dreamy. The steak should be sliced very thin before frying and the cheese, well, we're not averse to the gooey effects of Cheese Whiz. People will argue for hours about the choice of cheese with many favoring Provolone, not to mention the addition of fried onions and (gasp!) peppers.
Where to get one: Pat's King of Steaks. Pat claims to have invented the cheesesteak, which means his version just has to be tried.
See Our Feature on Philadelphia's 'Cheesesteak Corner'
---
10. The Torta

Courtesy of masaassassin.blogspot.com
What's in it? This Mexican classic comes with numerous fillings in many variations. Served generally on a crusty white roll, it can contain fillings such as ham, cheese, egg, various marinated and spiced meats, and avocado, sauces, etc. The list goes on.
Where to get one: It's almost impossible to choose just one, so we've picked out two essentials. The first is a torta ahogada or "drowned torta" from El Tio Pepe in Guadalajara, where the sandwich comes drowned in a spicy sauce.
The second is the carne asada torta at Tortas Wash Mobile, pictured above. It's a true master in its class in Tijuana.
---
11. The Club
What's in it? A classic of hotel bar menus around the world, this stacked sandwich consists of layers of toasted bread along with bacon, chicken or turkey, lettuce, tomato and mayonnaise. The sandwich is usually cut into triangles and served skewered with cocktail sticks.
Where to get one: A riff on the classic, this version at Harlem Cafe in Belfast has all the ingredients you'd expect, and a few you probably didn't. This sandwich stacks grilled fillet of chicken, smoked bacon, lettuce, tomato and free-range eggs, lathered with Harlem mayo and served with a side of fries.
---
12. The Porchetta

Courtesy of Food Junkie Chronicles
What's in it? Who can resist porchetta with its vibrant herb led stuffing, succulent meat and crisp, salty crackling? Obviously, it's even better in a sandwich, particularly on fluffy focaccia.
Where to get one: Bar Buca in Toronto has this baby nailed.
---
13. The Crab Sandwich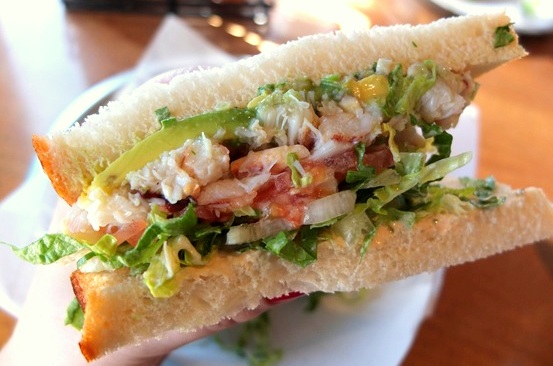 Courtesy of Helen Graves
What's in it? Anywhere you find fresh crab, you will find someone putting it in a sandwich. But this is not always easy to get right. It goes without saying that the crab should be super fresh, the salad ditto. There also needs to be just the right amount of mayonnaise and the softest white bread. Hot sauce on the side, please!
Where to get one: El Pescador Fish Market in San Diego makes possibly the perfect crab sandwich.
---
14. The Bocadillo

Courtesy of Gian Carlo DeLeon
What's in it? These classic Spanish sandwiches are split rolls stuffed with many fillings such as tortilla, meat or egg. But one of our favorites is the Madrid squid version. Battered and fried until crisp, it's a salty, crisp delight.
Where to get one: Bar Postas – the fix without the tourist fiddle.
---
15. The French Dip

Courtesy of Philippe
What's in it? This hot sandwich is filled with thin slices of tender roast beef and served with a pot of intensely flavored gravy, or meat jus, for dipping into. Meat juices from the cooking process are adding to the jus to make it extra savory. A real classic of the sandwich world.
Where to get one: It has to be Philippe's, one of two restaurants that claim to have invented the sandwich.
---
16. The Zapiekanka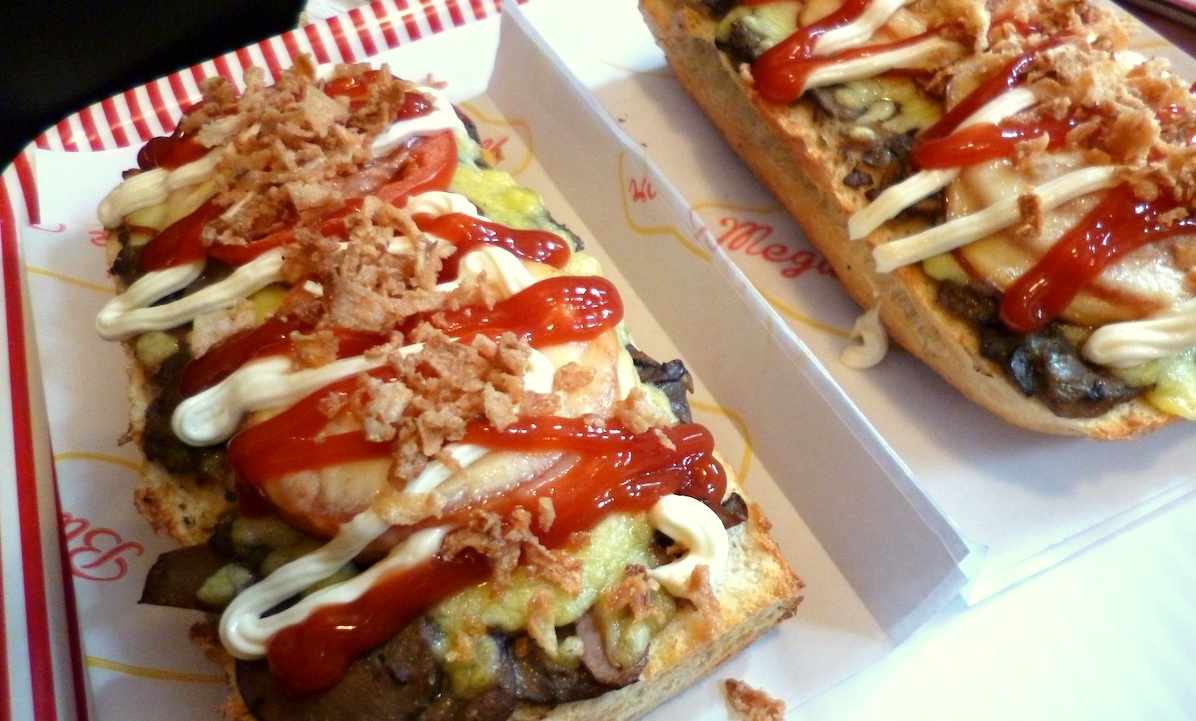 Courtesy of Street Food Polska
What's in it? An open-faced sandwich, the Zapiekanka is a Polish staple. It comes hot, a split baguette covered with different types of meat, mushrooms, cheese, sauce and, well, anything goes, really. Ketchup is also a popular topping, along with mayonnaise.
Where to get one: Na Maxa. Bar
---
17. Sabich

Courtesy of Sabich Frischman
What's in it? This Israeli sandwich is one of the best: a soft pita, filled with grilled aubergine, pickles, sliced egg, crunchy salad, tahini sauce and amba, a sweet/sharp mango sauce popular across Israel. The history is rooted in the Israeli Jewish Shabbat breakfast, when no cooking is allowed. The ingredients were cooked the day before and eaten cold in the sandwich.
Where to get one: Sabich Frischman, one of the most well-known Sabich spots in Tel Aviv, and an unassuming little spot with heaps of bright pickles on the counter.
---
18. The Hot Roast Pork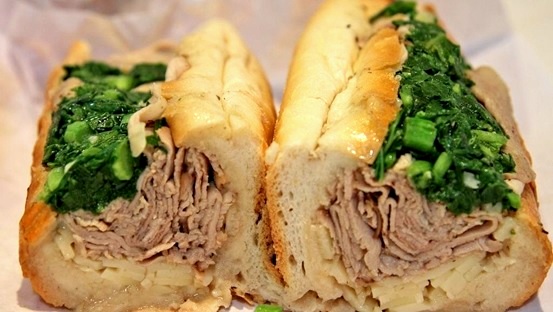 Courtesy of Tommy DiNic's
Imagine it: wafer thin slices of hot roast pork, dipped into their own cooking juices and stock, stacked high into a soft sub roll and garnished with vegetables. It's one of the most satisfying sandwiches around.
Where to get one: It has to be Tommy DiNic's, where they serve the roast pork with broccoli rabe and a bed of Provolone.
---
19. Beef on Weck

Courtesy of Ulrich's Tavern
This beef sandwich is found mainly in Western New York and consists of roast beef on a kummelweck roll, topped with salt and caraway seeds. The meat is sliced thin and served rare, dipped in sauce and topped with horseradish.
Where to get one: Ulrich's Tavern in Buffalo, N.Y.
---
20. Smørrebrød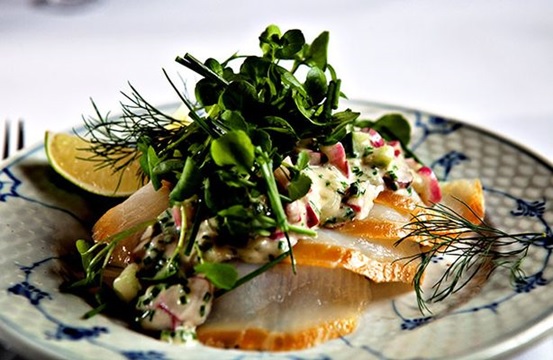 Courtesy of politiken.dk
These Scandinavian open-face sandwiches come with numerous toppings, usually involving seafood such as prawns, salmon and roe. Chopped herbs, cucumber and dill are common flavorings and we love them topped with slices of egg, too.
Where to get one: Restaurant Schonnemann, Copenhagen.
More on Sandwiches Around the World
Meet the author