Extremefoodies Latin America Awards 2014: The Buildup

The Latin America's Tastiest Fast Feast 2014 awards were held Sept. 5 in Lima, Peru
ExtremeFoodies, the organization that recognizes the best in casual dining and street food worldwide, announced the winners of the hotly anticipated Latin America's Tastiest Fast Feasts Awards on Friday, Sept. 5. Taking place at Astrid & Gastón Casa Moreyra in Lima, Peru, the awards revealed a list of the best dishes in Latin America as selected by experts from key cities across the continent including Rio, Mexico City, Santiago, Bogotá and Curico. A passionate team of hand-picked food guides, writers and culinary experts, called "Food Experts," were asked to nominate the must-try dishes in their city, considering the quality of ingredients, local relevance, history and flavor.

The Latin America's 50 Best Restaurants Awards boasts the glamour of Hollywood, but with better food. / Latin America's 50 Best Awards
Lima, Peru: Abuzz with great food and foodies abuzz
The ExtremeFoodies Latin America's Tastiest Fast Feasts 2014 awards coincided with two high-profile culinary events. The first, Latin America's 50 Best Restaurants 2014, is essentially the Academy Awards of the culinary industry. Lima was abuzz with chefs, restaurant owners, food journalists and industry insiders rubbing elbows at the awards ceremony and celebrating at a number of late-night parties. While in town, ExtremeFoodies enjoyed multi-course tasting menus at some of Lima's winners, including IK, Maido, Astrid & Gastón and Chez Wong. Lima's own Central was hailed as top spot this year.
Click here to see all of the winners!
http://www.theworlds50best.com/latinamerica/en/the-list.html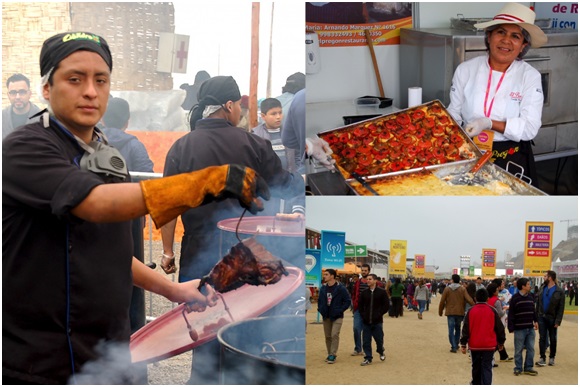 Scenes from Mistura 2014: Clockwise from left, smoked pork from Al Cylindria; traditional rocoto rellenos; hungry attendees roam the food tents. / www.AGringoInMexico.com
Mistura 2014: Showcasing Peru's rich, cultural connection with food
Mistura is the largest annual food fair of its kind in Latin America and the premier cultural event in Peru. A series of tents and enclosures on the beach in Magdalena del Mar, near city center, is populated with food and drink vendors who highlight the cuisine of Peru and celebrate its rich regional heritage, while a huge market offers regional products from all over the country. Mistura is open to the public and is expected to attract almost 1 million visitors this year. From Alpaca anticuchos – marinated and grilled – to the country's famous ceviches, Mistura brings the tastes from all over Peru to Lima every year.
Click here to find out more about Mistura 2014:
http://mistura.pe/mistura-2014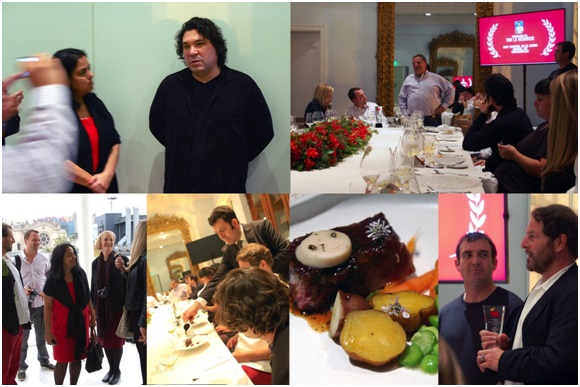 Scenes from the ceremony: Clockwise from bottom left, Food Experts arrive; Peruvian chef and author Gastón Acurio; ExtremeFoodies CEO Jeffrey Merrihue; ExtremeFoodies co-creator David Bullitt presents Nicholas Gilman with the award for Best Tamale; short ribs; dinner is served. / www.AGringoInMexico.com
ExtremeFoodies Latin America's Tastiest Fast Feasts 2014 Award Ceremony
Arriving at Astrid & Gastón Casa Moreyra, the Food Experts were paid a surprise visit from none other than Gastón Acurio. During a Q&A session, Lima's leading restaurateur and promoter of his national cuisine outlined his vision for a Mistura-style event to be held in different cities every year and shared his thoughts on sustainability and elevating the role and status of Peruvian farmers. ExtremeFoodies were treated to a multi-course tasting menu that paid homage to Peru's cuisine as the winners of the Latin America's Tastiest Fast Feasts 2014 were announced.
The award for the tastiest fast-feast in Latin America was given to:
Portuguese immigrants Horácio Gabriel and his wife, Maria, opened the Hocca Bar in 1952 at Mercado Municipal in San Paulo, where they continue to live up to their slogan, "O famoso é aqui," THE FAMOUS IS HERE. Their mortadella sandwich is a gigantic half-pounder stuffed with Ceratti mortadella, an explosion of beef, bacon and spicy black pepper with pockets of fat to capture the flavor. Aptly named "Belíssima," the sandwich is stacked four inches thick with multiple layers of cheese balanced with a dried tomato sauce preserved in olive oil and topped with oregano. This blend is then shoved into an Italian loaf and cut in half. Delighted diners slather on the available molho do pimenta, a creamy yellow hot sauce, to complete this gastronomic indulgence. This amazing sandwich is Chowzter's tastiest sandwich in Latin America for 2014.
Click here for the complete list of winners.
Meet the author