Mexican Madness: Guides, Awards and 10 Tons of Tacos
By ExtremeFoodies on October 1st, 2015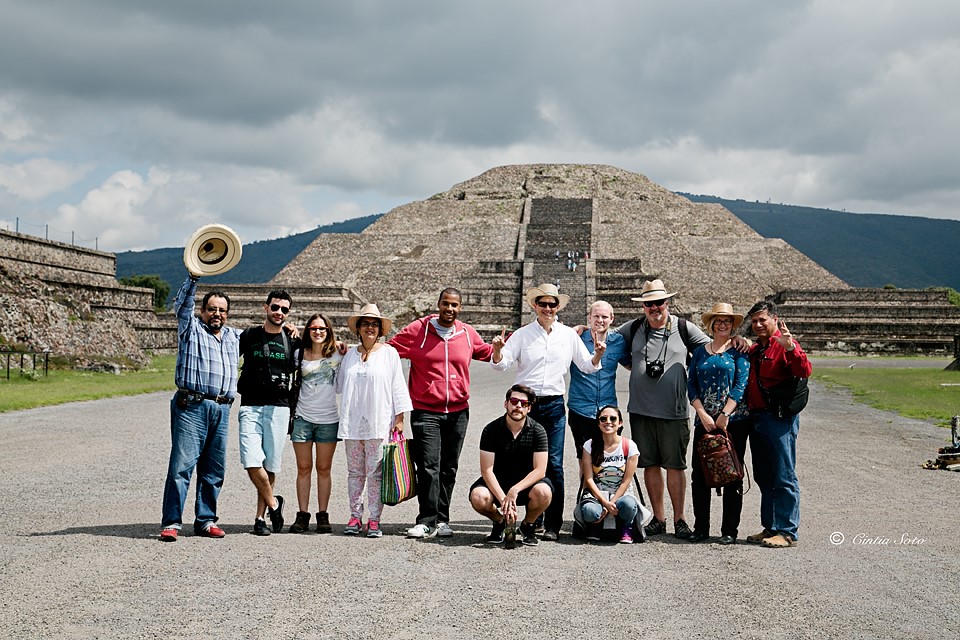 While in Mexico City, ExtremeFoodies experts explored the Teotihuacán pyramids, built around 100 BC.
Latin America's best restaurants and dishes celebrated at
third annual event
ExtremeFoodies, the world's largest collective of food experts who recognize the best in casual and fine dining as well as street food around the globe, launched three Latin American Dining Guides at a gala dinner at Limosneros in Mexico City's historic center on Tuesday, Sept. 22. During the event, some of Latin America's best restaurants also were recognized by the culinary organization.
The gala took place during three days of culinary events hosted by ExtremeFoodies from Sept. 21-23. Food experts from Mexico, Central and South America converged in the country's capital to celebrate the third annual Latin American awards. Writers, photographers and ExtremeFoodies management met and were headquartered at the Intercontinental Presidente Hotel in Mexico City's posh Polanco neighborhood.
The guides, written and curated by a team of distinguished food writers from more than 20 key cities and regions across Latin America, are designed to celebrate the area's outstanding dishes and restaurants.
ExtremeFoodies Experts Assemble!

ExtremeFoodies experts explored the Teotihuacán pyramids, built around 100 BC.
Following a Sunday night reception at the hotel's Restaurant el Chapulín, a busload of ExtremeFoodies experts, filmmakers and photographers got rolling Monday morning with a guided trip to the Teotihuacán pyramids.
This ancient Mesoamerican city was built around 100 BC and is just 30 miles northeast of modern-day Mexico City. The Pyramid of the Sun is one of the largest pyramids in Mesoamerica.

La Gruta, more than 100 years old, is set in an underground cave near the Teotihuacán pyramids.
Afterward, some ExtremeFoodies experts lunched on sopes de chapulines (grasshoppers), quesadillas and sopa de tortilla at nearby La Gruta. The 100-year-old restaurant is set in a breathtakingly colorful and large natural cave.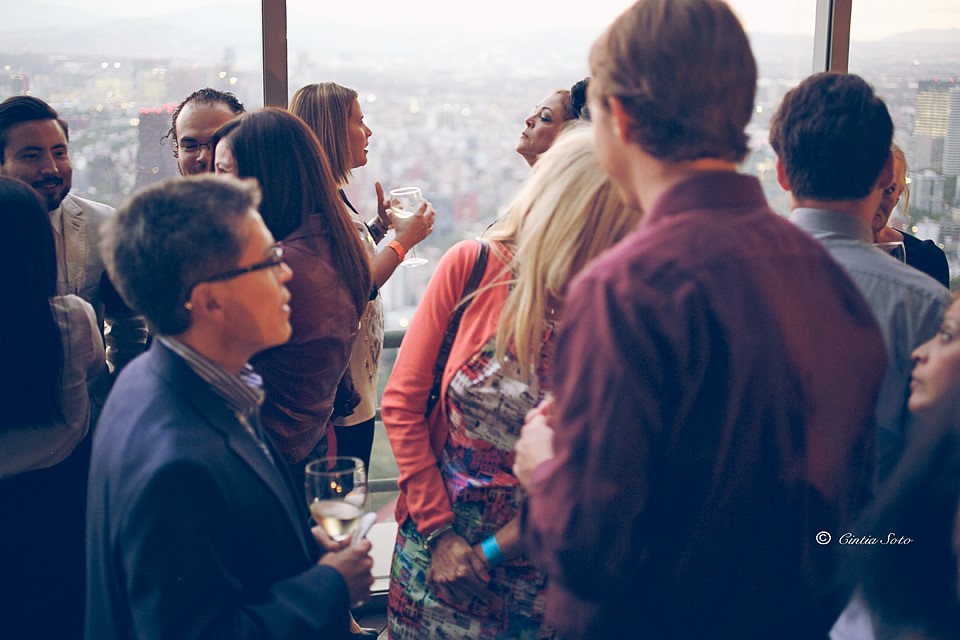 A cocktail reception kicked off MOFILM's awards ceremony at Piso 51, which overlooks Mexico City.
That evening, ExtremeFoodies experts joined attendees and winners of MOFILM'S Latin American Awards 2015 at Piso 51 in the Torre Mayor, one of Mexico's tallest skyscrapers. Guests enjoyed cocktails and hors d'oeuvres in an elegant penthouse setting and outdoor terrace that provides a panoramic view of the city's vast skyline.

Piso 51, at the top of one of Mexico City's tallest buildings, offers an elegant view of the skyline.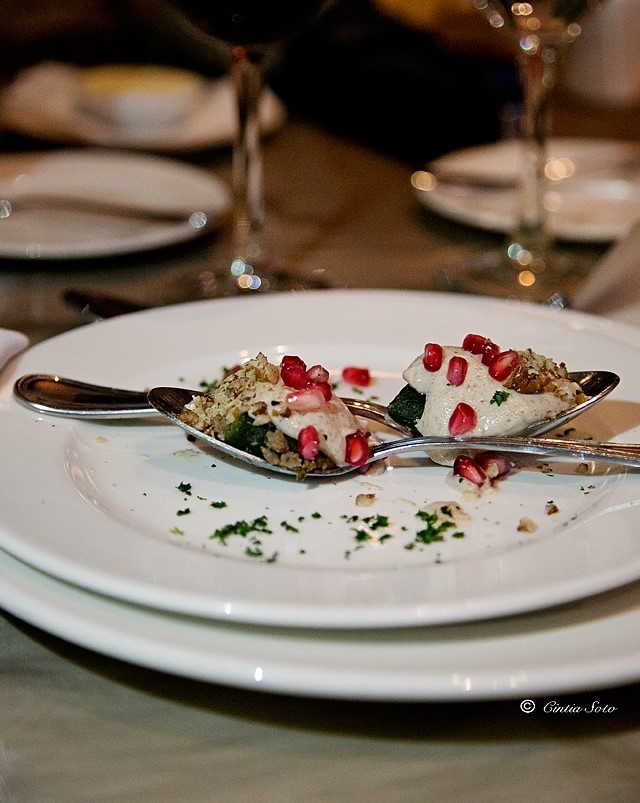 MOFILM's five-course awards dinner including the traditional Mexican dish chiles en nogada.
After the awards were handed out, attendees sat down to an elegant five-course dinner that featured refined traditional dishes such as chiles en nogada and sea bass al pastor.

El Bajio has served traditional breakfast dishes in Mexico City for more than 40 years. / Courtesy of Cintia Soto
Tuesday, Sept. 22, kicked off with a traditional Mexican breakfast at the 40-year-old El Bajio and a food-oriented tour of Mexico City's historic center. ExtremeFoodies experts enjoyed tacos, seafood tostadas, tortas (a Mexican sandwich) and a taste of pulque (a pre-Hispanic alcoholic drink).
ExtremeFoodies Guides and Awards

ExtremeFoodies experts gathered to celebrate the launch of three new Essential Eats guides at the elegant Limosneros in Mexico City.
That evening, ExtremeFoodies celebrated the launching of its guides at the elegant Limosneros. The colonial building in which it is housed is near the site of the original Great Pyramid of Tenochtitlan. Guests were treated to a superb multi-course tasting menu that paid homage to Mexico's cuisine as the guides and winners of Latin America's Essential Eats 2015 were announced.
For The Essential Guide to Latin America's Best Restaurant, the experts nominated the "must-visit" restaurant in their city or region, based on the quality of ingredients, local relevance, history and flavor.
Mexico City expert Nicholas Gilman, of www.goodfoodmexicocity.com, wrote and curated The Essential Guide to Modern Mexican Dining. The city boasts an enormous variety of international restaurants, as well as distinctly Mexican eateries of every description, from old-fashioned holes-in-the-wall to elegant temples of avant garde cooking. This guide focuses on the latter, where great chefs are experimenting with turning tradition inside out.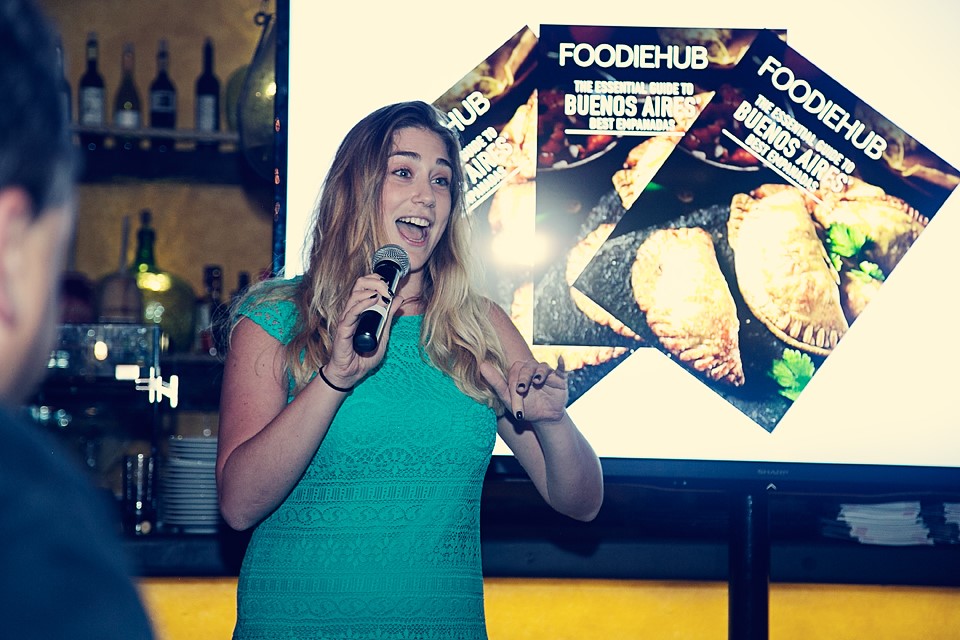 ExtremeFoodies expert Allie Lazar talks about the new "Essential Guide to Buenos Aires Best Empanadas."
Buenos Aires expert Allie Lazar, of PickUpTheFork.com, authored The Essential Guide to Buenos Aires Best Empanadas. To distinguish the exceptional from the mediocre, she scoured food shacks, steakhouses, holes-in-the-wall and corner cafés for the best three-bite meat or cheese filled delights.
In addition to unveiling the guides, trophies were awarded to several of the best restaurants and regional dishes as selected by experts from key cities across the continent. The winners are:

Empanadas De Ossobuco at Peron Peron Resto Bar. / Courtesy of PickUpTheFork.com
Empanadas De Ossobuco @ Peron Peron Resto Bar
It's not often you hear about an empanada that develops a cult following. But at Perón Perón Resto Bar, a sit-down restaurant that honors Argentina's beloved political figures Juan and Evita Peron, that's exactly what happened. Slow-cooked veal shanks are braised in red wine, fresh spices and vegetables, then shredded and stuffed into flakey empanadas. These deep-fried pastries with savory ossobuco have fanatics coming back again and again.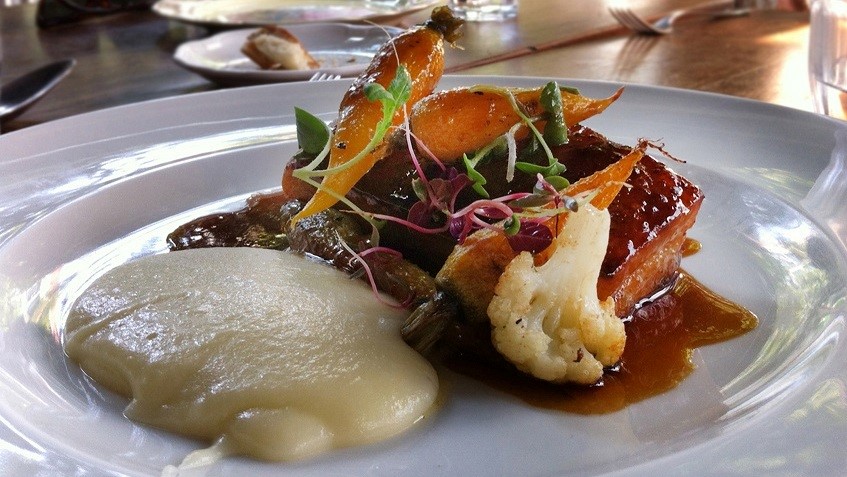 Maximo Bistrot Local was named ExtremeFoodies's Essential Modern Mexican Restaurant for 2015. / ExtremeFoodies.TV
This unpretentious European-style bistro opened its doors at the beginning of 2012 in the chic Colonia Roma neighborhood and quickly became the hottest restaurant in Mexico City. Run by chef and owner Eduardo García, who worked under Enrique Olvera of Pujol and toiled in Manhattan's star-strewn Le Bernardín, the menu reflects rustic French and Italian cooking rooted firmly in Mexican soil. Representing a new generation of Mexican cooks introducing contemporary concepts into native cuisine, Garcia toys with tradition without losing respect for it.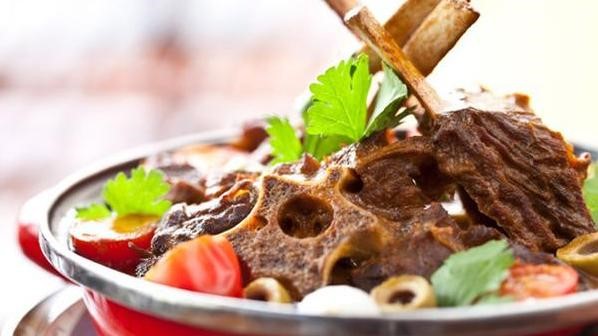 Mocotó was named ExtremeFoodies's Best Restaurant in Latin America for 2015. / Courtesy of theworlds50best.com
Sao Paulo's Mocotó is known for its northeast Brazilian fare. Although it's a trek to Zona Norte, locals make the pilgrimage to dine on dishes prepared by skilled chef Rodrigo Oliveira. The restaurant's signature dish, caldo de mocotó, is based on a 30-year-old recipe of rich cow's trotter stew. Other standouts include baião-de-dois (rice and beans) and escondidinho (creamy mashed cassava stuffed with Brazilian jerked beef).

Salteña at Feria De Mataderos won ExtremeFoodies's Best Traditional Empanada in Buenos Aires for 2015. / PickUpTheFork.com
Head to the Féria de Mataderos on a Sunday, and you are in for the ultimate Buenos Aires street food fest and artisan craft fair. Known as the gaucho fair (after the Argentine cowboy), locals gather to explore hundreds of stalls and enjoy folklore singing, dancing and delicious regional food. Empanada fans head straight to the outskirts of the fair, where a woman perched in front of a cast iron pan over an open flame fries hundreds of perfect beef empanadas.
Modern Dining in Mexico City
The day after the launch party, ExtremeFoodies experts enjoyed multi-course tasting menus at two of Mexico's top restaurants and winners of Latin America's 50 Best Restaurants 2015: Pujol and Sud 777.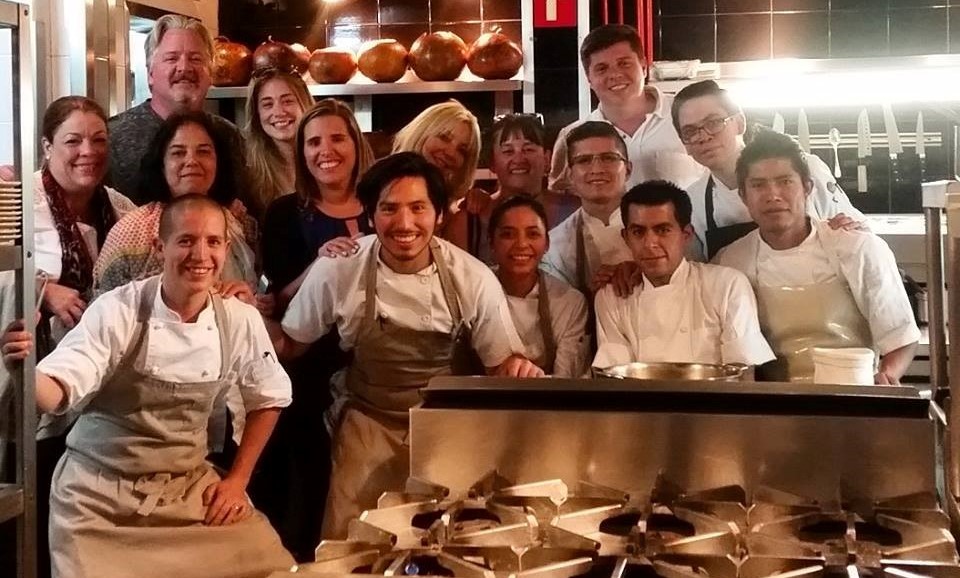 ExtremeFoodies experts joined the kitchen staff at award-winning restaurant Pujol. / Courtesy of Ralph Correa
Pujol is Mexico City's most internationally famous restaurant. The simple but elegant 55-seat room has become a destination for creative cooking aficionados as well as a laboratory for young chefs. Chef and owner Enrique Olvera offers a unique and insightful approach to a fusion of European and Mexican cuisine.
Sud 777 is renowned for its take on classic Mexican traditions, astutely fused with contemporary Spanish ideas. After running a successful food truck, Chef Edgar Nuñez opened his fine dining venue in 2012 in the southern area of the city. The Zen-like dining room overlooks a tree-lined landscape, which gives the impression of being far removed from the urban madness of the city.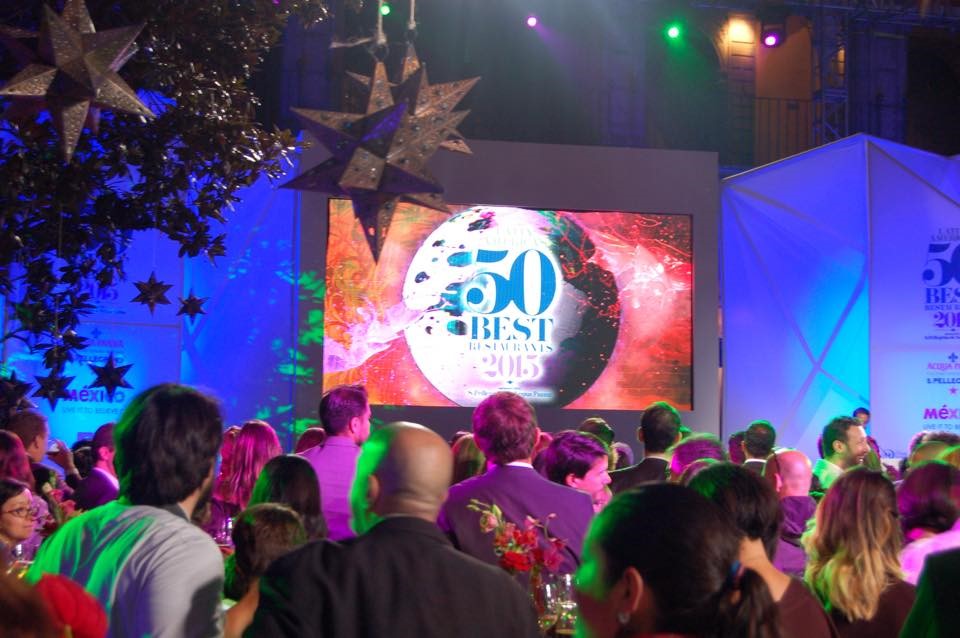 Courtesy of AGringoInMexico.com
ExtremeFoodies's Latin America's Essential Eats 2015 awards coincided with another high-profile culinary event, Latin America's 50 Best Restaurants 2015. Sponsored by S. Pellegrino & Acqua Panna, the awards are considered the Oscars of the culinary industry. Mexico City was abuzz with chefs, restaurant owners, food journalists and industry insiders rubbing elbows at the awards ceremony held at the historic center's Antiguo Colegio de San Ildefonso. Winners and attendees packed into and reveled until the wee hours at the after-party at Indianillas, a refurbished train station.
See Latin American's 50 Best Restaurant winners for 2015 at: www.theworlds50best.com/latinamerica/en/the-list.html
About ExtremeFoodies
The ExtremeFoodies network, founded as Chowzter in 2013, searches for, discovers, shares and celebrates great food around the globe. Presently, more than 175 leading culinary and travel writers across 275 cities and regions around the world compile an astutely chosen list of the best dishes and venues in their cities and regions, in every category ranging from street food to fine dining.
Having firmly made its mark on the global food scene with awards ceremonies held quarterly around the world, ExtremeFoodies is focused on producing online and offline guides and videos for visitors and residents in search of the best culinary offerings.
In addition to the awards, guides and celebratory food gatherings, the platform has created an online community of more than 500,000, an iPhone app and a mobile optimized website, as well as a recently launched and wildly popular YouTube channel.
Mexico has often been recognized by ExtremeFoodies for its culinary excellence: Lupita and Clemencia Alonso in the State of Mexico were given a trophy for their tamales in 2014; Mexico City's El Huequito received the "best taco" award for its taco al pastor. Barbacoa Santiago in the state of Querétaro took the best taco award in 2013. And at ExtremeFoodies's global event in London this spring, Doña Esthela's Ensenada fonda was awarded "Best Breakfast in the World."
On behalf of ExtremeFoodies, we would like to thank our Food Expert for Mexico City, Nicholas Gilman, for being the perfect host. His organisational efforts led to all of us enjoying the very best experience the city has to offer.