XtremeFoodies Founder: My 6 Favorite Restaurant Meals of 2017
From jungle pop-ups to an experience like dining on another planet, 2017 was a great year for restaurants. Many classic venues renovated, like Frantzen, Pujol, Brooklyn Fare and French Laundry; and many other great restaurants opened. In all, this was my favourite year for fine dining since El Bulli closed in 2012. The level of innovation and diversity has never been deeper or broader.
Here are my picks, in order of thrill:
Wow. Noma chef Rene Redzepi's seven-week pop-up in Tulum boasted the biggest kitchen I have ever seen in the middle of a jungle. A humble door gave entrance to a gorgeous, open-air terrace that led into a mammoth space where every dish on the menu had its own mini-kitchen and team. Despite the size, every corner seemed cozy. From Noma, one might have expected culinary fireworks. Instead, diners were served a parade of familiar Mexican dishes, like tacos, mole and lechón made from impeccable ingredients. Many dishes had unusual tweaks and flourishes, and everything was delicious and fun.
Hot weather and warm hospitality made this THE foodie experience of the year.
---
I always liked EMP, until it got voted No. 1 by The World's 50 Best Restaurants and promptly closed for renovation. I returned with trepidation, but was delighted with the new EMP! The food is as tasty as before, but the level of culinary precision has soared.
Clam discs for pescatarians and mushroom carpaccio for vegetarians are cut into perfect, mini overlapping circles; while the layered foie gras and cabbage apparently took five months to perfect. The cheesecake, with crushed bagel crust and caviar topping, is sheer perfection. But the best dish is possibly the whole roasted kabocha squash wrapped in bacon and seaweed (say what?). And for romantics, Daniel Humm's famous honey lavender dry-aged duck is better than ever.
---
I had visited Kyoto many years earlier and vaguely remembered eating quite well. So this year, I was determined to book the best restaurant possible. After consulting foodies and guidebooks, I determined Kitcho served the finest kaiseki in Japan … for (gulp) $600 before drinks and taxes. Upon entry, I was shocked to discover it was the exact place I had been with my wife, Maria, 20 years before. And it remains spectacular in every way.
There are only private rooms, so you are never aware of another guest. Each plate is artistically constructed with the finest ingredients and decorated with all manner of herbs, vegetables and edible flowers. This is dining in the most civilized manner at the highest culinary level.
The main improvement since my last trip? Those uncomfortable floor cushions have been replaced by cute little-elevated mini-chairs.
---
This restaurant with the ridiculous name is 45 minutes outside of Cancun in a faux hip hotel. As I entered, my expectations could not be lower. And then – BOOM! Chef Jonatan Luna lit up my senses with a three-hour master class in molecular cooking that hasn't been seen since the glory days of Heston Blumenthal, Marc Veyrat, Grant Achatz and Ferran Adrià. Every dish was a combination, such as mushrooms with mole and pork belly; spider crab with corn and burnt habanero; and pozole with sea urchin.
Superb ingredients are then transformed into every manner of tower, foam and smoke you were sure had gone out of fashion. While these techniques are rarely seen these days, Le Chique reminds us why we enjoyed that theatre when it first came out. Stunning!
---
Is it food? Dinner? Theater? Art? Architecture? Vespertine is all of the above.
The most polarizing restaurant to open in recent memory is an unforgettable experience. This may sound like a polite way to say the food is not very good, but that's not the case. You have simply never tasted or seen anything like it.
The flounder with charred onion powder, porridge, shallot and pickled Japanese plum is black as night and invisible at the bottom of the black craggy pestle it is served in. Once you scrape it off the bottom and taste it, you are forced to think about the lines blurring between the food, the plate, the servers dressed in black and the repetitive three- or four-note music soundtrack that plays for the duration of the four-hour meal. I loved Vespertine, but confess the idea of trying it sober is out of the question.
---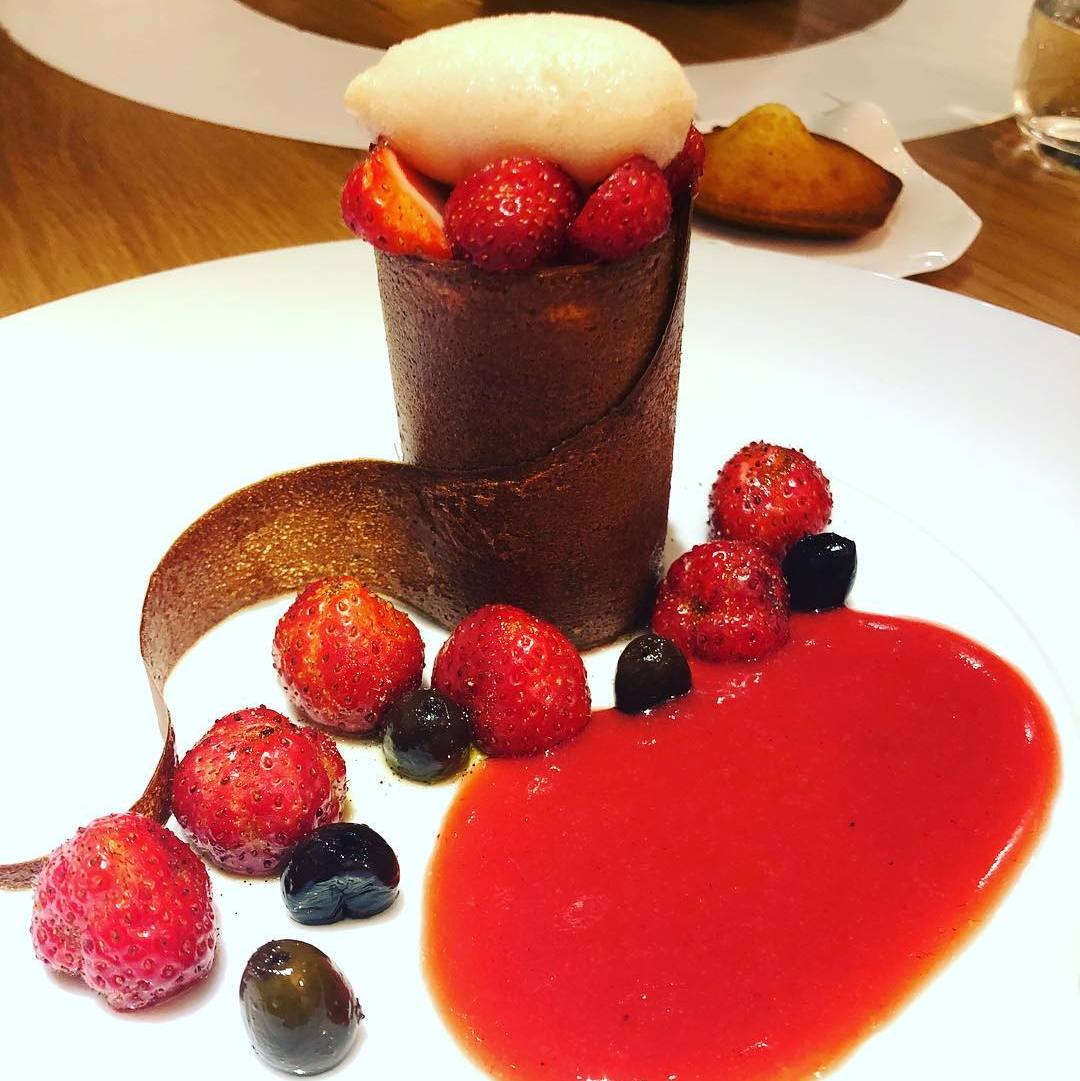 Courtesy of most_awarded_restaurants
First, drive to the middle of nowhere in France, turn left and drive another two hours. At first glance, AVP appears to be traditional French cooking, until the surprises creep in.
At Vespertine, the wizardry is designed to interrupt you, while here the wizardry blends in. Chef Gilles Goujon has worked at other great kitchens, but since 1992 he has developed his own style that is simply world class. The razor clam shell is made from seaweed and later, the scallop shell is made from lobster-flavoured butter that melts into the sauce when the chicken consommé with liquorice is poured over it.
Chef Gilles is clearly obsessive with every aspect of this restaurant and can, at times, be heard shouting at his kitchen staff before emerging in the dining room with a huge smile to serve what, in my opinion, is simply the finest meal on the planet today.
---
Download the ExtremeFoodies app for the Essential Eats wherever you are on the planet: XtremeFoodies
Meet the author