Savannah's Essential Eats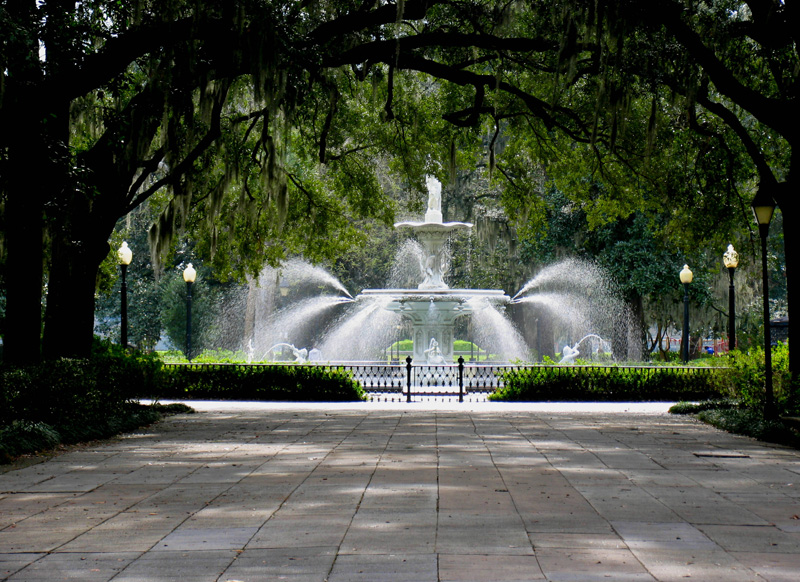 Savannah's cuisine is all about comfort food. / Courtesy of Wikipedia
Essential eats in Georgia's 'Hostess City'
Savannah earned the nickname "The Hostess City" for the gracious welcome and warm hospitality Georgia's first city shows visitors. Even today, the city tends to run at its own speed with the emphasis on relaxation and pleasure. It is said Savannahians welcome each guest with just two questions: "Where are you from?" and "What will you have to drink?"
But what about eating? That's no problem either – and it's assumed you will eat like a Southerner while in Savannah. The menu is filled with comfort food. Predictability is overshadowed by dishes that ring true to local ingredients and careful preparation. If you're planning a visit to the city and the sights immortalized in author John Berendt's "Midnight in the Garden of Good and Evil," come prepared to belly up to these dishes: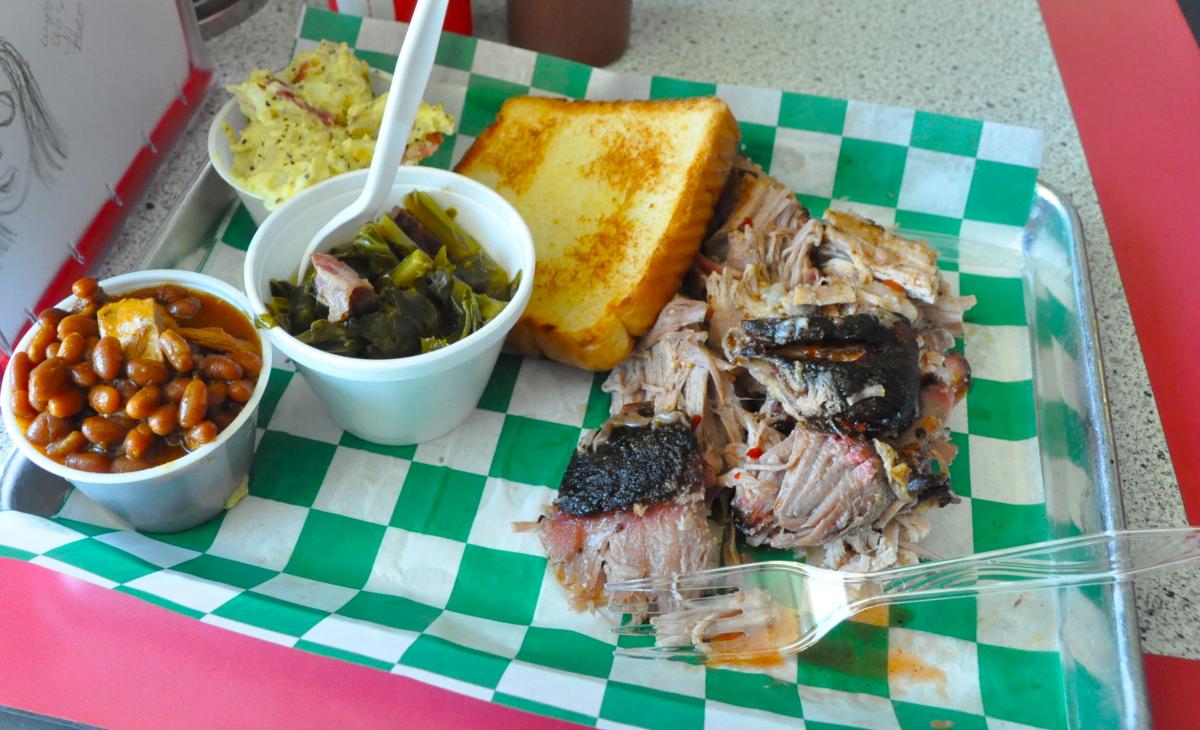 Pulled pork and collard greens at SandFly Bar-B-Q. / Tim Rutherford
In Georgia, barbecue means pork cooked low and slow with a hint of smokiness. In this neck of the barbecue back roads, pitmasters rely on the perfect bit of fat and lean that comes from pork shoulders, known exclusively in the region as pork butt. After several hours in a smoky sauna set to 220 degrees or so, the pork butts – now crusted with a tasty, smoke blackened crust – are removed and "pulled." This shredding process is all by hand and separates fat and gristle from the tender, juicy pork.
At this point, your order of pork goes one of two ways: It is served alone on the plate or, occasionally, piled high inside a toasted bun. The best pitmasters do not serve barbecue doused with sauce, but allow guests to sauce – or not.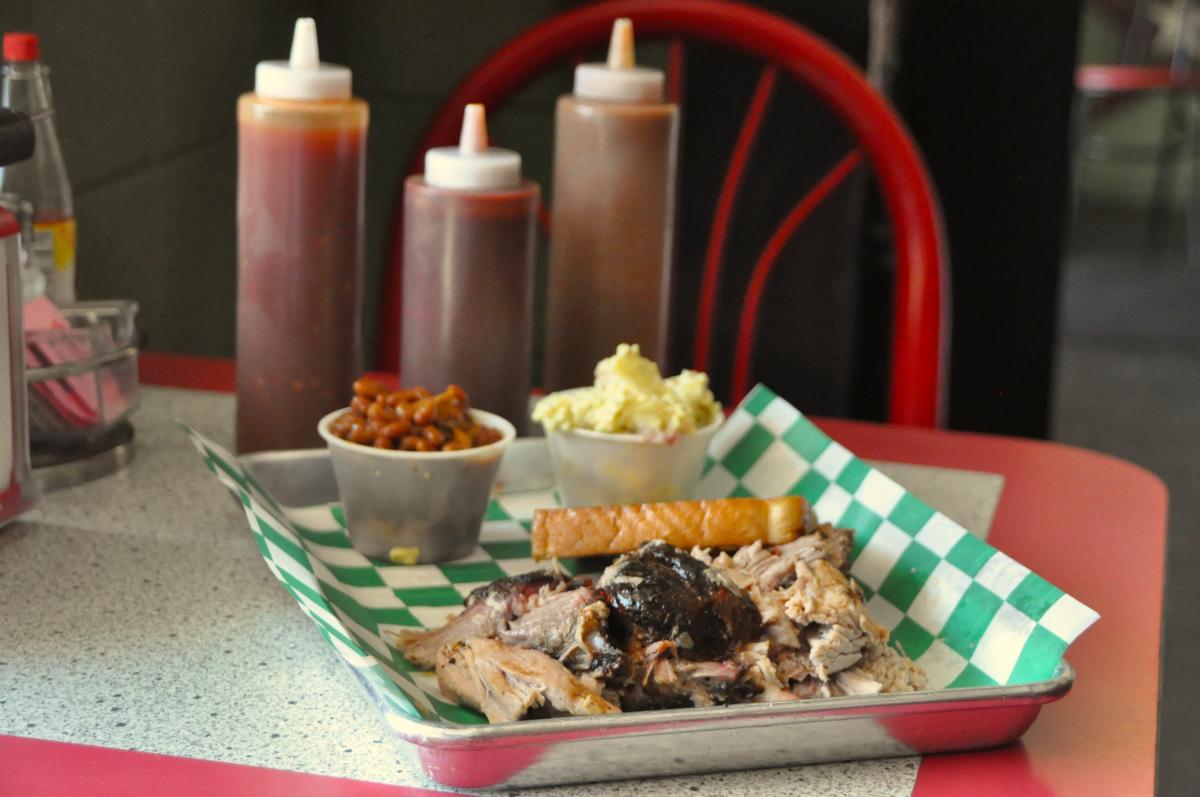 Ask for pulled pork plain, then sample sauces with individual bites. / Tim Rutherford
Recommendation: Keep your pork pristine – and dole out sauces in small dollops alongside to sample with individual bites. Sauce styles vary greatly between pitmasters – but the preferred sauce in Savannah is a tomato-based sauce that is slightly sweet with a hint of tanginess. When choosing a side dish, eschew French fries and prepare to sink a fork into a bowl of collard greens – slow cooked and artistically seasoned.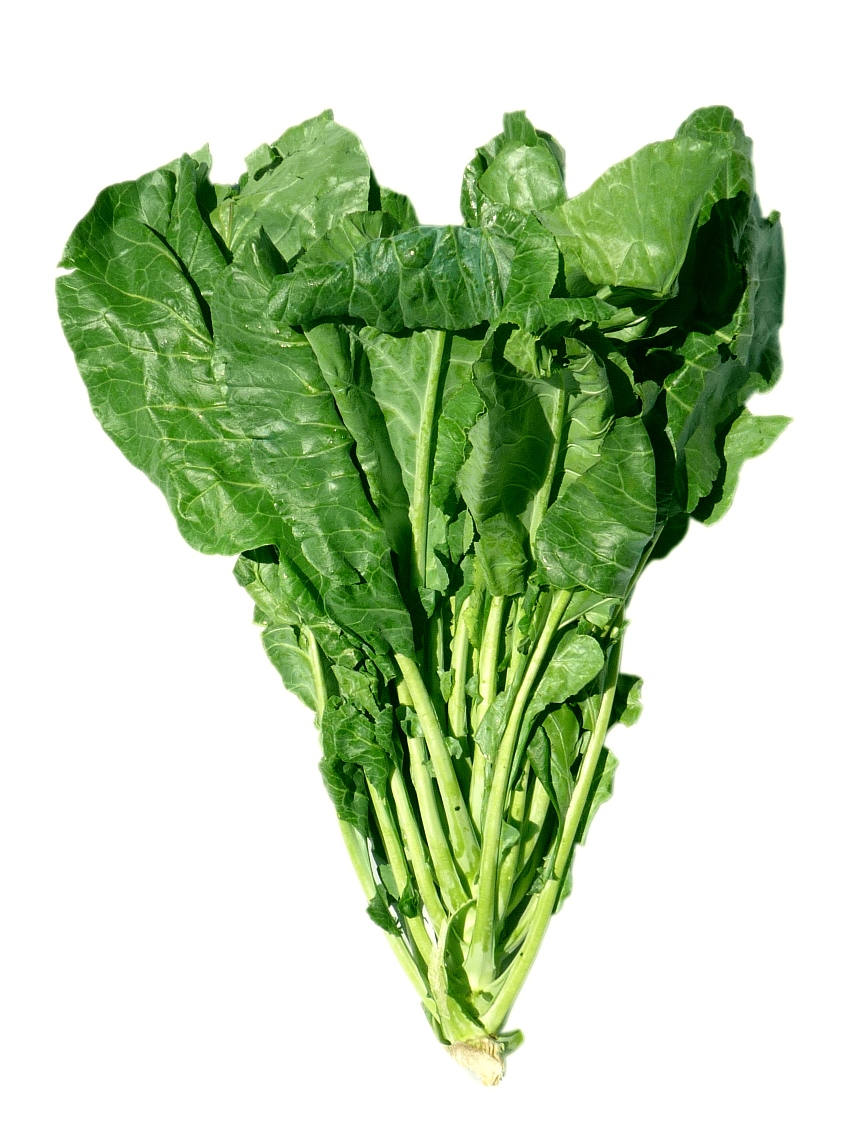 Slaves from West Africa introduced collard greens into Southern cuisine. / Tim Rutherford
Food historians suspect the Southern penchant for collards comes from the West African slave trade. Collards are reminiscent of a tough, hearty green grown in Africa and these new and unwilling Southerners found collards to be a taste of home. Today, plenty of folks have never sampled collards and, having handled the raw green, do not understand how anything so tough and bitter can become so tender and richly flavored.

Southerners sop up the 'pot likker' with cornbread. / Courtesy of hereandnow.wbur.org
It's pork to the rescue! Traditionally, collards are cooked for several hours in a large pot filled with a cooking liquid – water, chicken stock or a combination of both – then seasoned with ham hocks or pork belly. Toss in plenty of salt, onions, red pepper flakes and just a splash of vinegar and you've got a remarkably simple, filling and satisfying dish. In some Southern diners, you will automatically be graced with a piece of cornbread with collards. That's an important touch. The liquid left behind from collards – the so-called "pot likker" – is just as flavorful. It's perfectly acceptable to "sop" up pot likker with cornbread – don't miss out on this treat!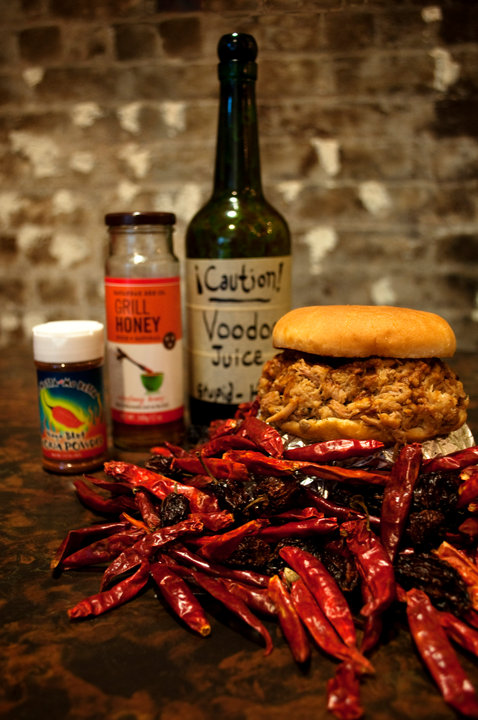 Hand-pulled pork at Angel's BBQ / Courtesy of Angel's BBQ
Chef Andy Trice marches to a different drummer at his tiny little BBQ shack in the alley. His pulled pork is juicy and succulent – and jazzed up by any one of Andy's handmade hot sauces. His collards pay homage to the West African style – laced with peanuts and flavored with peanut sauce.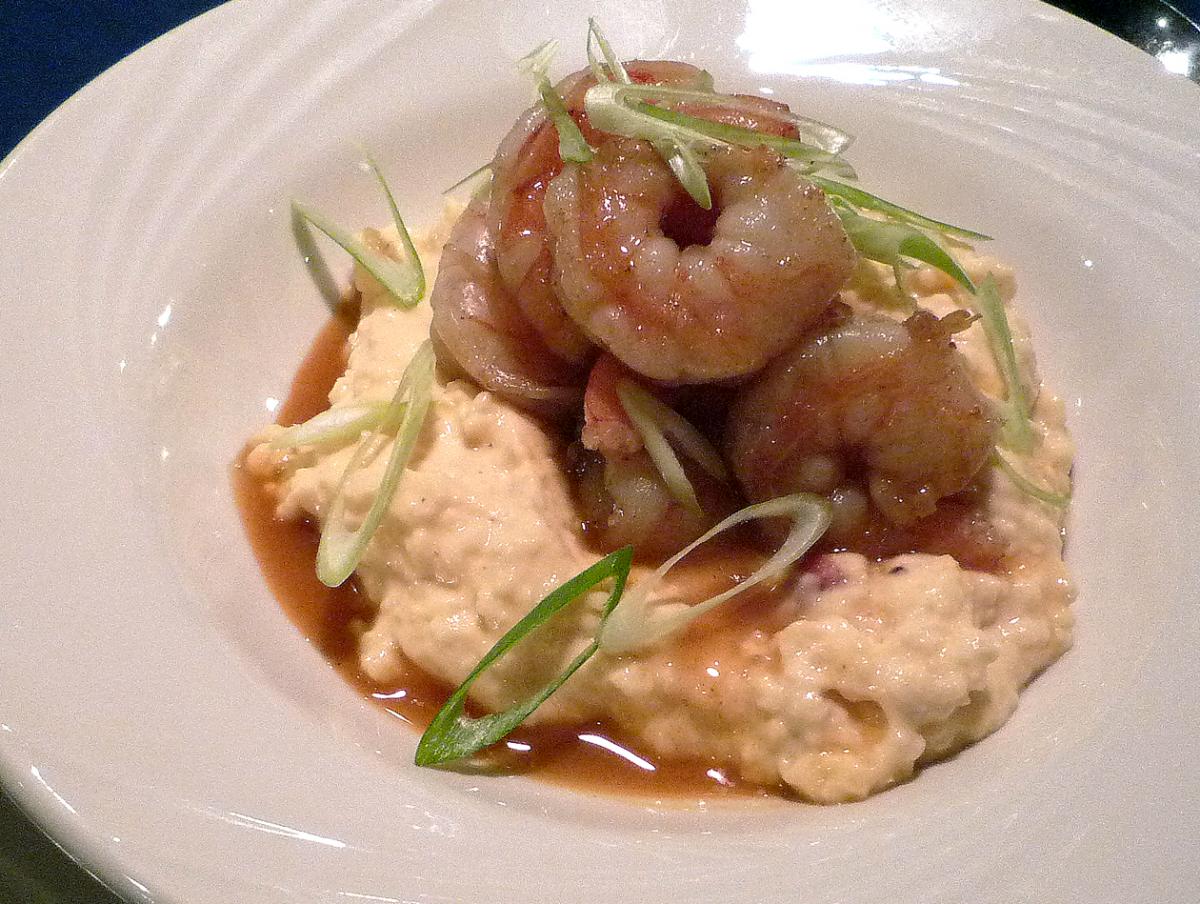 Shrimp and grits is the classic Southern indulgence. / Tim Rutherford
The low country of coastal Georgia is deemed such because the surrounding marshes and barrier island often sink beneath the high tide. This tidal ebb and flow is the perfect breeding ground for all sorts of delicious residents: blue crab, several species of fish and the king of the coast – shrimp. Commercial trawlers haul in tons of shrimp from offshore waters – but it's possible to land a mess of shrimp by hand casting in shallow tidal creeks.
Fans of 'Forrest Gump' may know how many kinds of shrimp dishes there are possible – but true Savannahians know shrimp and grits is the classic indulgence. If one moves inland from the coastline, corn becomes an easy crop. The area's long, hot summers are the catalyst for corn as "high as an elephant's eye." That corn, my friend, becomes a variety of goodies – from moonshine whiskey to creamy, earthy grits.
The dish takes on a variety of expressions and modern chefs have ramped up grits – naturally bland – with artisan cheeses, plenty of butter and other seasonings. Still the most common shrimp and grits recipe calls for laying a foundation of mire poix, coaxing this into a light brown roux and adding grits. This savory concoction gets a dosing of big, pink shrimp in the last few minutes of cooking. The result is a piping hot mélange of creamy goodness with the crisp, sweet bite of fresh shrimp. Watch for restaurants serving Wild Georgia Shrimp – a sign that the shrimp were harvested specifically from local waters – which yield a particularly sweet shrimp with a hint of appealing minerality.

Shrimp and grits at Vic's on the River is topped with bacon and rosemary barbecue sauce. / Tim Rutherford
Plump, sweet wild Georgia shrimp are showcased in this upscale presentation of shrimp and grits. Thick, grainy, smoked cheddar stone-ground grits create the decadent foundation of this contemporary take on the classic Lowcountry dish. Lace in smoked bacon and a drizzle of rosemary barbecue sauce – yes, please!

The best fried chicken is well seasoned and crackling crisp on the outside. / Tim Rutherford
Fried chicken with tomato and okra stew
Mass-produced fried chicken has become a cliché – available in virtually every convenience store or brightly lit franchise. Fried chicken that is the hallmark of a solid Southern meal is another matter. Seek out soul food joints, mom-and-pop eateries and Southern chefs who understand that breading is an art and frying is a science of precise consistency.
The best fried chicken is well-seasoned. Breading should be more than milk and flour – but layered on with egg wash in two stages. Mere flour is heavily laced with salt and black pepper, a hit of cayenne and the "secret" herbs and spices developed by fried chicken master chefs. From the fryer, great Southern fried chicken should be crackling crisp on the outside. Each bite embraces the crispy breading and the flavors it encapsulates. Inside, oh Lord, the meat is moist, tender and hot.

You're already on the stairway to Heaven – now kick open St. Peter's kitchen door with a side dish of okra and tomatoes. Both vegetables fare well in Southern soils and come together in this rich, thick concoction as amicably as peanut butter and chocolate. The exact genesis of the dish remains a history mystery – but culinary theorists claim its foundation was laid in the kitchens of plantation cooks. Both veggies (yeah, a tomato is a fruit) grow prolifically and usually mature in abundant batches. It's the perfect scenario for creation of a dish that will be served fresh, but grows better with each passing day in the leftover pot.
Expect beautiful textural contrasts – tender stewed tomatoes and snappy crisp okra. Acid teases your palate – thanks tomatoes – and the thick juice native to okra lends a syrupy sweetness. Together – fried chicken with okra and tomatoes – is about as close as a 21st century gastronome will ever come to the essence of Savannah's 19th century supper table.



Tomatoes and okra grow in abundance in the Lowcountry. / Courtesy of thesistersofthenewsouth.com
Time and time again, the Brown family hasproven its east side Savannah meat-and-three joint is the unchallenged master of fried chicken. Dark meat? White meat? Both? Pick your pieces then add on a side of mac and cheese and, without question, Sisters' hot and juicy tomato and okra stew. The okra adds crunch while the tomatoes tart up the dish with acid and that "fresh from the garden" flavor.
Lowcountry Boil
Shrimp takes the spotlight again in this one-pot dish unique to the region. Other parts of U.S. have one-pot seafood boils – and every Savannahian will claim the Lowcountry Boil to be the best. But before guests gather around a tabletop covered with the boil's ingredients, there has to be order and method. When the big pot of boiling water begins to bubble atop the gas flame, the boil cook shakes in a heavy powdering of Old Bay Seasoning and stirs the pot. Old Bay – with its 18 herbs and spices – was born of the Chesapeake Bay but quickly found its way into the hearts – and taste buds – of shrimp aficionados. Today, no Lowcountry Boil is complete without Old Bay seasoned water – and a dusting of the tasty mixture atop the finished product.
And while Lowcountry Boil is a one-pot dish – it has to come together in layers based on cooking times of the ingredients. First come thick-sliced hot sausage (like Savannah-made Roger Wood Sausage Co. Lumberjack brand), quartered red potatoes, dainty corn cobbettes and lastly – when the potatoes are tender and the sausage cooked through – shrimp are piled in, the pot stirred and covered.
In just a couple of minutes, the shrimp are done, the pot drained, and hungry guests are reaching into the steaming pile of goodness – now adorning a paper-covered table top or large platter – to peel and pick and eat their way through the feast. This is a meal best tackled bare handed – keep a napkin and a cold beer nearby!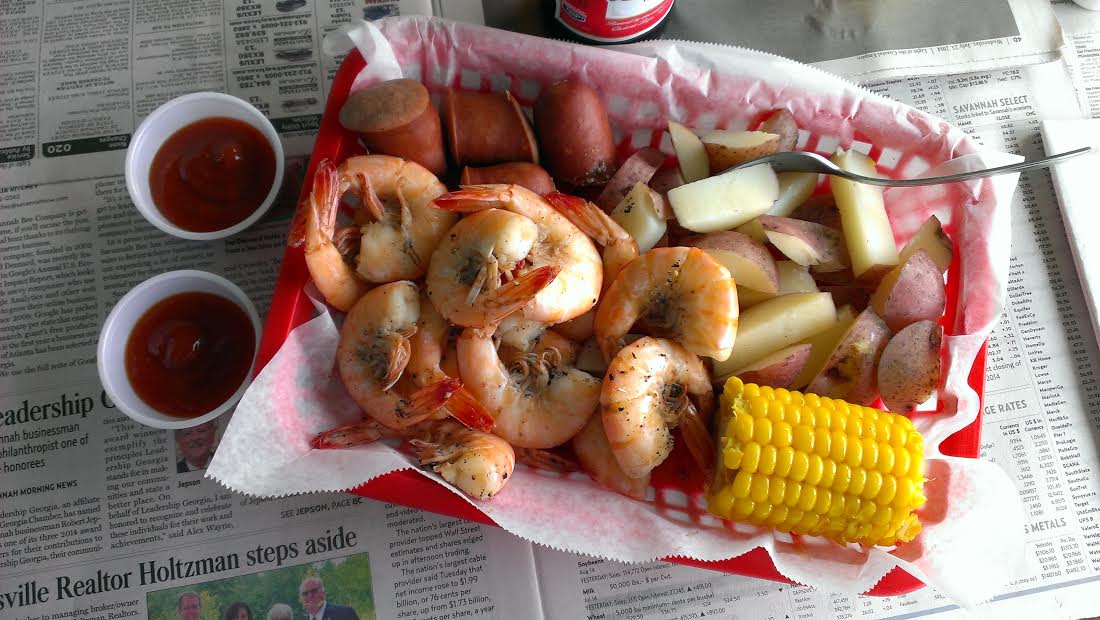 The Lowcountry Boil layers sausage, red potatoes, corn cobbettes and shrimp. / Tim Rutherford
No-nonsense dining with a view of the Intercostal Waterway in Thunderbolt, GA., is just a few minutes from downtown Savannah. Think honky-tonk meets fish shack. Glowing neon beer signs light the dining room while newspaper covers the tables. The Lowcountry Boil offers a big pile of local shrimp, stewed chunks of sausage, the obligatory corn cobbettes and tender hunks of fresh boiled potatoes. Wash 'em down with a cold brew!
Biscuits and Gravy
Ticklish little Poppin' Fresh gets credit for introducing the bulk of America to the biscuit. But this flaky, heart-warming quick bread was a staple of Southern tables for generations before Poppin' uttered his first tee-hee-hee. For busy farm families, the combination of biscuits and gravy satisfied the need to get a fast breakfast on the table with easily accessible and minimal ingredients. The dish is hot, filling and, above all, comforting.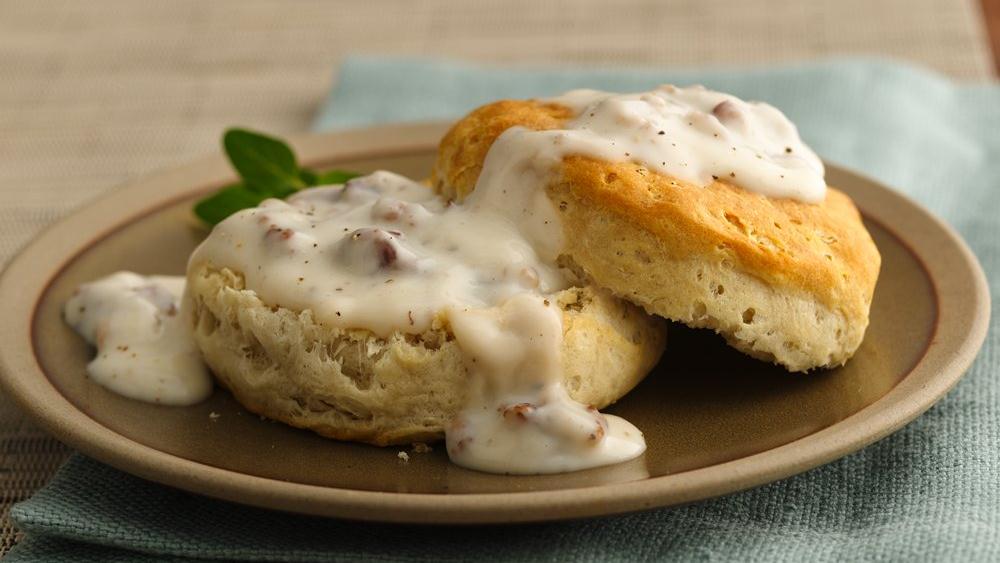 Biscuits and gravy is the ultimate Southern breakfast dish. / Courtesy of pillsbury.com
The biscuits are simple: Flour, baking powder, shortening, salt and milk. You will find as many biscuit recipes as there are biscuit fans – but the basics for a good biscuit remain the same. Like so many great foods, fat is the magic behind the simple biscuit. Good shortening adds flavors and creates those little steam-filled pockets that make biscuits fluffy and delicious.
Gravy, béchamel to gourmands, took the French classic and put it down on the farm. Butter was replaced with plentiful bacon drippings. Any Southern cook worth noting has a can of bacon fat somewhere – on the stovetop or resting in the refrigerator until called to duty. While biscuits baked, bacon fat (grease as most grandmothers called it) is brought out to heat over medium-high flame. Flour is added and the mixture is stirred into a nut brown roux. Then, milk is added in a sizzling stream and the stirring resumes so the gravy thickens without burning or turning lumpy.
Break open a biscuit, ladle on gravy (béchamel monsieur), then season with salt and black pepper to your choosing. This is Southern breakfast at its finest. A note on sausage gravy: This version of gravy adds more protein with crumbled sausage in the gravy. That's perfectly OK, just don't attempt to make GREAT biscuits and gravy with sausage drippings – the results are often bitter in taste. For the best sausage gravy, make the gravy and add crumbled, cooked sausage at the end.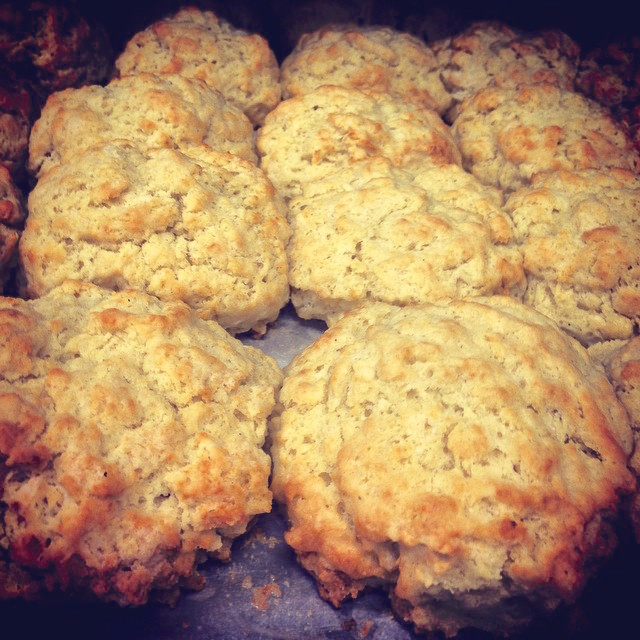 Steam-filled pockets make biscuits fluffy and delicious. / Courtesy of B Matthew's Eatery
Owner Brian Huskey grew up in East Tennessee, where biscuits and gravy is an art form. He brought the flavors to his restaurant and serves up a pair of big, from-scratch biscuits smothered in thick, milk gravy. Dust on a little black pepper, add a steaming cup of Joe and you've got a working man's rib-sticking breakfast!
Blue Crab
The fun is in the harvest – the work is in the eating! Fans of blue crabs don't' mind the effort involved in cracking and picking fresh crab meat – because it is a singular flavor of the Lowcountry. Blue crab is available steamed in many local restaurants and seafood shacks. Seafood markets offer respite from doing your own crabbing. But the social aspect of crabbing and the idea that you caught your own dinner has quite an appeal!
Crabs can be lured into trap – a perfect solution for a mass harvest if you have a boat. For non-boaters, it's easy enough to lure crabs to bait in the shallow marshes and roadside creeks. In fact, if you see a bunch of cars pulled off the side of a busy Georgia highway, don't call AAA – it's probably just locals dipping their chicken neck into a local crab pool. Chicken neck? Yeah, crabs are carrion eaters and that funky chicken neck tied to a string is usually all the bait you need to snag a bucket of crabs. Throw the neck into the drink, wait for the crab to start pulling it away and hand-over-hand the critter into your cooking pot.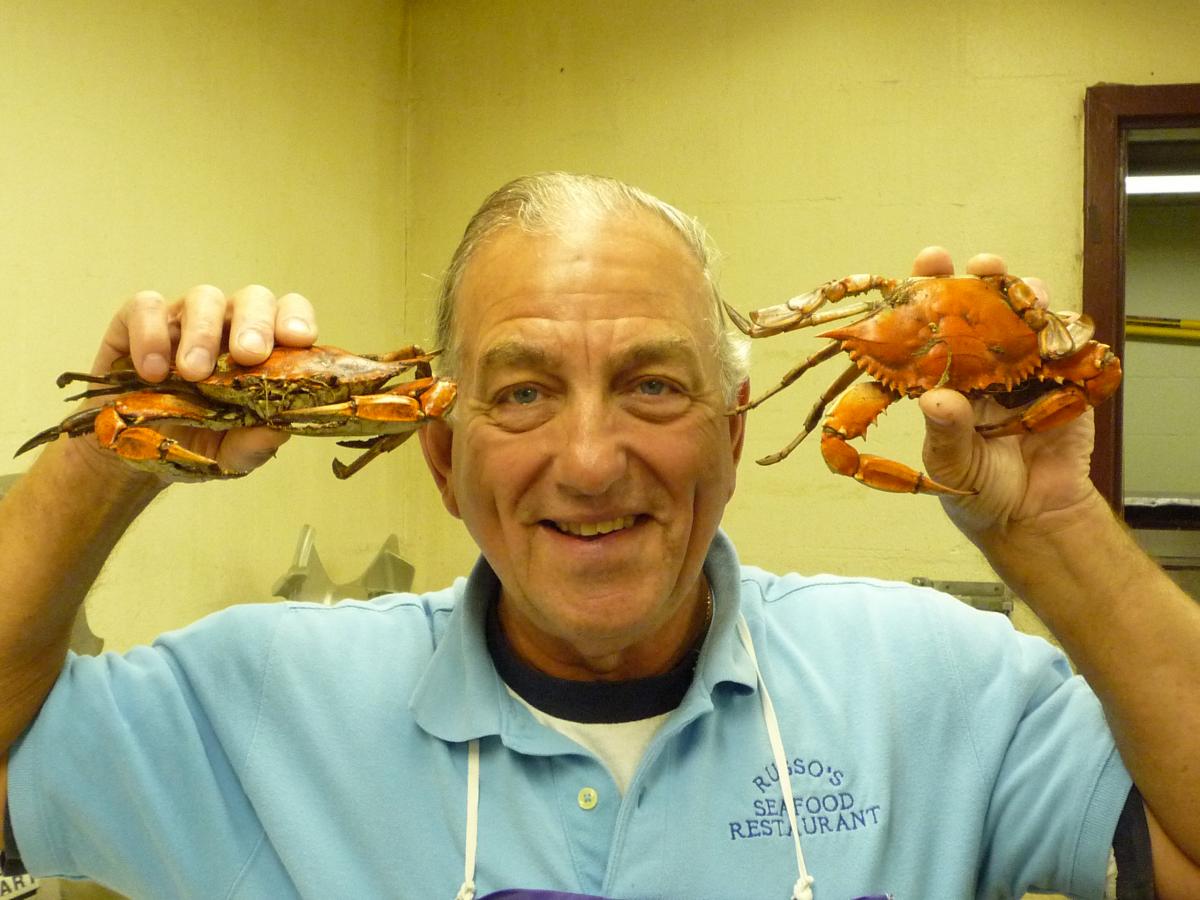 Charlie Russo holds up fresh blue crab at Russo's Seafood Restaurant. / Tim Rutherford
For crab lovers who like less tedious dining, look for deviled crab dishes or even Lowcountry crab cakes with spicy remoulade. If you are eating the whole thing, just know that some think the most flavorful meat comes from male crabs. You can't sex a crab by its haircut, but you can flip 'em over for a peek at the apron – the shaped section of the underbelly. Male crabs have a narrow, obelisk shaped apron; females a wide or oval apron. Tie on a bib – this gets messy!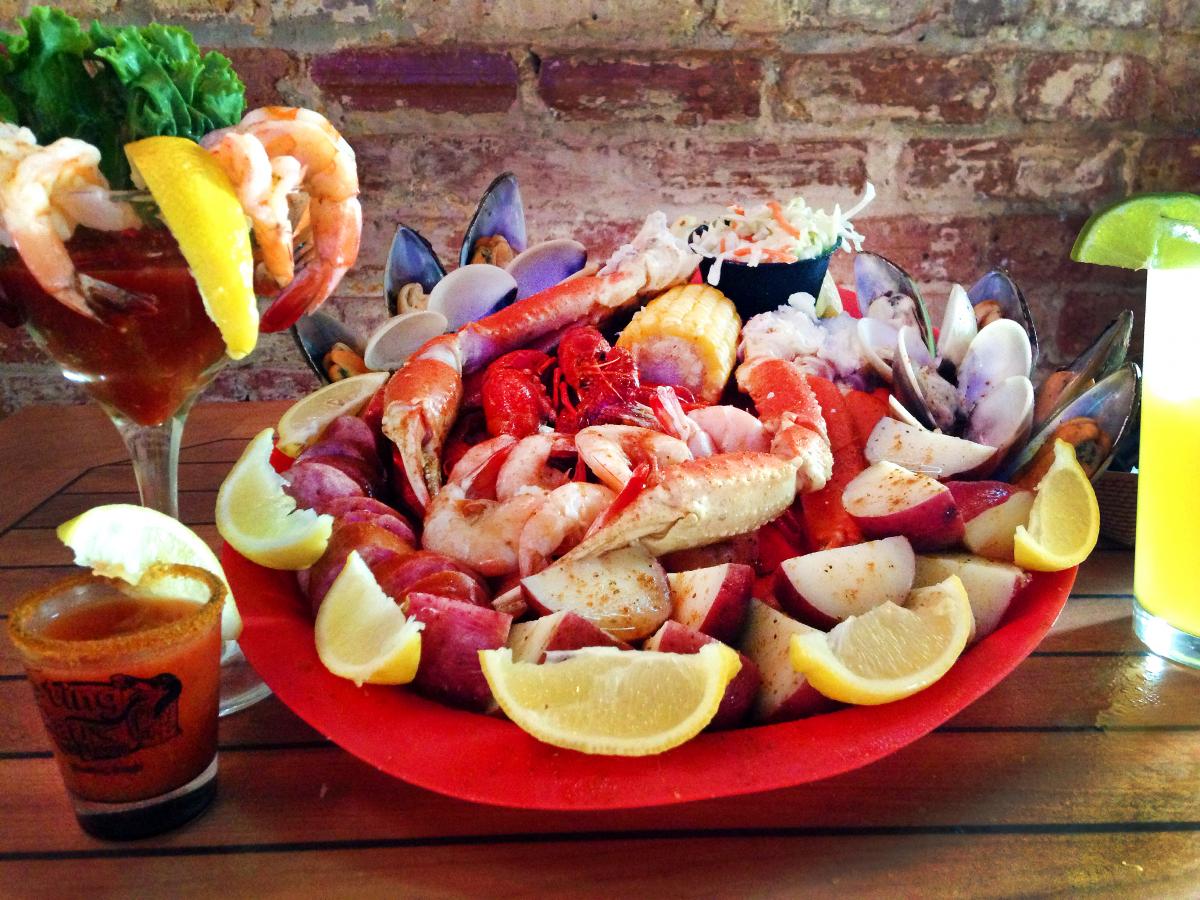 Platter of seafood with blue crab / Courtesy of visittybee.com
Roll up your sleeves, get a big pile of napkins and settle in for Stingray's "all you can eat" blue crab special Monday-Thursday. Crack 'em open, pick 'em clean and enjoy some of the coldest beer on Tybee Island, Savannah's beach getaway. On weekends, there's still plenty of crab to sample – from deviled crab to thick and savory crab stew.
Savannah Red Rice
This popular dish ranges from restaurant menus to caterer's buffets to church suppers. Serious home cooks have their own interpretations and secret ingredients. Regardless of the recipe – it's hard to find a red rice recipe that's not delicious. The dish heralds the long-grain rice of the region – historically the so-called Carolina Gold rice. In other parts of the world, similar dishes earn names like pilaf, pellau or perlow – for Savannahians, it's unpretentiously just "Red Rice."
The trinity of finely diced onion, celery and carrot – mire poix – creates the base for this dish that begins on the stove top. Bacon makes a return engagement in great red rice, as does shrimp. After frying the bacon and cooking shrimp in the fat, those ingredients are removed for a sauté of the mire poix. Then rice is added and tossed about to coat with fat. Then comes crushed tomatoes, chicken stock – oooh, it's beautiful to look at and it's not finished cooking!
The cook's choice of spices comes next – recipes range from sublimely simple to ridiculously complex. The secret – which isn't much of a secret anymore – is finishing this dish slowly in the oven. Here, every grain of rice absorbs the flavorful liquid, takes on red from tomatoes and emerges as a savory, filling and seductive Southern delicacy. The dish can be a main course, but is often presented as a side dish. Regardless, it's a perfectly colorful way to enjoy the unique flavors of the Lowcountry.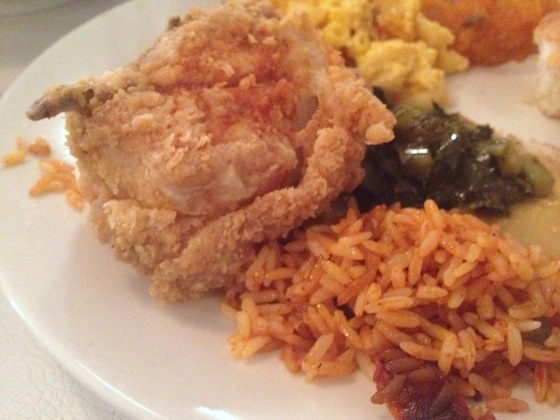 Red rice can be eaten as a main course or a side dish. / Courtesy of miaminewtimes.com
Savannah red rice is one of just a dozen or more reasons to queue up for entry into Savannah's only family-style dining establishment. Here you join around the family tables with other guests to taste through at least a couple of meats and several vegetable dishes. The red rice is the real deal – a family recipe handed down through the generations at Mrs. Wilkes. A genuine Savannah landmark.
Meet the author