8 Essential Bolinhos in Rio de Janeiro

Courtesy of Tom Le Mesurier
Cariocas (Rio's locals) enjoy a very particular bar culture. First comes the cerveja (beer), which must be served just the right side of freezing. "Estupidamente gelada!" (Stupidly cold) the happy drinkers will exclaim with a gasp of approval. After several beers have been dispatched, the Carioca mind turns to food. Bar snacks come in many forms: pasteis (the Brazilian take on empanadas), linguiça na brasa (grilled sausages), empadinhas (crumbly, buttery, bite-size pies), the list goes on. But king among these alcohol-absorbing treats is the bolinho (croquette). The definitions are not set in stone, but bolinhos usually involve some kind of massa (purée – could be mashed root vegetable, bean or other starchy item), which is coated in breadcrumbs and deep fried until crispy.
Although there are bolinhos that have been on menus for generations, recent years have seen some exciting innovations that prove this category of petisco (the Portuguese cousin of Spanish tapas) is still actively evolving. Here are the essential to be found in Rio.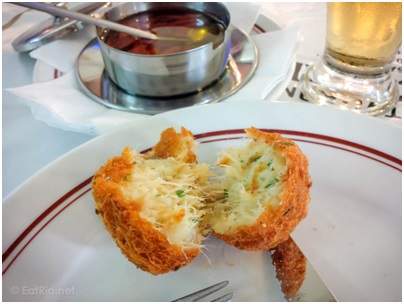 For the finest bolinhos de bacalhau, head for Nova Capela. / Courtesy of Tom Le Mesurier
With its roots in Brazil's Portuguese past, this is the original and, to many minds, the best bolinho there is. The recipe calls for just four ingredients: Bacalhau (salt cod), mashed potato, egg and parsley. However, like many of the simplest recipes, there are many variations and many ways to get it horribly wrong!
Luckily for those in the know, there is one place that gets it right every time – Nova Capela. These guys would have no excuse for mistakes – they've been serving their bolinhos de bacalhau to Rio's hungry masses since 1903! The beautifully crunchy shell cracks delicately to reveal a light, fluffy mix of creamy mash and delicious cod. Apply a few drops of fiery malagueta chilli oil and pretty soon you'll be ready for your next ice-cold beer.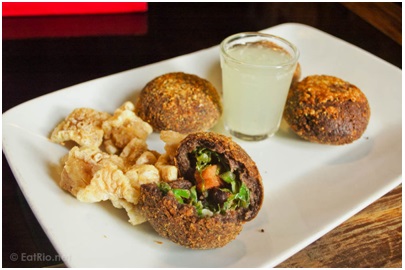 Bolinhos de feijoada – Aconchego Carioca. / Courtesy of Tom Le Mesurier
Feijoada is the closest thing Brazil has to a national dish – a rich, heavy stew of black beans, salted beef, pork and sliced sausages, served with shredded collard greens, crispy pork rind and zingy slices of orange to lighten the load. It was Kátia Barbosa, the chef and owner of once-humble restaurant Aconchego Carioca, who found a way to encapsulate the complexities of that meal into a single (greedy) bite. A thick dough of black beans, enriched with pork and beef, is shaped around a stuffing of crispy bacon and finely shredded collard greens. The finished masterpiece is served with crunchy pork rinds and a mini caipirinha (Brazil's national cocktail, made with cachaça, sugar and lime. Cachaça is Brazil's most common distilled alcoholic beverage).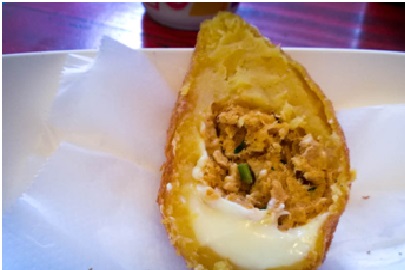 Coxinha de Frango com Requeijão at Fornalha. / Courtesy of Tom Le Mesurier
Fornalha is an unspectacular looking lanchonete (snack bar), but just a mention of their infamous coxinha inspires sighs of adoration from those who've had the pleasure. The tear-shaped golden breadcrumb exterior doesn't give much away, but bite through the thin outer casing of soft dough and you'll find succulent shredded chicken breast enlivened with garlic, lime, scallions and parsley. And hiding below it all like a guilty secret is a generous dollop of gooey, creamy, utterly indulgent requeijão cream cheese. You'll feel guilty once you're finished, but you'll get over it.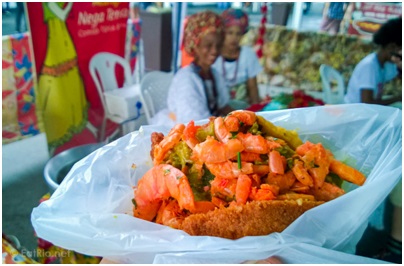 Acarajé at Nega Teresa. / Courtesy of Tom Le Mesurier
As the main landing point for ships coming from West Africa during the days of slavery, Brazil's northeastern state of Bahia remains the heartland of the country's West African roots. No dish better epitomises this link to Africa than Acarajé, a version still sold on the streets of Lagos today. Black-eyed peas are soaked and skinned, then pounded into a purée and deep-fried in pungent unrefined palm oil. The falafel-like cake is split open and stuffed with vatapá (a rich, creamy mixture of peanuts, cashews, dried shrimp and fresh cilantro), caruru (okra, nuts and ginger), salsa, hot sauce and more dried shrimp. History never tasted so delicious!

Bolinhos de arroz at Bar do Momo. / Courtesy of Tom Le Mesurier
In the heart of Tijuca in the North Zone of Rio, far from the beaches and the tourist hordes, lies one of Rio's most culinary inventive bars. Bar do Momo is presided over by the prodigious Toninho, who whips up all manner of bar food treasures ranging from traditional dishes to dizzying new inventions. But before you tuck in to your chosen main course, order a couple of bolinhos de arroz, Toninho's take on arancini. Within the golden crust you'll find long-grain rice (no highfalutin arborio here) and nuggets of spicy sausage, all generously coated in creamy melted cheese.

Camarão Empanado – Bar do David. / Courtesy of Tom Le Mesurier
Just a stone's throw from Copacabana beach is the favela (slum) known as Chapéu Mangueira. Here you'll find Bar do David, a modest bar with simple plastic tables and chairs that belie the culinary delights that await. The essential order here is the Camarão Empanado, a huge shrimp languishing in a rich béchamel sauce, surrounded by mashed cassava purée and crisp breadcrumbs. Add a few drops of the house-made chilli sauce, then take a bite, add a few more drops of chilli, take another bit, repeat.

Bolinhos de Abobora at Bar do Gomez. / Courtesy of Tom Le Mesurier
Armazém São Thiago (better known to the locals as Bar do Gomez) has been serving geladinhas (cold beers) to its bohemian clientele since 1919. As well as its beautiful original décor and fine selection of cachaças, the bar is renowned for its bolinhos de abobora. A shell of crisp panko-style crumb surrounds sweet, buttery pumpkin purée. And in the center? A generous portion of carne seca (shredded cured beef) whose saltiness provides the perfect foil to that sweet pumpkin outer layer.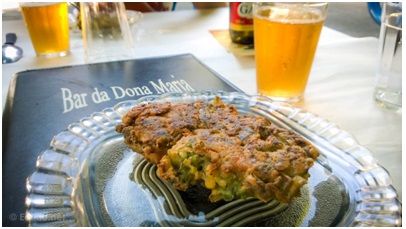 Bolinhos de Vagem at Bar da Dona Maria. / Courtesy of Tom Le Mesurier
You'll have to visit Bar Brotinho (universally known as Bar da Dona Maria, named after its octogenarian owner) on a Saturday to try these delicious bolinhos de vagem. Reminiscent of pakora, this bolinho is a melange of fresh green beans, garlic and scallions, all held together with a light batter that is crispy on the outside and creamy in the middle.
More on the featured Bolinhos
Meet the author