7 Essential Brunch Spots in Perth
When it comes to venturing out for brunch in Perth, there's a plethora of options at your fingertips. But forget about your generic bacon and eggs (though I have to admit, I am quite partial to those too), plates these days are all about tantalising the senses, pleasing the palate while warming your insides from the belly out. Here's my list of favourite brunch spots – places I definitely recommend you try if you're ever visiting the sunny coast of Western Australia.
1. The Old Laundry

Image courtesy of queenofbadtiming.com

High ceilings, fresh air and a brand new Head Chef who previously led the kitchen at one of Perth's most popular breakfast spots, The Old Laundry is definitely an up and coming venue. It's recently opened and nestled in North Perth, which is an eclectic mix of residential and small-business properties. The counter is lined in freshly baked cakes, and the menu compiled of clever and mouth-watering items that include dishes like green eggs and ham, sweet potato and chorizo hash… and then there's the pop tart. Made in house it's a flaky pastry filled with creamy peanut butter and sweet three-berry jam, then accompanied by chocolate mousse, salted caramel, banana, pomegranate and fresh sprigs of mint. It sounds ridiculous and yet it works, appealing to the sweet-toothed child in all of us.

Image courtesy of queenofbadtiming.com

By night a taste of Spain takes up the corner of Leederville that Duende is perched upon, where jovial diners clink glasses of sangria and smile over plates of tapas (including some of the best croquettes in town). But by day the glamour fades and bright sunshine streams in through the windows. And the menu, it becomes a lovely refreshing take on the first meal of the day. Think classics like eggs benedict but take out that overplayed sourdough or muffin, and replace it with a sweet potato and thyme rosti, and elevate the hollandaise by incorporating tarragon and mustard seed. Or my personal favourite, the doughnut balls with buttermilk custard plus peanut butter and jam ice-cream. I mean, any excuse for dessert at breakfast time right? And these are so, so good. And best of all, not many people have clued on to the fact that their breakfast is just as good as their dinner, so you won't need to wait long for a table!

Image courtesy of queenofbadtiming.com

When you're spoiled for choice of dining options like we are in Perth, it can sometimes be almost stunning to your senses when you find a gem like Nunam. Specialising in Thai fusion, their brunch menu ticks all the boxes for me in terms of intrigue, delight and some pretty bold flavours. It has a very strong east meets west style with dishes like congee with slow cooked eggs and hollandaise, fried eggs with lap cheong and son in law egg with seared scallops and grilled watermelon. I don't think I've ever been as excited about a brekky menu like I about Nunam. Any place that deep fries bacon to top their dishes has already won my allegiance, but when it is done purposely so to enhance the flavour profile and offer a subtle seasoning and textural element… well consider me a fan. And I am all too happy to sing this place's praises over and over again.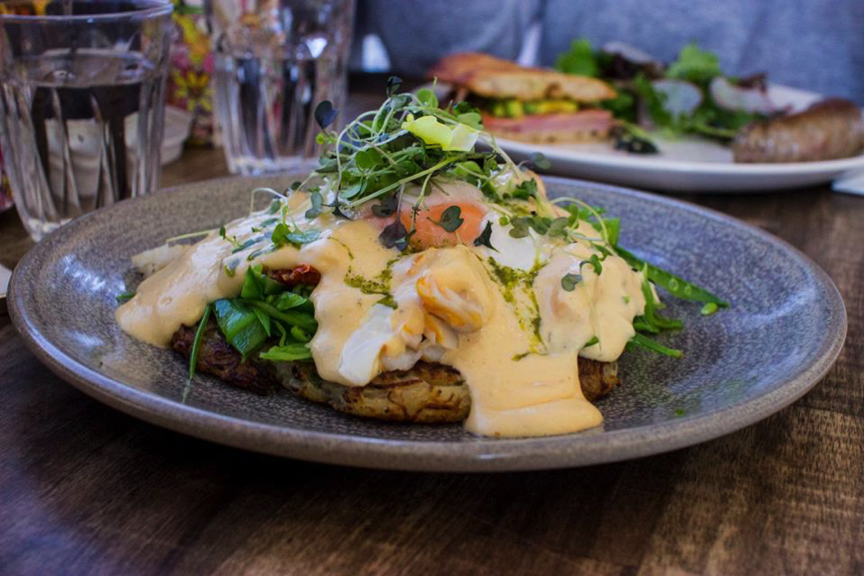 Image courtesy of queenofbadtiming.com

There's a place in Victoria Park that holds a big part of my heart; a little hole in the wall that always has a long line of eager diners waiting outside with their takeaway coffee cups in hand. Tables are a hot commodity at Harvest Espresso, but the wait is always worthwhile – and you're convinced of this the moment you get just a bite of food. With a strong focus on seasonal produce, and a changing menu, the small but impressive menu has options for all palates and preferences. Between the grilled octopus with hummus, to the smoked cod with potato hash or some of the prettiest French toast in town. And every time I've been, their yolk porn is guaranteed on the money.

Image courtesy of queenofbadtiming.com

Sometimes in life something very simple can become very trendy… but in the best kind of way. Unpretentious, with wooden textures and beams of natural light, Hylin is a soul-soother. A stand alone venue in an area with no other viable eating options. Their dishes marry some classic breakfast flavours like smashed avocado and poached eggs, but for those more adventurous they have a beautiful corn puree topped with crusty bread, chorizo, asparagus, a fried egg and chipotle sauce. Everything there is created with love, a smile and a little drizzle of their house made oil, which brings added flavour to every bite.



Image courtesy of queenofbadtiming.com

More and more I'm seeing the combination of savoury and sweet in a dish at breakfast time – something that can often fail, but other times soar well above the pack. Mary Street Bakery isn't inventing the wheel with their buttermilk pancakes topped with maple syrup, fried chicken and a fried egg, but my god it's tasty. Wash that down with one of their malted milkshakes and it's a combination of sinful heaven. With a venue that's smack in the middle of the ultra hip Mount Lawley, and a funky neon sign promoting fresh bread baking, this place looks good – and delivers too. Stick around after you've consumed your fill of brekky, they also make a mean salted caramel doughnut – something you should never deny yourself from trying.

Image courtesy of queenofbadtiming.com

Easily the venue with the longest lines at breakfast time in Perth is Sayers Sister in Northbridge. Owned and run by husband and wife team (the Sayers), it's a charming venue with an eclectic mix of furniture and decorations, plus a high long table with cakes, cookies and tarts running down the middle. Some of the highlights for me eating there include their ridiculously indulgent brekky croquettes, their kedgeree and of course their pea and ricotta pikelets with pancetta and poached egg. Crack that precariously balanced white mound and out comes pouring a river of golden goodness, silkily coating the other ingredients and proving yet again why eggs are indeed the rulers of the breakfast kingdom.
Recommended features by ExtremeFoodies
Meet the author