Buffalo's 7 Essential Wings
Where to find the best of this iconic bar food
When people visit Buffalo, they generally have one question when it comes to food: 'Where can I get a good Buffalo wing?' (FYI: natives just call them chicken wings). For decades, the city has been associated with one of the most popular bar snacks in the country. There are some conflicting reports about how and when the chicken wing snack was created, but most stories point to Teressa Bellissimo from Anchor Bar coming up with the recipe to feed her son and his friends late one night in 1964.

Most agree Buffalo chicken wings were invented at Anchor Bar in Buffalo, N.Y. / Courtesy of Wikimedia Commons
Today, every neighborhood has a bar or pizzeria that serves chicken wings. Ask any local for a recommendation and you'll get a different answer each time. While chicken wings in Buffalo can start some heated arguments between friends, there are some universal rules: Never bake or bread a chicken wing, they should be served with blue cheese (never ranch) and Frank's Hot Sauce is typically part of the sauce recipe.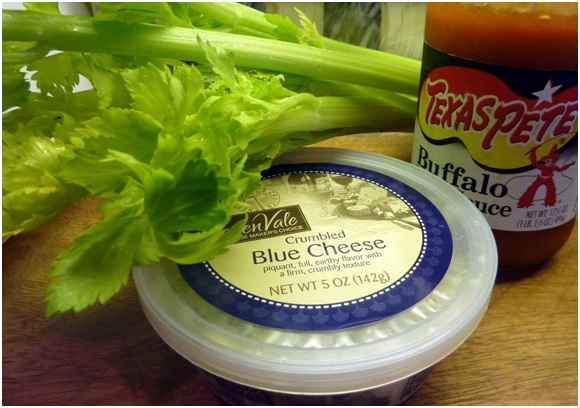 Purists insist Buffalo chicken wings should be served with blue cheese, not ranch. / Courtesy of whistlestopcooking.blogspot.com
The following seven spots have, in my opinion, the best and sometimes most unique chicken wings in the greater Buffalo area. Whether the restaurant has historical significance, puts a slight twist on the classic recipe or changes up the cooking method, these seven restaurants deserve a special trip.

Tourists pack the establishment where the iconic bar snack was invented. / Courtesy of Anchor Bar
Walk into Anchor Bar at any time and you'll find the place packed with tourists. This popular destination in Buffalo has a constant stream of customers from the instant they open to the moment they close. Their traditional Buffalo style chicken wings are solid. I recommend ordering Medium or Hot and taking in the sights and sounds of the place where chicken wings were reportedly invented. While you're grabbing a couple of wings, pick up some bottles of hot sauce and enjoy a pint of Genesee "Genny" Cream Ale on draft.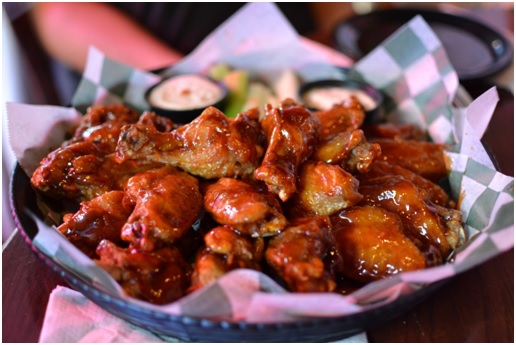 Try the chicken teriyaki sauce at Bar Bill Tavern. / Courtesy of Donnie Burtless
Bar Bill Tavern is about 30 minutes outside the city of Buffalo in a town called East Aurora. It's a bit of a drive but worth every mile. The bar can be a little intimidating, wait times for a table can be long and they only take cash (there is an ATM inside) but they have a loyal customer base that will defend them to the end. Along with the traditional Mild/Medium/Hot chicken wings, I recommend their Chicken Teriyaki sauce. It has the perfect combination of sweet and spicy with wings that are juicy and crispy. This is also the only restaurant on the list where I highly suggest checking out their Beef on Weck, another local culinary invention.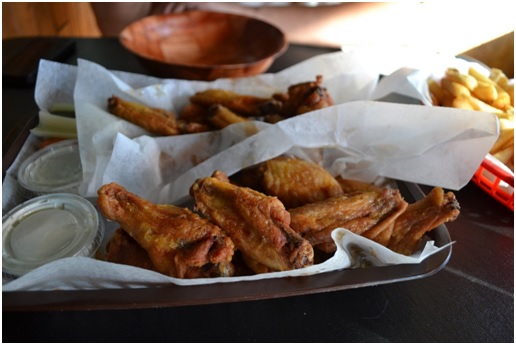 The Smitty wings at Doc Sullivan's are packed with nutmeg and cinnamon. / Courtesy of Donnie Burtless
South Buffalo is known for its unique take on chicken wings called "Smitty" wings. These wings were invented in the late 1960's at a bar called Smitty's (currently Doc Sullivan's). The sauce recipe is heavy on butter and instead of Frank's Hot Sauce, they add various spices like nutmeg and cinnamon. It's a unique wing that normally isn't coated in a thick sauce but still packs an intense punch. When the owners of Doc Sullivan's took over Smitty's in the late '90s, they inherited this classic South Buffalo Irish bar and its famous wing recipe.

Duff's, with 10 levels of spicy wings, is the most popular place for the snack in Buffalo. / Courtesy of Donnie Burtless
If there is one great wing spot most people in Buffalo can agree on, it's Duff's. In the last five years they've taken over the Buffalo area, expanding to five locations and gaining popularity in the national media. Over that time they've been visited by President Obama and won a "Food Wars" competition on the Travel Channel. Their signature wings are coated heavily in sauce and offered in more than 10 spicy levels. While all the locations are solid, the original on Sheridan Drive is the most consistent and the only one that doesn't feel like a sports bar. If you only have time to stop at one traditional chicken wing restaurant, Duff's will not let you down.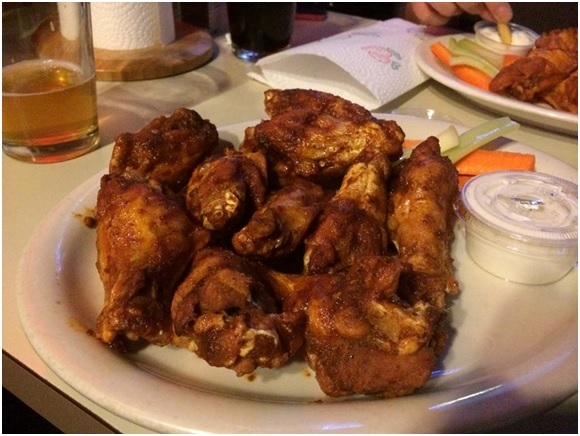 Wings at Kelly's Korner are fried, coated in dry rub and sauced. / Courtesy of Donnie Burtless
Kelly's looks like most dive bars in the city of Buffalo. It is dark, has a steady stream of regulars and only takes cash. But don't let that scare you away. Their wings, specifically their hot wings, are known to pull in even a few famous Buffalo chefs. Fried, coated in a dry rub and then sauced, these wings are perfect for someone who likes their wings spicy and flavorful but not overwhelming.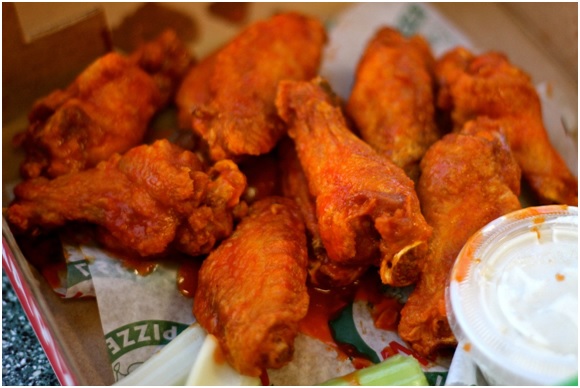 La Nova's barbecue pit wings are fried, doused with sauce and caramelized on a grill. / Courtesy of Unvegan.com.
This Buffalo pizzeria is legendary. If you want to get Buffalo-style pizza (between NY style and deep dish with a sweeter sauce) and good wings, this is a great spot to start. Yes, they make a great traditional chicken wing. But their BBQ wings, which are fried, coated liberally with BBQ sauce and then char-grilled, are what many go out of their way for. They also ship frozen pizza and wings across the country, so if you really fall in love you can place an order from the comfort of your home, even if it's 2,000 miles away.

Flecks of Parmesan are apparent in the secret sauce at Nine-Eleven Tavern.
Named after the two pieces of land it occupies, 9 and 11 Bloomfield Ave., Nine-Eleven Tavern is the only restaurant on this list that does not use traditional Frank's Hot Sauce for their wings. Instead, owner/chef Mark Gress has created his own secret from-scratch recipe, which is so closely guarded that (rumor has it) even thousands of dollars could not buy access to it. The wings are coated in a sauce that has flakes of Parmesan and a sweet and tangy flavor wing purists will either love or hate. Hidden on a side street in a residential area, this is a true chicken wing gem that is a favorite of many highly respected foodies. Like many small Buffalo bars, make sure you stop by an ATM before you're visit because they only take cash. It's my favorite wing in Buffalo and they took home an award in Chowzter's 2013 North American Awards in San Francisco.
Meet the author