8 Essential Eats in New York City's 'Real' Chinatown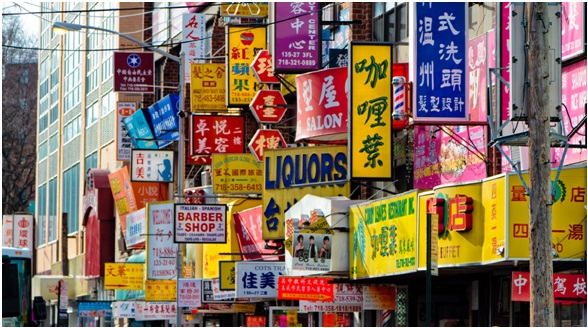 Downtown Flushing's Chinatown offers a wealth of regional Chinese food / Courtesy of chopsticksandmarrow.com
As far as we're concerned, the Chinatown in lower Manhattan is strictly for tourists. As with most things in New York City, if you want the real food, you need to come to Queens, specifically the bustling Chinatown of downtown Flushing. And it couldn't be easier to get to. Just take the 7 train to the last stop. The neighborhood offers a wealth of regional Chinese food — Cantonese, Sichuan, Dongbei and Shanghai — served in settings ranging from down-and-dirty hawker stands to sit-down restaurants. So, whether you're in the mood for dumplings, cold noodles or the glory that is Muslim lamb chops, Flushing is not to be missed. Without further ado, here are our eight essential dishes to eat in Flushing.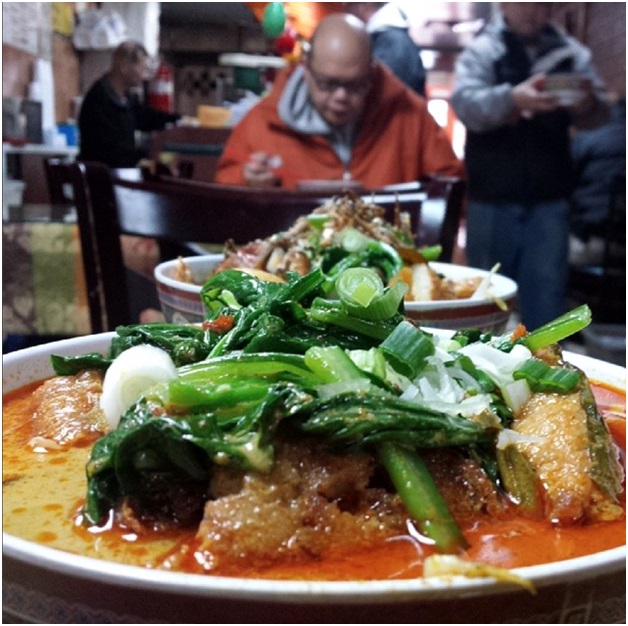 Laksa @ Curry Leaves. / Courtesy of chopsticksandmarrow.com
Club kids, tough guys and homesick Malaysians rub elbows waiting in line for Queens' best predawn Malaysian soul food. Served from 4 to 11 a.m. — by a different staff than the day crew — it is Flushing's longest-running pop-up. Step up to the counter and order a bowl of spicy coconut enriched kari laksa, and the ladies will ask what type of noodles you want. Go with the springy yellow variety, to stand up to the rich, fiery soup. Now comes the fun part: customization. Choose from several types of fish balls and fish cakes, char siu pork, crisp fried wontons, shrimp, Chinese water spinach, and several items stuffed with fish paste, including pillowy blocks of fried tofu, thick rings of bitter melon and searing green peppers. Tame the laksa's fire with a strong sweet iced coffee. It's the Breakfast of Champions -- Malaysian style.

Pork and Leek Pot Stickers @ Li's Lanzhou Hand-stretched Noodles / Courtesy of chopsticksandmarrow.com
As the name implies, the Henanese folks who run this stall make noodles and lots of 'em. Ignore the noodle-making robot and his human counterpart, and order the No. 31. These dumplings with wings, as some call the pork and leek pot stickers here, are simply heavenly. They're pan-fried in a radial pattern resembling an asterisk — spokes on a wheel of deliciousness — joined by a crackling circle of dough. They're juicy as all get-out, and the thin, crisp sheet between each dumpling makes for fun eating. Create your own dipping sauce by mixing black vinegar, chili paste and soy sauce, and dig into the finest pot stickers around. Don't be surprised when a Chinese diner does a double take when they see you bringing the dumpling spaceship back to your table.

Muslim Roasted Lamb Chop @ Peng Shun Spicy Pot. / Courtesy of chopsticksandmarrow.com
Muslim lamb chop, also called lamb in Xinjiang style, is a specialty of Flushing's Dongbei restaurants. But the version that rocked our world can't be had at a restaurant. It's served in a much more humble setting: New York Food Court. Peng Shun Spicy Pot (Peng Shun Ma La Xiang Guo), where the dish will run you $20, calls its crowning glory "roasted lamb chop." The Chinese name, Meng Gu Kao Rou, translates to Mongolian roast lamb ribs. Whatever you call it, it's amazing. A mantle of cumin seeds and red pepper flakes coat what is surely the most elaborate dish to be served in a Flushing food court. Juicy tender meat with just enough gamey funk to get your attention and glorious white lamb fat lay within. It is the spiciest, crispiest, most finger-licking version of this dish around. Peng Shun provides plastic gloves and a bowl or two of rice. Scoop the heady mixture of cumin seeds and red pepper imbued with lamb fat on top of your bowl.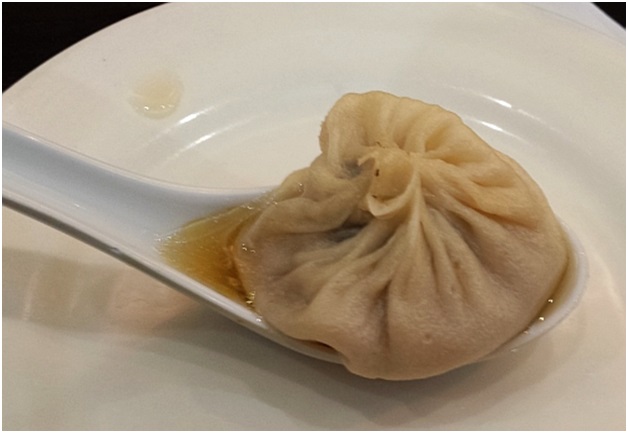 Black Truffle Soup Dumplings @ Shanghai 33 / Courtesy of chopsticksandmarrow.com
Steamed Xiao Long Bao, the Shanghai specialty commonly known as soup dumplings, after the fact each little package is filled with delicious broth, are among our favorite dumplings. If you've never eaten a Xiao Long Bao, here's quick primer. Gingerly pick up the dumpling and place it in your soup spoon, nip a hole in the side, and slurp the soup before consuming the rest of the dumpling. The best place to get them in Queens' Chinatown is Shanghai 33. The thin-skinned pork and crab variety are excellent, singing with crab flavor. The recently added Hei Song Lu Xiao Long Bao, or black truffle soup dumplings, are a luxurious spin on a regional Chinese classic. The luxurious little purses arrive smelling of truffle. The translucent dumplings are filled with pork and bits of the precious mushroom, the broth heady with truffles.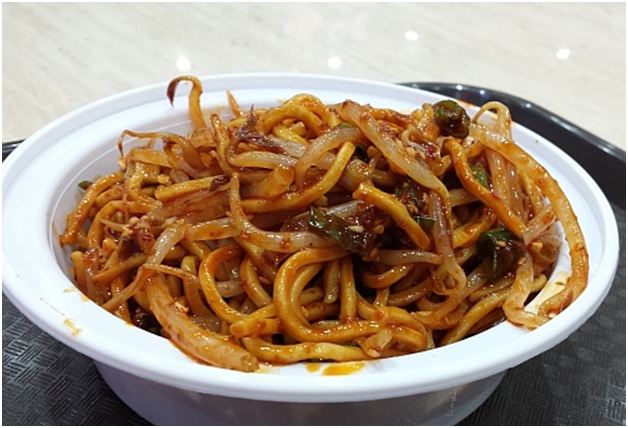 Spicy Cold Noodles @ Szechuan Taste. / Courtesy of chopsticksandmarrow.com
Order a bowl of spicy cold noodles (Ma La Liang Mian) at this Sichuan specialist and watch the lady behind the counter go to work. First, a tangle of springy yellow noodles goes into the mixing bowl. It's quickly followed by a half dozen or so ingredients — peanuts, ground Sichuan peppercorn, garlic and chili oil, among them — from the liang mian mise en place. The result is fiery, sweet and nutty, with just enough tingling Sichuan peppercorn. This outfit's Chinese name is Tian Fu Zhi Guo, or Country of Heaven, a fitting handle for a place that turns out such heavenly cold noodles.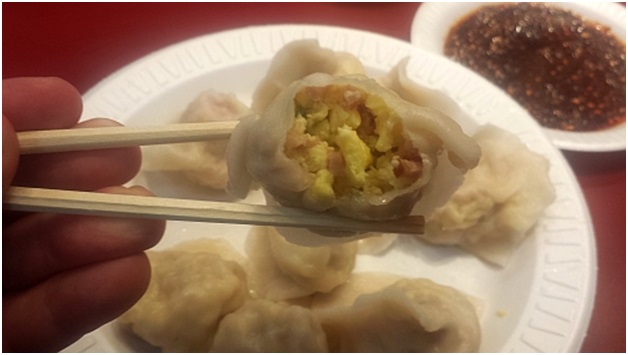 Breakfast Dumplings @ Tianjin Dumpling House / Courtesy of chopsticksandmarrow.com
With its lovely lamb and green squash dumplings, Tianjin Dumpling House, on the lower level of the ramshackle Golden Shopping Mall, is one of our favorite places. A while back, proprietor Helen You rolled out a DIY dumpling menu where customers can design their own dumplings, which are freshly made and steamed on the spot. With eight types of protein, including egg, lamb, and squid, and 16 kinds of vegetables, including pumpkin and seaweed, the possibilities are almost endless. Allow us to save you the trouble and suggest what we like to call the breakfast dumpling. Eggs, pork, cilantro and da hong cha, the kielbasa-like red pork sausage are the ingredients you'll need to create this breakfast dumpling. The perfectly steamed little packages burst with a magical mixture of egg, cilantro and minced smoky sausage that taste like the Platonic ideal of bacon and eggs.

House Special Pork Chop Pancake @ The Crispy Pancake / Courtesy of chopsticksandmarrow.com
This Taiwanese-run hawker stand calls itself The Crispy Pancake, but you won't find any flapjacks here. The titular pancake is a crispy flaky flat bread bun offered with several fillings, the best of which is a number called the house special pork chop pancake. It consists of a panko-encrusted fried pork chop that owes much to Japanese cuisine, which can barely fit inside its flaky bun. The whole lot is crowned with a runny fried egg. It's the best Japanese-Chinese mashup of a sandwich to ever hit Flushing. The fish version is pretty good, too.

Famous Aromatic Crispy Chicken @ Canton Gourmet. / Courtesy of chopsticksandmarrow.com
Fried chicken is perhaps not the first thing most people think of when it comes to Chinese food, but wonderful versions exist, including Taiwanese popcorn chicken. And then there are the Canton versions. The best of which goes by the not-so-humble name "Famous Garlic Aromatic Crispy Chicken." It can be had at Canton Gourmet on Prince Street. The dish's name is well-deserved. The hacked up golden fried bird is served showered with fried garlic, shallots and scallion. The salty skin is shatteringly crisp, yet the meat remains juicy.
Meet the author