The Philippines' Essential Lechón

Parade of Lechón is held every June 24. /Courtesy of Batangas Resorts.org
On his Philippine episode of "No Reservations," celebrity TV Chef Anthony Bourdain hailed lechón, a roasted pig specialty of this island country, as the "The Best Pig Ever." Lechón is so popular in the Philippines that an annual festival, called Parada ng Lechon, or Parade of Lechón, is held every June 24 to commemorate the country's patron saint, St. John, and inhabitants from all over the Philippines converge upon the municipality of Balayan in the province of Batangas to parade decorated golden-red or golden-brown pigs with their mouths stuffed with apples.

Courtesy of AnimalHDwall.com
Roasted over charcoal or in an oven, this succulent pig dish was handed down from the area's Spanish heritage and improved with Filipino ingenuity and love for the dish. Lechón comes from the word leche, Spanish for milk. It indicates the age range of the suckling pig used to prepare the delicacy. The piglet is still young enough to feed on its mother's milk when it is slaughtered at between 2 and 6 weeks of age.
The succulent pork roast is also a traditional highlight of other fiestas, family celebrations and special occasions, and eating lechón is a must for visitors in the Philippines who want to savor what Filipino food is all about. And for foodies who don't want to settle for anything but the best lechón experience, here are the top five lechón experiences in the Philippines.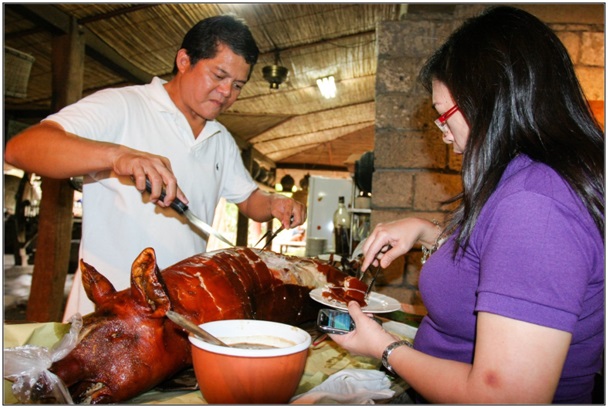 Claude Tayag carves his famous lechón in his home in Pampanga./ourawesomeplanet.com
Imagine a whole roasted pig served six ways during a five-hour, private-dining experience at Bale Dutung, Chef Claude Tayag's home in Pampanga, a two-hour drive from Manila. First, the crispy skin is served with a signature liver sauce. Second comes pritchon, fried lechón strands served in a wrap with various vegetables and sauces. The meal continues with sinigang na lechón, a sour soup specialty in the Philippines using pork in the broth. Next, succulent barbecued strips of lechón ribs arrive. Then, Lechón Pata Asado, featuring the upper thigh of the pig, is served in a sweet, tomato-based stew. The meal concludes with sisig -- the national dish of the Philippines -- composed of chopped meat, ears and pig's cheeks grilled or mixed with vinegar. This nose-to-tail experience is a foodie immersion into Filipino cuisine.

Pepita's Kitchen presents its roasted suckling pig on a bed of banana leaves./ourawesomeplanet.com
Pepita's lechón is best known for its various stuffing, like a French stuffing with truffle sauce, Thanh Long de Leche, or Filipino favorites such as Binagoongan and Laing. Pepita's Kitchen also features a private, 15-course degustacion dining experience in a private, Makati home. It's a showcase of modern Filipino cuisine with lots of flavors and different sauces with Pepita's Stuffed Lechón as the highlight.

"The best pig ever" is served at Zubuchon in Cebu, according to TV's Anthony Bourdain./ourawesomeplanet.com
"No Reservations" host Anthony Bourdain proclaimed this "the best pig ever" after he tasted the lechón cooked by Market Manila blogger Joel Binamira from Cebu, Visayas, in the southern part of the Philippines. It specializes in flavorful lechón with secret herbs and spices and a signature crispy skin that stands alone without the need for any additional sauce. To taste the lechón hailed as "The Best Pig Ever," as well as a taste of Cebuano cuisine at its best, visit any of the Zubuchon branches in Cebu.

Piglets are served a special diet to infuse the meat with flavor at Kalamunda in Tagaytay./ourawesomeplanet.com
Kalamunda is the private dining farm of Sylvia Miguel in Tagaytay, about a two-hour drive south of Manila. You must order the pig at least a month or so in advance because the pig is fed a special vegetarian diet to infuse the meat with its flavors. The pig is roasted early in the morning, cooked traditional style over charcoal, and is timed to serve upon your arrival. They say the best time to eat the lechón is when smoke is still oozing out of its butt.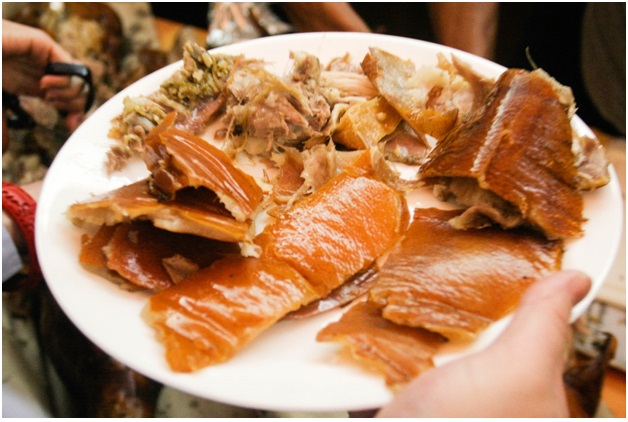 Suckling pig is cooked Visayan-style at General's Lechón./ourawesomeplanet.com
In Manila, one of the best tasting lechón is found at General's Lechón, where the suckling pig is cooked Visayan-style with a crispy skin and lots of herbs and garlic flavor. Lechón is best enjoyed with a big group of 10 or so people. It's a highlight to immortalize your Filipino foodie experience with friends and family.
Meet the author