Essential Eats on Rosarito Beach: Farm & Sea to Table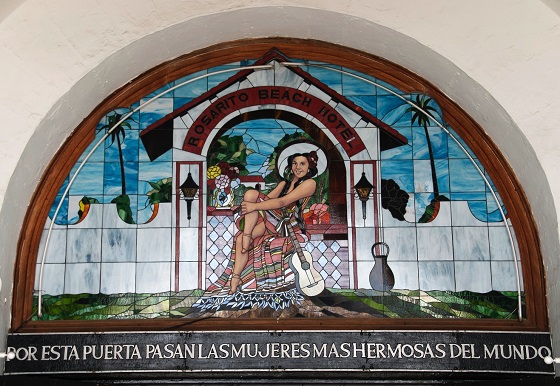 The entryway to the historic Rosarito Beach Hotel imbibes the spirit of the town's seaside tranquility
Baja California's tiny Rosarito Beach (pop. 70,000) is often overlooked as a culinary destination due to its larger neighbors with bigger food reputations to the south (Ensenada) and north (Tijuana). Just an hour across the border from San Diego, Southern Californians used to flock to Rosarito Beach for its laid-back Mexican beach vibe, late-night Spring break parties, and fairly rote yet delicious and affordable culinary fare. Old Baja favorites include Puerto Nuevo style lobster and mesquite-grilled Sonoran steaks at Restaurant El Nido.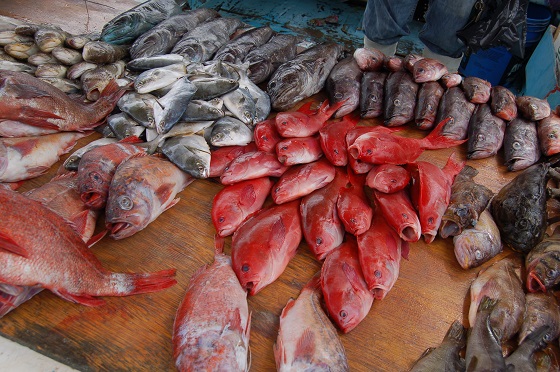 The catch of the day, on display in Popotla, just south of Rosarito Beach
But a bit of exploration reveals there is so much more to eat and drink in this seaside hamlet. There's a rich farm/sea-to-table culinary culture that's growing as tourism begins to pour back into the region. Local farms, ranches and fishermen supply markets and restaurants with a bounty of fresh produce, livestock, game meat and seafood. And at the end of the day, there's always a beautiful sunset and troubadour music to accompany your meal. No matter where you turn in Rosarito, there's always something fresh and good to eat. So, in no particular order, read 'em and drool…

Clockwise from top left: organic crops; homemade desserts; some of Rancho Las Ilusiones' free range livestock; Conejo (rabbit) machaca with eggs and beans
Rancho Las Ilusiones, owned by the Cordero family, is a working organic farm and livestock ranch. In 2012, the family opened a palapa restaurant that makes incredible Conejo (rabbit) machaca with eggs and homemade desserts for Sunday brunch. The menu – based on traditions carried on by the family matriarch – also includes barbacoa and chilaquiles. The clientele are largely local Mexican families, so you know it's going to be good. Rancho Las Ilusiones is in the foothills just east of Rosarito Beach and the toll road at Avenida Baja California, Colonia Morelos. To get there, take Camino a Ejido Morelos east out of town and turn right once you reach the first road after a 15-minute drive, Avenida Baja California. Rosarito, Baja California, Mexico. Facebook Page.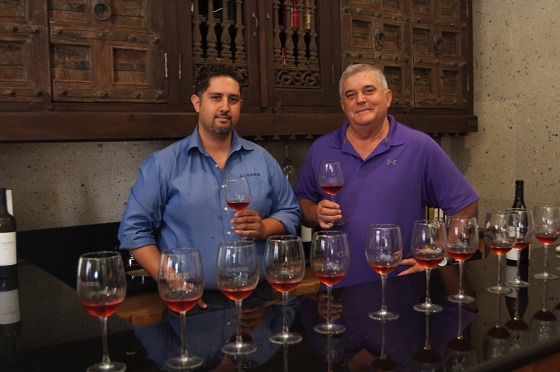 Sales manager Ernesto Diaz Perez and master winemaker Julio Benito Martin of Claudius Winery
The Valle de Guadalupe - just southeast of Rosarito Beach - is a well-known destination for food and wine. But Rosarito Beach has never been part of that scene … until now. Master winemaker Julio Benito Martin from Segovia, Spain, started the city's only winery in 2010 and is planning on going national in 2015. They produce a merlot that will change your mind about merlot, and a fantastic Nebbiolo. Claudius is available in more than 70 restaurants in Baja, including Javier Plascencia's Mision 19 and Finca Altozano, Miguel Angel Guerrero's La Querencia, and Puerto Nuevo's Ortega family of restaurants.
Claudius Viña y Bodega is available for events, winemaking classes and private tastings by appointment. To get there, drive uphill on Bulevard Sharp, just opposite of the Sharp television maquiladora. Claudius is a discrete cream-colored building with a green gate. Bulevard Sharp 3722, Baja California, Mexico.



You'll find a fresh, affordable lobster feast at La Casa del Pescador, Puerto Nuevo, Rosarito Beach, Mexico
The village of Puerto Nuevo has always been THE spot for a fresh and affordable lobster feast. Poached, buttered, grilled and served in halves (Puerto Nuevo style), the crustaceans have gotten a bad rap in recent years due to rumors of restaurants sourcing them frozen from Australia (local waters apparently "lobstered-out"). On a recent trip to La Casa del Pescador, however, the langostinos were fresh, succulent and in abundance. In addition to the typical grilled lobster, our table also enjoyed a fresh, poached lobster that was excellent.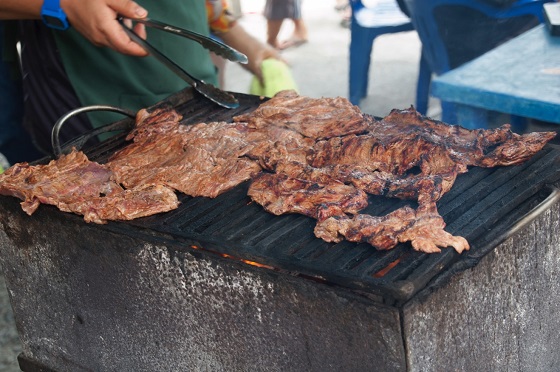 Tacos El Yaqui makes only one type of taco: perfectly marinated and grilled arrachera (skirt steak)
Founded in 1984, Tacos El Yaqui serves one and only one type of taco -- marinated Sonoran arrachera (skirt steak) cooked over oak on a metal box grill. These delicious and generously large tacos are served with onions, guacamole, cilantro and beans in a hearty flour tortilla, with grilled chilis and radishes on the side. Locals and visitors are fond of saying, "If you haven't had Tacos El Yaqui, you haven't been to Rosarito Beach," and for good reason. The restaurant is constructing a larger facility in its current location.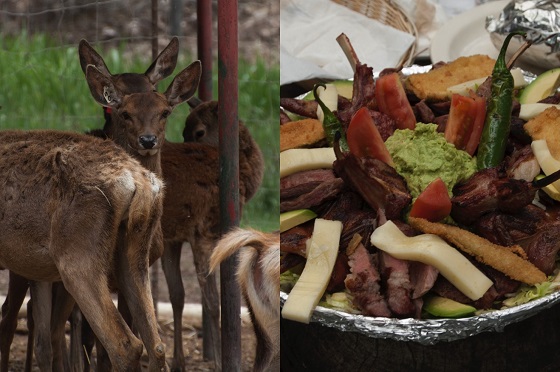 El Nido raises venison and other livestock on its ranch, and serves it at its restaurants in town
Opened in 1971, Restaurant El Nido is a beautiful, rustic mess of wood, stonework, waterfalls, plants, palapas, rusted farm implements and folk art. While the restaurant's mesquite-grilled beef comes from the Mexican state of Sonora, their produce, fowl and game meats are locally produced on their farms in the hills east of town. One of these farms is Rancho Guacatay, which raises and provides much of their free-range venison. El Nido Restaurant is in the center of town on the corner of Boulevard Benito Juarez and Mar Del Cortez #348 Sur, Rosarito Beach, Baja California, Mexico.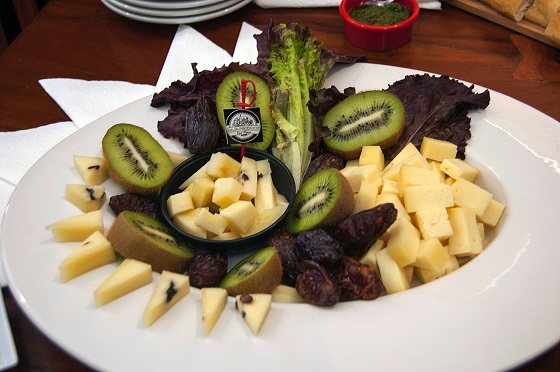 Local cheese, Kiwi fruit, greens and dates from Baja Produce
Baja Produce provides fresh fruits and vegetables to many of the Rosarito Beach restaurants and hotels. Owner Fernanda Sanchez maintains a shop with a restaurant and gallery in town that stocks a variety of goods including olives and cheese from nearby Valle de Guadalupe, homemade bread and very firm, very fresh tomatoes. The Deli Place Restaurant serves breakfast and lunch, offering local and fresh options such as Sopa Calabaza, a variety of salads, baguette sandwiches, wine, cheese and desserts.
Baja Produce is right off the Carretera Rosarito-Ensenada in town on Popotla 10, Colonia Cuenca Diaz, Baja California, Rosarito Beach, Mexico

Raul Aispuro Funes of Funes Beer in Tijuana shows off his new Chocolate Stout
2014 marked the first year for the Rosarito Beach Beer Fest, and a number of local and regional brewers were on hand to pour samples of their frothy wares. Inspired by the craft beer scene in San Diego, Rosarito Beach, Tijuana, Mexicali and Ensenada are concocting artisanal cervezas of their own using a tantalizing variety of local ingredients. Standouts this year were Tijuana's Funes' Chocolate Stout, and a line of tequila and mojito-flavored malt bebidas from Salitos. Funes' Chocolate Stout and most of Baja's other artisanal cervezas can be found just north of Rosarito Beach in Tijuana at Baja Craft Beers Tasting Room. "BCB," as it's known, is at 3003 Calle Orizaba, Fracc Neidhart, Tijuana, Baja California, Mexico.

Clockwise from top left: Uni (sea urchin) cocktail, Pescado Zarendeado, Almeja (clam) Preparadas, Stone crab
In the small village of Popotla, the catch is bought to shore daily. Local vendors sell and restaurants filet, grill, shuck or otherwise serve raw a variety of fresh fish, bivalves and crustaceans. A visit to the shoreline stalls before choosing your fish and restaurant is a must for sampling fresh clams, mussels, oysters, uni (sea urchin) and a bevy of other oceanic delights. Once you're ready to sit down and feast, Restaurant Atotonilco is among one of the better spots in this ramshackle fishing village to enjoy the local "Marciano" (spider crab) or pescado zarendeado, where the fish is butterflied, marinated in achiote paste, and grilled over mesquite. Popotla is at Km. 33.5 off Carretera Rosarito-Ensenada south of Rosarito Beach next to Baja Studios (take the dirt road west from the free road toward the ocean). Restaurant Atotonilco is among a small cluster of restaurants within walking distance of the parking lot.
Rosarito Beach: Farm & Sea to Table
Meet the author