Madrid's Essential Tapas
Download the full PDF of ExtremeFoodies's Essential Guide to Spain's Best Tapas here.

Cosmopolitan and varied – bringing together regional Spanish and international elements of tapas – there are a few dishes that could be considered the most typical of Madrid. Because Madrid is on a high plateau and can be pretty cold in winter, several of these dishes are "winter warmer" stews. For example, Callos a la madrileña is a tripe stew cooked to a syrupy texture, and usually served in clay pot with pieces of chorizo, morcilla (blood sausage) and ham. Cocido madrileño is perhaps the most representative dish of Madrid cuisine, and consists of a stew of beans, vegetables, meat and bones that make a fabulous flavorful broth. The components are often served separately. Bocadillo de calamares is a fried squid sandwich, and huevos estrellados or huevos rotos are plates of chips and fried eggs, with thin slices of quality ham. When it's served, the egg yolks are broken to soak into the potatoes. Whatever you choose in Madrid, the fresh, local ingredients are what make it.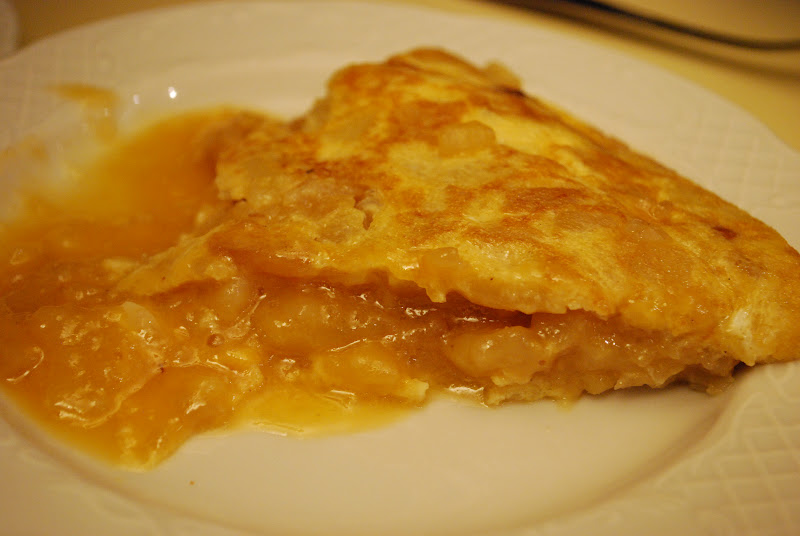 Tortilla de Patatas is perhaps one of the best known and most global tapas dishes; a humble dish of fried potatoes, held together with egg and occasionally topped with cheese. At Sylkar, in Madrid, the quality of the potatoes and the fresh eggs are the key to making the best tortilla in town. The secret is cooking the egg for a short time so that the yolk remains liquid, giving the potatoes a tender, creamy texture. Although it can be served as a dish by itself or as an accompaniment, Tortilla de Patatas is one of the backbone dishes in the tapas canon and you must try it at Sylkar to understand how it should be made.
The thrill of modern tapas is taking a classic dish and adding something new. This dish is an example of this. This dish is a crispy toasted bread, covered with a jam of slow-cooked candied peppers, topped with scallops gratinated in the oven. It bursts with flavour and originality. La Gabinoteca is a modern bar full of original dishes like truffled egg in a jar. The menu changes with the season, as you would expect, but the scallop toast has been one of their best dishes for years, and is a must for their customers.
This traditional old bar is one of the best in Madrid. As well as being experts in traditional tapas, they also have the best beers and vermouth in town. It is a place where you will struggle to find a wrong note on the menu: amazing seafood, cecina (matured, air-dried meat) croquettes, clams with Manzanilla Sherry, garlic prawns, boletus (mushroom) with ham and egg, small scallops cooked with American sauce, and lots of traditional Spanish and Madrid food. Eat standing, Spanish style, and don't forget the baby squid with onions, the Madrid-style tripe with chickpeas or the braised oxtail.
Estado Puro is a project of Michelin-starred Chef Paco Roncero of La Terraza del Casino Restaurant. His goal is to bring haute cuisine, in tapas form, to a public that may be unable or unwilling to pay the prices of gourmet restaurants. From the outset, it has received great acclaim from locals and tourists for its elegant versions of traditional tapas, such as great fried calamari, mussels with homemade preserves and a 21st century potato tortilla. You can also find Parmesan ice cream cut with lemon jam, Iberian pork shoulder with chimichurri sauce and poached egg with artichokes.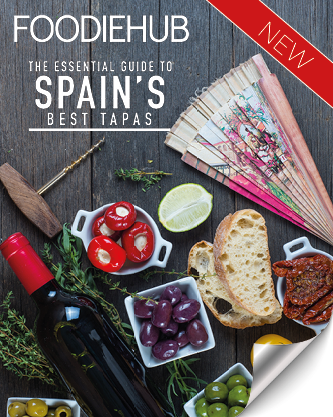 More on Madrid's Essential Tapas
Meet the author