San Sebastián's Essential Tapas
Download the full PDF of ExtremeFoodies's Essential Guide to Spain's Best Tapas here.



San Sebastián, a beautiful coastal city set in a natural amphitheatre facing the sea, has been crowned the Pearl of the Cantabrian Sea. The birthplace of Basque cuisine, the city boasts more Michelin stars per square meter than anywhere else in the world, but it is the pintxos - the Basque word for tapas - that are credited as being the best in the country. These pintxos are the cornerstone of Basque cuisine, using the multitude of delicious ingredients from the region and decades of tradition to create truly world-class, bite-size pieces of heaven.
Traditional dishes include Marmitako, a traditional Basque fisherman´s stew made from fresh tuna, potatoes, choricero peppers and onions. Another favourite is txiperones en su tinta, which is squid in its own ink. The distinctive black sauce is made with garlic, tomato, lots of caramelized onion and of course squid ink. It looks a bit shocking the first time but is totally addictive. Dining out in San Sebastián is a culinary adventure few will forget. Make sure that tapas or pintxo as it is known here is firmly on the menu.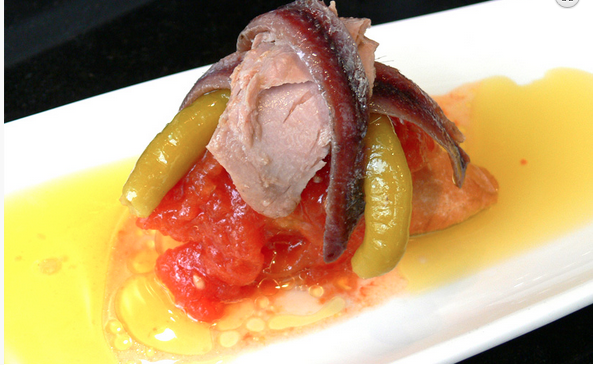 Anchovies are at the heart of Basque culinary culture. Locally caught and used in many dishes, including tapas, they are a taste you need to acquire fast to eat well in San Sebastián. Pintxo de anchoa is a tapas classic: peppers, olives and anchovy grilled on top of fresh bread. Salty and with a kick to it, it has been a staple in the tapas bars from the beginning. Bar Antonio does a great Pintxo de Anchoa. Traditional but somehow bang up to date, it is sought by locals as much as tourists. That's when you know you have a great dish.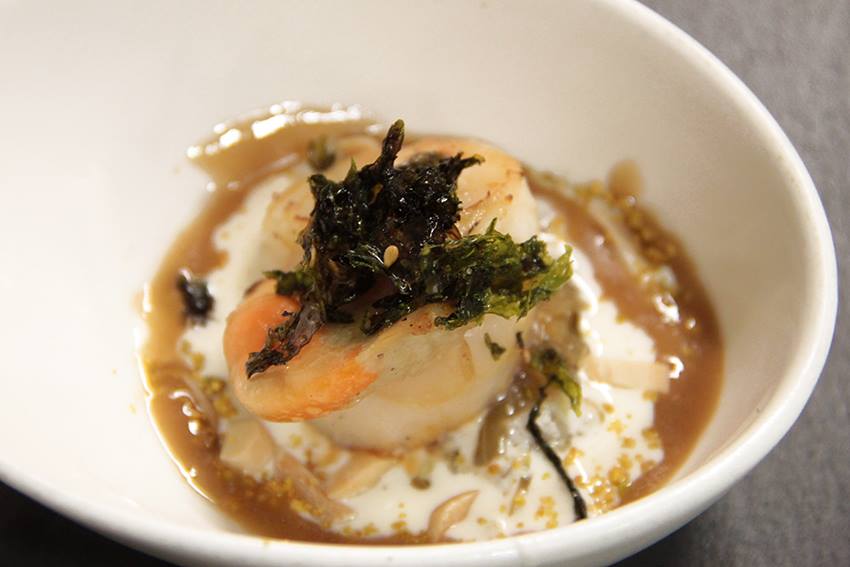 Understanding what makes tapas modern is the key to Pablo Loureiro's success. Although a classically trained chef, he was raised in the era of the New Basque Cuisine. His dishes are based on the flavours of the Basque Country with subtle twists. The tapa contains an impeccably fresh scallop, grilled to perfection over a charcoal fire and served in a small bowl with its soft red coral atop ajoblanco (garlic and almond soup) along with delicate coffee vinaigrette. Modern, beautiful and delicious, its flavours meld perfectly. The key to this dish is not only the well thought out combination of ingredients but the deft hand at the grill.
When a tapas bar is known as the bar where the chefs go to eat, you know it is pretty special. That is the case with Bar Ganbara. Historically, all bars in the Basque country were family run, meaning attention to detail, the best possible fresh ingredients, classic combinations and eye-catching presentation. Ganbara is still that bar. The current owner has innovated with some new seasonal pintxos, but thankfully – overall - has stayed true to the classics. Those classics include spider crab tartlet, freshly baked mini croissants filled with glistening Iberian ham and house-made anchovies.


Dimly lit with a soundtrack that booms, Al Fuego Negro is different from any other bar in San Sebastián. And its owners, Edorta Lamo and Amaia Garcia, are pushing the envelope of modern tapas. The tapas dishes are inspired by their upbringing in the Basque country and their travels around the world. If you just can't make up your mind, there is a sit-down tasting menu. Al Fuego Negro has lately collaborated with chefs from other restaurants in Spain and experimented with culinary influences further afield. All this makes it a must-stop when in town. You never know what you are going to get, but it is likely to be spectacular.


Meet the author