The Essential Connecticut Pizza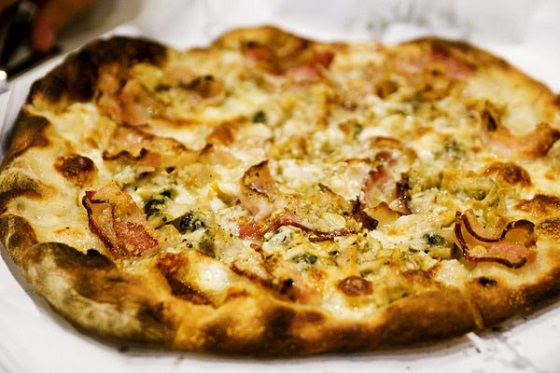 Pepe's Pizzeria White Clam Pizza showcases the area's famous charred crust. / Courtesy of Pepespizzeria.com
The Essential Connecticut Pizza
While Connecticut offers plenty of notable foodstuffs (lobster rolls and hot dogs come to mind), ask anyone from the Nutmeg State what we're famous for and you'll get a resounding "pizza."
New Haven is the epicenter, with three original pizzerias. Pepe's, Modern and Sally's are still battling it out for the best pie. Each pizzeria has devoted clientele and its own version of the thin-crusted, slightly charred, oblong Neapolitan pie.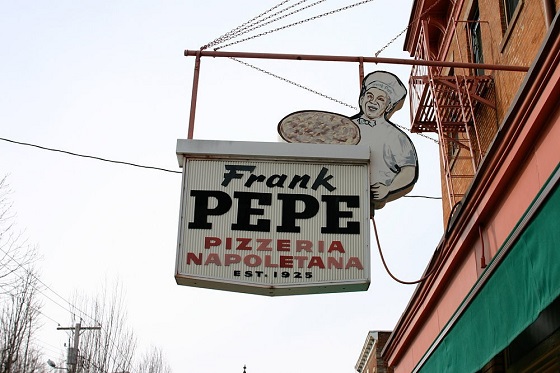 Frank Pepe Pizzeria Napoletana, known simply as Pepe's, was the first to open on Wooster Street in 1925
Here in New Haven they call it "apizz," and make sure to order with "mootz" if you want cheese on your pizza. At the old-school joints, the fanciest pie you'll find is white clam (invented at Pepe's), which is a heady, garlicky event studded with fresh, fat bivalves. These days, there are plenty of other spots for great pizza with a whole crop of new-school destinations. These newbies are perfecting the historic thin crust, and adding local and artisanal toppings: mashed potato and bacon at Bar, honey and goat cheese at Tarry Lodge, stracciatella on the Margherita at Otto, and even a Nutella dessert pie at Bufalina.
Here's a list of our favorites:
Connecticut East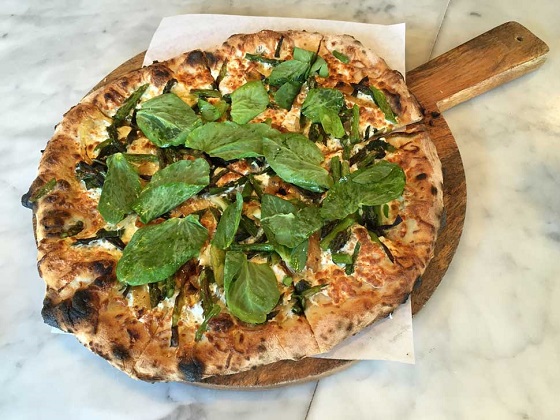 Image courtesy of the-e-list.com
Bufalina is especially known for its version of the Margherita, a tomato, cheese and basil pie with an addition of more cheese! Gooey scamorza! But if you are searching for something different, the Primavera boasts the fresh tastes of spring: asparagus, pea leaves and blistered spring onions, embellished with a sprinkle of a light broth that's tossed together from pecorino rinds and herbs. A drizzle gives the pizza more depth of flavor. Genius! Potato, fennel and sausage hit all the right notes from savory to slight sweetness. Don't stop there. Order the Nutella for dessert. The pie they made famous is thickly spread with the stuff and lightly dusted with powdered sugar. Over-the-top and irresistible!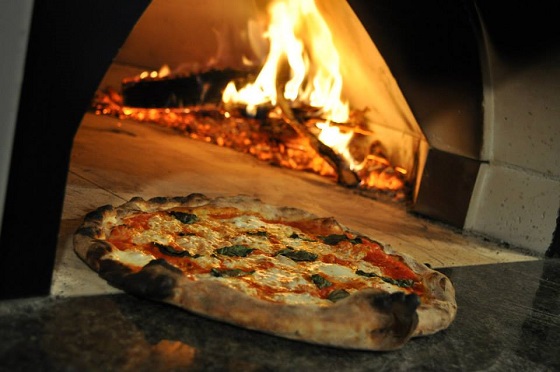 Image courtesy of the-e-list.com
Preparing a new, seasonal menu from scratch every day is a complicated affair. So it comes as no surprise that River Tavern and Dinners at the Farm owner Jonathan Rapp has launched a simpler concept for his long-awaited second restaurant: a pizzeria. Chewy, crispy, glorious pies emerge from the 900-degree, wood-fired oven in three-minute intervals. For a pizza purist, the Margherita, oozing with fresh mozzarella, dollops of stracciatella and strewn with basil leaves, is a slice of pizza heaven. But the more complex pies are beautifully executed, too (from sausage and peppers to shrimp, squid, mint and garlic). The opening menu offers a fresh Brussels sprout salad with shaved pecorino (delish), the famous RT Caesar, a gluten-free baked polenta option and five pies topped with locally sourced ingredients (or create your own with your pick of toppings). Pies start at $12.

Image courtesy of the-e-list.com
This family-friendly trattoria, known for its New Haven-style brick-oven pizza, has raised the bar by offering a sublime pie made in a 250-year-old tradition (which requires certification to produce – no joke!) called Pizza Napolitano Vera. The Caputo flour dough rises for two days at room temperature and is topped with a house-made, slightly sweet, light tomato sauce, fresh mozzarella and ribbons of basil. The crust? A perfect ratio of chewy to char. (If you're planning for lunch, call to make sure the dough has risen.) Gluten-sensitive pizza lovers will be happy to know about their rice flour crust, a worthy substitute. A bright, peppery arugula salad topped with shavings of Parmigiano-Reggiano makes it a meal.

Image courtesy of the-e-list.com
If you yearn for a dose of youth, head straight to Krust in Middletown. Here, it's all about bourbon, beards and PIZZA. Cozy up to the bar lined with hundreds of small batch bourbons and order a wood-fired pie or two. For purists? Red pie with San Marzano tomatoes, fresh mozzarella, basil and sea salt. And those who live for meat? Delicate chunks of pepperoni, pancetta and salami. And for dessert? Cupcakes from NoRA, right next door.
New Haven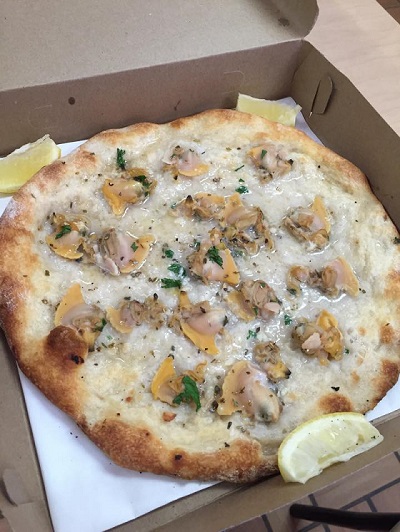 Image courtesy of Zuppardi's Apizza
The plain is plain, the sausage is fantastic (chunks of it, freshly house-made and cooked directly on the pie makes all the difference). But, oh, the clam. Redolent of garlic, with plump, juicy bivalves studding a thin, slightly charred crust, this is one extraordinary pie. A bit of clam broth and olive oil soaks into the crust, adding even more clam flavor. Just a squeeze of lemon completes this memorable feast. Call ahead to make sure the clam pie is available. Price varies, depending on the availability of fresh clams. On our visit a large pie was $40.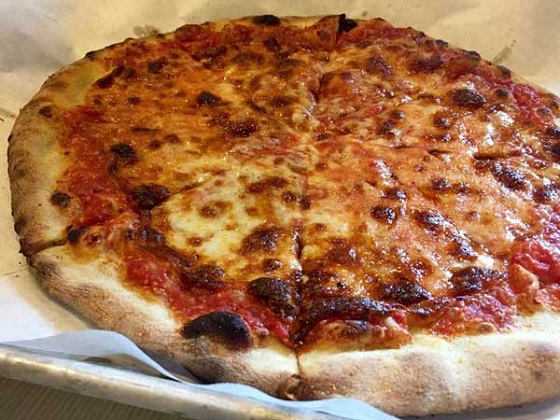 Image courtesy of the-e-list.com
Pepe's has two historic claims to fame. The founder, Frank Pepe, introduced thin crust, Neapolitan-style pizza to New Haven in 1925, and he was the first to create the now-ubiquitous white clam pie. Still, it had been a long time since I stood in line at the storefront on Wooster Street. With so much great pizza available, it hardly seemed worth it. And I was so ready to dismiss this venerable pie. After all, with seven locations, it's hardly a mom-and-pop shop anymore. Was the quality up to snuff? YES! If you're a purist, the tomato and moootzz (pronounce it like that or sound like a tourist) has a nicely salted, skinny crust with just a bit of char. And no insipid sauce here. It's bursting with flavor and a chunky texture that amplifies this original New Haven pie.

Image courtesy of the-e-list.com
Modern is the king of crust: charred, never burnt, irregularly shaped and flavorful. The place is not far off the beaten path of Worcester Street, but still boasts a line most days. It's straight up tomato and mootz here, but regulars devour the Italian Bomb (Sausage, Bacon, Pepperoni, Mushroom, Onion, Pepper and Garlic). After Zuppardi's pizza, Modern's clam pizza will be a bit of a disappointment. Good to know: There is a small parking lot next door.

Image courtesy of the-e-list.com
The pies that are turned out of the 800-degree wood-fired oven every 90 seconds at Tarry Lodge are elegant and elevated, the sort of pizza you eat with a knife and fork. While their Margherita is commendable, this is the place to experiment with unusual but considered topping combinations (after all, it's Mario Batali at the helm). Slim slices of salty guanciale (pig jowls) and an oozing sunny-side up egg with a dusting of truffle would make the perfect breakfast pie. A favorite? A refined combination of goat cheese, purple onion and pistachios with a drizzle of honey. Save room for dessert. The olive oil and Valrhona chocolate soft-serve sundae with Marcona almonds and Amarena cherries is an absolute must.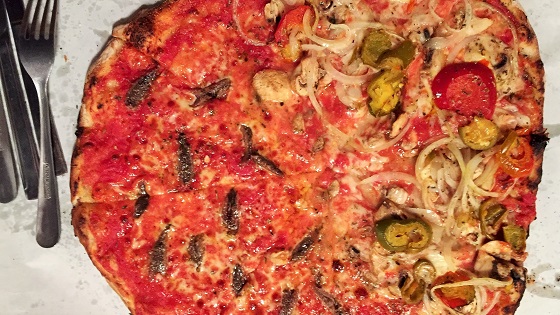 Image courtesy of the-e-list.com
Lots of folks call Sally's their favorite, and if we were anywhere but New Haven, we might too. This old-school, no-frills joint offers a classic New Haven skinny crust pie on an oblong metal platter that clearly has legions of fans (John F. Kennedy and Frank Sinatra among them). When you can't brave the lines for other New Haven pizza, head here for a veggie pie (hot peppers lend a welcome spicy bite), or salty anchovy, which make up for the rather plain tomato and mootz.

Image courtesy of the Bar Restaurant
This newcomer in New Haven was started by folks from Sally's Bar, who cook their pizzas in a beautiful custom-built brick gas-fired oven. Their pizzas can stand proudly in the company of the other New Haven legends. Bar is famous for its Mashed Potato and Bacon Pie. And there's no wonder, because it IS a wonder of cracker-thin crust, loaded with garlic, Parmesan, chunks of bacon and a schmear of creamy, silken mashed potatoes. It may sound over-the-top, but it's one delicious pie. You'll find plenty of other pies here, plus their own house-brewed beer and a vast cocktail menu. The Yalies crowd the place (it's a nightclub, too), so go early or skip the line and sit at the bar. Good to know: Every Tuesday a special pizza is concocted in collaboration with one of the area's favorite cheese shops, Caseus Fromagerie & Bistro.
Meet the author