The World's Essential Steak
By ExtremeFoodies on July 23rd, 2015
The first-ever Global Steak Symposium at the Flat Iron Steak restaurant in Soho, London, led participants through an exploration of the top steakhouses on the planet. Curated by top food writers around the world, the No. 1 mecca for steak lovers is …..
At this small rural farm house in the tiny Basque village of Axpe, Victor Arguinzoniz is a world-class master in the art of charcoal wood fire ovens. He engineered pivoting grills with movable grates that allow him to cook almost anything on a grill. Galician beef, aged by letting the cow live longer, is still tender but has a stronger "beef flavor." Juicy, tender, almost sweet slices of rib-eye are cooked over coals of smoky, gnarled old vine trunks in a custom-made contraption that grills steaks on both sides, allowing heat to penetrate quickly and deeply. Served with sea salt, no other seasonings are required.

The other contenders for the Best Steak House on Earth:
Known as the land of beef, Argentina is a leader in the meat-eating world, with one of the highest beef consumption rates on the planet. And one of the country's best parrillas, or steakhouses, is found in Buenos Aires. In an airy old building with brick ceilings and a balcony overlooking the main dining floor, waiters serve huge portions of top-grade beef. Its specialty, skirt steak, is richly flavored and extremely juicy. Experts recommend pairing it with a red Argentine Malbec from Don Julio's temperature-controlled cellar.
Often called Porterhouse, Bistecca alla Fiorentina, or Florentine-Style Steak, is rich, flavorful and, when served rare, so tender it can be cut with a spoon. The secret is the breed of cattle, Chianina beef. The meat of the huge white oxen raised in the Val di Chiana is tender and flavorful. And because of the size reached by the animals, the steaks can easily exceed six pounds. At this country inn northwest of Florence, owner Paolo Mugnai cooks the beef on the hearth in front of you. The perfect bistecca alla fiorentina, Tuscany's iconic steak, is served on the bone and adorned with sea salt and Tuscan olive oil.
4. Johannesburg: Greenfields Rib Steak - The Local Grill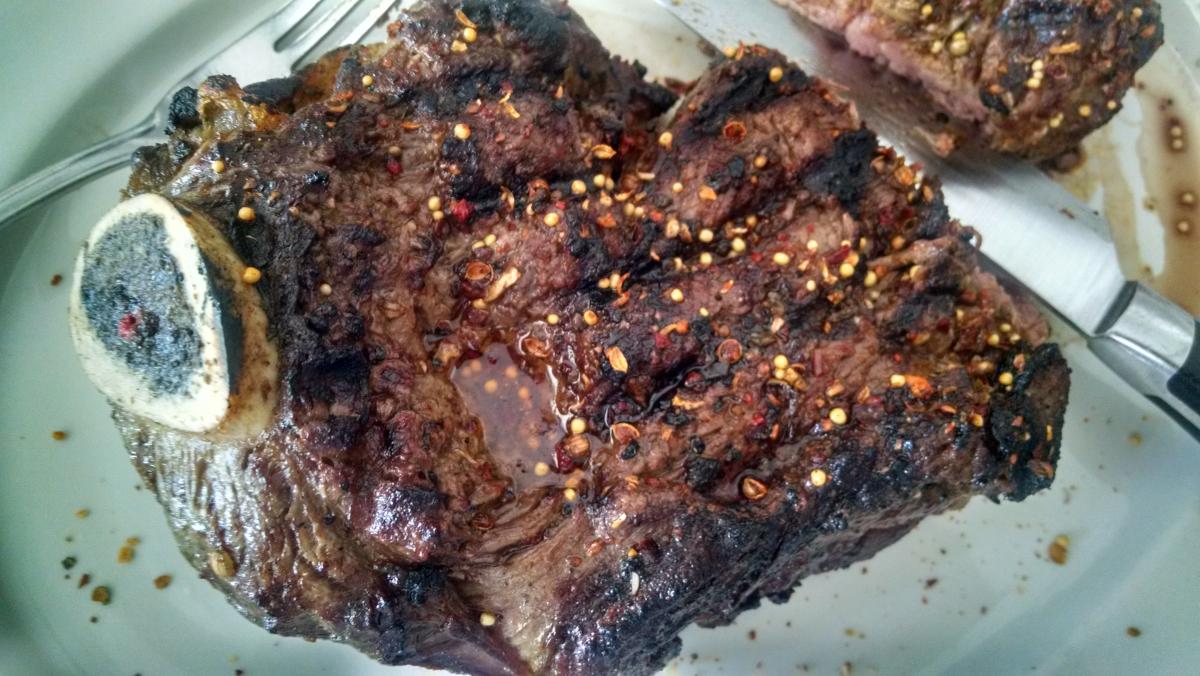 Greenfields Farm, just outside Mooi River in the Kwa-Zulu Natal Midlands, raises free-range, grass-fed beef. The herd, a mix of Boerveide and Angus breeds, is free to roam pastures of veldt, rye grass and kikuyu, and drink from the cool water of the Mooi River. Their tender, flavorsome steaks are aged 21 days and cut to order at The Local Grill. Seasoned with a blend of freeze dried herbs and spices and finally brushed with salted butter while grilling, the result is the perfect infusion of flavors between steak and rub.
At his steakhouse in Soho, owner/chef Charlie Carroll's mission is to serve what he likes: great steak at affordable prices. Instead of offering a wide variety of expensive cuts, he serves one type of steak – the eponymous flat iron, also known as feather blade. The flavorsome and tender, inexpensive cut of steak recently gained prominence worldwide. Cut with the grain, from the shoulder of the animal, the restaurant serves medium-rare charred slices on a little wooden board with a mini-cleaver.
This classic Parisian steakhouse specializes in beef from beautiful, doe-like Aubrac cow from Aveyron. The meat from Christian Valette's own organic breeding in Laguiole, where the cattle listen to classical music and get massaged daily, is heavily marbled and very rich. Sometimes called a beef chop, this French cut features a single rib from the center of a full rib of beef matured for up to seven weeks in a transparent dry-aging cabin inside the restaurant. To refine the already spectacular, special ribs, marinated in Cognac, are covered with white or black truffles.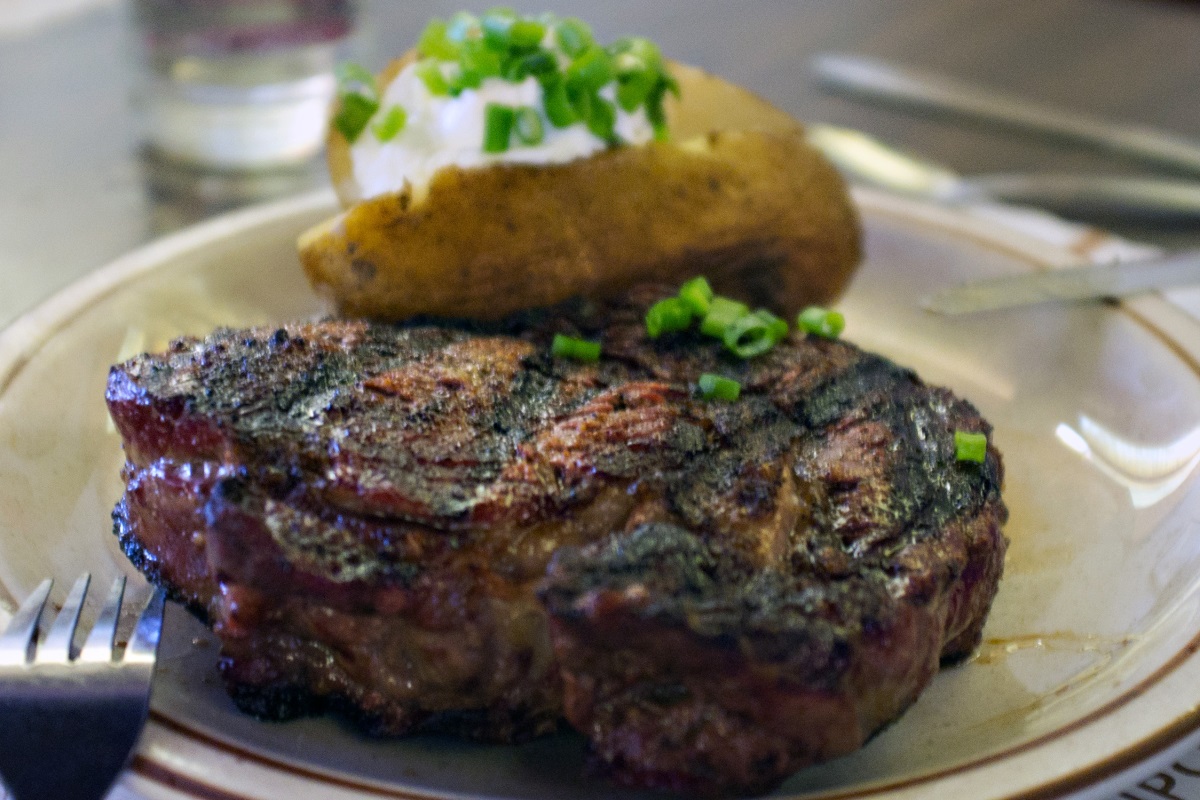 This old-school steakhouse in the heart of the Central Coast's old cattle country is THE destination for authentic Santa Maria-style barbecue. This massive 20-ounce cut of rib-eye on the bone is dusted with a classic salt, pepper and garlic rub, then winched over a pit of flames from red oak grown in the valley. Recommended medium-rare, the result is a crusty steak charred a deep mahogany, with a juicy, pink inside.

Courtesy of smilinglioneats.com
Tasmanian Wagyu cattle are grass-fattened on the northwestern tip of Tasmania, featuring some of the cleanest air in the world. The finished product features distinct characteristics of fine marbling dispersed between the muscle fibers. At this world-famous restaurant, chefs cook the steak in front of diners on a specially imported stainless steel teppanyaki grill. Seared for exactly 20 seconds on each side then left to rest, the beef is sliced and served minimally with fresh wasabi and citrus soy. This treatment allow you to appreciate the marbled beef in its fullest flavors.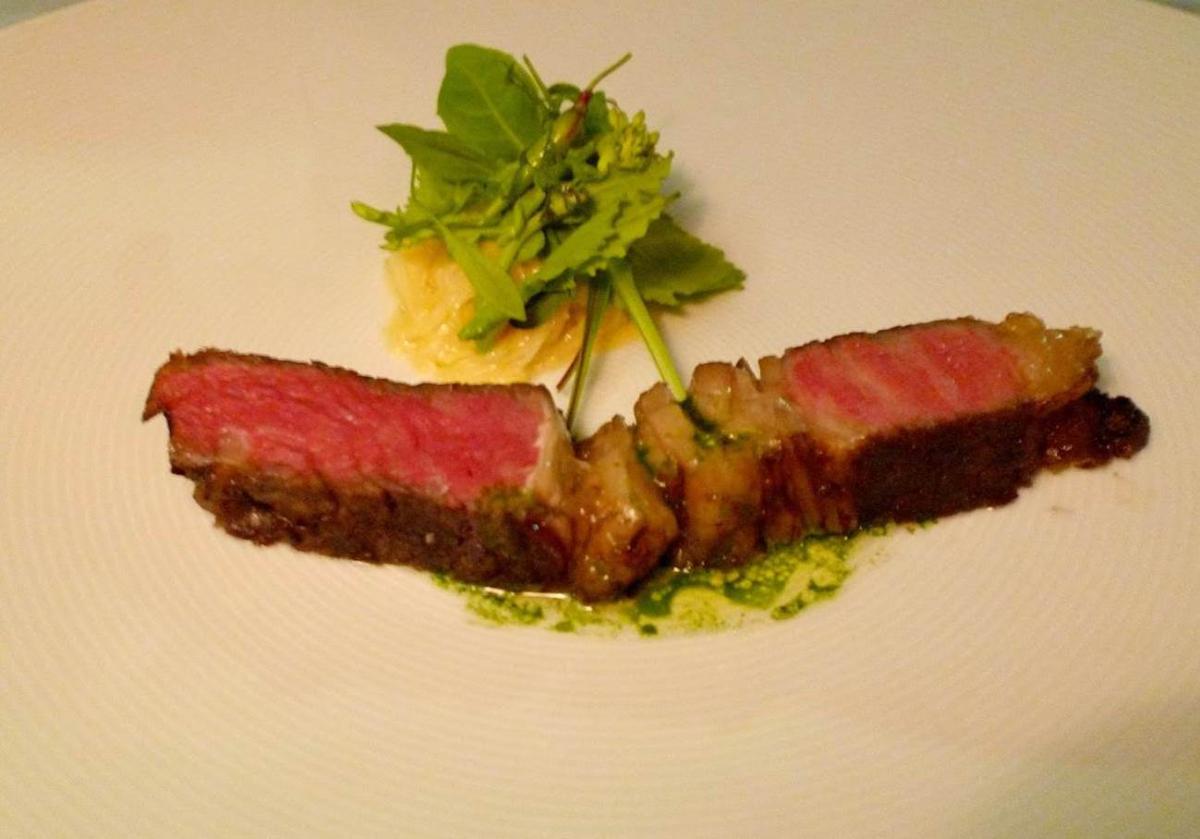 Courtesy of thesydneyarts.blogspot.in
All the beef comes from mature cows raised at area dairy farms. Flavorful from longer eating and more natural marbling, the coarser, mature muscle fiber is better able to withstand extended aging. In house, beef is aged for a month in carcass before prime cuts are matured for two to four months. Water content lost during aging concentrates flavor while enzymes break down proteins into savory amino acids and fat into fatty acids. Ready to cook, rib-eye is grilled, basted with a mild garlic butter and dusted with salt before serving.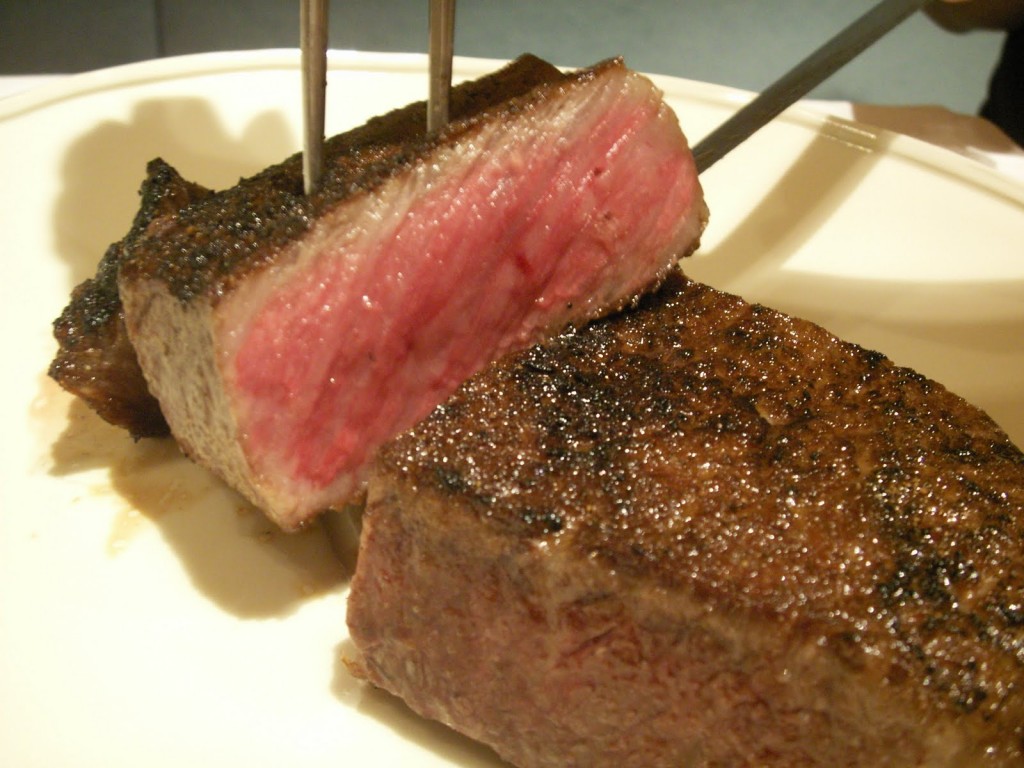 Black-haired Japanese cattle are grass-fed for eight months, followed by soybeans or corn, and massaged to aid its famous marbling. Chef Otsuka hand-picks the best Wagyu he finds each day. Wagyu is dry-aged for a month, then wet-aged so fat turns into savory amino acids. Seasoned with salt and pepper and skewered, beef is grilled in a custom-built kiln over charcoal from Japanese oak that creates intense heat. Falling fat causes the charcoal to smoke, adding flavor. Presented whole, the seared, medium-rare steak is cut at table, revealing a still red middle.
More on the juicy featured steaks