6 Essential Eats in Tokyo's Tsukiji Market
A tasty tour of the world's largest seafood market


Watching the early morning fish auctions is a popular attraction at Tsukiji Market/Courtesy of Olen Peterson
Tsukiji Market in Tokyo is the world's largest seafood market. Hundreds of vendor and restaurants draw thousands of visitors to the site each year. Scheduled to move no later than 2017 to make way for the 2020 Olympic Games, foodies have a few short years to tour the facility's inner market before it is torn down. After the games, plans call for high-rise condominiums to be built in its place.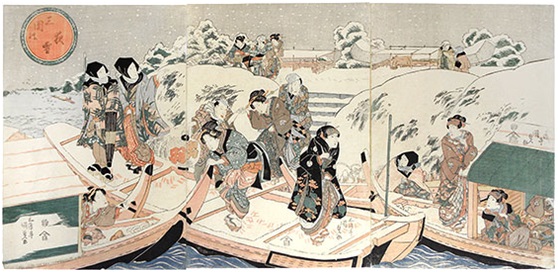 Utagawa Kunisada (Toyokuni III), 1786-1865/Courtesy of ScholtenJapaneseAart.com
The "uogashi," or riverside fish market, dates to the 16th century. Tokugawa Ieyasu, the first Tokugawa shogun and builder of Edo, now called Tokyo, invited fishermen from Osaka to supply seafood to Edo Castle. Fishermen sold their surplus near the Nihonbashi Bridge. In response to the area's growing demand for fish, Nihonbashi Uogashi was developed into a market. Wholesale merchants imported fish from local ports, sold them in the market and formed a thriving distribution network.

Hundreds of vendors and shops crowd Tsukiji Market/Courtesy of Olen Peterson
Following the Great Fire of Meireki of 1657, which destroyed more than 60 percent of the Japanese capital, land was reclaimed from Tokyo Bay and named Tsukiji, meaning "constructed land." In 1923, when the Great Kanto Earthquake destroyed much of central Tokyo, including the Nihonbashi Fish Market, the fish market was relocated to Tsukiji and began operations in 1935 as Tsukiji Fish Market.

A shop keeper hauls off fresh fish for the day. / Courtesy of Olen Peterson
With the economic boom in the 1980s and worldwide travel more commonplace, foreigners' interest in Japanese food grew. Tsukiji Fish Market has been attracting tourists ever since.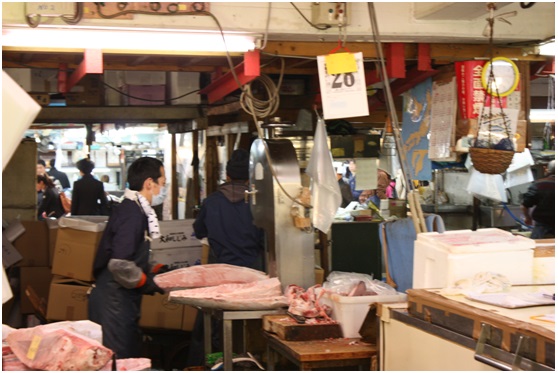 The inner market/Courtesy of Olen Peterson
Watching the early morning fresh fish auctions in the inner market has become so popular, only 120 visitors are admitted daily to watch from a designated area. On Saturdays, it's so busy visitors are told to arrive by 4 a.m. to insure a place in a group. Tourists are encouraged, however, to visit the ichiba jōgai, Tsukiji's outer market, lanes filled with restaurants and stalls selling Japanese pantry staples, knives, tea and a dizzying array of food.
Here are the top six essential eats at Tsukiji Market. Most restaurants follow the market schedule, so be sure to check with the Tsukiji Market Calendar before going.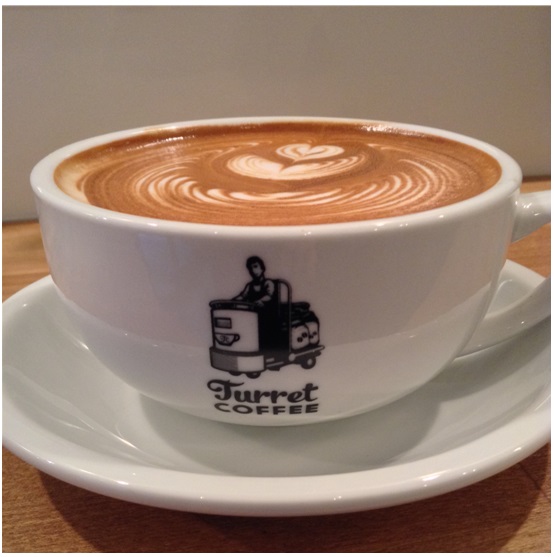 Courtesy of foodsaketoyko.com
A visit to Tsukiji will be an early one. Tsukiji Market is filled with coffee shops, but until recently espresso was not available. Barista Kiyoshi Kawasaki has changed that with the aptly named Turret Coffee. A turret is the fast moving delivery trucks ubiquitous at Tsukiji. The coffee shop's signature Turret Latte, artfully decorated, is a dark roast with the milk at just the right temperature.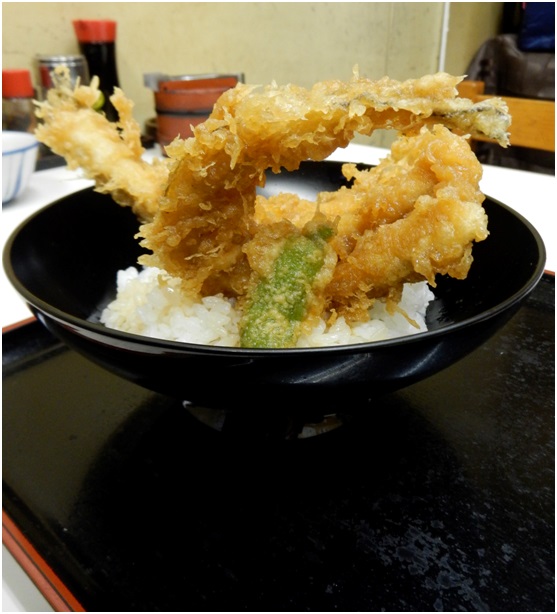 Courtesy of foodsaketoyko.com
Anago is sea eel that is celebrated in Japan for its very tender texture. The delicate, juicy fish is a contrast to the crispy tempura batter, and is what makes this dish so appealing. The deep-fried anago is laid upon a bed of rice and drizzled with a sweet, soy dressing rich in umami.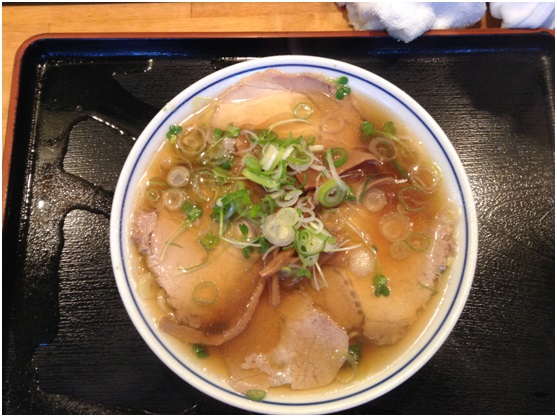 Ramen at Chuka Soba Inoue/Courtesy of foodsaketoyko.com
The most delicious ramen at Tsukiji Market is at Inoue. Curly ramen noodles in a soy sauce broth are topped with slices of pork, bamboo shoots and a healthy serving of daikon sprouts and thinly sliced leeks. This is the classic Tokyo-style ramen. There is usually a line, but it moves quickly in this standing-only restaurant.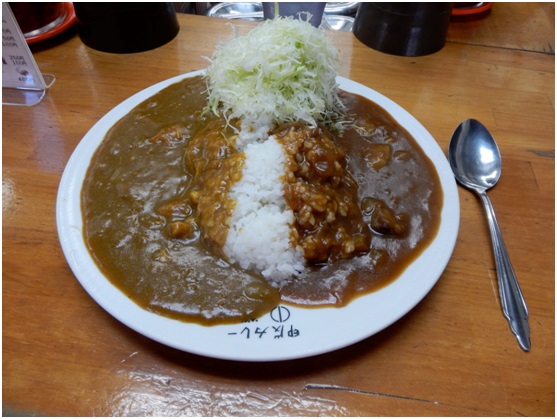 Curry at Indo Curry Nakaei/Courtesy of foodsaketoyko.com
One of the most popular shops with the fishmongers of Tsukiji Market may be Nakaei. A generous portion of rice is topped with curry. Ask for karakuchi for the spicy curry or amakuchi for the non-spicy. The pork curry is stewed for six hours and is a very warming dish. You can also ask for a half-and-half if you would like to try the curry with the beef stew.

Kara-age Donburi at Toritoh/Courtesy of foodsaketoyko.com
Boneless chicken is battered, deep-fried and dipped in a sweet soy marinade. The tender fried chicken is then put over a bowl of rice. Toritoh is not only a restaurant, but also the market's most popular chicken retail shop, which is just around the corner. The retail shop sells a variety of cooked chicken dishes for take-away if you are looking for a snack.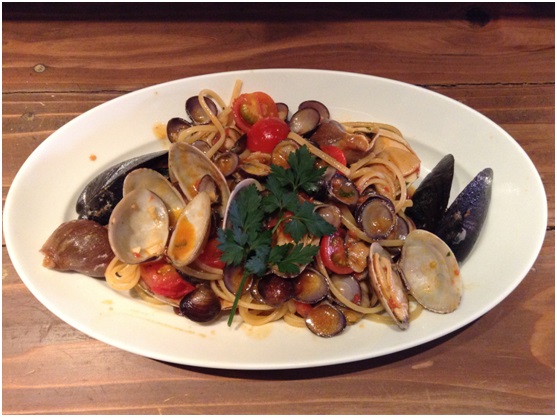 Linguine alla Paradiso at Tsukiji Paradiso/Courtesy of foodsaketoyko.com
Tsukiji Paradiso's signature lunch dish is five different shellfish cooked in a tomato sauce. The shells open as they are heated and the savory juice gives the tomato sauce its richness. The shop is very popular, so go early and get in line when they open for lunch.
Meet the author