The Ultimate Guide to Banh Mi in Ho Chi Minh City

Banh Mi Huynh Hoa in Saigon piles eight meats into its banh mi thit. / Courtesy of MindOnTravel.com
Bánh mì is a tasty relic of the nearly 60 years of French colonial rule of Vietnam. The word bánh mì in Vietnamese refers to bread generally, as well as a range of baguette-style sandwiches. Vietnamese baguettes are light and airy on the inside, with a thin crispy crackly crust that, ideally, should be toasted seconds before being stuffed. Filled bánh mì contain a colorful and flavorful mix of meat, pickles, fresh herbs and pate, another food legacy of the French.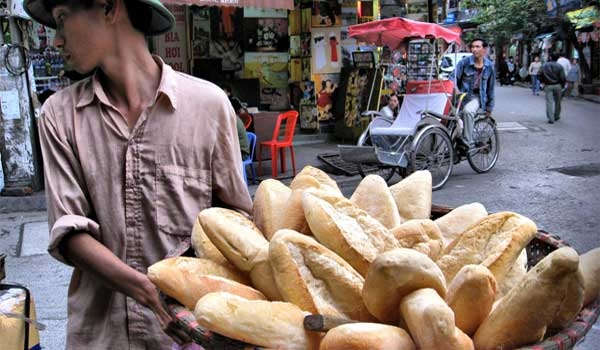 Vietnamese Baguettes are the result of French influence on the country. / Courtesy of thepandorasociety.com
Bánh mì is an anytime snack, as well as a popular breakfast, especially for commuters on the run.Most bánh mì stalls are take-away only, but it's rare to see anyone eating one on the go. The Vietnamese believe food should be enjoyed leisurely, not scoffed down while walking or driving, so bánh mì, bought on the fly, is usually enjoyed leisurely at office desks, on park benches or at home.
The history of the bánh mì is shrouded in mystery. It's not exactly clear when bread and baking with wheat flour was introduced to Vietnam, where rice has been a food staple for thousands of years.Bread may have been baked in Vietnam as far back as the 1600s, when the French arrived in Vietnam in the form of Jesuit missionaries.By the mid-1800s, when most of southern Vietnam was the French colony of Cochinchina, bread was definitely on the menu. In his 1870 book "Cochinchina," French writer H. Aurillac said the locals loved French bread, although after an initial obsession they returned to mainly eating rice.
Part of the secret of the bánh mì, and the reason it is so tricky to replicate its light-and-airy-ness outside of Vietnam, is the baking process.Bánh mì dough, made from a mixture of all-purpose flour, bread flour, pastry flour and ascorbic acid (Vitamin C), needs to proof, or rise, at about 30 degree Celsius and 85 percent humidity, the standard weather conditions in Ho Chi Minh City. After being shaped, with a lot of vigorous slapping on the counter, the individual torpedo-shaped bánh mì are put into an oven and steamed for five minutes, then dry-baked like normal bread. The steaming keeps the crust soft and pliable, allowing the inside dough to expand until it's as fluffy as a cloud.
Types of Bánh Mì
There are several versions of bánh mì, the most common being bánh mì thịt, literally "meat baguette." This bánh mì contains various cuts of cold meat, pate, mayonnaise, strips of pickled carrot and daikon radish, slices of cucumber and a handful of fresh herbs, usually cilantro and green onion.
This basic combination is sold from carts on every second street corner in Ho Chi Minh City, day and night. Part of the allure of the bánh mì is that it's virtually impossible to bite into a bad one. They are all incredibly delicious.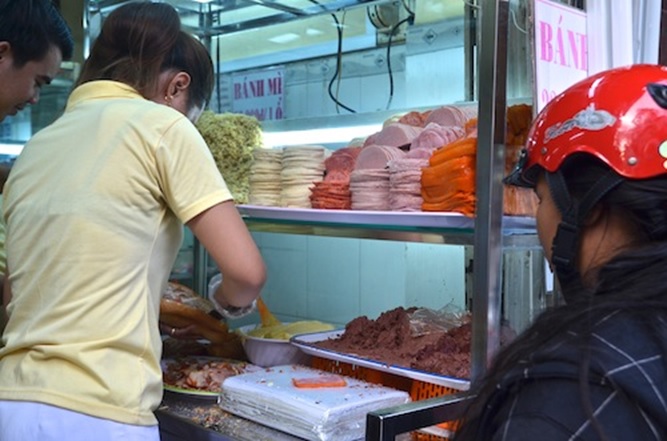 Many people believe Banh Mi Huynh Hoa makes the best banh mi in Saigon. / Courtesy of Saigon Street Eats
For many years, Banh Mi Huynh Hoa (26 Le Thi Rieng, District 1) has had the reputation of making the best bánh mì thịt in Ho Chi Minh City. This place, which operates from 2.30 p.m. to midnight, is famous for the eight types of meat inside each bánh mì.
This bánh mì joint consists of two bánh mì carts wedged inside the front room of a narrow Vietnamese house. Eight staff dressed in lemon-yellow polo shirts make up the production line, which involves three steps.The first step, conducted on the left side of the room, involves toasting the baguettes to crispy warm perfection. Trays of freshly-toasted baguettes are ferried to the two preparation carts every few minutes.
At the carts, the first bánh mì maker splits the bun, then, hands moving almost too fast to see, wipes one side with a knife loaded with pate, then the other with a swipe of mayonnaise.The partially prepared bun is then handed to the next maker, who flicks slices of chả lụa (Vietnamese pork sausage), roast pork, four types of ham and a wad of pork floss (a light and fluffy type of shredded dried meat) into the splayed baguette. Next, scoops of pickled carrot and daikon, slices of chilli and cucumber and tufts of green onion and cilantro are added. Assembly complete, the finished product is folded into a paper square, secured with a rubber band and slipped into a plastic bag.There is always a queue at Bánh Mì Huynh Hoa, which only serves bánh mì thịt, and it often moves quite slowly because some customers order up to 30 banh mi at a time. The staff are often extra brusque to foreigners, who display far too much excitement at being there and usually can't order in Vietnamese.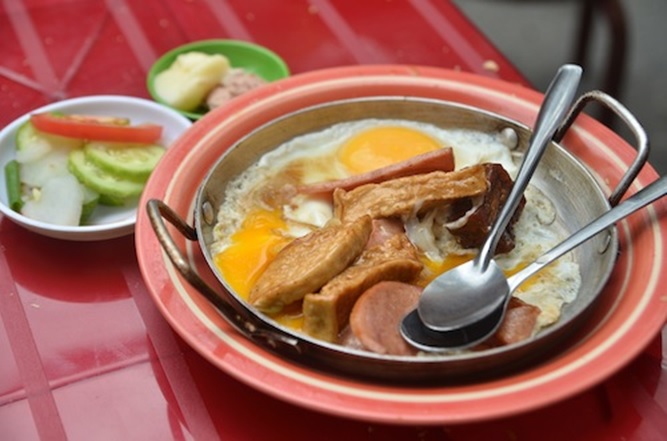 Banh mi chảo is the local version on the full English breakfast. / Courtesy of Saigon Street Eats.
Bánh mì chảo, which translates literally as "frypan bread," is the local version of the Full English Breakfast. Giant bánh mì baguettes are served alongside a tiny frypan, which is brought to the table still sizzling. At Bánh Mì Hòa Mã (53 Cao Thang, District 3), the pan contains a couple of sunny side-up eggs, fried pate, fried sausage and fried ham. Little side dishes contain pickled vegetables and extra pate and mayonnaise.

Bánh Mì Hòa Mã is a popular breakfast-only banh mi stall. / Courtesy of Saigon Street Eats
This is a breakfast-only place, operating from 7 to 10 a.m. It is best to get there early to make sure you get a table, either in front of the kitchen or on the side of the alley.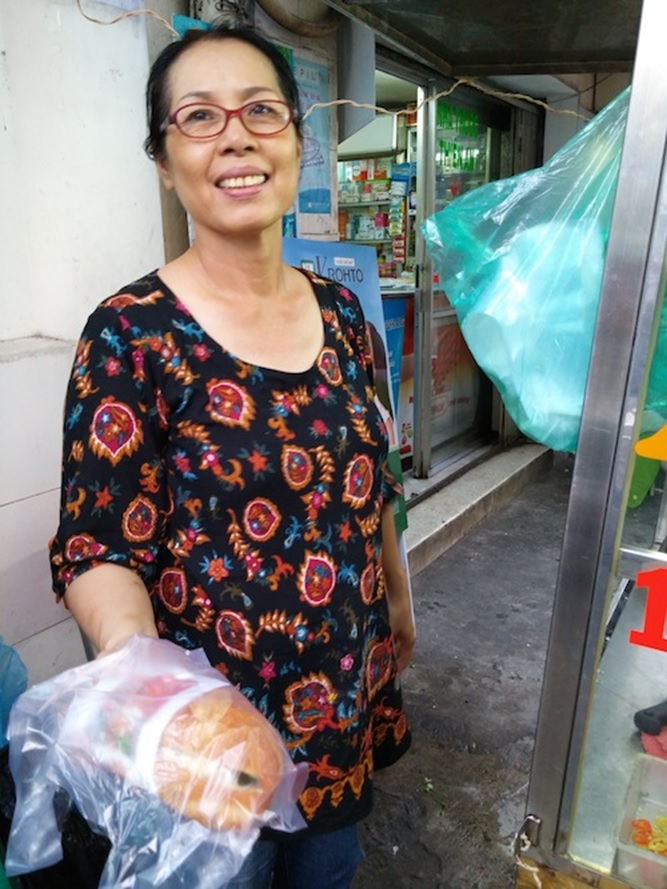 Nguyen Van Trang Street serves banh mi op la, a breakfast baquette. / Courtesy of Saigon Street Eats
The ultimate breakfast baguette, bánh mì ốp la is a warm bread package of fried-before-your-eyes eggs, soy sauce and black pepper. Depending on the vendor, this bánh mì filling may also include pate, cucumber slices and julienned strips of pickled carrot and daikon radish. Ideally, the egg should be lightly fried, so the yolk is still soft. The crunchy outer layer of the bánh mì will contain the soy sauce and runny egg yolk right up until the last few bites, which will be soggy, but so delicious you'll have to lick your fingers to get every last sticky drop of deliciousness. It is best eaten with a side of cà phê sữa đá, Vietnamese iced coffee with condensed milk. Try bánh mì ốp la at any one of the multitude of bánh mì stalls in Nguyen Van Trang Street in District 1, which service the scholars at the Hoa Sen (Lotus Flower) University.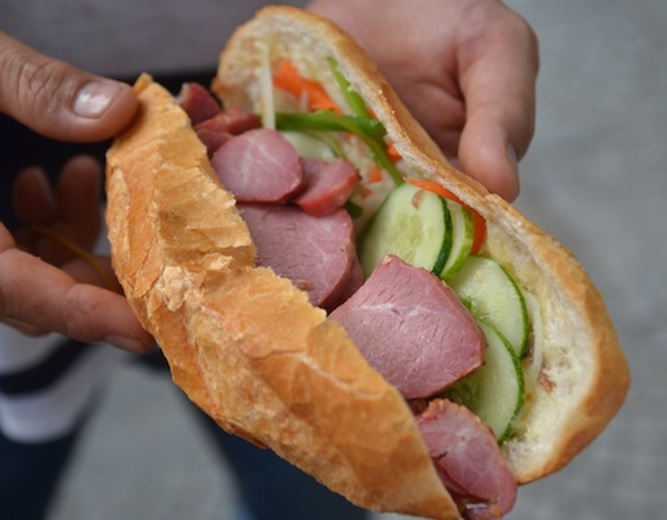 Nhu Lan serves char sui and roast pork banh mi. / Courtesy of Saigon Street Eats
Nhu Lan (50-66 Ham Nghi, District 1) is a vast Vietnamese-style deli that does delicious bánh mì heo quay (roast pork baguette) and bánh mì xá xíu (char siu baguette).The char siu is moist and juicy, with the tang of plum sauce and five-spice. The char siu and the roast pork bánh mì are served with cucumber, pickles, mayonnaise and fresh herbs. Order the bánh mì from the side of Nhu Lan facing Ho Tung Mau Street.

Banh Mi Sau Minh serves the best meatball banh mi, served warm. / Courtesy of Saigon Street Eats
Xíu mại is a soft and tender Vietnamese pork meatball, stewed in tomato sauce. These meatballs can be squashed inside a fresh crispy baguette to create a delectable street-side snack. Bánh Mì Sáu Minh (170 Vo Van Tan, District 3) is considered Saigon's best in class for bánh mì xíu mại. This family-run business, which operates from 8 a.m. to 10 p.m., does a roaring trade in several types of bánh mì, including a sardine and a cheese version. But the standout sandwich is the bánh mì xíu mại, served with cucumber, herbs and a dash of fresh black pepper, and best eaten while still warm.
Australian Barbara Adam and her Vietnamese husband, Vu Vo, are ExtremeFoodies's experts in Ho Chi Min City and offer food tours through their business, Saigon Street Eats.
Meet the author