Where to Find The Best Turrón in Jijona, Alicante

Turron is Spain's ultimate holiday sweet. www.spain-recipes.com
Jijona is known as the land of turrón. This inland town in the province of Alicante lies at the foot of the Peña Roja mountain, an area carpeted in almond groves (the Marcona variety) and rich in honey produced by bees collecting pollen from the area's abundant rosemary, lavender and thyme. According to local legend, the beehives produce honey so pure and sweet you won't taste honey like it anywhere else. Almonds and honey form the foundation of turrón.
Typically eaten at Christmas time in Spain, turrón (a type of nougat) originated centuries ago. Some historians believe it was a sweet paste with nuts eaten by athletes in ancient Rome. Others trace its origins to a more elaborate medieval Arab delicacy that combined toasted nuts with spices and almonds.

Historian believe the Moors introduced turrón more than 500 years ago in Jijona. / www.thechocolateway
First documented in Spanish by an Arab physician writing in 11th century Andalusia, "turun" may have been introduced to the Iberian Peninsula by Arabs or Jews from North America during the period of Al-Andalus. By the 16th century, the Spanish aristocracy was enamored with turrón, and its popularity spread to all social classes and to other parts of Europe. Over time, this sweet with ancient culinary roots was further refined, becoming Spain's most popular Christmas treat. Originally prepared in private homes, there now are world-famous enterprises and craft bakeries that maintain the tradition of those family recipes.
There are two main types of turrón:
"Turrón de Jijona or blando": Creamy brown turrón, made with toasted and ground almonds, honey and sugar, is cooked into a homogeneous brown mass with the consistency of peanut butter.
"Alicante turrón or Duro": Hard white turrón with whole almonds. After cooking, honey and sugar is added to egg whites, and whole toasted almonds are then mixed in until a thick almond nougat candy is achieved.
Today, there are dozens of varieties: chocolate with puffed rice or whole almonds; all kinds of chocolate pralines, with or without liquor, candied fruits or whole nuts; fruit pralines; and even variations sweetened with fructose or artificial sweeteners. To be classified as authentic Turrón de Jijona or Alicante, the sweet must be made in Jijona and under the rules and guidelines provided by the Regulatory Council Turrón de Jijona.There are large well-known brands that are based in Jijona, but here are some of the lesser known companies that produce the best turron using traditional recipes.
Flanking Alicante's central market are two kiosks run by family companies selling traditional Jijona Turrón.
Alberto Monerris Sirvent e Hijas (the kiosk on the left): Four generations of craftsmen have created turron based on traditional family recipes passed down through the generations. Controlling the quality of the raw material and the final product, the family achieves freshness and excellence in their preparations.

Courtesy of abc.es
Turrones E. Candela Espí (the kiosk on the right): Victoriano Candela began making the treats in the 1960s. Today, the family's third generation continues his time-honored tradition. Victoriano's grandson, Esteban, continues the work, manufacturing the highest quality treats and the freshest products.
Founded in 1882 by Santiago Pico and Maria Jerez, four generations have maintained the tradition of its founders. Carefully chosen raw materials are gathered throughout the year so customers can enjoy the sweet for any special occasion, not just at Christmas. One bite will transport you to "the cradle of Turrón," rich with the smells of honey and toasted almonds.

Courtesy of turronespepeymercedes.wordpress.com

Courtesy of Coloma García Artesanos
This award-winning factory of handcrafted turron opened in 1961 as a family business dedicated to offering the highest quality product with first-class ingredients. Specializing in Turrón de Jijona and Turrón de Alicante, Coloma García Artesanos was awarded the Craft Brand Valencia in 2003 by the Valencian government. The company offers two categories of turrón: Classic Selection (more affordable) and Gourmet Selection (the higher quality)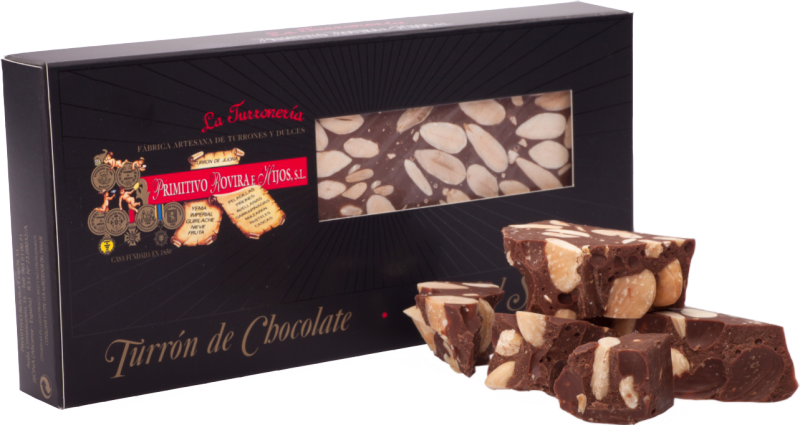 Courtesy of turronesprimitivo.com
In 1850, Primitivo Rovira Soler was the first to open a factory of turrón de Jijona when he installed a mill pulled by animals to mix his products. After six generations, the company continues to manufacture Primitivo's formulas -- handmade sweet flavors reminiscent of a century ago.
Founded in 1997 by the grandchildren of turrón artisans, the owners of Artesanías Laura Colomina Masiá recreate the recipes of their grandparents, using high quality raw materials and artisanal production. Their limited inventory of handcrafted sweets are, according to its slogan, "100% artisans and 100% quality."
6. Pastelería Escoda S.L
.

Courtesy of escodajijona.com/CondicionesEnvio
In operation since 1990, this bakery offers typical products of Jijona, such as polvorones, marzipan, turrón, sugared almonds and chocolates. The sweets are handmade using ancient recipes, rigorously selected ingredients and the most advanced cooking techniques for quality control and manufacturing.
AMONG THE BIG BRANDS
Michelin-starred chef Martín Berasategui merges the traditions of Jijona and Basque cuisine (Berasategui's homeland), sources the best raw materials typical of a healthy Mediterranean diet and utilizes his knowledge of the secrets of master turrón-makers to create an out-of-this-world treat worthy of the Basque chef's kitchen.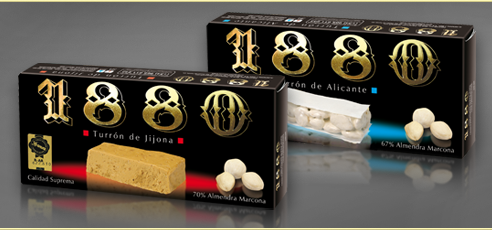 Founded in 1725, 10 generations have passed down their tradition of making the finest turrón. Inside the facility, a turrón museum exhibits old machinery and explains its traditional production. At the end of the visit, visitors can access the store to buy their products, labeled "The World's most Expensive Turrón."
Many of the well-known ice cream shops in Spain offer turrón ice cream.
In 2008, an initiative forged between the Turrón Jijona Valencian Community Foundation and the Regulatory Council of Jijona and Alicante Turrón allowed for the production of certified artisanal turrón ice cream Jijona. The certification requires gelato artisans to acquire authentic turrón produced by a company certified by the Regulatory Council Jijona Turrón.
Jijonenca, which began by producing a small selection of artisan gelatos, today manufactures and markets ice cream, horchata, wafers and nougats. Jijonenca operates several shops in Alicante, as well as Madrid, Zaragoza, Andorra, Andalusia and Las Palmas de Gran Canaria.They offer several flavors, but their flagship flavor is the helado turrón de jijona. With its rich flavored almond paste, cinnamon and hint of lemon, this creamy treat soars with its hidden treasure: chunks of turrón nugget.
Meet the author