World Street Food Congress 2015
Is there any other food culture more fascinating and beloved than street food?
The World Street Food Congress (WSFC) celebrates this along with more serious issues of how to engage, empower and generate enterprise for the industry.
This year in Singapore, it saw a phenomenal turnout, thanks to a more prominent location, 24 exquisitely chosen street food stars from all over dishing out tasty treats in one place, and support from fans who were hooked from the inaugural WSFC held in 2013.

Vietnamese ladies use traditional charcoal clay pot stoves to make banh xeo, or crispy seafood pancakes; it's a UNESCO heritage award-winning cooking technique.
The strong audience turnout surprised even the vendors, who sold out all food by 9 p.m. on the first day, which was pretty astounding considering it was a midweek day. The hunger and curiosity of the visitors knew no bounds. Some came back again and again to try as many stalls as they could.

Lines started forming even before the stalls opened at 5 p.m. on weekdays!
Highlights from the congress
Hoy Tord Chao Lay from Thailand was back by popular demand. Their Hoy Tord (oyster omelet) and Talay Tord (seafood omelet) is ultra-crispy, plated with seared crunchy bean sprouts and a splash of fish sauce and pepper.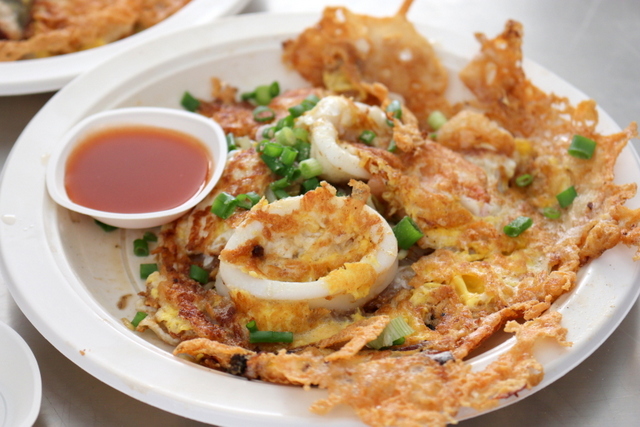 Talay Tord (Thailand's seafood omelet) boasts so much crispy goodness.
The longest queue daily was for Pepita's Kitchen's Lechon Diva - BBQ suckling pig stuffed with truffle rice. This delicacy won Chowzter's "Tastiest Fast Feast in Asia" honor last year at the inaugural awards.

Dedet de la Fuente brought her award-winning Lechon Diva to Singapore.
Paul Qui, winner of "Top Chef" season 9, blew into town with frenetic energy and gave us a taste of some of the amazing Filipino comfort dishes he grew up with. He served his dishes out of a food truck!
Paul gave up his fine dining chef's hat to go back to his street food roots. Together with Moto Utsunomiya, he started East Side King, a group of Asian-inspired street food restaurants and food trucks in Austin, Texas.

Paul Qui, Texas-based Filipino chef and "Top Chef" season 9 winner, loves what he does.
Paul's kinilaw is his signature starter. The ceviche-like salad of snakefish head and prawns in coconut vinegar dressing spiked with yuzu and bird's eye chili is incredibly moreish.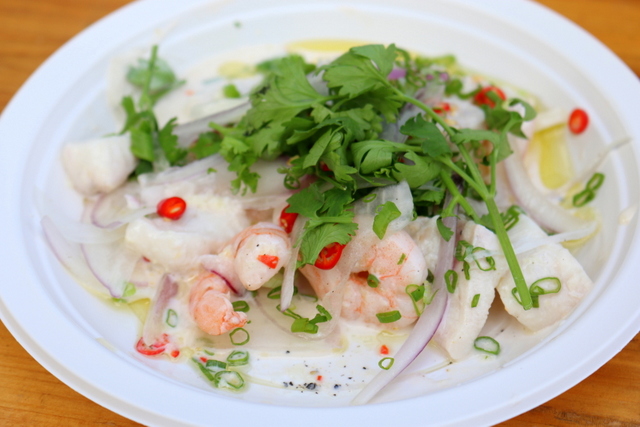 Kinilaw - Philippines' ceviche, has decidedly tropical flavors.
His killer dish is the Chicken Inasal Taco with Fried Chicken Skin. Chicken inasal is commonly found in the Philippines. Chicken is marinated with lime, pepper and vinegar, then grilled over charcoal fire. Topped with pickled salad and crispy chicken skin, these little tacos are an adventure in taste and texture.

Paul Qui won raves for his Chicken Inasal Taco with Fried Chicken Skin.
Singapore, of course, had its own pavilion with five stalls offering signature street food favorites, including new takes on old fare. Carrot cake, satay bee hoon, prawn paste chicken made into a burger, and mee kuah, an Indian-Muslim noodle dish with seafood and mutton stock.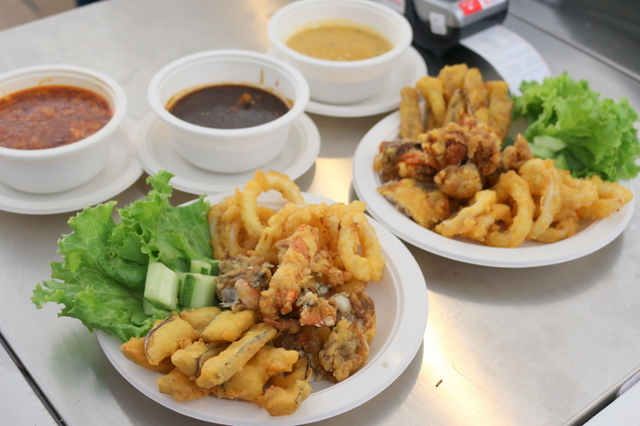 No messing around with crab shells here! A much easier way to taste chili crab - dip soft-shell crab tempura into the sauce!
Keng Eng Kee Seafood, a seafood cook-fry stall, made it easy for guests to enjoy Singapore's signature crab flavors. They presented deep-fried soft-shell crab, calamari and aubergine (eggplant), with three dips - their sauces used for chili crab, black pepper crab and salted egg yolk crab.
From Penang, we had a couple who served fried turnip lettuce wraps with black satay. The intensely marinated pork was braised and stewed for hours. When rolled together with the fried turnip, raw onions and that kickass sambal chili sauce, it was an explosion of flavors.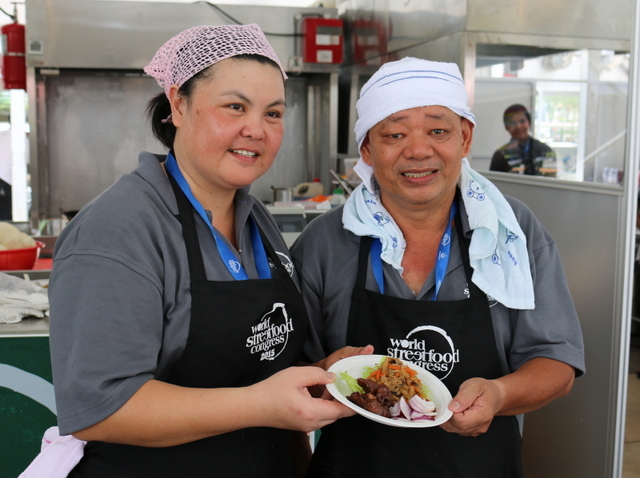 Tuck Nonya Catering from Penang, which has a huge repertoire of dishes, brought their famous "black satay."
Indonesia regaled the crowd with four stalls. Choices included the Ayam Taliwang from Lombok, purported to be the spiciest grilled chicken from the region. Like much of Indonesia's food, the spices were indeed aromatic and beautifully complex.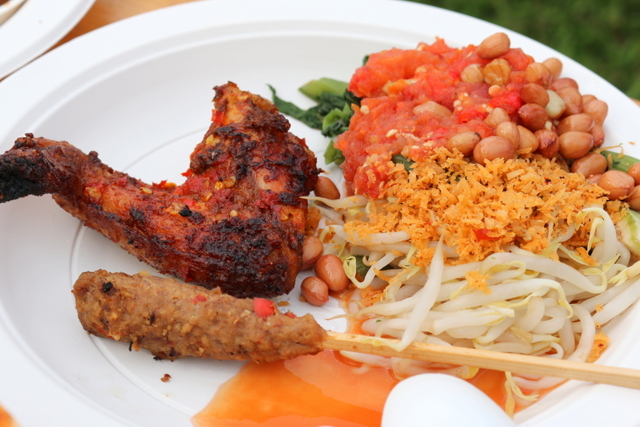 Ayam Taliwang was served with a stick of satay and side salad to help douse the spicy flames.
From Bolivia, we had Anticuchos, meat and potato skewers. A common street food, beef hearts are marinated with tamarind and spices, then grilled to perfection.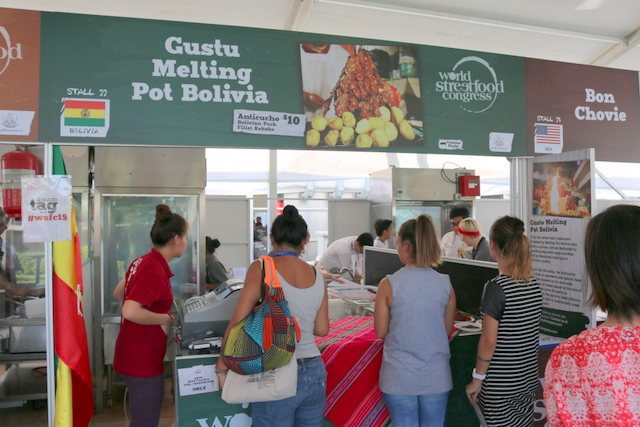 The Gustu team from Bolivia had the longest flight time to Singapore - 40 hours - just to bring their street food signature anticuchos.
Aside from all the delicious food in one place, the WSFC saw action-focused dialogue for its two-day hackathon-conference. Our very own Manila Chief Chowzter Anton Diaz had a prime speaking slot and dazzled the crowd with his energetic talk on opportunities in Manila. This top food and travel blogger from the Philippines has founded several weekend markets in Manila, including Cucina Andare, the first Food Truck Market. He is out to re-invent the face of Filipino food culture.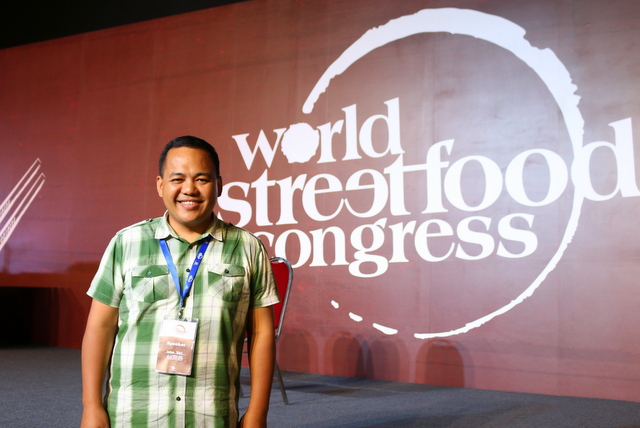 Anton Diaz of OurAwesomePlanet.com
Other speakers, like Claus Meyer of NOMA, aims to "combat poverty with deliciousness" - a most joyful way to help others. When NOMA won fame as the world's No.1 restaurant, it unleashed a new Nordic cuisine movement and tremendous wave of food tourism for Scandinavian countries. Claus is transferring what he learned to benefit impoverished countries like Bolivia, one of the poorest in Latin America. His social enterprise, Gustu in La Paz, is already seeing results, providing opportunities for marginalized youth and churning out award-winning cuisine using the country's diverse produce.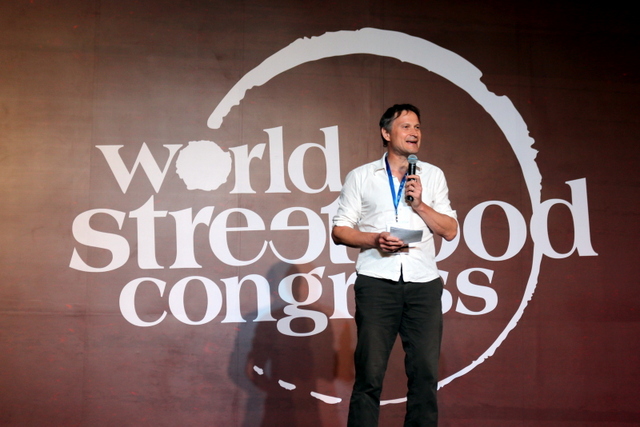 Claus Meyer, co-founder of NOMA, is now into social enterprise.
Then there's Bourdain Market - the mother of all hawker centers to be built in New York City - bringing authentic street food experiences from around the world to one place. It promises to be smoky, chaotic and just like if you had traveled the world with Bourdain himself. Co-founder Stephen Werther gave us a sneak peek into the plans. Bourdain has never lent his name to a product before this, but this will be the legacy he feels strongly about.

Stephen Werther discussed plans for Bourdain Market - the mother of all hawker centers to be built in New York City.
It wasn't just one-way speeches from the industry leaders and trendsetters. The second half of the conference day was dedicated to town hall-style discussions, during which various topics were hotly debated and ideas shared. Many young people were keen on the enterprise aspect, but spoke of the challenges they faced as hawkers and food vendors.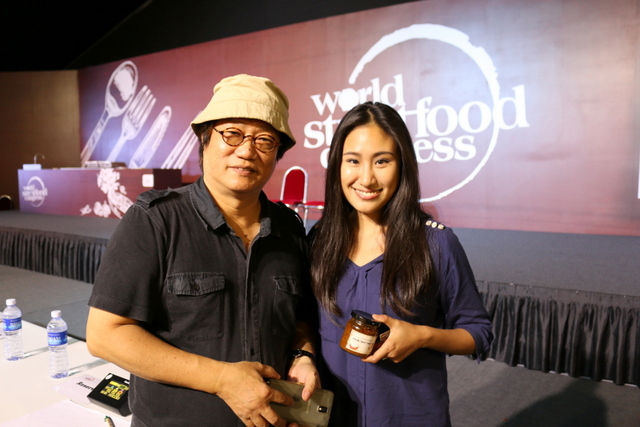 WSFC creator K.F. Seetoh welcomed MOFO Chili co-founder Steffi Elvira, one of the many delegates given the limelight to share marketing advice at the conference.
WSFC creator and Makansutra founder K.F. Seetoh also devised a "Pitch Box," where delegates could write their ideas, requests and topics on a wall. More than a dozen were picked and the delegates given three minutes of stage time to elaborate on their issues.
This year's WSFC definitely hit the high notes, and got more folks excited and inspired about street food, its preservation and continuity. Next year's event is already being planned. We can't wait.
Check out the tastiest feasts from Manila
Meet the author