6 Essential Pregos in Lisbon
The prego, Portugal's beloved sandwich, features thinly cut, tender beef inside a soft white bun. / Courtesy of thisnewview.com
Where to find the best steak sandwiches in Lisbon
It might seem ordinary, but a good prego (a steak sandwich) can be a real treat when you're hungry, don't have much time or don't want to spend a fortune in a steak house in Lisbon.
Prego (which in Portuguese also means nail) is a popular sandwich, but needs the best ingredients to make it sing: good beef, a soft bread roll and the right seasoning. Some places serve quality steaks, but they don't get the right balance of garlic and sea salt, ruining the excellence of the finest meat and bread. The opposite happens too. The sandwich has great seasoning, but the steak is as rubbery as the sole of your shoe or the bread is so industrial it totally puts you off.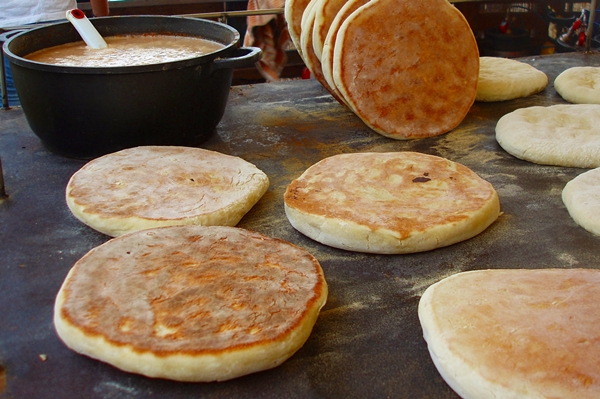 Bolo do caco, traditional Madeira bread, soaks up the juice in the prego. / Courtesy of Cloudfront.net
Originally found only in cervejarias (beer houses specializing in seafood and beef) and steak restaurants, pregos are now found everywhere, served simply with fries or chips or with a gourmet upgrade. Contemporary approaches include a different type of bread, namely the bolo do caco, traditionally from Madeira Island, a soft bun that has conquered the mainland and is now used everywhere. It is a great pairing for the steak, soaking up all the juices from the meat and giving your jaw a rest.
The origin of the name prego for a steak sandwich is debatable. One of the theories for the popular name is that the steak is hammered until it is tender and thin … and some beef cuts really need to be hammered.
Post-war, a prego was a poor man's meal and, like many popular dishes in Portugal, bread was a staple in Lisbon, too. The cheapest steak cuts were used, hence the hammering.
Grilled or fried, with garlic butter or mustard added to the sandwich, prego is still what comforts hungry Portuguese on a busy or a penniless day. Though some places like Sea Me have elevated the prices (10 euros/$12) you can still find a good one for 4 euros/$5.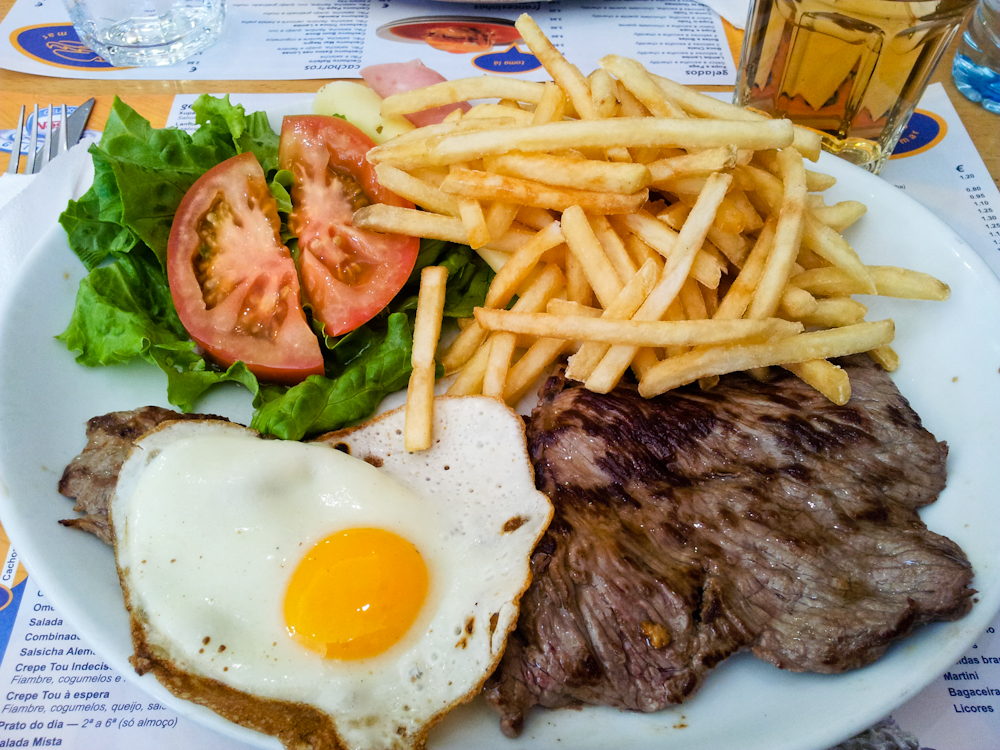 Carb-watchers order prego no prato, steak without the bread. / Courtesy of blog.ninaah.com
If you are trying to reduce your carbs, you also can order prego no prato - just the steak without the bread. The dish usually includes fries, rice or salad as a side dish, and an egg on top.
But for the complete steak-in-a-bun experience, here are my top prego choices in Lisbon:
Sea Me serves the classic prego in bolo do caco bread. / Courtesy of Célia Pedroso
Sea Me, a fine seafood restaurant, also serves a classic prego in bolo do caco. It is as delicious as it looks and probably the best in this new bread trend: a perfect tenderloin steak and the bolo do caco is superbly baked.
Simplicity works best here. Add mustard if you like, but I enjoy the basic flavors of the meat and the bread. Their sweet potato tempura chips are very good, too.
At Ramiro, diners finish the meal with a 'dessert' of prego.
The prego at Ramiro is considered one of the best in Lisbon and I totally agree. Still served on the traditional roll with a generous loin steak, a garlicky flavor infuses the sandwich.
The prego is called the dessert in this old-school cervejaria, as it comes after the seafood. For anyone with a sweet tooth, disappointment quickly turns to joy after the first bite! Anthony Bourdain was there with "No Reservations." This means: Expect a queue to get in.
Prego da Peixaria., the prego takes a seafood turn with cuttlefish and salmon, while the bun is stained with cuttlefish ink.
Created by the same people at Sea Me, O Prego da Peixaria is dedicated to serving only meat and fish sandwiches but widening the range: There is steak but also seafood pregos and my favorite: a cuttlefish and salmon prego, with bread baked with the ink from the cuttlefish. Seaweed and tomatoes accompany this delicious light sandwich. You can choose to add some sweet potato chips.
The restaurant is in Príncipe Real and there's a kiosk in Mercado da Ribeira.
For the best value, head to O Lugar in Cais do Sodré. / Courtesy of Célia Pedroso
For 5.50 euros ($6 to $8) this is probably the best valued prego you can find in Lisbon. It includes a large roll with good quality steak and a delicious sauce, a slice of ham, mustard, a fried egg and a tomato skewered on a toothpick.
Besides the prego, the price includes a bucket of fries, a drink and coffee. This menu is available during weekdays (at lunchtime only) in O Lugar. This is a friendly restaurant near the market, in Cais do Sodré.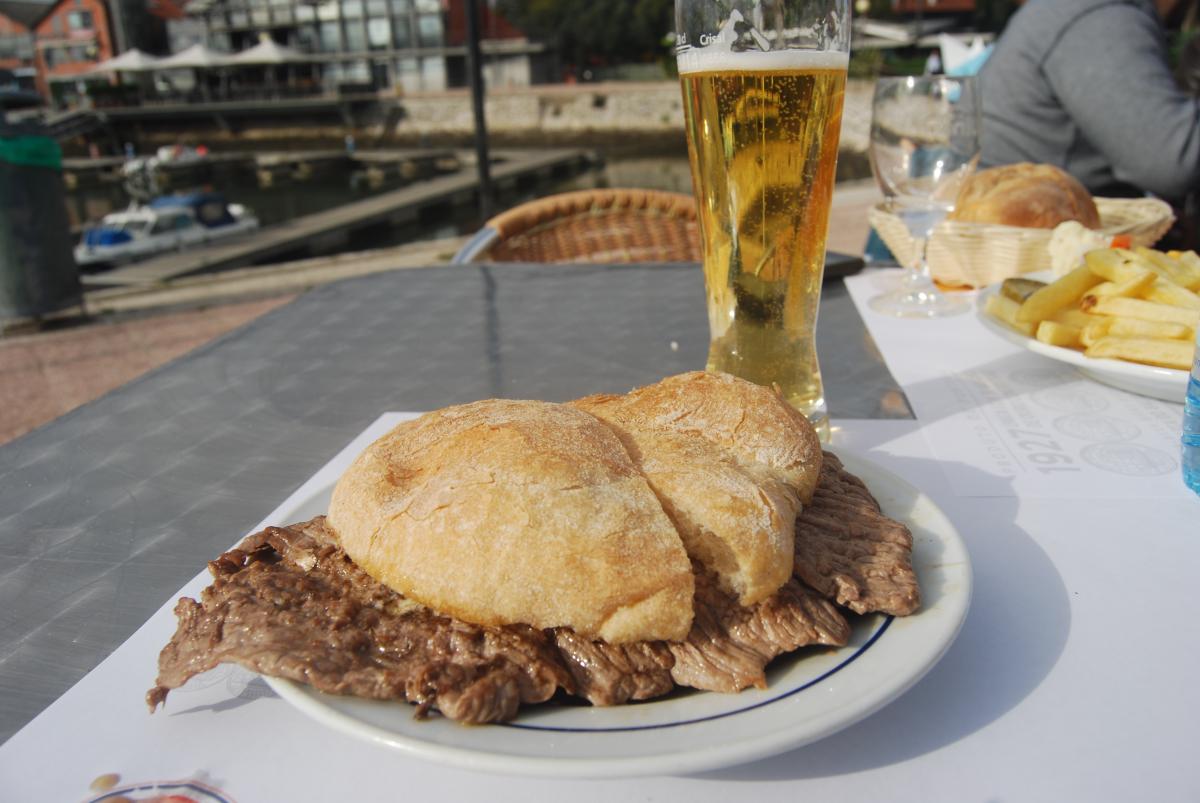 For a traditional prego with lots of garlic, try one at Rui dos Pregos. / Courtesy of Célia Pedroso
A famous prego place with several cervejarias in Lisbon and surrounding areas, Rui dos Pregos specialized in this popular steak sandwich.
The thin, hammered steak features lots of garlic and a simple bread roll. In Lisbon, try the one in Docas. And the Alcântara location is always busy with locals enjoying the nice terrace.
A prego here, as in most places, is washed down with an imperial(draught beer). The price is good, too.
The chef's prego at Cantinho do Avillez. / Courtesy of Paulo Barata
Another top quality steak sandwich is found in this cozy restaurant in Chiado. Award-winning chef José Avillez offers two versions of the prego at Cantinho, but I would go for the traditional, with mustard and/or spicy sauce.
Unless you ask otherwise, it comes really medium rare. It's a juicy tenderloin steak served in light, homemade bread.
Recommended features by ExtremeFoodies
Meet the author