10 Essential Tapas in Barcelona
An old story says that a king of Spain (Alphonse X or XIII, depending on who tells the tale) was visiting the south of Spain, entered a bar and ordered a glass of wine.
It was a hot summer's day and there were lots of flies buzzing around. The bartender, afraid that one of them might fall in the King's glass, decided to cover the glass with whatever he could find.
The only thing he had handy was a slice of ham, so he placed it on top of the glass, and served it like that. The king, surprised, asked "what is that?" And the bartender replied: "Your Majesty, it is a 'tapa'" (a 'lid' in Spanish). The king smiled and asked him to bring some more, and of course everyone else in the bar ordered a glass with 'tapa' too, because everyone wanted to be like the king.
Whether this story is true or not, tapas have evolved to become appetizers or small platters to go with your drink and are meant to be shared. In some areas of Spain, they are complimentary with any drink you order (but you don't get to choose them – they bring whatever small tapa the bartender wants to bring, and it usually gets better the more drinks you order).
Unfortunately, this is not customary in Barcelona, where we prefer either: to sit down and order several tapas to make a full meal, or to enjoy one or two tapas together with a glass of wine or vermouth to prepare the stomach for the upcoming meal.
Tapas can be any type of food, as long as it can be shared; anything goes - from meats and cold cuts to fish and seafood; vegetables to eggs. Some recipes have become classic tapas all over Spain, while others are the cook's own creation. Plus, each region of Spain seems to have developed its own personality and way of serving tapas. Here is a selection of the Top 10 tapas in Barcelona: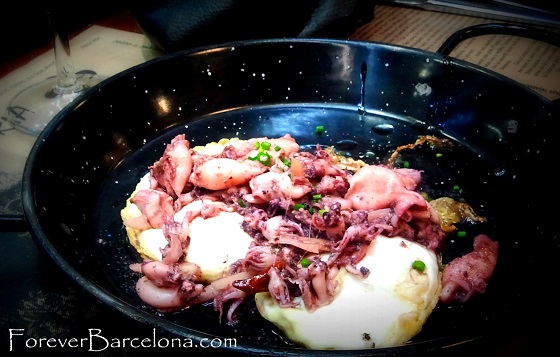 Fried Eggs with Baby Calamari @ El Quim / Photo courtesy of ForeverBarcelona.com
Eating at the Boqueria Market is an experience no foodie should miss. There is nothing like eating at the counter, watching the cooks perform miracles with the fresh produce, a couple of burners, and pans. Quim (nickname for Joachim) has been serving food in his market bar for decades, and is famous for having taken fried eggs to the level of delicacy. While they are all wonderful (with mushrooms; foie; baby fried fish) most locals agree that the best are those with baby calamari. A combination you'd never have expected, but one which fills your mouth with pleasure.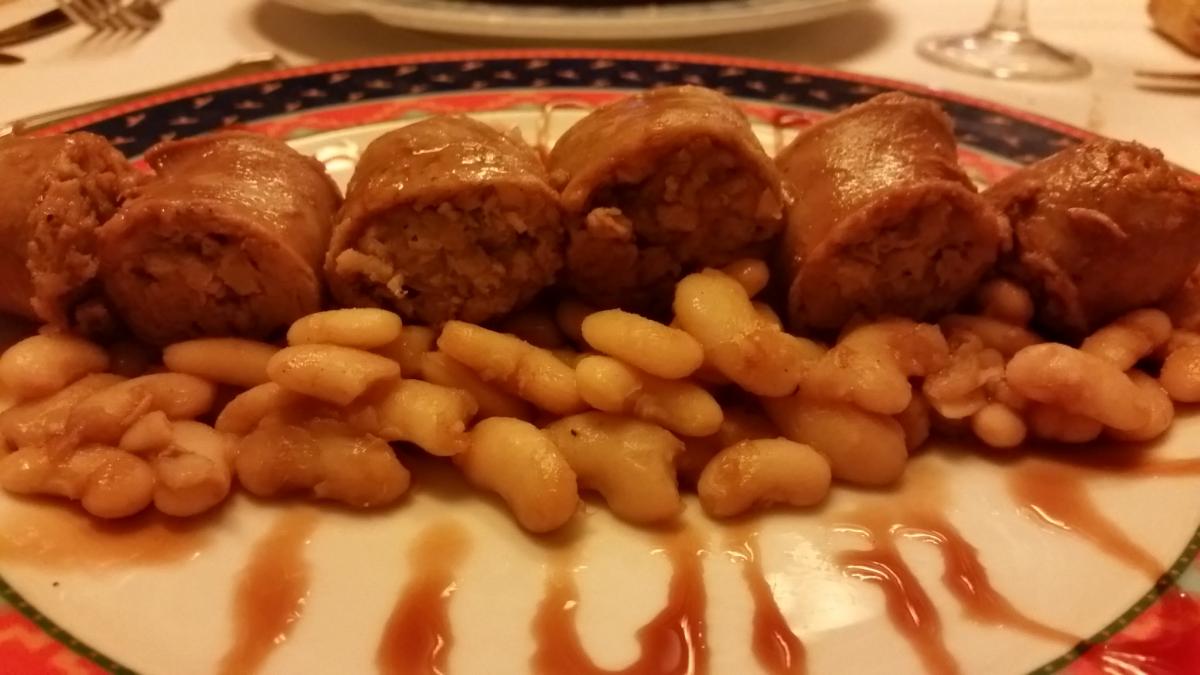 Butifarra de Foie Gras @ Cal Pep / Photo courtesy of ForeverBarcelona.com
The only 20 stools of Pep's bar (Cal Pep means 'At Joe's') are coveted. It's recommended to arrive early, before they open, to be one of the "chosen ones" of the day and avoid having to wait over an hour until someone leaves. While everything on the menu is amazing, the foie gras pork sausage stands out, hands down. Served over a bed of white beans, it's the upscale version of the traditional 'butifarra amb mongetes' Catalan dish.
Croquetas de Jamon @ Tapas 24 / Photo courtesy of ForeverBarcelona.com
Croquettes are one of those tapas locals always order; we've eaten them at home since we were little! A light, crunchy crust of breadcrumbs on the outside, and a creamy inside of thick béchamel with a variety of ingredients to add flavor: either cheese, mushrooms, chicken, codfish, or spinach. But, if you want to go for the best of the best, the Spanish Ham croquettes at Tapas 24 are exactly what you need.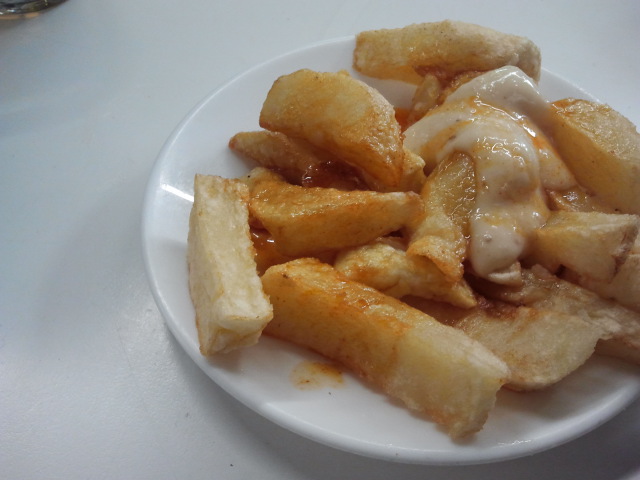 Patatas Bravas @ Bar Tomás / Photo courtesy of ForeverBarcelona.com
Patatas bravas are definitely one of the top tapas in Spain. I haven't seen locals fighting over what bar makes the best (name any other tapa here) the way they do with patatas bravas. Most will agree, though, that the best are those at Bar Tomás in the quaint Sarrià district. Their potatoes are hand-cut long but irregular, then boiled before being fried. They serve them with two sauces: a thick aioli garlic sauce and spicy oil, the recipe of which is kept secret. By the way, if it's closed when you arrive, there is still some hope: they also own the Ivorra bar around the corner, where they serve the same bravas. It doesn't have the same busy, old-fashioned charm of Tomàs (nor its bad-tempered waiters), but you'll still get to try their bravas.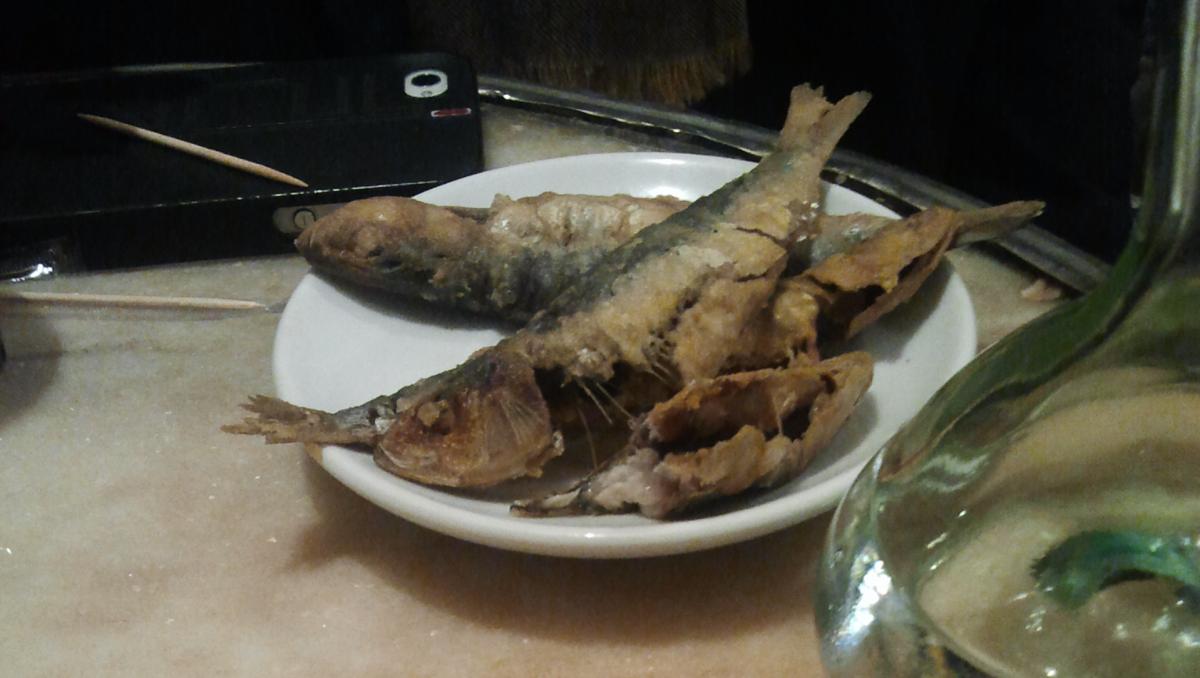 Boquerones fritos @ La Plata / Photo courtesy of Yelp.com
Monday is a bad day to order fish, because fishermen don't work on Sunday and therefore there is no fresh fish the next day. However, at La Plata they are the first to get the best sardines as soon as the fishermen arrive to port on Monday afternoon. And gosh, are they amazing! How would a bar that serves only three specialties survive for over fifty years? Fried sardines, pork sausage and tomato salad; all served on tiny plates that are easy to hold in your hand, which comes handy when there are no tables available inside and you have to eat your sardines standing outside! Make sure to order your wine on a 'porró' recipient: much easier to hold in hands full of plates than a glass would be.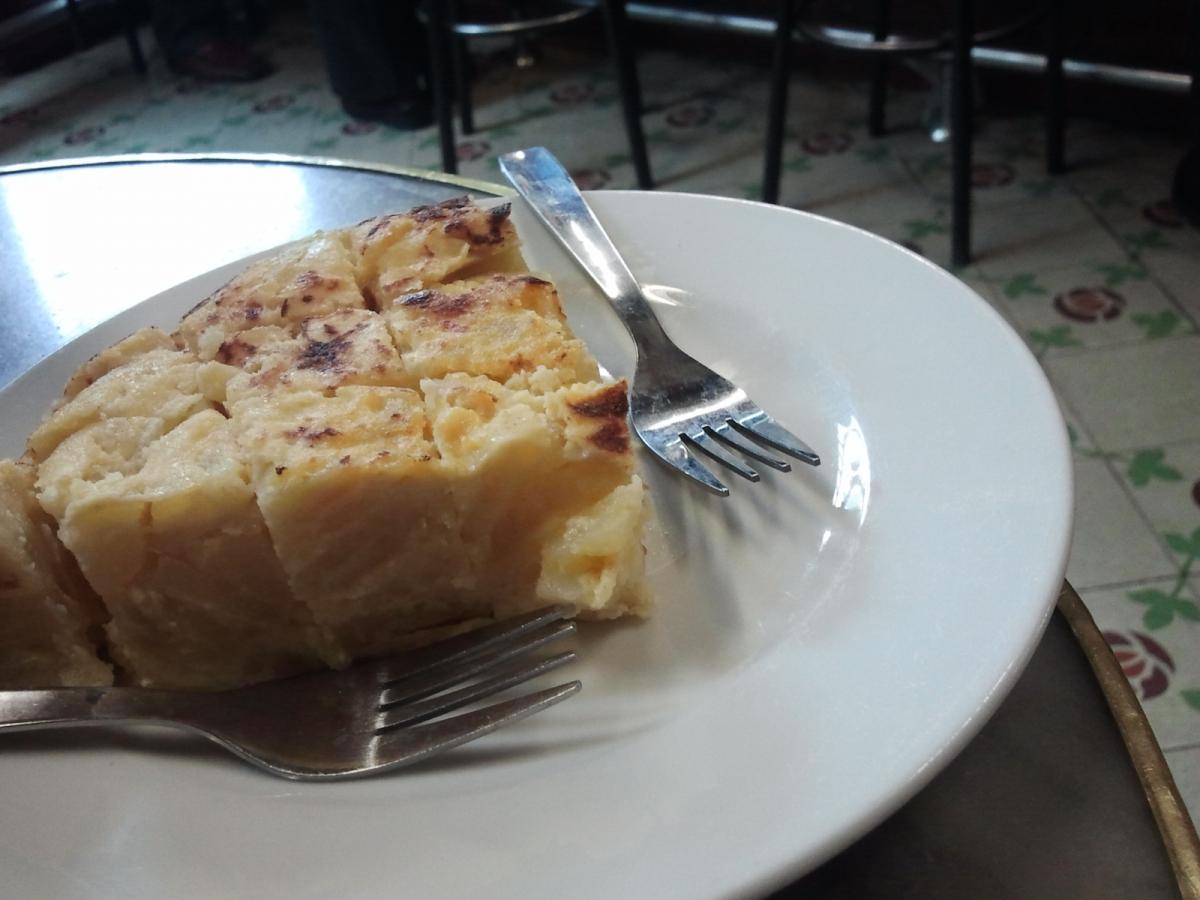 Tortilla Española @ La Bodegueta / Photo courtesy of ForeverBarcelona.com
Another classic tapa in Spain, Spanish omelet is made with fried potatoes, caramelized onion and eggs. The trick is to make it crispy on the outside but as tender and creamy as possible inside. The one at La Bodegueta reminds me so much of that my mother makes, and she makes some of the best I've ever tried! So go for it! Plus, you'll love the bar setting, with their old wine barrels and worn-out tile pavement. Very authentic – you'll wonder how it has survived surrounded by all the fancy boutiques that now populate the area, but as soon as you try their omelet, you'll understand!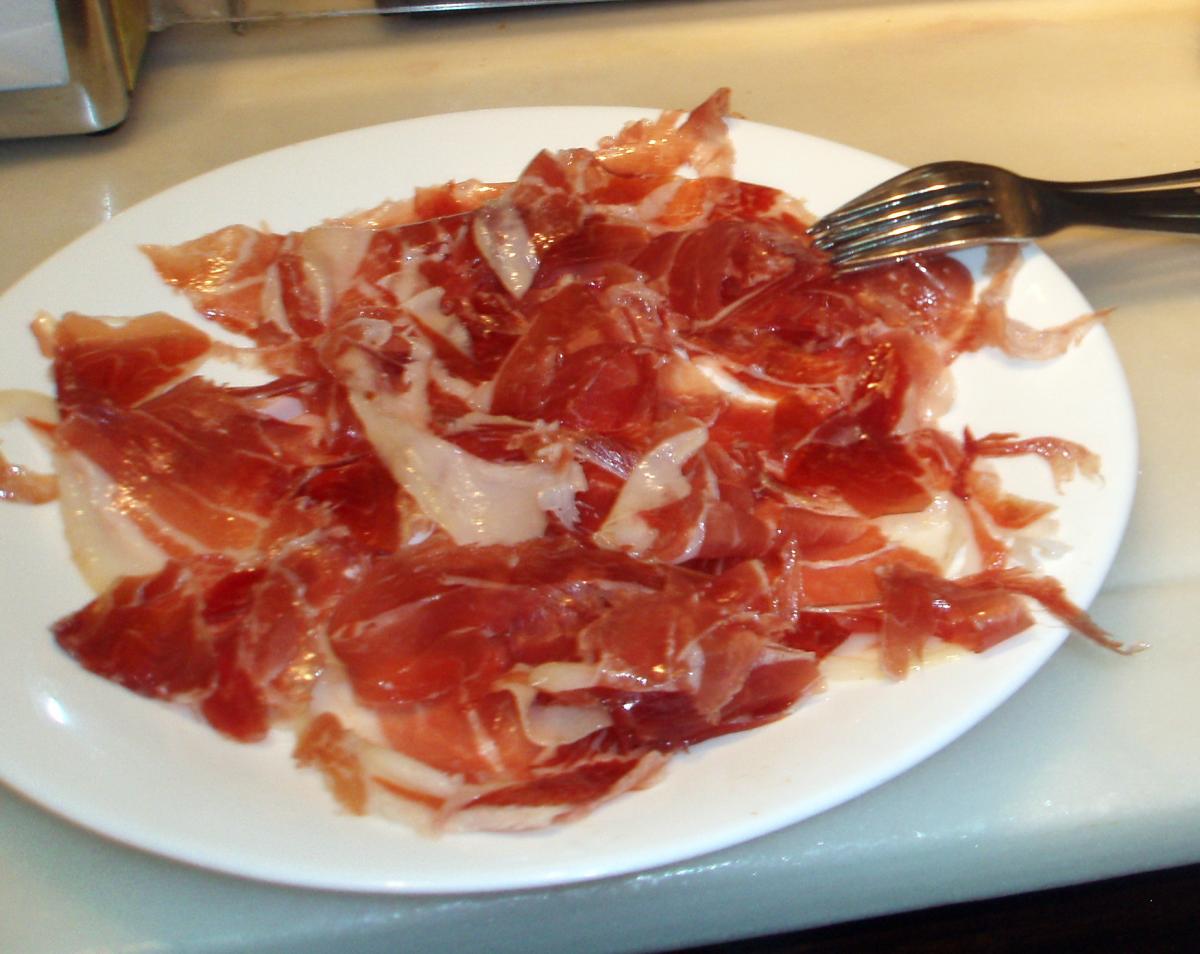 Jabugo Ham Plate @ Xampanyet / Photo courtesy of ForeverBarcelona.com
No one should leave Spain without trying Jabugo Ham. Yes, there are other types of ham (país; serrano) but the Bellota from the Jabugo area is the best of the best. And what better place to taste it than an authentic bodega in the Old Town, with friendly waiters and locals that stubbornly come back so it is not lost to the tourists that discover it on their way to the Picasso Museum. It's a great place, and their ham is wonderful. Make sure to have it with some of their tomato bread drizzled with fragrant olive oil. And make sure to order a few more tapas (you can't go wrong there) and a bottle of the house drink: "xampanyet": a young sparkling white made specifically for the house for over 3 generations.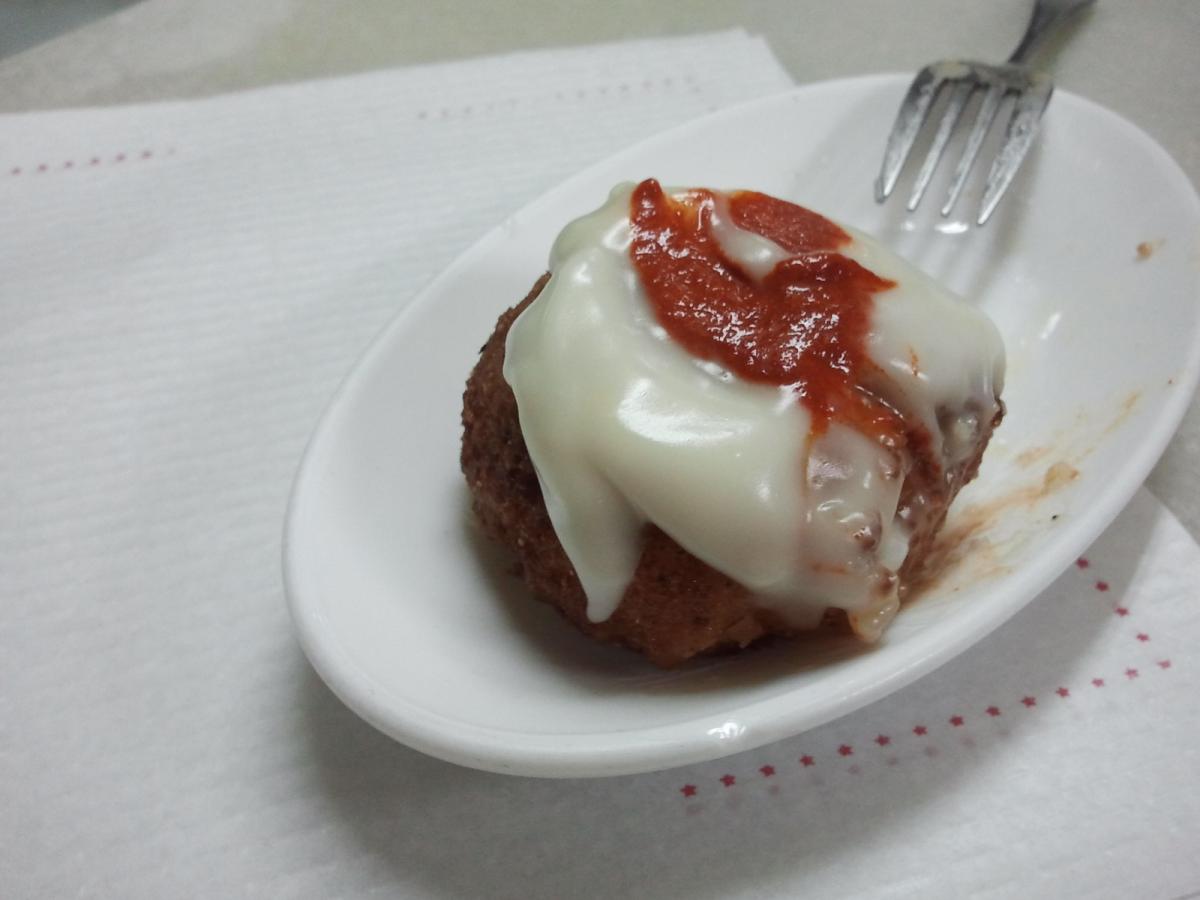 La Bomba @ La Cova Fumada / Photo courtesy of ForeverBarcelona.com
Bombas are a popular tapa that tourists don't usually order because they have never heard of it. However, locals love it: similar to croquettes on the outside as they are deep-fried and covered in fine breadcrumbs, they are usually round instead of long. And the inside is not béchamel, but mashed potatoes that hide in their heart some mildly spicy mincemeat. People reckon La Cova Fumada was where this recipe was invented, so it's definitely the place to try it! While you are there, order anything else they suggest; their fish and seafood is great, as well as the artichokes if they are in season.
Berenjena Frita con Miel @ Bar Canete / Photo courtesy of ForeverBarcelona.com
Fried eggplant with honey is very popular in the South and Center of Spain, and it became popular in Barcelona fairly recently. I'd dare to say Bar Cañete was probably the first local bar to include it in their menu. Before that, you'd find thick, fried slices of eggplant served in some bars, but they were not as refined and flavorful as those with honey. Fried eggplant with honey is instead finely sliced, almost as if they were chips, and they come drizzled with honey or molasses. It might sound like a weird combination, but trust me, it's one well worth trying.
Pulpo a la Gallega @ Bar Celta / Photo courtesy of ForeverBarcelona.com
Galicia is an area in the North of Spain touching Portugal. They have a strong fishing tradition, and are famous for their seafood. One of their most famous tapas is octopus. It comes boiled and drained, its legs sliced and sprinkled with sweet paprika. It sounds simple, and you'd think it'll be chewy or too hard, but when it's well done, it's actually tender and really nice. There is no better place to try it than an authentic Galician Bar such as Bar Celta. You'll also be able to taste some of their other local specialties such as Empanada Gallega (tuna cake) and Pimientos del Padrón (fried green peppers, occasionally spicy).
Discover more about the featured tapas
Meet the author