10 Essential Eats in Baja California
Baja California, a Mexican border state, meets "Alta" California and San Diego just to the north. Immigrants from other parts of the country have made their way here over the years, bringing their traditional recipes with them. It's not hard to find a carreta (street cart) that serves savory birria de res (spiced beef stew) from Guadalajara or a restaurant that makes a hearty Sinaloan style norteño breakfast of machaca (dried and shredded beef) and eggs.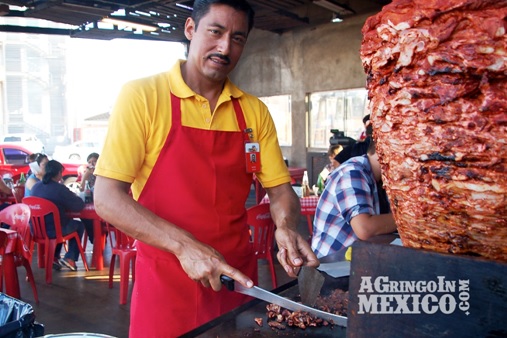 A taquero at Tacos el Taconazo in Tijuana prepares tacos of adobada.
In the 1920s, gringos escaping U.S. prohibition flocked to Baja California to imbibe and gamble. This was the era of jazz and the brasserie-style restaurant in Tijuana – still celebrated by Caesar's Restaurant today. Hollywood celebrities traveled further south for a little R&R between engagements, enjoying ocean-side resorts on the Pacific in Ensenada and Rosarito Beach. These coastal destinations still offer an abundance of local, inexpensive seafood, amazing views and nearly perfect weather year-round.
Baja California's current chef movement began in Tijuana, where innovators such as Martin San Roman, Javier Plascencia and Miguel Angel Guerrero began preparing Mediterranean and Asian, Middle Eastern and French-influenced dishes using local ingredients. Momentum swung south to Ensenada and the Valle de Guadalupe, Baja California's wine country. Here, both Michelin-starred and rookie chefs began to innovate with a wide palette of influences and flavors to create a la carte and tasting menus that highlighted sustainable ingredients.

Restaurants such as Malva in the Valle de Guadalupe use only local, sustainable ingredients.
Food colectivos – "gastro parks" of food trucks and/or stalls – have begun popping up all over Tijuana, typically helmed by young chefs, some of them graduates of the city's Escuela de Arte Culinaria (Culinary Art School). It's an affordable way for the aspiring restaurateur to open and operate a kitchen, and a great opportunity for diners to sample a variety of dishes ranging from traditional to "elevated" Mexican street food – think pulpo (octopus) al pastor tacos on nopal cactus tortillas, or a torta of duck topped with chili-spiced apple marmalade.
Located on a peninsula between two bodies of water – the Pacific Ocean to the west and the Sea of Cortez to the east; its bounty of seafood is unmatched in Mexico. Ranches in the nearby state of Sonora and the interior of Baja California provide beef, lamb, quail, chicken and other meats, often prepared "whole animal" in rustic outdoor kitchens. Produce is always locally sourced, with many chefs in the Valle de Guadalupe maintaining and picking from onsite organic gardens.

Baja California enjoys a bounty of seafood. Mercado Negro, Ensenada.
For the adventurous eater, Baja California offers traditional Mexican cuisine, authentic and experiential street food, a dizzying array of affordable seafood options and Baja California cuisine tasting menus that pair perfectly with the region's wines. Here are ExtremeFoodies's 10 Essential Eats in Baja California.

Fish tacos at Tacos Lily, Ensenada.
The birthplace of the ubiquitous Baja fish taco is hotly contested. Some believe that the fish first hit the fryer in Ensenada. Others claim the dish was originally served in San Felipe. Regardless, it's been a favorite of locals and visiting gringos for decades. The classic Ensenada version is made with a chunky filet of angelito, a small shark that's dipped in tempura beer batter and fried. Lily at Tacos Lily – near Ensenada's famous Mercado Negro – serves her slightly crispy filets atop a warm house-made corn tortilla. Add crema, pico de gallo, cabbage and a splash of spicy salsa to finish this most iconic of Baja California dishes.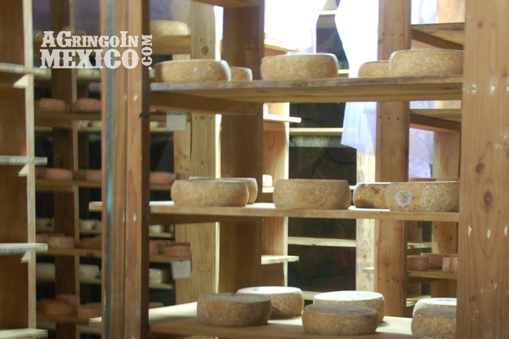 Wheels of cheese age in the cave at La Cava de Marcelo, Ojos Negros.
There are several good artisanal cheese makers in Baja California, but only one of them can boast a cave in Latin America that is open to the public. La Cava de Marcelo produces queso fresco as well as one- and two-year aged wheels of rich, creamy and pungent Ramonetti cheese. Located in Ojos Negros, just southeast of Ensenada, all of the farm's cheeses are available for tasting and purchase. A long afternoon can easily be spent here touring the working dairy farm and cheese cave and enjoying a meal of grilled sardines served over ricotta blended with chipotle chiles in the quaint farmhouse restaurant.

Related Blog Post: http://agringoinmexico.com/2015/04/14/ensenada-road-trip-from-the-cheese-cave-to-top-dining-destinations

Pescado zarandeado at Agua Brava de Nayarit, Popotla.
The Sinaloan beach preparation pescado zarandeado (shaken fish) presents the day's catch – commonly pargo, red snapper or lingcod – which is butterflied, liberally brushed with a combination of mayonnaise and ancho chile paste, and grilled over mesquite wood in a wire rack. The fish is served simply topped with tomatoes, onions and Serrano chiles, which are added late in the grilling to give them a nice char. The zarandeado at the Popotla beach tent Agua Brava de Nayarit is coated with a layer of mayo and chipotle paste before grilling, which keeps the white meat beneath succulent, tender and flavorful.
Related Blog Post: http://agringoinmexico.com/2014/01/27/popotla-feeding-my-mariscos-madness-again

A recent six-course tasting menu at Corazon de Tierra, Valle de Guadalupe.
"Baja Med" is the common, yet somewhat limiting term used to describe the diverse types of cuisine found in Baja California. While chefs are using local ingredients to reinterpret Mediterranean dishes, preparations from Asia, France and Latin America are also represented. A great place to sample Baja California cuisine is Corazon de Tierra in the Valle de Guadalupe, one of Pellegrino's Latin America's 50 Best Restaurants. Chef Diego Hernandez's six-course tasting menu features dishes such as de-boned quail in a red wine stock reduction and an amuse-bouche of smoked tuna and dried sea urchin.

Prepared clams at Almejas Fidel, Ensenada.
Ensenada is a seafood lover's dream. This port city has serviced the fishing industry for decades and is home to the famous Mercado Negro, where vendors and fishmongers offer a plethora of oceanic delights. At the Ensenada street cart Almejas Fidel, clams are opened to order, cleaned, chopped and lightly dressed with lime, pico de gallo and a splash of ketchup, then topped with avocado. Don Fidel has set up his little cart on this corner almost every day for 27 years. Find Almejas Fidel – and several other good seafood carts –along the malecón where they open at 8 a.m., just in time for breakfast.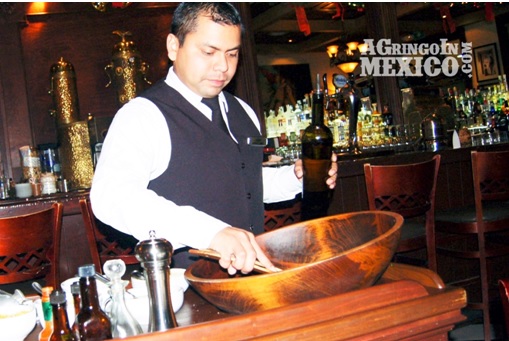 A waiter prepares Caesar's Salad at Caesar's Restaurant, Tijuana.
Caesar Cardini opened Caesar's Restaurant after immigrating to Tijuana from Italy in 1927. He is widely credited with creating his namesake salad using the only ingredients he had on hand, when he prepared it for friends who dropped by unexpectedly one night. Taking over the restaurant's lease in 2010 after multiple owners depleted the luster of this former landmark, the Plascencia family of restaurateurs restored the classic establishment and still offers the iconic starter today. Prepared tableside, the original recipe features olive oil, garlic, Parmesan cheese, lemon, anchovy, egg, kosher salt, freshly ground black pepper and Worcestershire sauce, to taste.
Related Blog Post: http://agringoinmexico.com/2013/12/15/tijuana-tastemakers-roots-run-deep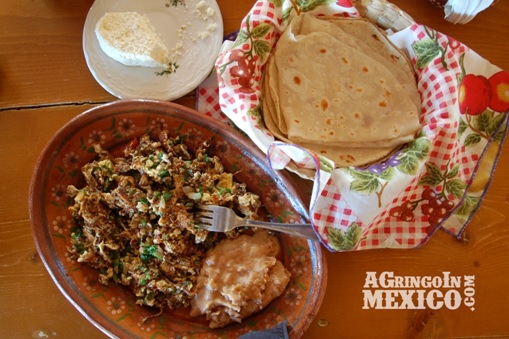 Machaca and eggs at La Cocina de Doña Esthela, Valle de Guadalupe.
La Cocina de Doña Esthela's traditional Sinaloan home cooking was "discovered" by the hungry cast and crew of a telenovela filming at a nearby vineyard in the Valle de Guadalupe. Her breakfast tables have been packed with hungry day-trippers from Baja and Southern California every weekend since. Doña Esthela's machaca (dried and shredded beef) is fried, then spiced with serrano chiles, bell pepper and garlic and scrambled with fresh eggs from her small farm. Her large, warm, paper-thin, house-made flour tortillas, peppery refried beans and crumbly farmer's cheese are offered with every breakfast. Doña Esthela's machaca and eggs was named ExtremeFoodies's Best Breakfast in the World in 2015.
Related Blog Post: http://agringoinmexico.com/2015/06/02/la-cocina-de-dona-esthela-named-foodiehub-best-breakfast-in-the-world

Tacos of birria and tripa at Tacos el Taconazo, Tijuana.
Tijuana's second wave of population growth began in the 1960s. Many Mexican nationals made their way to the border town to pursue agricultural jobs in the United States and provide services, goods and food to the soldiers now visiting the city from recently established bases in the American southwest. A popular concession then was – and still is – the taco cart or stand, where a variety of styles from birria to guisados (tacos of stewed or braised meat) are served. Tacos El Taconazo is open 24 hours and crafts a variety of meat tacos, burritos and tortas. Choices include adobada (marinated pork) shaved from a trompo (vertical spit), carne asada, cabeza and tripa.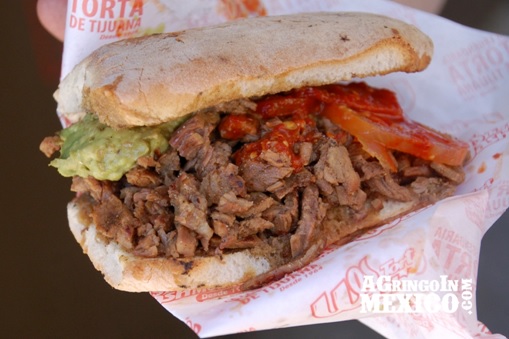 Carne asada torta at Tortas Wash Mobile, Tijuana.
Carne asada – a staple found throughout Mexico – is thin slices of grilled skirt, flank or flap steak rubbed with a mix of seasonings such as chili powder and pepper. Local favorite Tortas Wash Mobile in Tijuana, established in 1964, only makes one thing — the perfect carne asada torta. The meat is marinated and slow-cooked over a mix of mesquite and charcoal for 12 hours, then placed in a pan of beef stock as the sandwich is prepared. The bottom of a toasted Mexico City style bolillo is dipped in the stock, smeared with a thin layer of mayo, and then stuffed with heaps of succulent beef. The sandwich is finished with guacamole, tomatoes, pickled red onions and a spicy red salsa, if desired.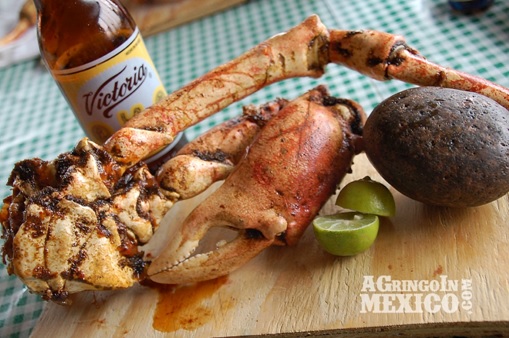 Spider crab at La Estrella, Popotla.
Some will bemoan that Puerto Nuevo Style Lobster was nowhere to be found on this list. Most of the local catch is now shipped to Asia, often leaving diners with crawfish-size specimens or frozen product. As an alternative, the fishing village of Popotla, just 15 minutes north of Puerto Nuevo, offers huge, just-caught spider crabs prepared in a similar style – fried with butter and garlic. Live crabs can be purchased from beach vendors and delivered to restaurant La Estrella, where Doña Lorena prepares and serves the formidably sized crustaceans with a bit of Diablo sauce, warm flour tortillas and sides of refried beans and rice.
Related Blog Post: http://agringoinmexico.com/2014/01/27/popotla-feeding-my-mariscos-madness-again
Read more on food and culture in Baja California: http://agringoinmexico.com/category/baja-california
Meet the author