The Essential Guide to Modern Mexican Dining in Mexico City

Contents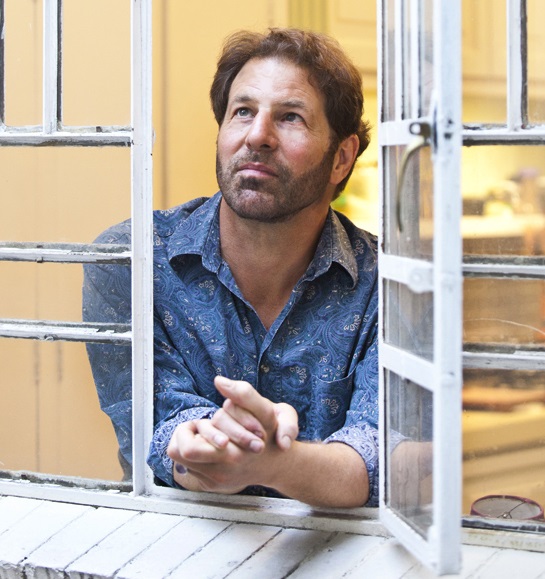 Mexico based food writer and critic Nicholas Gilman was born in New York City. He has studied culinary history at the National Autonomous University of Mexico (UNAM), cooking at the Universidad del Claustro de Sor Juana and is a founding member of a Mexican chapter of Slow Food International. In 2007 he published Good Food in Mexico City: Food Stalls, Fondas and Fine Dining, which won a Gourmand Cookbook award. It was praised by chef and TV personality Rick Bayless as "…a treasure, an insider's guide through the super-cool. Super-tasty side of Mexico City…there's no guide book like this." He has been interviewed on National Public Radio's The Splendid Table and Around The World Radio, and has been featured in The Washington Post and the San Francisco Examiner. In Mexico, he has appeared on the Televisa network, Ana Maria Salazar's Imagen News, and in such periodicals as La Jornada, El Universal and the book DF de Gente (Editoriales Mapas). He was a regular restaurant critic for The News Mexico and has written for The New York Times, the L.A. Times, The C.S. Monitor, New York Magazine, Conde Nast Traveler, Food & Travel and The Guardian. He has worked closely with ExtremeFoodies since its inception as Chowzter, and directs operations in Mexico, Central America and the Caribbean.
He currently writes freelance and publishes www.goodfoodmexicocity.com, which was included on Saveur's 'best world food sites' list. He has lived in Mexico since 1996.
The cooking of Mexico is represented unjustly outside the country. While rice, beans and gloppy enchiladas are all it means for many, there exists a spectacular diversity of complex regional dishes made from myriad ingredients and techniques only found here. One could travel the nation endlessly sampling foods prepared exactly as they have been for generations. The range is astonishing.
The country's capital, Mexico City is the center of economic, political and cultural power, as it has been since the Aztecs founded it the 14th century. Even before the Spanish arrived in 1521, goods from as far away as what is now Central America were delivered by foot and canal boat to feed hungry elite; outside influences were already evident.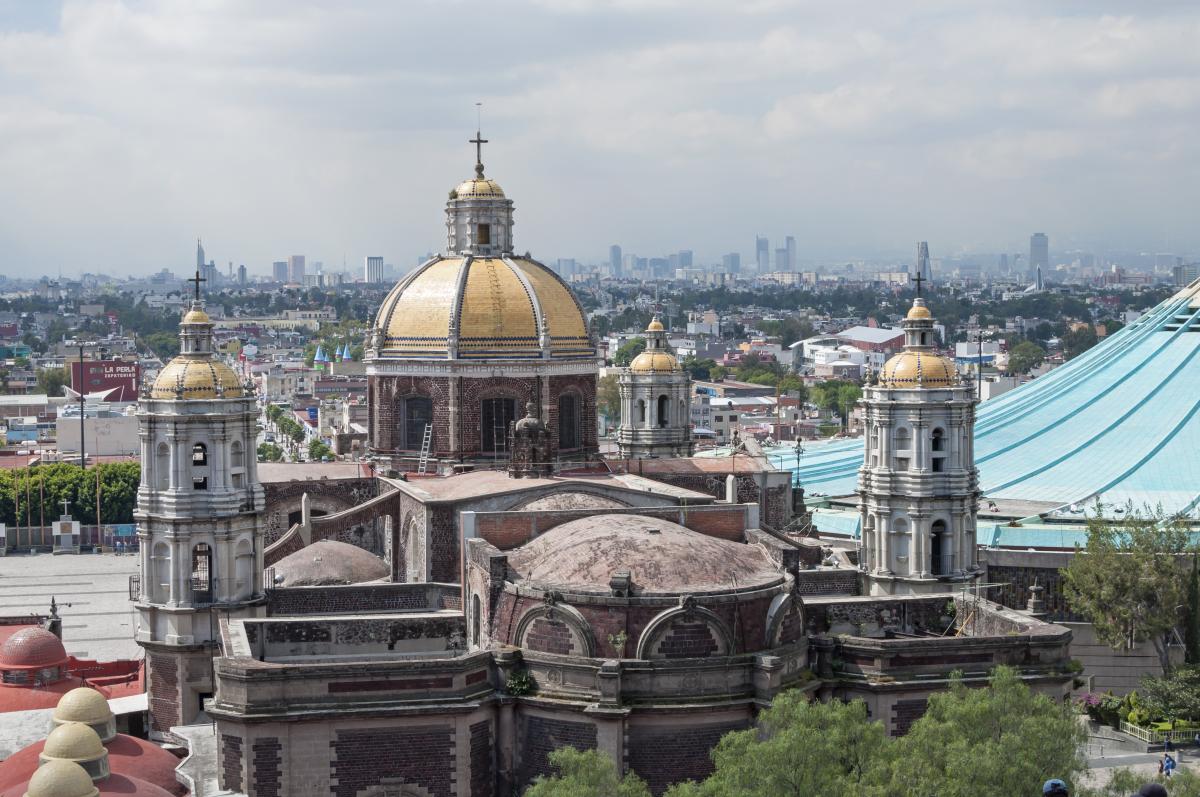 After the Spanish conquest, a culinary exchange with Europe as well as Asia began that continues today. A new lexicon of dishes developed, utilizing old world techniques and new world ingredients. Pigs, cattle, chickens, many spices and fruits, the techniques of frying and distilling were introduced by the Spaniards, while Mexico exported such staples as tomatoes, chocolate and chilies to the world. Many of the foods prepared today, such as moles, salsas, roast meats, stews, liquors and sweets, are products of this fusion. It's irrelevant to speak of "authenticity" in this exciting gastronomic laboratory where new ideas continue to hatch daily. A constant evolution has been taking place over the centuries.In recent years, a culinary establishment has developed, headed by chefs, scholars and historians. Cookbooks have been written. Traditional Mexican cooking has been lauded and celebrated around the world; Unesco has recognized it as "Intangible Cultural Heritage of Humanity."
In the capital and beyond, nueva cocina Mexicana (literally New Mexican Cuisine) restaurants have opened, featuring creative new dishes and gussied up traditional ones. In general, there has been a revival of interest in classic Mexican food amongst the middle and upper classes (the working folks never abandoned their customs.) Americanized imitations of traditional dishes were popularized by fast food purveyors in the United States stigmatizing one of the world's greatest cuisines as junk food. At the same time, author Diana Kennedy became the "Julia Child" of Mexico, publishing the first seriously researched cookbooks in English. Rick Bayless through his books and TV shows followed suit. Both attempted to educate the public as to the virtues of this great cuisine.
Today's cosmopolitan Mexico City is now on the map as a foodie destination. Young immigrants from the U.S., Europe and South America are moving to its revived historic center and the trendy neighborhoods Condesa and Roma, drawn by a combination of history, culture and reasonable prices. Nowhere is this new energy more evident than in the current culinary scene. The city boasts an enormous variety of international restaurants, as well as distinctly Mexican eateries of every description, from old-fashioned holes-in-the-wall to elegant temples of experimental cooking. Outdated ideas about Mexican food are fast disappearing. The city was once known as the "Paris of the New World; with all of the gastronomic excitement going on, it's time revive the moniker.
Traditional Mexican cuisine has no "high or low". In contrast to the French, Chinese or Japanese table, it is from the humble kitchens of ordinary cooks that the vast lexicon of Mexican recipes is culled. The difference between street food and fine dining is a matter of presentation rather than cooking concepts. Since the turn of the millennium a culinary trend has emerged from the kitchens of a new generation of chefs, led by internationally recognized Enrique Olvera and dubbed Contemporary or Modern Mexican. These young masters utilize techniques developed in Spain by Ferrán Adriá and Juan Mari Arzak, while working with traditional Mexican recipes and ingredients. In keeping current world trends, these chefs highlight local, seasonal and sustainable ingredients. As a result, small producers of everything from prize-winning wines, craft beers, artisan olive oils, European-style cheeses, organic produce and meats have emerged.
Before the 1990's, upscale dining in Mexico and most of Latin America was limited to old-fashioned French and Spanish establishments. Mexican food was thought to belong in the home or on the street. Then a group of established chefs and restaurant owners – interestingly, all women - began experimenting with the idea of updating and modernizing Mexican food. Sometimes it was simply a matter of presentation and context. Martha Ortiz' duck in black mole varies little from that eaten in an old Oaxacan home, but elegantly served on contemporary china in a streamlined Polanco venue and chased with a nice Chardonnay, it took on new life. Patricia Quintana's salmon appetizer, with its vanilla-infused dressing took time-honored ingredients and brought them into the 21st century. Others, such as Mónica Patiño, Alicia Gironella and Carmen Oruño dared to present such mundane items as tortillas, moles, huauzontles and huitlacoche in an upscale context.
Then Enrique Olvera came along. He first opened his now renowned Pujol as a venue for Mediterranean cooking to little fanfare, soon changing the concept to something more innovative. After studying abroad and working in New York he found a discouragingly stagnant scene back home and decided to remedy the situation. He wanted to present Mexican cookery using different techniques and novel ideas. He turned tradition on its head, deconstructing classic recipes and reinventing them. As Pete Wells wrote in the New York Times of the chef's latest N.Y. venue Cosme, "Olvera's cooking is a thrill, largely because it sails right over ideas like tradition, authenticity and modernity…a cuisine that is inclusive gets stronger, and one that excludes simply stalls."
Pujol became an obligatory destination for aficionados as well as a laboratory for young chefs many of whom went on to open their own venues expanding on and interpreting what they had learned. Former Pujol sous chef Eduardo 'Lalo' Garcia opened the unpretentious Máximo Bistro Local in 2012 on a shoestring, and it soon emerged as one of the best kitchens in the country. His cooking stayed closer to European conventions but often introduced Mexican elements. Jorge Vallejo, another Pujol alumnus, on the other hand, took Olvera's concepts farther out at his Quintonil; his cooking often steps outside the confines of the conventional. Many others emerged in Mexico City and around the country setting a culinary revolution in motion that has changed the way both Mexican cuisine is perceived at home and abroad.
ExtremeFoodies's Essential Modern Mexican Restaurant in Mexico City is Máximo Bistrot Local. ExtremeFoodies announced this as part of the FooideHub Latin American Awards presented on 22 September 2015 in Mexico City.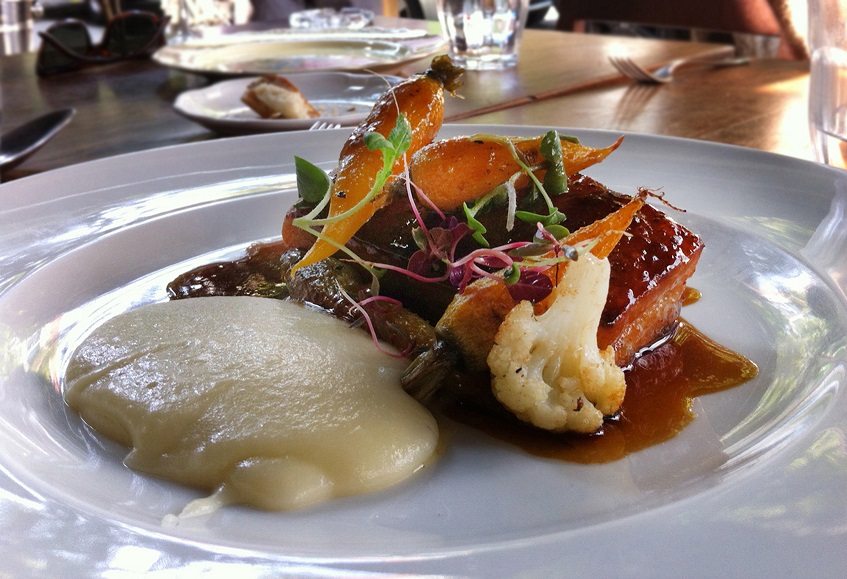 Máximo Bistrot Local opened its doors at the beginning of 2012, and quickly became the hottest restaurant in Mexico City. It's an unpretentious European-style bistro located in the chic Colonia Roma neighborhood. Chef and owner Eduardo 'Lalo' García worked under Enrique Olvera of Pujol and also toiled in Manhattan's star-strewn Le Bernardín. He likes rustic French and Italian cooking but his feet stay firmly planted on native ground. He often utilizes typical Mexican ingredients in his dishes such as chilies, hot and mild, cuitlacoche, the rich corn fungus, or country herbs like epazote, incorporating them into classic European recipes. García represents the new generation of Mexican cooks who, while well aware of what's going on in Spain, California and New York, have come back home, introducing contemporary concepts into their native cuisine, toying with tradition without losing respect for it. The chef explains that " our menu is based not only on Mexican cuisine, but also on local ingredients — hence the name 'bistro local.' But I like to include a few traditional dishes as well. I think my growing up in Mexico and having trained here infuses everything I do." García has avoided the temptation to become a star chef and remains faithfully in his kitchen.
Chef Martha Ortiz Chapa heads this fine venue for beautifully presented Mexican cooking. The décor is elegant, peppered with folksy Mexican touches: chairs are upholstered in colorful Oaxacan embroideries, floors and water glasses are bright red. And the food is presented like a surreal Frida Kahlo still life. Crepe paper bows, potatoes cut in the shape of Aztec headdresses, salsas drizzled in patriotic colors are all carefully highlighted by high-design black or white table service. Traditional food is embraced, teased, stood on its head, and then re-fashioned into something 21st century. Desserts are playful throwbacks to classic Mexican childhood comfort foods. Silky, warm and sweet atole, the corn-based breakfast standard, is served in cute little cups recalling the hacienda on a cold winter night. Old-fashioned milk and fruit sweets are served on a little rustic kitchen shelf from a Mexican doll house. Silly. But that's the idea. This is a party and a spectacle. And the food is good, too.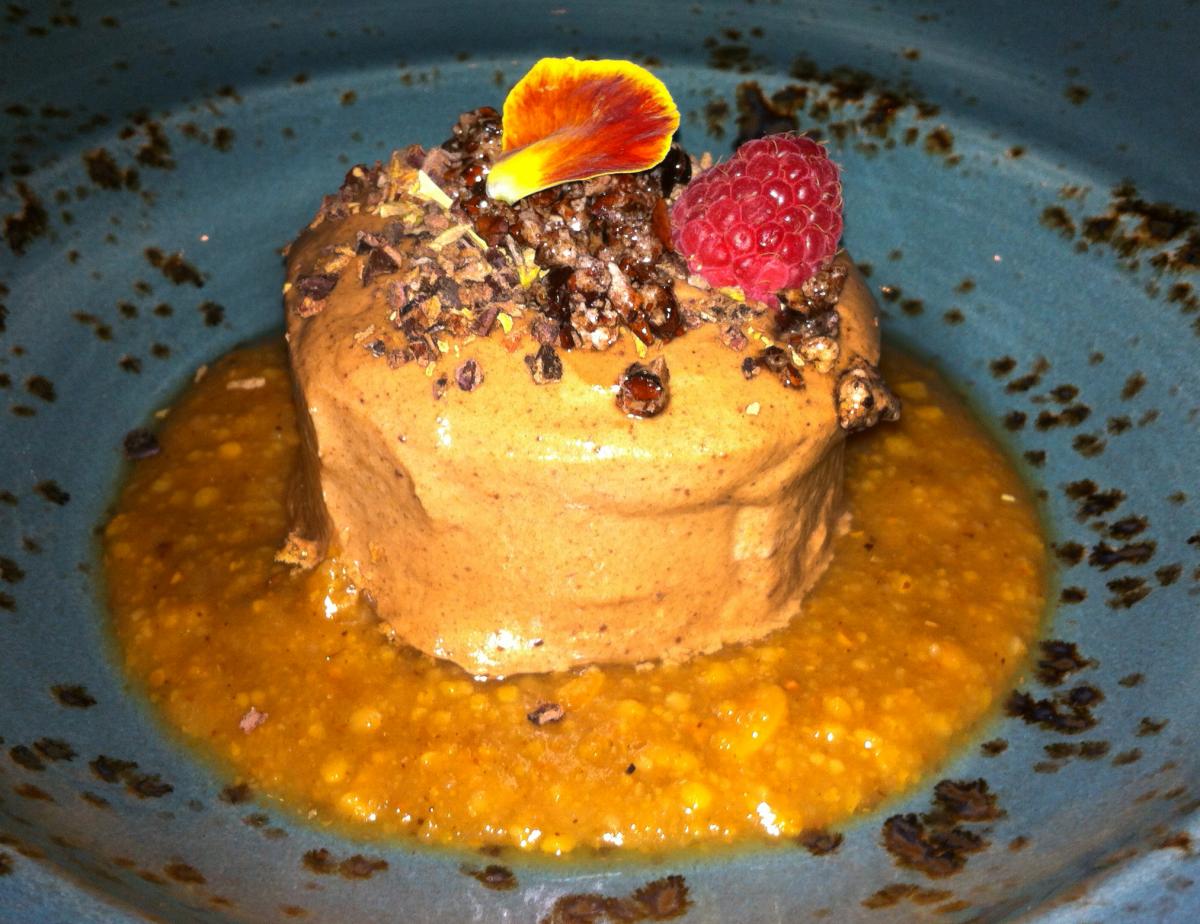 Chef Alejandro Ruiz, who revitalized the food scene in Oaxaca, has arrived in Mexico City. Guzina (which means 'cocina' in the Zapotec language) is the best D.F. venue for this elaborate regional cuisine. Ruiz' menu is honest; his feet are firmly planted in his native soil, with dishes like caldo de piedra, a pre-Hispanic shrimp soup cooked over hot river rocks and perfumed with hoja santa and epazote.
It's worth a visit to sample creative twists on the region's famous moles as well as market based cooking, all presented in a contemporary manner. A wide variety of fresh organic products give life to classic dishes from Oaxaca: flavors recall rustic country cooking. Mezcal, craft beers, organic coffee, all are 100% Oaxacan: they make Guzina Oaxaca a unique experience in the capital.
Kaah Siis
Kaah Siis means "place of freshness" in the Mayan language. The aim is to present creative dishes based in Mexican tradition taking advantage of local and seasonal products. Israel Montero, the executive chef, gives the '50 Best' trio a run for their money, offering his modernist take on classic Mexican dishes with exotic Mayan influences. The chef works directly with farms to eliminate the middleman and assure freshness – literally farm to table. He was trained in his native Caracas, then worked for several years in Lyon, France before arriving in Mexico. He brings a deep understanding of classical French cooking, applying it to contemporary Mexican concepts. His vision is of a "free, spontaneous and creative cuisine – we are an experimental investigative laboratory whose project is to bring to light the great range of little known edible products inspired by our own experiences in the kitchen and on the road."
Octopus, jocoque, mezcal, mole verde, soy bean and avocado leaf is an exemplary dish offered at Kaah Siis. The fish comes straight from the shores of Baja California, while the rest of the ingredients are locally sourced and very Mexican. The dining room is minimalist but warm, accented with wood and hand-thrown blue ceramics. Kaah Siis is on the vanguard of the Modern Mexican Kitchen.

Courtesy of goodfoodmexicocity.com
Limosneros is located in Mexico City's historic center and set in a beautifully restored and updated 18th century edifice. The story goes that the building was home to the local artisan's guild, whose members collected funds (limosnas - "donations") to build various public buildings. Fast-forward to the 21st century, whose post-modern style is in evidence here. Young chefs Marcos Fulcheri and Carlo Melendez work together to present a creative, constantly changing menu. They utilize seasonal ingredients, most sourced close to home, preparing both tweaked classics such as tacos of the finest pork belly or rib eye, as well as creative plates based on traditional ingredients, even insects. Beautiful seasonal beetles called cocopaches, eaten since time immemorial in rural Mexico, are here presented with 'ravioli' of squash blossom flower and fresh cheese. They are deep fried, delicately crunchy and taste faintly of cinnamon. Escamoles, or ant eggs dubbed by some 'Mexican caviar' are presented sautéed over a bed of pureed mung beans in a closed jar in which smoke has been injected: tradition meets the 21st century. Less challenging but excellent is the taco tasting menu which offers 6 artfully prepared tacos paired with fine Mexican wines.
The bar features artisan mezcals, beers and Mexican wines. Limosneros is a place where the history of Mexico can be experienced in the space of a meal.
Owners Gabriela Cámara and Pablo Bueno, whose wildly successful seafood palace Contramar is on everybody's 'best' list, decided to concentrate on Baja-Med cuisine, a fusion of coastal ingredients with Mediterranean concepts. The setting, a formerly non-descript Condesa storefront, makes good use of the low-ceilinged rectangular space. The floors are warm retro terrazzo and the walls have been paneled in rough-hewn wood, a common design solution elsewhere but not here in Mexico City. The kitchen is in the capable hands of master chef Jair Téllez, also of Laja in Ensenada, who makes sure even the simplest dishes – a grilled fish or steak – are perfectly done. The constantly changing,unpretentious, and quirkily creative menu offers eight entradas, seven main dishes and four desserts. Ingredients are chosen selectively and strategically, with an eye to seasonal freshness, smart combinations and respect for cultural tradition.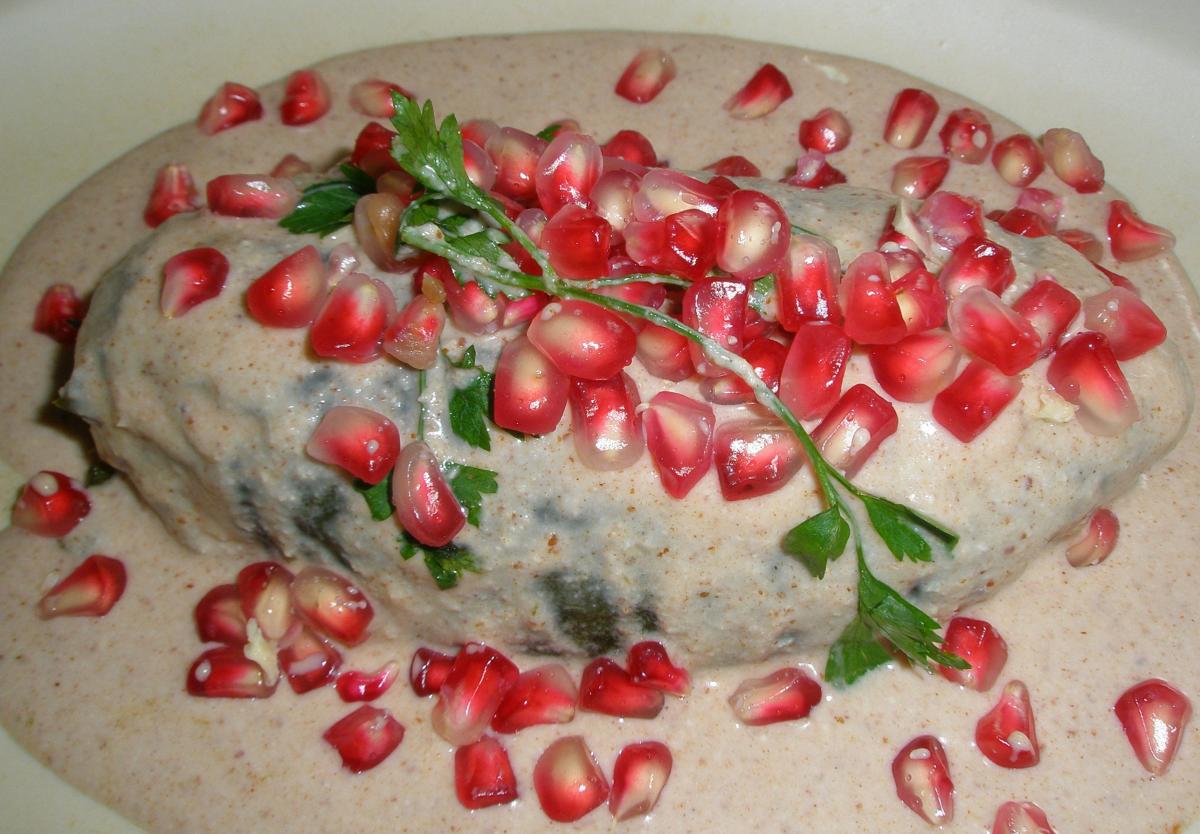 Courtesy of goodfoodmexicocity.com
This out of the way sleeper was inaugurated in 1957 and is still in the hands of the same family. It used to feed such famous musical stars as Pedro Infante and Lola Beltran, as it is near Musart's legendary recording studios. Recently, chef and son of the founders Gerardo Lugo Vázquez has taken over and is presenting a fascinating and unique assortment of rescued 19th century recipes that don't appear elsewhere. The sopa seca de natas, a rich chillied cream soup is legendary. Also recommended is the cerdo en adobo de antaño, tender marinated pork in a mild chile sauce. Many traditional but seldom seen dishes are artfully made taking advantage of local, organic produce. An ample wine list features many good and reasonably priced Mexican wines. Décor is dowdy but accommodating- no pretention here.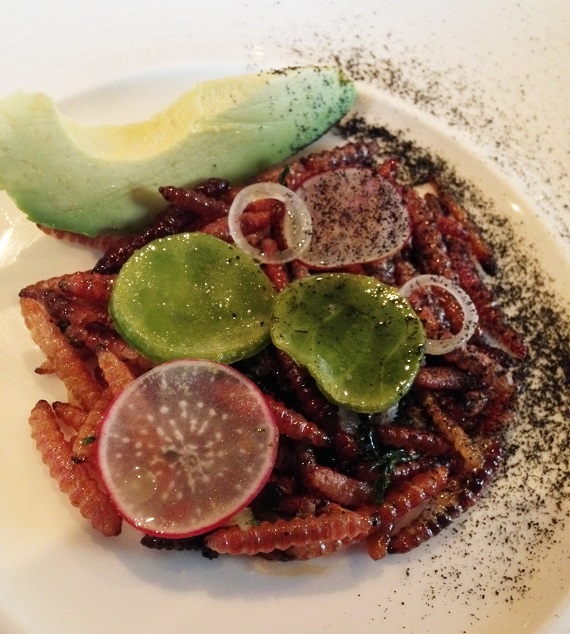 Courtesy of goodfoodmexicocity.com
Paxia is executive chef Daniel Ovadía's flagship restaurant. The menu is in the vanguard of experimental Mexican cooking. Techniques favor classic European, while ingredients are local and seasonal and very Mexican. Paxia's elegantly designed high-style interior belies its earthy menu of tweaked traditional dishes, some even incorporating such exotic ingredients as insects when they are in season. The chef likes to turn popular classics inside out - case in point the pambazo, a sandwich as lowly as a hamburger, but here done with foie gras. More exotic is chinacuiles in xoconostle sauce. Chinacuiles are a reddish larva that is found in the roots of the maguey, the plant used to make mescal and tequila. Here they are sautéed in a light sauce of xoconostle (a berry-like cactus fruit) and oil infused with the uniquely soapy/lemony herb pápalo. These little wormy creatures lose any ooze they might have in the frying pan, and are pleasingly crunchy--the flavor faintly redolent of seafood.
Pujol is Mexico City's most internationally famous restaurant. It has become an obligatory destination for aficionados of creative cooking as well as a laboratory for young chefs. Chef and owner Enrique Olvera offers a unique and insightful approach to a fusion of European and Mexican cuisine. Traditional dishes are turned upside down, deconstructed and presented in surprising new ways, yet remaining respectful to the originals. The menu is in a state of permanent reinvention. The goal is unforgettable taste that strikes a chord of memory and celebrates Mexican cooking's extraordinary variety of ingredients.Essential Mexican cooking combines with new proposals that maintain deep nationalistic roots. The philosophy of the restaurant is to preserve the nation's rich gastronomic legacy by looking at it through the lens of the present and discover every new meaning—and possibility—that lies within. There is no a la carte menu, only multi-course 'degustaciónes'. The simple but elegant 55-seat room is comfortable, and the service is professional, as one would expect at this level.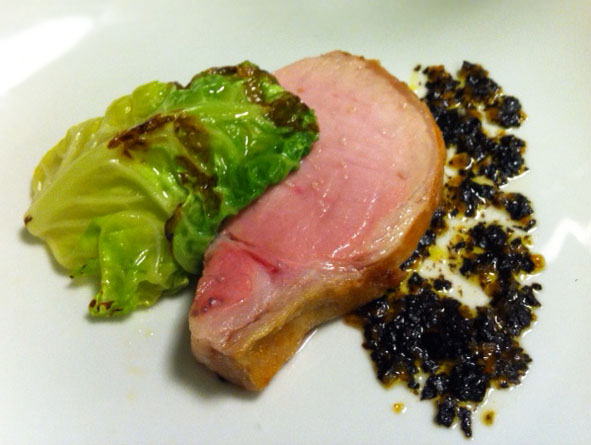 Courtesy of goodfoodmexicocity.com
Quintonil is run by talented chef Jorge Vallejo. He is a disciple of Enrique Olvera having worked in Pujol before he struck out on his own; he has become a star chef in his own right. His menu is cutting edge and utilizes local ingredients both exotic and less so. He strives to take home-style flavors to a higher level. The "S. Pellegrino 50 best" list in which Quintonil holds 10th place describes it as such: "A gastronomic tour of Mexico is on offer at this boundary-pushing restaurant whose star is very much in the ascendancy." Vallejo's cooking reminds us that simplicity and hospitality don't have to be at odds in haute cuisine. An example - a "catch of the day" presents whatever is fresh at the fish market with a mildly fragrant chile guallijo puree, nutty, sweet ayocote beans and pineapple pico de gallo, bringing together the very best the market has to offer in an astute, refined combination. Or roast pork in cold avocado sauce with chicatanas (flying ants), grilled onions and fava bean puree, combines prehispanic with European ingredients to form an exciting new dish. Quintonil's menu will be sure to dazzle.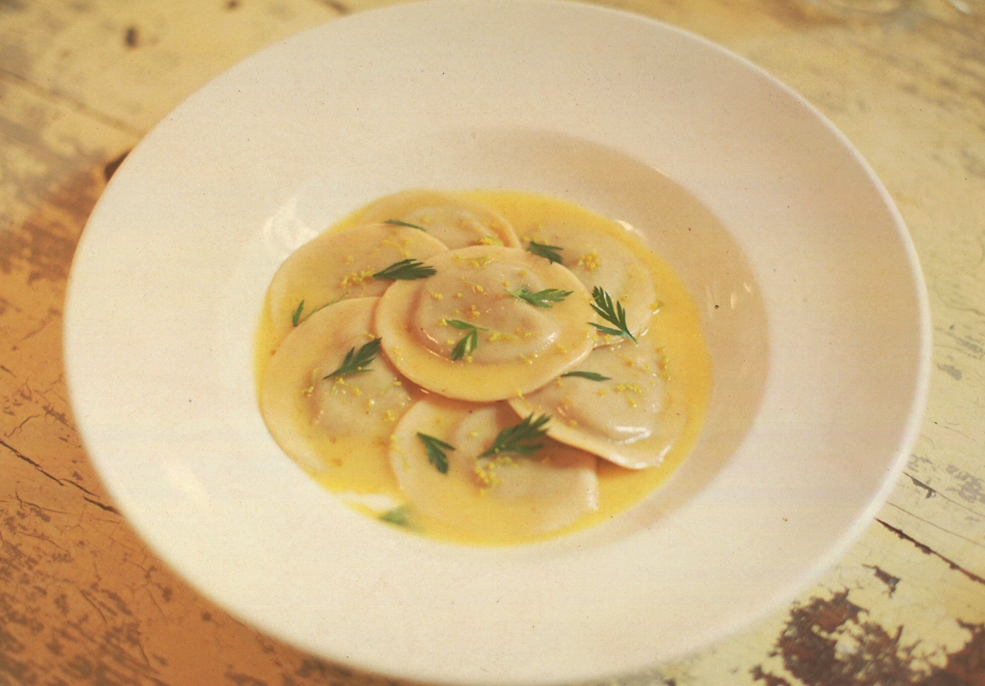 Courtesy of eluniversodemia.wordpress.com
This superb venue for lauded chef Elena Reygadas' Italo/Mex cooking is set in a mansion that has been lovingly restored. On the ground floor, tables are set in a high-ceilinged covered patio whose white walls are decorated with lightly brushed, discreet floral motifs. Furniture is country rustic, more reminiscent of Provence than Mexico – appropriate, perhaps to the Francophile culture of its era. Tables are set with vintage-looking linens. The smart, reasonably sized menu was designed by chef Reygadas who was named "Best female chef of the year in 2014 by S. Pellegrino. Traditional Italian dishes are featured, many with Mexican touches. Bu they're not the ones you're likely to see in any other restaurant outside Italy. Prehispanic ingredients such as insects and wild greens are incorporated into otherwise traditional Italian fare. The chef designs her menu according to what is seasonal and inspirational in the market. She brightens them up, but there is no unnecessary gussying just creative re-inventing. This is certainly the most romantic dining spot in the city, and the menu is full of pleasant surprises.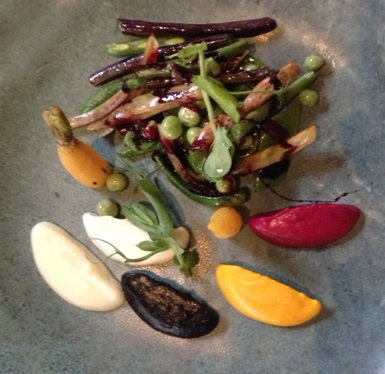 Courtesy of goodfoodmexicocity.com
Chef Edgar Nuñez is of the new generation of cooks who promote and bring to the table Modern Mexican Cuisine. His cooking is based on classic Mexican traditions but astutely fused with contemporary Spanish ideas. After running a successful food truck, he opened his fine dining venue, Sud 777, in 2012 in the southern area of the city. The pretty dining room overlooks a tree-lined landscape, which gives the impression of being far removed from the urban madness of the city. Tweaked Mexican and Spanish classics, always based on ingredients in season and as locally sourced as possible, are artfully prepared and beautifully presented. Scallops in "ash vinegar" with cucumber and cilantro, for example, is a beautifully presented appetizer that typifies the elegant style in which dishes are plated. The concept is based on a Pacific coastal aguachile, a type of ceviche; it is creative without a lack of pretention.
Meet the author