10 Essential Eats in Chicago


Chicago is a melting pot of cuisines around the world. / wikimedia.org
Chicago is a foodie's paradise. Chefs are treated like rock stars in this culinary mecca where restaurant goers are eager to try new trends. Chicagoans are adventurous eaters who see food as an important part of the city's culture. The city is home to many food centric events, including Chicago Food + Wine, Chicago Gourmet, Taste Talks, Taste the Nation, the Rioja Wine Festival, the Windy City Smokeout and Oyster Fest. Chicago provides a true melting pot where food from vast cultures is easily accessible.
With all the Windy City has to offer, here are the 10 Essential Eats for any visitor coming to Chicago. For a true taste of the city, check out the following.

Alinea / Image courtesy of thekittchen.com
Known for being the No. 1 restaurant in America, tickets for dinner at Alinea go quickly, so plan your visit a couple of months ahead. Alinea's Chef Grant Achatz has won many awards, including the James Beard Foundation Award for Best Chef Great Lakes in 2008, and Alinea is one of the only restaurants in the US to earn three Michelin stars. Dinner is a single, seasonally driven tasting menuof 12 to 22 courses created through molecular gastronomy. It's a unique dining experience where food is presented like art. Since you won't see the menu until you arrive, it's definitely a destination for adventurous eaters. The prix fixe menu starts at $210 per person, and a wine pairing can be added. Take time to watch the documentary "Spinning Plates" before your meal to learn more about the restaurant.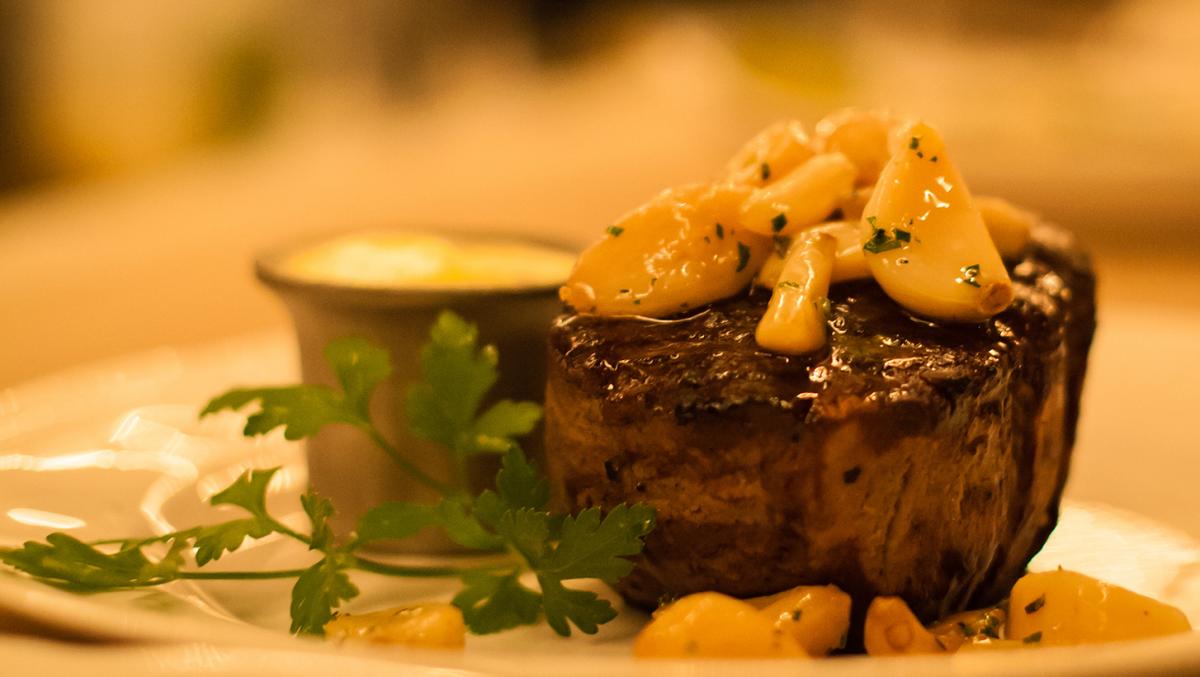 Bavette's Bar and Boeuf / Image courtesy of bavetteschicago.com
A 1920s-style bistro that oozes charm and serves some of the very best steaks in Chicago, Bavette's is one of the most beloved restaurants in Chicago. While the menu focuses on steak, they have an excellent seafood program, and superb fried chicken. Make sure you save room for the rich chocolate cream pie with an Oreo crust, which has been named one of the city's best desserts. Bavette's also has one of the most creative BYOB and corkage policies; you are welcome to bring a bottle of wine, and the corkage fee is to share a glass of wine with another table. It's a policy that creates community and conversation among the restaurant's patrons.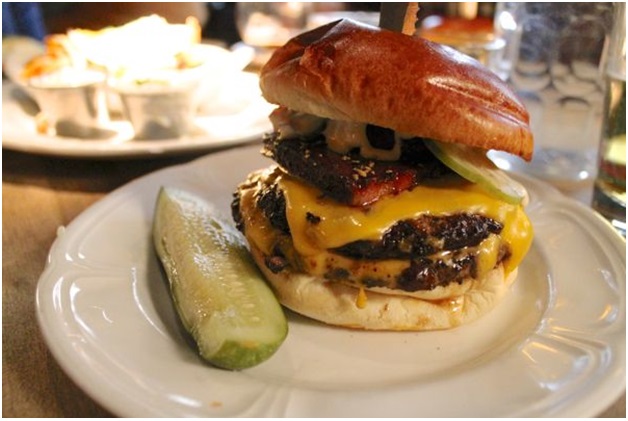 Cheeseburger @ Au Cheval / Image courtesy of thekittchen.com
A sister restaurant to Bavette's, Au Cheval is home to Chicago's best burger. Just remember that the single is really a double and that the double is really a triple, and to always add the bacon. Au Cheval is a dimly lit diner with a speakeasy vibe and a menu full of rich foods. A prime example: The fries drown in Mornay sauce topped with a fried egg. Expect a long wait (up to four hours) before you get to eat, but you can pass the time in the bar next door. If you want to skip the long line, try arriving 15 minutes before they open for brunch, and yes, the burger is on the brunch menu.

Guacamole @ Frontera Grill / Image courtesy of thekittchen.com
Helmed by "Top Chef Masters" winner Rick Bayless, one of Chicago's most famous chefs, Frontera Grill is one-third of his trio of modern Mexican restaurants in River North. Frontera Grill accepts few reservations, allowing for walk-ins – so arrive early to secure your table. The menu features approachable Mexican-style home cooking and Mexican street food with fresh local, seasonal ingredients. Try a street food sampler and then move on to a mole and end your meal with a round of thick Mexican hot chocolate.

Tacos Al Pastor @ Big Star / Image courtesy of Big Star
Big Star is famous for its strong margaritas and tacos. One of the best places for a quick, affordable meal, it's a favorite among locals who love to spend Chicago's few warm days dining on the large patio. Located in the Wicker Park neighborhood, the home of Chicago's hipsters, expect an eclectic crowd. The menu changes often, but Big Star's signature items -- a citrusy guacamole, crispy pork belly tacos and a classic Al Pastor taco -- are permanent fixtures. Remember to bring cash. Big Star doesn't accept plastic.

Dim Sum @ Yum Cha / Image courtesy of thekittchen.com
An elegant dim sum parlor with Pan Asian cuisine with décor to match, this little gem in Lakeshore East is not to be overlooked. While Yum Cha identifies itself as a dim sum parlor, they also have lunch and dinner menus with entrée portions. Highlights from the dim sum menu include the oxtail and scallion pot stickers and the char sue. Don't miss the roasted duck on the lunch and dinner menu. The vast menu has a mix of everything, including plenty of options for vegetarians.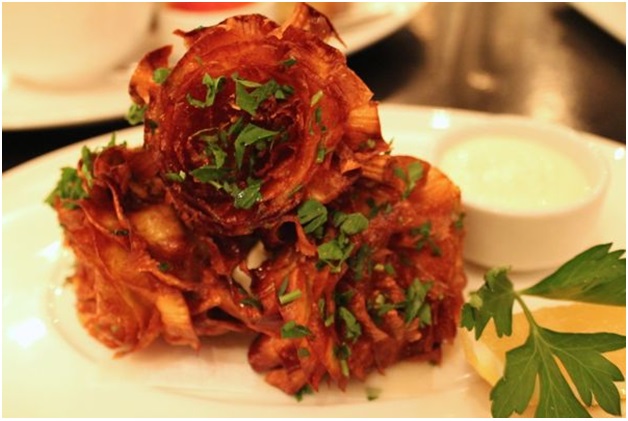 Fried Artichokes @ RPM Italian / Image courtesy of thekittchen.com
A chic River North restaurant part owned by Bill and Giuliana Rancic of E! News fame, RPM Italian offers a mix of classic Italian dishes. You'll find spaghetti and meatballs alongside trendier seasonal creations. Begin your meal with an order of the Prime Beef Meatballs and the Roasted and Fried Artichoke before diving into the house-made pastas, like Mama DePandi's Bucatini. They also offer a large, gluten-free menu that includes gluten-free pasta. Wine experts are at the ready to help you choose a wine pairing from the extensive wine list.

Doughnut @ The Doughnut Vault / Image courtesy of thekittchen.com
This tiny shop in a converted coat closet set off a doughnut trend throughout Chicago. Although the menu features mostly old-fashioned doughnuts, it was their vanilla glazed yeast doughnut that received the distinction of being named the best doughnut in America from The Daily Meal in 2013. The Doughnut Vault announces its ever-changing flavors online each week, and the doughnuts sell out quickly. If you can't make it to the shop, you can track the location of the mobile Vault Van via Twitter, and it can often be found parked at Green and Randolph in the evenings.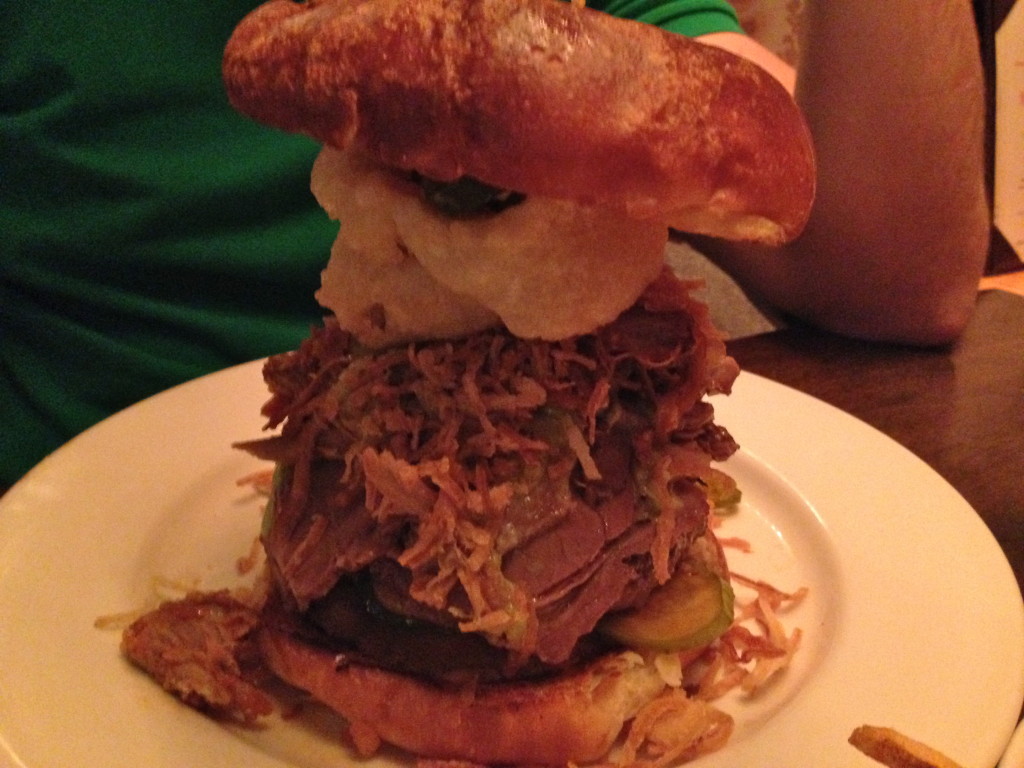 Goat Almighty Burger @ Little Goat / Image courtesy of thekittchen.com
A sister restaurant to Girl and the Goat, Little Goat is "Top Chef" winner Stephanie Izard's diner, where breakfast, lunch and dinner are served all day. While Girl and the Goat fills up months in advance, you can dine at Little Goat during an off-time with no wait. Little Goat's menu is classic diner food with an Asian twist and a few nods to the South. Try the Pork Belly Pancake, the Fried Chicken or the Goat Almighty Burger, which is made with three types of meat. Be sure to try the milkshakes too; they are known for creative combinations like smoked pork and toffee.

Balena / Image courtesy of Balena
Balena is home to modern Italian cuisine and, like many Chicago Italian eateries, focuses on everything but red sauce. Instead, you will find squid ink pasta, cacio e pepe and inventive pizzas on the menu. Chicagoans flock to Balena in the fall for its Brussels sprout pizza. The space is rustic yet elegant, and conveniently near some of Chicago's theaters. For dessert, order one of the composed sundaes. It is a sophisticated take on an ice cream sundae with flavors and toppings that change seasonally.
Meet the author