Melbourne vs. Sydney, a burger smackdown
By ExtremeFoodies on January 25th, 2017

David Hagger and Simon Leong / Courtesy of Simon Leong
ExtremeFoodies asked David Hagger, author of The World Loves Melbourne in Australia, and Simon Leong, author of Simon Food Favourites in Sydney, to take part in a Burger Smackdown. The duo was asked to rate the best burgers in both cities. We flew David to join Simon to rate the best burgers in Sydney. Then we flew Simon to join David to rate the best burgers in Melbourne.
The duo rated each burger from 1 to 5 based on:
Beef – Should have a "pleasant" meaty flavor
Seasoning – Should have a light pleasant seasoning
Cooking – Should be medium rare
Juiciness – The center of the burger should ooze when squeezed
Char/Sear – Outside should have a "dry" char/sear
Bun – Must hold the burger together
Bun – Should be soft, pleasant and tasty on its own
Cheese – Tasty, well integrated, important
Condiments and sauces – Should enhance but not overwhelm
Overall – How does it all come together
The last of our three part series. Check the list of burgers in Sydney and Melbourne and see how they rated.
Sydney: David and Simon try Sydney burgers and how they rated.
Melbourne: David and Simon try Melbourne burgers and how they rated.
Here is their report on how they came to crown the winner:
---
THE OVERALL WINNER
Cost: $15
Score by David: 50/50
Score by Simon: 48/50
Total: 98/100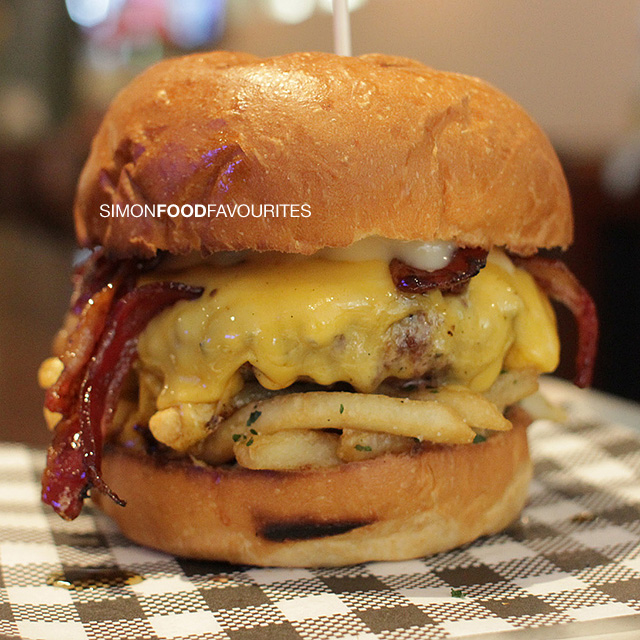 The Fatties of Bare Grill / Courtesy: Simon Leong

"Bar Luca has hit the high notes with Blame Canada," David said. "Blame Canada is an alluring temptress, coming at you with salty and sweet. The poutine is groundbreaking and unique, and forms the base of the burger. The quality double patty meat is on point. The candied bacon is addictive and the cheese is perfection.
"The overall balance of the burger is superb. It's all going on, and yet nothing is out of balance," David said.
"You can judge a burger by whether you would keep coming back for it. Yes, we would. And only $15! Voted the best we tasted in Australia."
Bar Luca has been a long-standing favorite for many burger lovers in Sydney, Simon said.

The Fatties of Bare Grill / Courtesy: Simon Leong
"Their passion and dedication to producing a great tasting burger is truly evident when you can smell the kitchen charring their patties all the way down the road from the bellowing smoke pumping out from the kitchen exhaust, Simon said.
"When a burger special becomes a highly popular main menu item, you know they're on to something special. The Blame Canada is a must for any burger punter in Sydney, or visitor for that matter. It's a large sized burger with all the ingredients working well together. It's juicy, slightly messy from the generous saucing and smoky goodness prevails. It's a Simon Food Favourites and hopefully will be yours, too."
The burger scene in Sydney is competitive and sometimes overwhelming with its growing number of choices, Simon noted.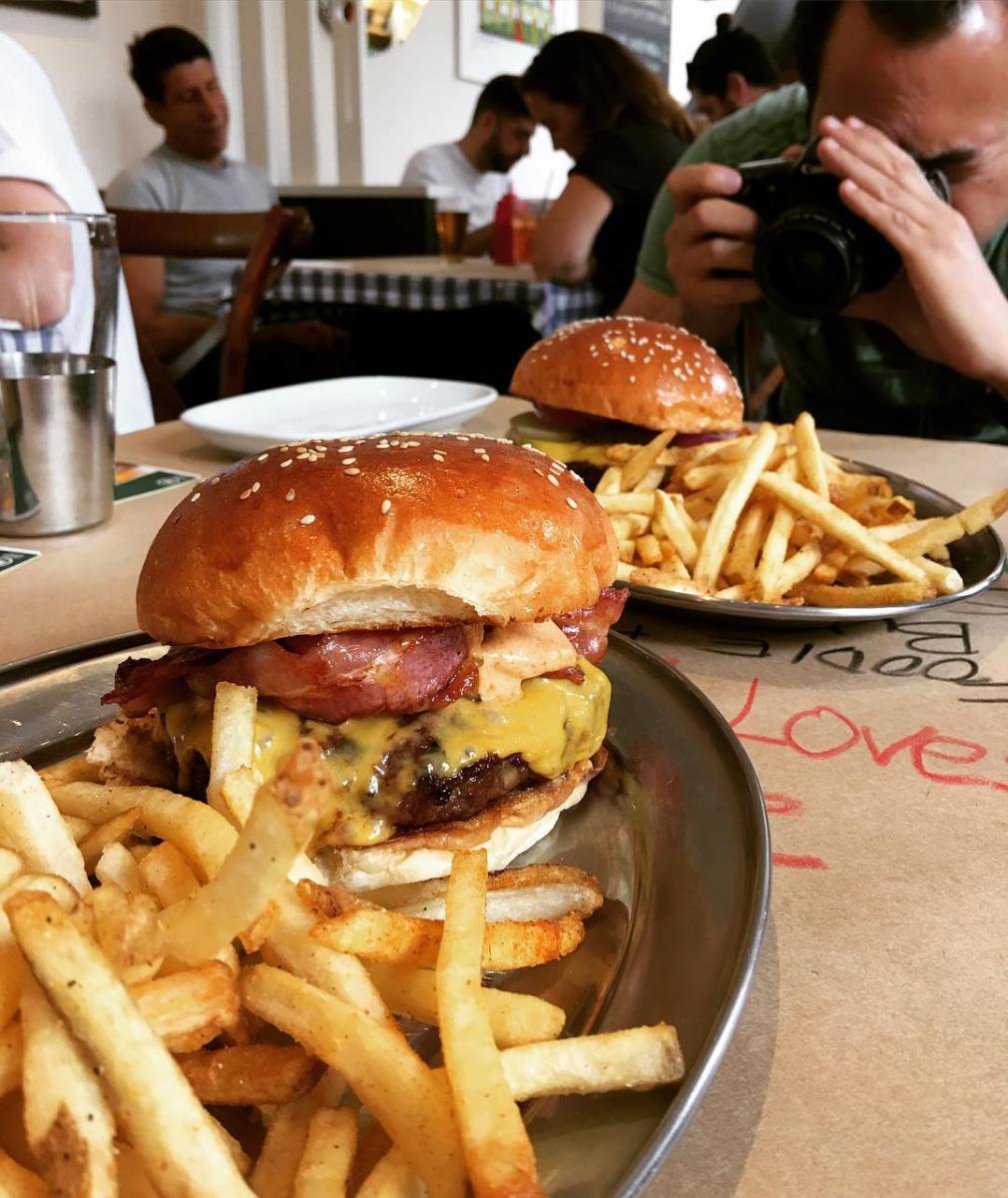 Pub Life Kitchen / Courtesy: David Hagger
"Bar Luca in the CBD was one of the more established burger joints before the whole burger craze hit. Check out the busy kitchen through the kitchen pass and you'll see their passion and dedication in making great burgers. They are one of my personal favorites, and are on the top of my burger list if anyone asks me where to find a good burger in Sydney.
Their Blame Canada was originally a weekly special, but it became so popular the restaurant extended it for another week and, due to the growing fans, it soon became listed on their regular menu.
"Truth be known, they cheekily named it #BlameSimon for a week after I posted it on Instagram due to so many people asking for it after the special had finished. The burger lovers simply fell in love with the flavor and style of the burger," Simon said.
"Other worthy favorites we managed to visit were from Mary's in the CBD, Pub Life Kitchen in Ultimo and Bare Grill in La Perouse. These are on my go-to list as well as BangBang Café in Surry Hills, who are bringing their A-game to the burger scene with their love for making good burgers. A couple of other favorite places I would have loved to visit, but we didn't get the chance, were Guilty in Darlinghurst and Barrio Cellar in the CBD. Plus, on my wish list were Chef's Kitchen in St Leonards, Cheeky Burgers in Paddington and Five Points Burgers in North Sydney, which I've heard good things about. Hopefully, I'll will visit them soon."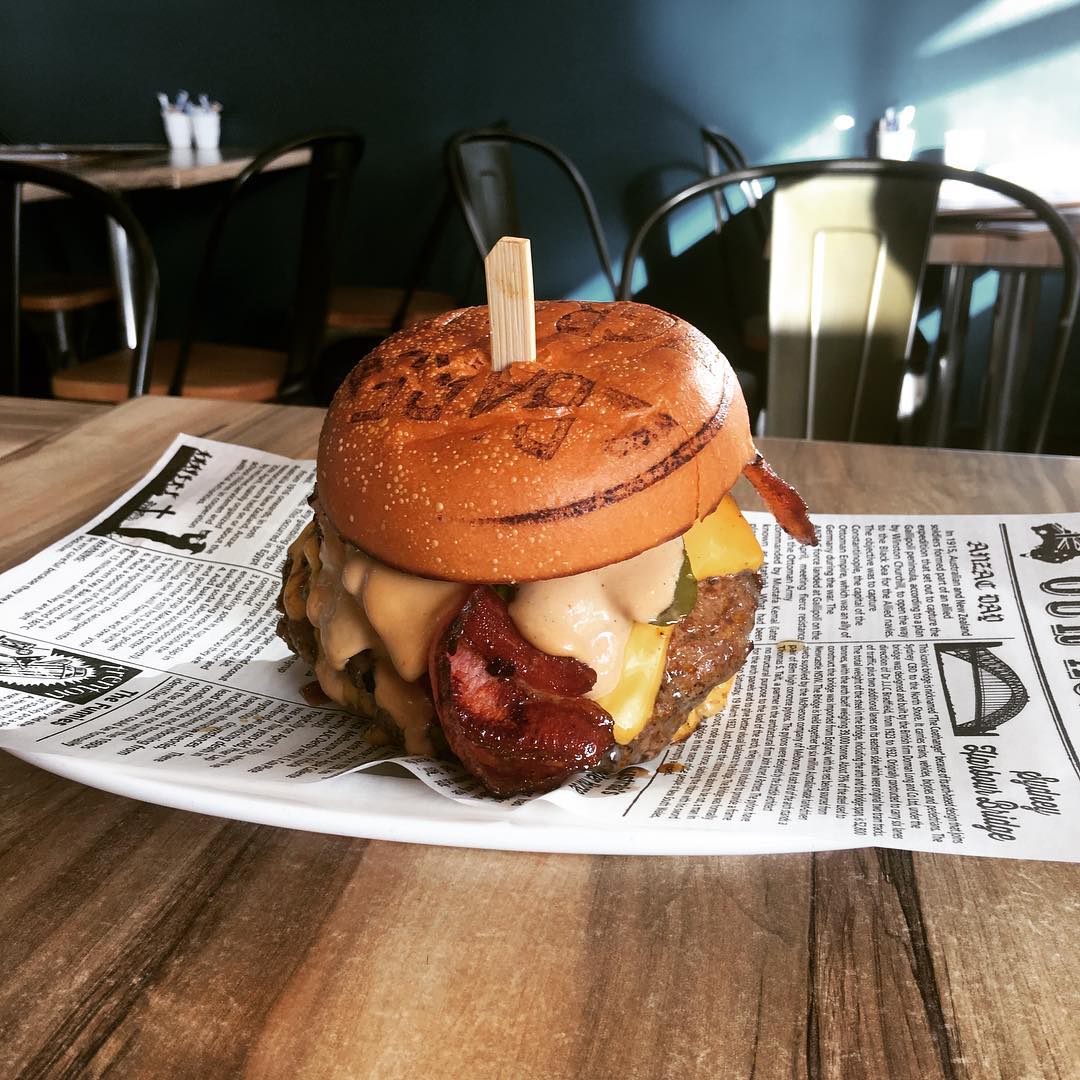 Bare Grill / Courtesy: David Hagger
David said they noticed a thriving burger scene in each city and there were real contenders from each city.
"The Melbourne burger scene seemed a tad more expensive," David said. "The scene is ever-evolving with new burger joints springing up each month. Even so, we identified our real contenders.
"We both agreed on the overall winner: Blame Canada, which must be experienced personally to appreciate what a magnificent burger it is."
Although David is from Melbourne and raves about the Melbourne burger scene, he was excited by the Sydney scene and the Blame Canada burger:
"In terms of human works of beauty, we have the Mona Lisa, Michelangelo's Sistine Chapel in the Vatican and the free-spirited Monet. But the Blame Canada burger is right up there in terms of artistic perfection. Just look at it and you'll start to salivate," David said.
"In fact, Blame Canada warrants a diplomatic visit by Canadian Prime Minister Justin Trudeau – not just to connect with our political leaders but to venture into Bar Luca for the Blame Canada (which is more exciting). He will not be disappointed with the poutine base, oozy cheese, maple bacon and every other amazing feature of this stunning burger."
Prices are subject to change. Please check for current prices.
---
Meet our contributors in this mission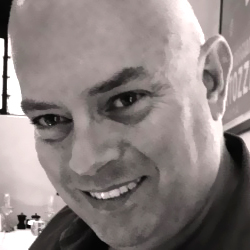 David Hagger is a self-described bald headed man and former rock vocalist with a penchant for finery, convivial dining and festive culture.David worked as an accountant in many industries and gets buzzed by numbers....Read More
I'm a passionate Sydney food blogger, keen photographer and international cuisine lover. I strive to provide comprehensive and honest reviews of restaurants, cafés, bars, pubs, festivals and products to whet your appetite...Read More
---
Download the ExtremeFoodies app for the Essential Eats wherever you are on the planet: ExtremeFoodies
For more fantastic foodie content, connect with ExtremeFoodies across social media: