10 Essential Sandwiches in London
The Toasted Cheese at Kappacasein stands as one of the best sandwiches in London. /Rosie Tulips / Via Flickr
The London sandwich scene has exploded. First we started seeing well-made British sandwiches such as toasties and the bacon butty. Then street food trucks started multiplying and with them came more flavors from around the world.
In recent years, we've seen a lot more American-style sandwiches, like French dips, po' boys and muffalettas. It is possible to eat the world in London right now.
It is hard to pick the top 10 sandwiches in London because there are so many at the top of their game, and this list could easily be stretched to 20, 30 or even 50.
Below then, you'll find an agonized-over selection of classic old-timers, and some new kids on the block. There are some meaty, and some veggie, from deeply satisfying, wobbly chunks of salt beef on challah, to the gooiest toasted cheese in town.
These are the guys who consistently turn out top quality sandwiches that are inventive, fun and, most importantly, really damn tasty.
Image courtesy of esquire.co.uk
The toasted cheese sandwich at Kappacasein is one of London's original "serious" sandwiches and it's still one of the best.
The Borough Market stall consistently turns out huge, oozy wonders packed with a killer three-cheese combination of Montgomery cheddar, Ogleshield and Comte. Together with a special mixture of garlic, leeks and red and white onions, it's seriously moreish and incredibly satisfying. It also has the perfect flavor-melt balance, which is so crucial to a good toasted cheese.
We must also not forget to acknowledge the splendor of the crispy edge bits.
Bravo, Kappacasein!
Image courtesy of Dan Delancey
New (ish) kids on the block Delancey & Co. are turning out some excellent American deli-style sandwiches.
The salt beef is super soft, with lovely edges of fat – very important in a salt beef sandwich – and the portions are huge. There's a selection of breads, but the challah is the best choice in terms of size and texture. It also is just so beautifully shiny.
The menu can be overwhelming at first with the different options for mustards and "load ups." But the best combo has to be American mustard (just the right amount of tang without too much bolshiness) and sliced pickles. (It's best to go for a mixture, just to eliminate any chance of regret).
To be honest though, all choices at Delancey's are good ones. It's just a case of working out your favorite combination.
Image courtesy of Banh Mi Hoi-An Vietnamese Street Food in London
Banh Mi Hoi-An in Hackney is easily making the best bánh mi in London right now.
All the options on the menu are great, but the catfish is special. It's skillfully spiced so the balance is right, perfumed with turmeric and grilled just so. The baguettes here (so often the downfall of a bánh mi) are good, just sturdy enough yet light and airy. The pickled vegetables (carrot and daikon) are first rate, and always fresh. Plus, there's plenty of coriander and cucumber, sliced so as to lay flat in the sandwich (so many places don't do this).
There also is another major advantage to the bánh mi at Hoi-An. They are huge.
The people of Hackney are lucky to have this place in their neighborhood.
Image courtesy of
Quo Vadis Soho
This is one for those who like their sandwiches a bit more refined. Two small squares of toasted sourdough are filled with a piece of rich, creamy smoked eel, grilled until just golden. There's a double whacking of fiery condiments inside: Dijon mustard and horseradish cream. Alongside, a simple quick pickle with sliced red onions, which help to balance some of the intensity of that sandwich. Sneak a few inside. It's a messy one, particularly for a small sandwich, but it's a total joy. Best eaten at lunch on a weekday, washed down with a stony cold martini.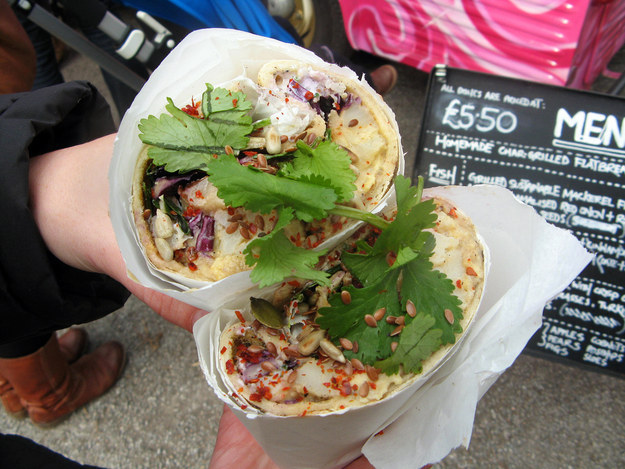 Image courtesy of Helen Graves of Food Stories
This is one of the most underrated sandwiches in London. Mike + Ollie's stall is a fixture at South London's Brockley Market – a beautiful little market well worth visiting on a Saturday morning.
They make sandwiches with whatever is in season, from lamb to mackerel to interesting vegetables. This charred cauliflower number comes in warm, soft flatbread with hummus, crisp garlic, yogurt, herbs and whatever other lovely garnishes caught the cooks' eyes that week.
Mike + Ollie are soon to open a South London restaurant – one to keep an eye out for this year.
Image courtesy of BAO
Bao London started as a stall and is now a hugely popular restaurant in Soho.
Their light-as-air steamed milk buns are legendary and you'll need to arrive early or be prepared to queue. The pork fillings tend to be the best, garnished with coriander and crushed peanuts. But the crispy (deep fried) daikon version shouldn't be dismissed.
The problem with these is that one is never enough. The texture is so incredibly moreish and the fillings so salty-savory, it's very nearly always a three bun job.
Load up!
Image courtesy of Max's Sandwich Shop
A riff on a British greasy spoon classic, this is ham, egg and chips between two slices of bread. The ham is slow-cooked ham hock, in lovely big chunks. The egg is fried and crisp at the edges, the yolk still runny. The chips come in the form of crunchy shoestring fries, which is a work of absolute genius and, of course, we should never argue with a spot of double-carbs.
Sounds a bit rich? Fear not, because Max has thought to add a cracking piccalilli, which counteracts the richness and keeps you going back for more and more. There's a spot of mustard mayo to keep things moist and punchy, too.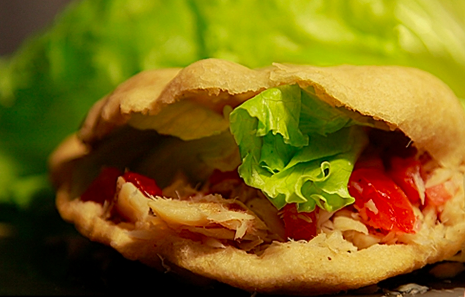 Image courtesy of bokitla.com
A bokit is a sandwich from Guadalupe and miraculously, there's a stall in South London specializing in them.
Get yourself down to Vauxhall Farmers' Market and look for the stall with the massive queue. This bokit is basically a deep fried ball of dough, which is flattened, deep fried (yes), then split and filled with salt fish, avocado, salad and your choice of hot sauce (mild, medium or hot). I would recommend the hot.
Made with Scotch bonnet chilies, it is mega punchy, but the flavor is incredible.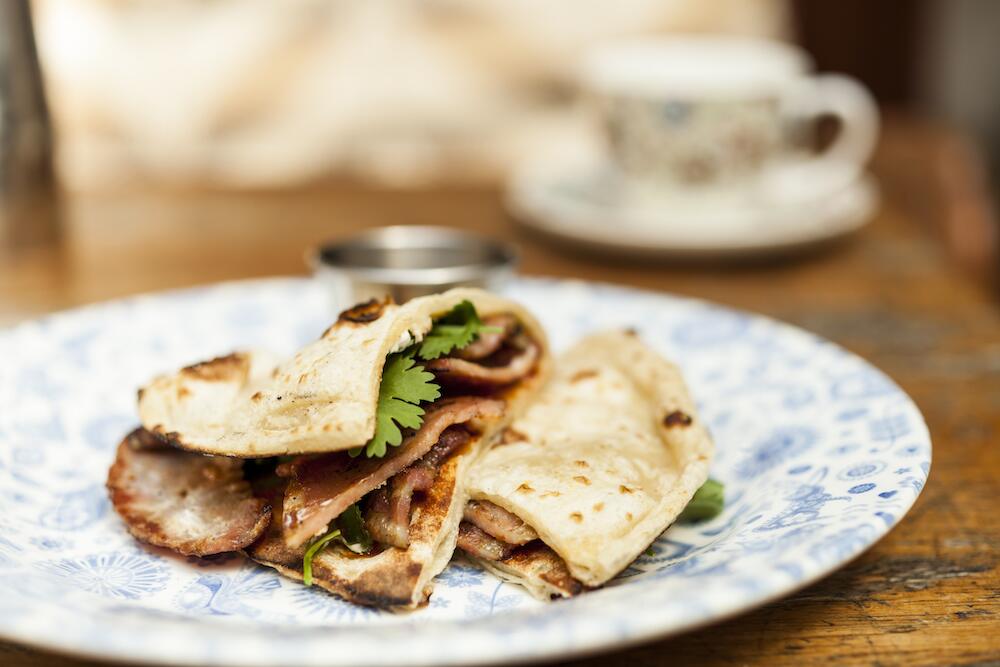 Image courtesy of Dishoom
I doubt anyone would've predicted that one of London's best bacon sandwiches would come with an Indian twist.
The bacon naan at Dishoom pops up on everyone's Instagram feed at least once a day … a true modern classic. Ginger Pig bacon (dry cured with rock salt and demerara sugar) is grilled and served inside a freshly baked naan with cream cheese, coriander and a tomato-chilli jam.
This went on the menu at Dishoom as a special but received so much love they've kept it on for good. I'll always be a fan of a classic white bread, bacon and brown sauce arrangement, but there's room to shake things up a little every now and then.
Image courtesy of OpenTableUK
Sometimes it's best to keep things simple, and Tsuru does just that with its excellent katsu sando.
The best choice of meat here is the thigh (more flavor). It's then breaded and deep-fried until golden and the perfect crisp contrast with the super soft white bread. There's very finely shredded white cabbage, plus mustard mayo and tonkatsu sauce. It is nothing ground breaking, but it is perfect in every detail, and it hits the spot every time.
Let's hope Tsuru never takes this sandwich off the menu.
Recommended features by ExtremeFoodies
Meet the author