The 8 Best Food Trucks in San Francisco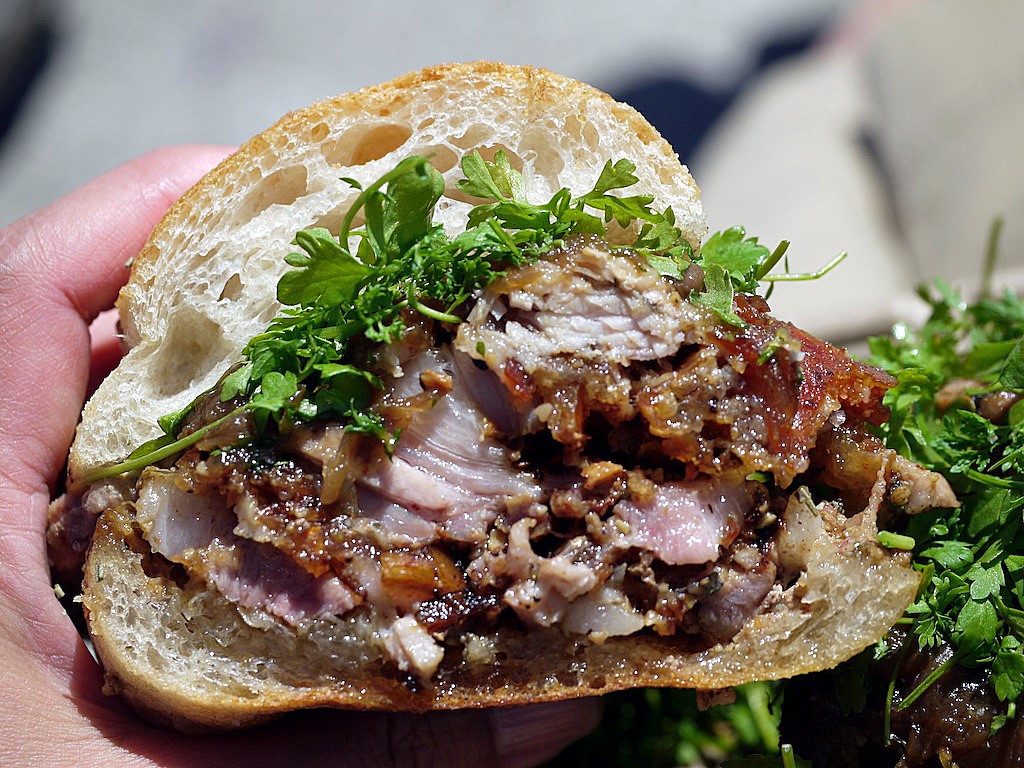 The porchetta sandwich is worth the wait at Roli Roti Gourmet Rotisserie. / Foodhoe's Foraging
San Francisco has one of the highest number of restaurants per capita in the country - we love to eat out. Food trucks and pop-ups are even hotter in the city than restaurants and hundreds of them offer everything from Filipino-Mexican fusion to Burmese tea leaf salads, fried chicken and waffles, dim sum, artisan cheese plates, Japanese rice balls, sushi burritos, lobster rolls, Indian dosas and curries, frozen custard and artisan cupcakes, to name just a few of the many indulgent snacks.
A long line is a signal there's something worth waiting for, and some of the busiest trucks have developed ways to expedite the process. Some use digital tablets capable of taking the order and processing credit cards. Others have a runner traversing the line, prepping orders and answers questions. Street food culture has changed the way we think of eating out, placing the focus on individual signature dishes, rather than on sit-down meals. It's almost fast food, but so much better. These portable kitchens also provide an affordable means for chefs who want to start a restaurant without the brick and mortar overhead, and it makes the phrase "location, location, location" virtually obsolete.

A variety of San Francisco food trucks come together at Off the Grid. / Courtesy of Foodhoe's Foraging
One of the best ways to experience these moveable feasts is at Off the Grid, a roaming extravaganza that brings together a variety of delicious food trucks, carts and stands with sides of music, crafts and soul. It's like a giant hawker market with communal eating spaces surrounded by trucks, carts and stands so you can check out your favorite mobile food vendors in one place. The one at Fort Mason is epic with up to 32 vendors at a time with live music, beer and wine kiosks and festive lights strung overhead. Off the Grid is so committed to making street food happen that they even have a phone app where you can track your favorite trucks and markets and get live updates and announcements about their 45+ weekly public markets throughout the San Francisco Bay Area.
Though there are several hundred food trucks in the city, let me introduce you to some of my favorites: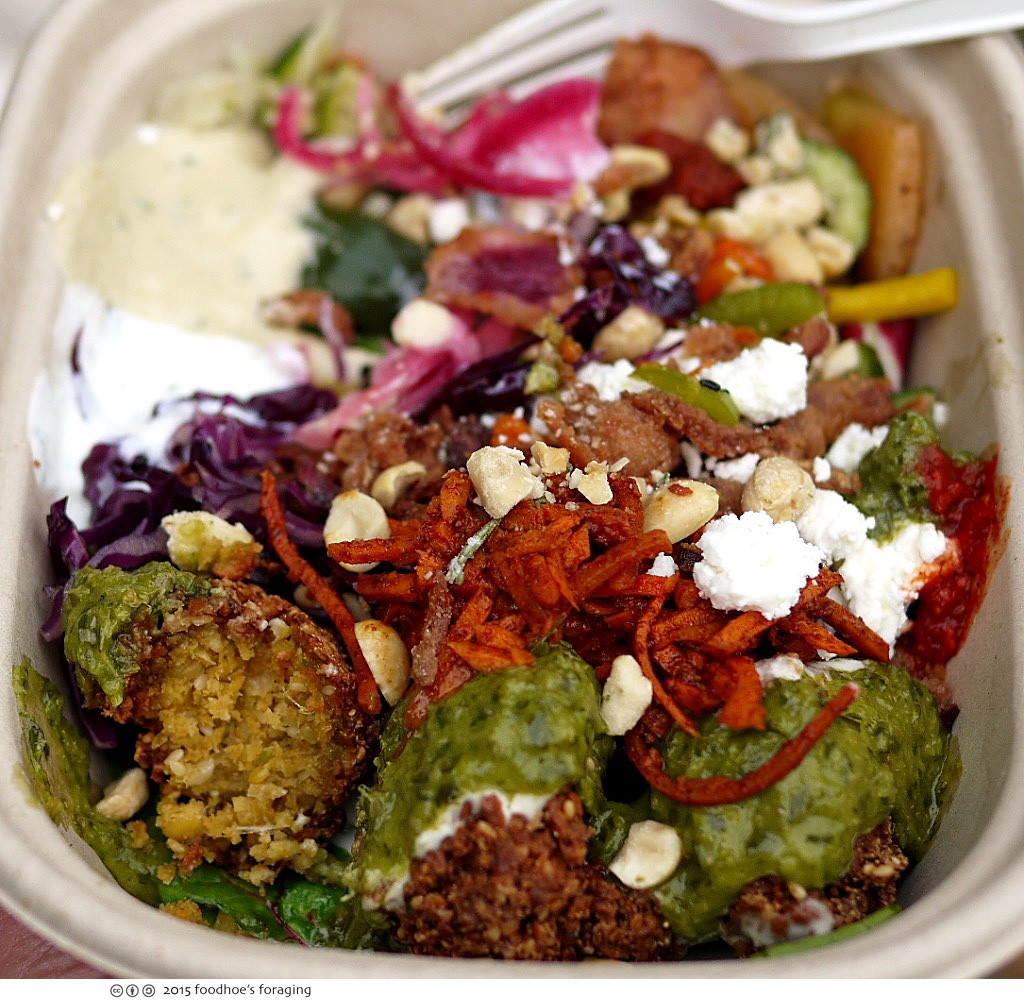 Liba Falafel's truck is modeled after Amsterdam's mobile falafel wagons. / Courtesy of Foodhoe's Foraging
If falafel is your thing, you need to check out Liba Falafel, which is modeled after Amsterdam's mobile falafel wagons. Chef/owner Gail Lillian makes the falafel fresh every day, soaking organic chickpeas overnight, then grinding and mixing them with a tasty combination of onions, spices and herbs. What really makes it unique is their falafel bar, where you can customize your salad or pita with a dazzling array of seasonal salads, sauces, pickles and fragrant rosemary scented peanuts. And psst, it is for a set price too, this is not a salad bar that charges by the pound

Mix your own at Liba Falafel's salad bar. / Courtesy of Foodhoe's Foraging
Their sweet potato fries are some of the best around, tossed with garlic, cilantro and lime, and then dusted with Parmesan cheese. The edges are gorgeously caramelized and crispy, and the savory-sweet flavors make them totally addictive and even better when dunked into your salad/pita fixings.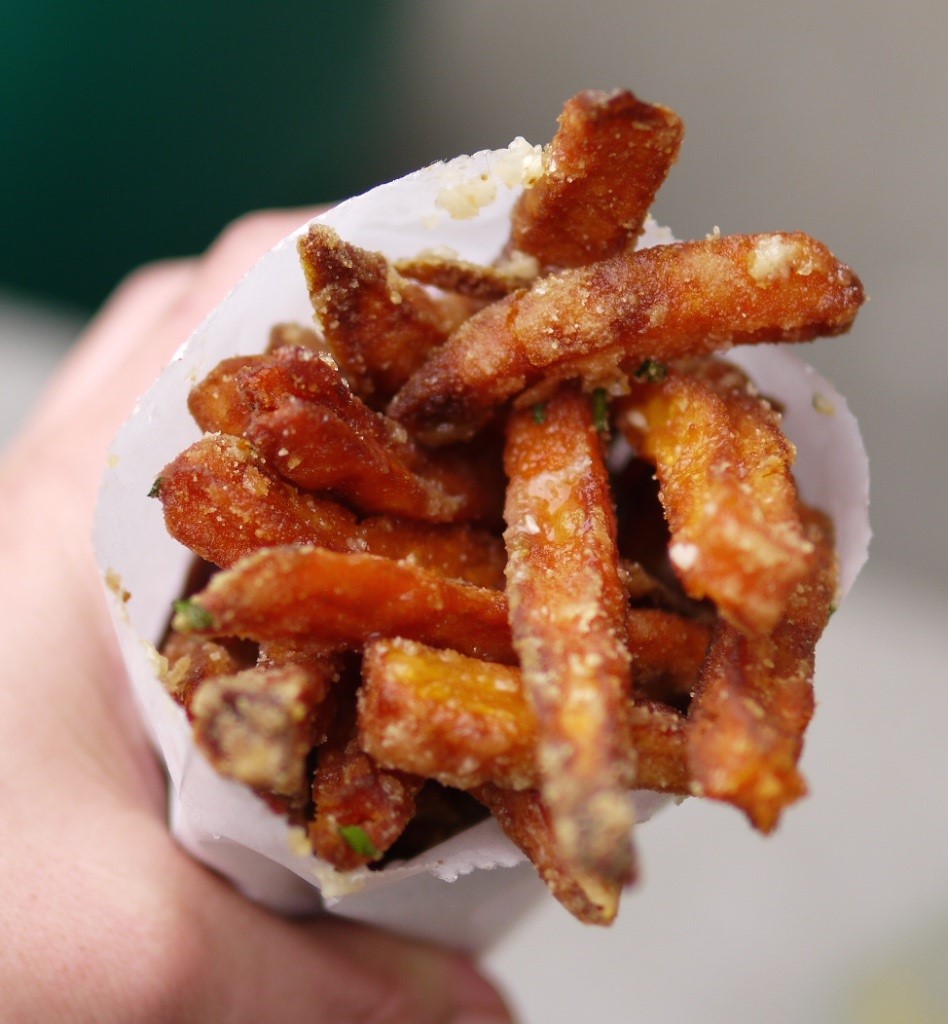 Liba Falafel's sweet potato fries are among the best in San Francisco. / Foodhoe's Foraging

Bacon Bacon's double bacon cheeseburger will demand your full attention. / FoodHoe's Foraging
The Bacon Bacon truck is a roaming source of classic comfort foods that are all touched by that magical porcine delight. Their menu is simple and features a variety of sandwiches. The Double Bacon Cheeseburger ($9) is made of two all-natural Angus beef patties, two thick strips of bacon, caramelized onions, secret sauce and gooey melted cheddar cheese enclosed in a tender buttery brioche bun. The sweetness of the onions emphasize the rich flavors of the charred and juicy patty. It's messy and well balanced, a sandwich to be eaten slowly that demands your full attention.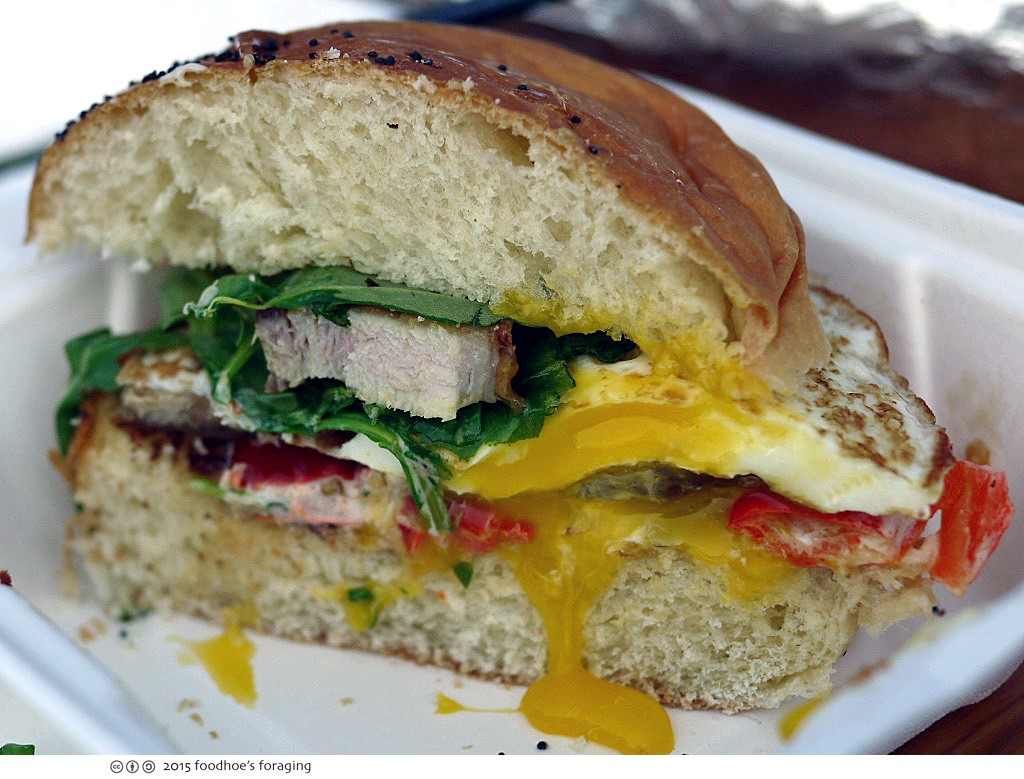 The Belly at Bacon Bacon layers pork belly with a fried egg and caper aioli. / FoodHoe's Foraging
Another decadent indulgence is The Belly, piled with thick succulent slices of tender pork belly, a fried egg, and peppery arugula on a brioche bun slathered with caper aioli. Pure bliss! And for dessert, there's chocolate-covered bacon dusted with Heath bar crumbles.

The porchetta sandwich is worth the wait at Roli Roti Gourmet Rotisserie. / Foodhoe's Foraging
Roli Roti Gourmet Rotisserie is famous for its porchetta sandwich (available only at the Ferry Plaza market on Saturday). Porchetta (por-KET-ta) is a savory roast of Italian culinary tradition that is painstakingly assembled with layers of meat, fat and skin, then rolled and trussed, put on a spit and roasted. The wait for this particular sandwich is generally long because of its limited availability, so be prepared. When you finally make it to the front of the line, your server cuts the roast into thin slices, the bread is split and then used to swipe up juices and herbs from the cutting board, and is garnished with onion marmalade and curly cress/arugula. This magnificent sandwich has an irresistible combination of textures, all of it rich and juicy. But the crispy bits of skin really add an extra dimension of delectable surround sound to the experience. It is so good, so worth standing in line for.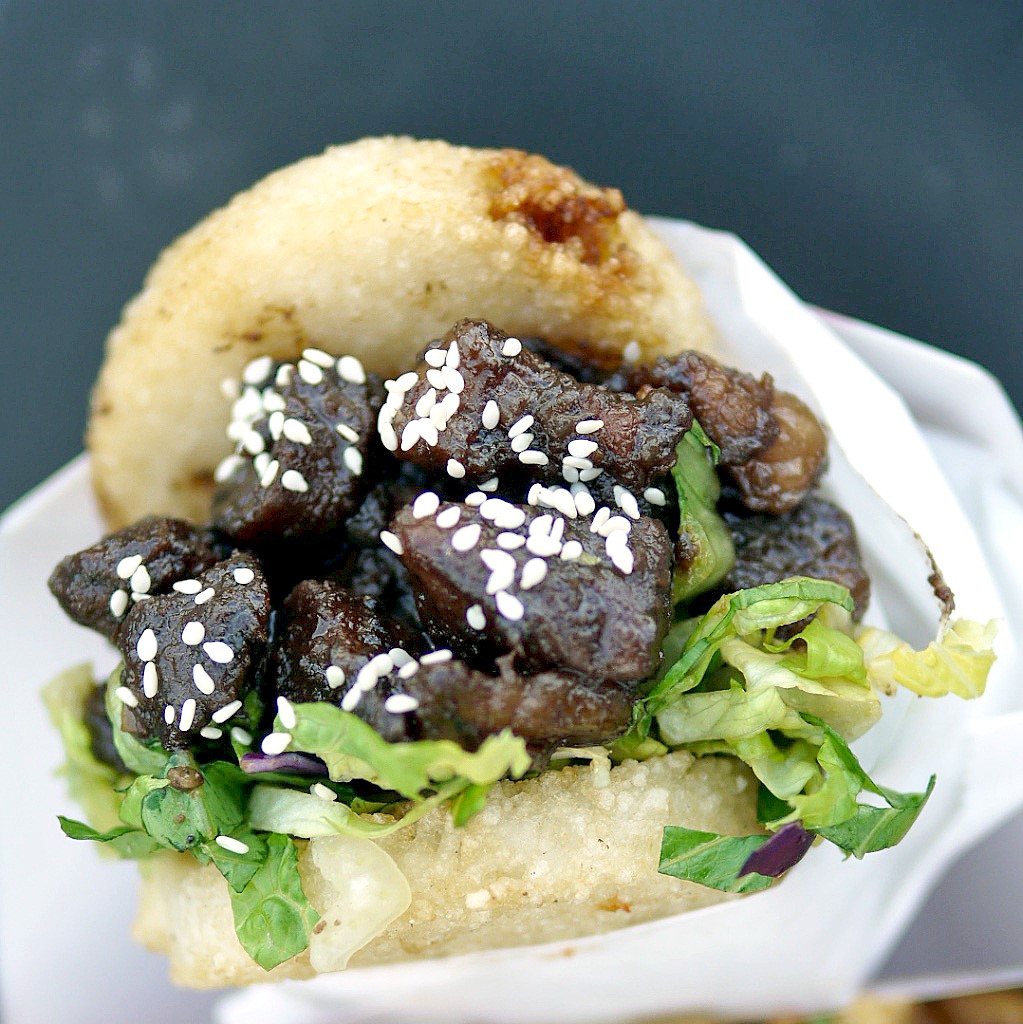 The KoJa sandwich cradles marinated meats inside a fried garlic rice bun. / Foodhoe's Foraging
At KoJa Kitchen (the Ko is from Korean - Ja from Japanese because they serve Korean-Japanese fusion fare), the specialty of the house is called the KoJa sandwich with unique buns made of crispy fried garlic rice. Yes, that is correct, disks of compressed garlic rice are dipped in the fryer until they achieve a delightful brown toasty crust surrounding tender, spicy, marinated meats. The filling is infused with the flavors of garlic, ginger, soy, and spicy chili sauce, then sprinkled with pungent slices of green onion and toasted sesame seeds. Once you bite into this sandwich, it is hard to stop.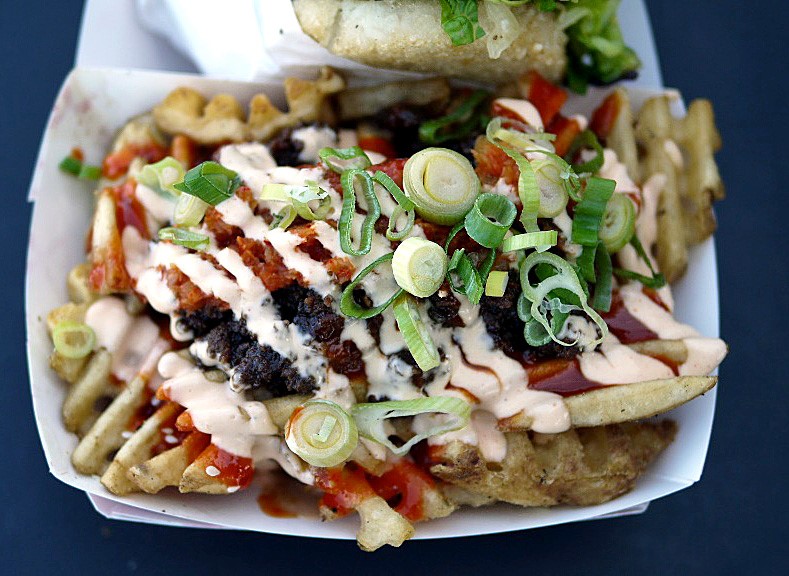 KoJa Kitchen is famous for its Kamikaze fries. / FoodHoe's Foraging
Another popular dish is the Kamikaze fries, a base of crosscut waffle fries, topped with minced Korean BBQ beef, spicy kimchee, Japanese kewpie mayo, spicy red sauce and green onions.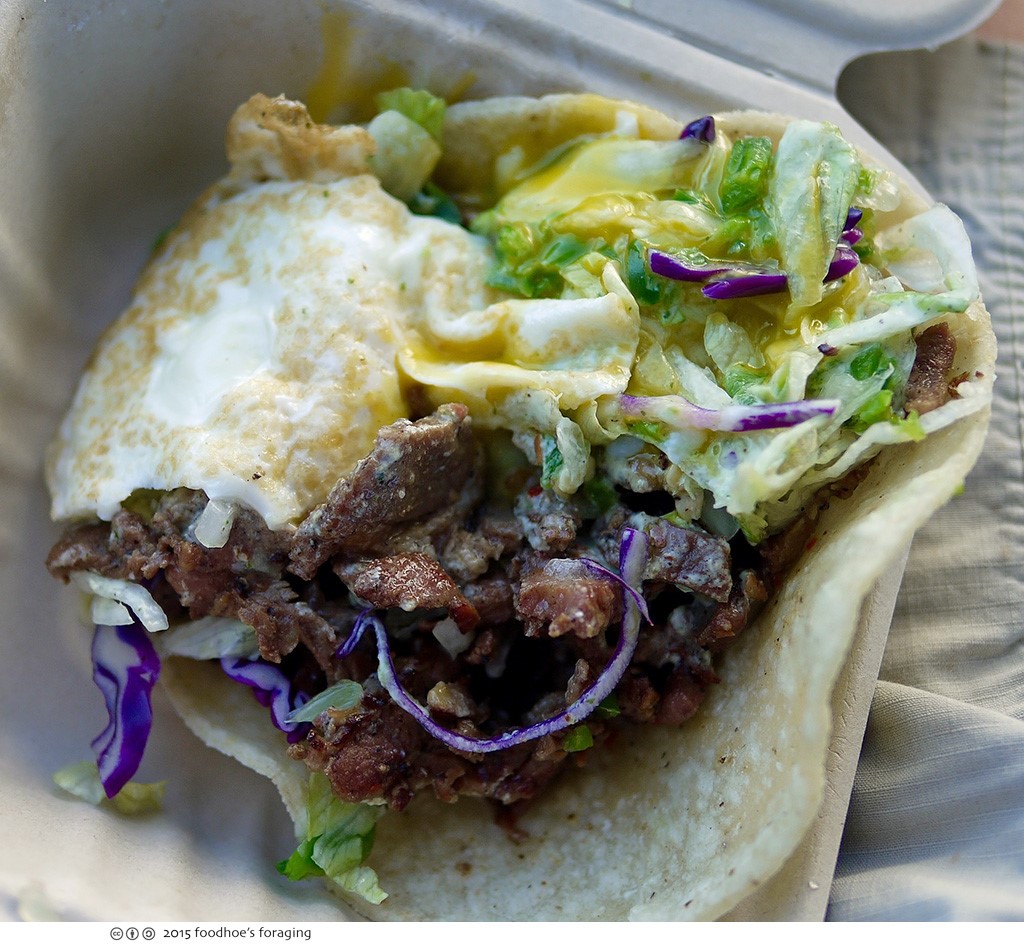 Senor Sisig's bundles its pork masterpiece in tacos, burritos, nachos and more. / Courtesy of FoodHoe's Foraging
Señor Sisig's specialty is one of the great pork dishes in the world. Also known as pig's face pulutan, sisig is traditionally made of chopped pig ears, snout and jowls, which are first boiled, then braised and fried before ending up heaped onto sizzling iron platters, seasoned with calamansi and chili peppers. Señor Sisig's version uses the pork shoulder "for a cleaner and meatier sisig," and also offers chicken or even tofu sisig. However you order it, the sisig is full of intense spicy, sweet and sour flavors and is served bundled up as tacos, burritos with adobo rice, on top of nachos or fries, steamed rice or salad. And any of these can be topped with a fried egg
Only on certain days can you order the Tosolig burrito, stuffed with sweet pork, fresh tomatoes, a runny fried egg, fried garlic adobo rice and topped with bracing pepper vinegar. This is not for the faint of heart. The flavors are intense and bold, and very addictive.

Chairman Truck's Chinese buns showcase a variety of savory fillings. / Courtesy of FoodHoe's Foraging
The Chairman Truck serves Chinese buns (baked or steamed) filled with your choice of tender pork belly topped with pickled daikon, rich Chinese spiced duck confit with mango salsa, a lion's head meatball with fresh kimchi or the vegetarian option of miso cured tofu with baby choy sum. Be forewarned that long lines are not at all unusual at the larger gatherings, but it is usually more accessible during weekday appearances. The steamed buns are the perfect size for you to be able to try a few with different fillings, which I highly recommend. The baked buns are so huge they are a commitment but if you have found the love of your life, go on then and let that be your entire meal.

An the Go's famous garlic noodles are crafted from a closely guarded family recipe. / FoodHoe's Foraging
The An family runs two restaurants in the city specializing in roasted crab, Crustacean and Thanh Long. An the Go truck serves their famous garlic noodles, the recipe is a closely guarded secret prepared in a concealed kitchen within the main kitchen in the restaurant that is off limits to all employees except the An family and their most trusted chefs. The chewy noodles ($7.50) are decadent and buttery, fragrant with roasted garlic, thickly coated with a sweet and savory sauce. They are perfectly suited for dining al fresco and can be ordered paired with a grilled kebab of lemongrass chicken or beef, spicy pork, yuzu shrimp or a vegetable stir fry for $9.

Lobsta Truck flies in fresh lobster from Maine several times a week. / FoodHoe's Foraging
The Lobtsa Truck is worth a visit if you find yourself in San Francisco and craving this East Coast classic. It's a bargain at $14 and you are served a generous pile of fresh (never frozen) lobster, flown in several times a week from Maine, along with traditional split top buns. I ordered my roll Connecticut-style (warm with melted butter), the buns were griddled on a flat top to a delicious crisp and overflowing with big meaty chunks of lobster tail richly coated with butter. It was an eye-rolling, lip-smacking, finger-licking good experience. My only complaint? Chunks of lobster kept falling out of the bun.
These are just a few of my favorite food trucks, the best of the best in my opinion, most of which can be tracked down either online (Facebook or Twitter feed) or at one of the many weekly Off the Grid markets.
Meet the author