The 4 Best Food Trucks in San Diego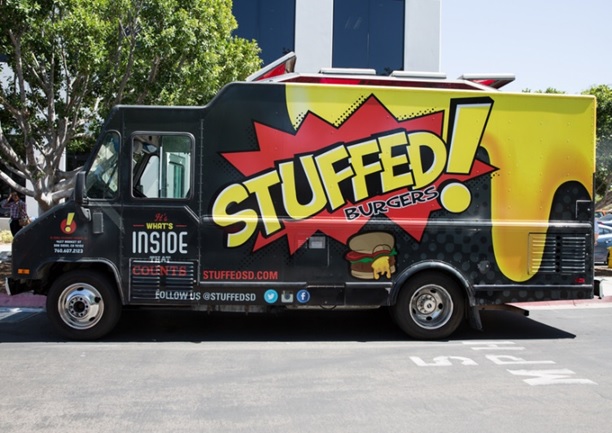 Stuffed! elevates comfort food by serving organic, grass-fed stuffed burgers. / Courtesy of Jennifer Lee.
When Kogi BBQ rolled out its food truck in Los Angeles in 2008, it re-invigorated the food truck industry and started a new food truck movement that quickly spread across the country. Today, the food truck trend remains strong and San Diego is one of the biggest food truck cities in the nation, with more than 70 food trucks in operation.
Food trucks in San Diego are readily available for weekday lunches and special events and can also be found at weekly food truck gatherings. Here is a guide to some of the best food trucks in San Diego.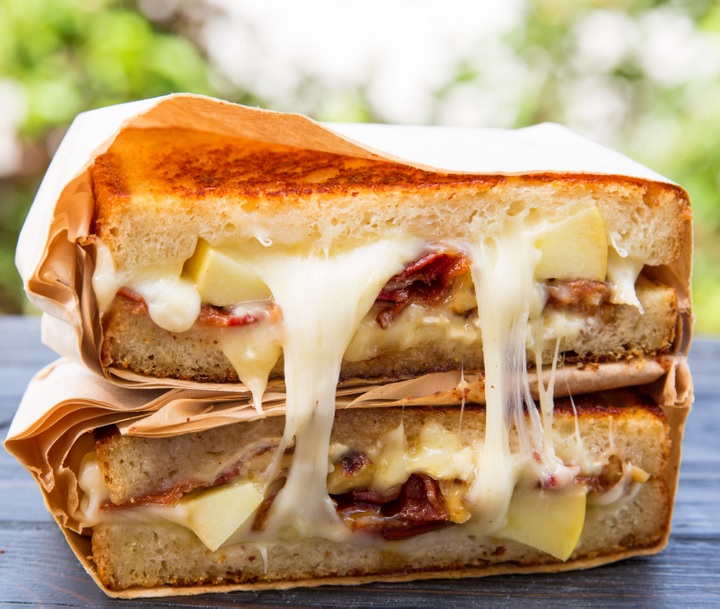 Grilled cheese sandwiches soar to new heights at the Grater Grilled Cheese Truck. / Courtesy of Jennifer Lee.
It started with a food truck and has now expanded to two permanent storefronts. The ultimate American comfort dish is given a gourmet makeover and executed to perfection. A must-order is the Puerto Nuevo Style Lobster. If the photo isn't enough to convince you, take a look at the ingredients: five cheese blend, chunks of butter-fried lobster, snow crab and their signature Sierra Nevada pale ale chipotle aioli. If seafood isn't your thing, the Carnivore Grilled Cheese and The Frenchie are also worthy contenders.
Check their Facebook and Twitter accounts for updates on their food truck schedule, or visit their shops in La Jolla or Pacific Beach if you can't catch their truck.

Two for the Road was recently ranked the No. 2 food truck in the nation. / Courtesy of Jennifer Lee
Recently ranked the No. 2 food truck in the nation by The Daily Meal, Two for the Road serves up quality American comfort classics. With generous portions and a friendly staff, just about everything on the menu will leave you full and satisfied. Not to be missed is their signature Cap 'N' Crunch Crab Cakes. And if you're feeling really hungry, the burgers and lobster roll are always solid choices.
Check their Facebook page for their weekly schedule.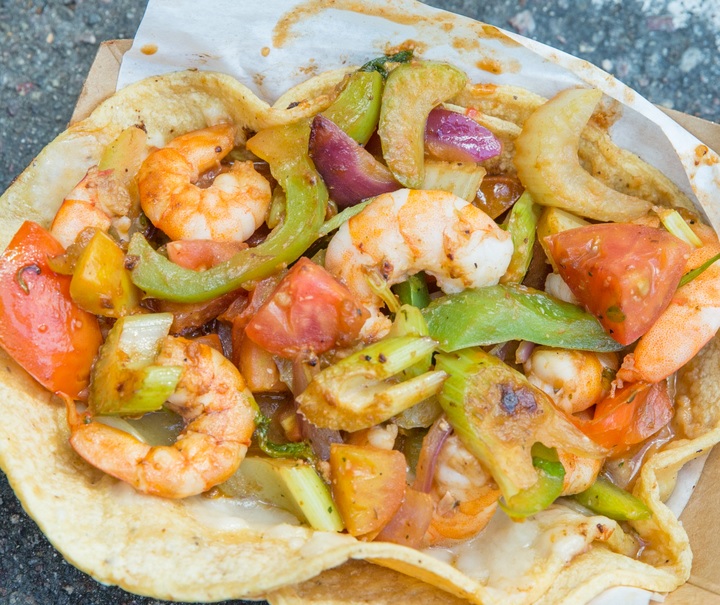 Some of San Diego's best seafood is served at the Mariscos German Taco Truck. / Courtesy of Jennifer Lee
Long before the current food truck trend, taco trucks like Mariscos German were already in operation. You won't find a social media presence or a need to chase down this truck. It shows up faithfully at the same liquor store parking lot every day, serving up some of the best Mexican food you can get without having to cross the border.

The Tostada Loca contains almost every seafood imaginable. / Courtesy of Jennifer Lee
Make sure to accept the complimentary cup of consommé after you place your food order. The piping hot broth may look plain, but it's rich, concentrated and packed with flavor. The tacos are always a popular option here, but if you really love seafood, order the Tostada Loca, which contains just about every seafood imaginable.

Stuffed! dishes up the behemoth BOOM! Burger. / Courtesy of Jennifer Lee
Stuffed! is a popular local favorite and a great choice when you're ravenous. Their gourmet burger offerings include the BOOM! Burger topped with mac 'n' cheese, American cheese, peppered smoked bacon, lettuce, tomato, pickles and Stuffed! sauce. You can also get a dose of nostalgia here with their tater tots. To finish off your meal, try their deep-fried Oreos.
Check their website for the latest updates of where they'll be.
Jennifer Lee, the ExtremeFoodies expert for San Diego, is the author of "5-Minute Mug Cakes" and Kirbie's Cravings.
Meet the author