A Year of Russian Comfort Food
Russian cuisine developed in tandem with the country's history and geography. The short intense summers and long cold winters that characterize European Russia necessitate ingredients that can thrive during the relatively brief agricultural season, and can be stored throughout the long winters. As a result, much of the cuisine is based on root vegetables, grains and pulses, salted meat and fish, and bottled and pickled preserves. Traditional Russian staples, such as soup, stews and porridge, were typical peasant fare, cooked in clay pots inside a ceramic stove or "pechka," which served as the heat source and cooking hearth of the dwelling, with young children and elderly grandparents sleeping on top of the stove during the coldest winter months. This "low and slow" method is still preferred, although electricity and gas have replaced the pechka.

Dried Fish is a traditional Russian snack / Courtesy of Jennifer Eremeeva
European influences on Russian cuisine arrived after the reforming Tsar Peter I established the elegant new capital of St. Petersburg in 1703. From then until the outbreak of World War I in 1914, Russian cuisine was sharply divided into two distinct branches: the Western-influenced upper-class food, crafted primarily by French chefs imported by noble Russians and the traditional food of the lower classes, which saw little change from its pre-Petrine list of ingredients and preparation methods.The former, known to culinary historians as "Imperial" cuisine, saw the introduction of French innovations including aspic, cream and egg-yolk based sauces, lighter confectionary as well as their signature fusion of Russian ingredients with French methods which gifted international cuisine stock favorites such as Beef Stroganoff, Veal Orloff and the custard and ladyfingers confection Charlotte Russe.

Veal Orloff
The inauguration of the first worker's state in the Soviet Union ushered in an entirely new approach to producing, preparing and consuming food. The intense push to industrialize all aspects of society led to an emphasis on tinned foods, refrigeration and chemical additives as well as the introduction of vast work-place cafeteria-style canteens called stoloviye, where hundreds of workers, collective farm laborers, soldiers and students received many, if not all, of their meals. And while post-World War II cookbooks, such as "The Encyclopedia of Tasty and Healthy Food," encouraged a return to more traditional family-style meals. It was only thanks to the determination of die-hard traditional home cooks in remote villages and far-flung parts of the Soviet Union that pre-revolutionary recipes and methods passed down through the generations.
The vastness of the Soviet Union encompassed, as the Russian empire had the far-flung republics of Central Asia and the Caucasus with their own particular climates and cuisines. From these republics came dishes that are now an intrinsic part of Russia's cuisine, the most popular being Uzbek rice pilaf called plov, Azeri and Armenian shashlik or shish kabob and particularly the pungent flavorful dishes of Georgia such as cheese pies called khachapuri, spatchcocked poussins called chicken tabaka and game in satsivi, a flavorful walnut garlic sauce.

Chicken Tabaka / Courtesy of Jennifer Eremeeva
With the coming of perestroika and the breakup of the Soviet Union, traditional Russian cuisine was shoved aside by an urban populace, eager to try foreign food of all kinds, from McDonald's to pad thai. This interest, coupled with a sharp increase in Russians traveling abroad, bolstered this enthusiasm for restaurants serving Western foods such as pasta, pizza and sushi. In recent years, however, this glut of foreign restaurants has had to make room for a robust return of traditional Russian methods and recipes. This renaissance has ushered in a new "Federal" era of Russian cuisine, which delights foreign and Russian gourmands alike, who have welcomed the movement's willingness to experiment with old favorites, once relegated to the dacha or household kitchen. Chefs are paying closer attention to where their food comes from, championing organic farmers, small batch breweries and artisanal food producers.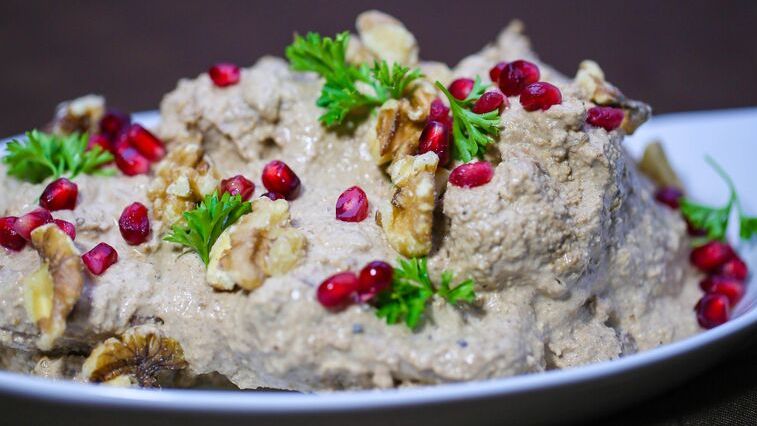 Chicken Satsivi / Courtesy of Jennifer Eremeeva
Traditional Russian cuisine is based on three substantial meals a day: breakfast is often grain porridge (buckwheat, oat or millet), cottage cheese fritters called syrniki, eggs and sausages or open-faced sandwiches with cheese, fish or sausage. Luncheon is a longer meal, featuring a starter, a bowl of soup and a hot entrée. Dinner includes starters and hot entrees. When entertaining at home or in traditional banquet halls, a Russian meal begins with an expansive zakuska or hors d'oeuvres course, which literally covers the table and includes a groaning board of artfully-arranged smoked fish, caviar, cold cuts, vegetables, pickled vegetables and Russia's signature mayonnaise-based salads.
Many believe the Russian national drink is vodka, but beer is actually more popular, and younger Russians take an active interest in wine. Russia's wineries are slowly developing and with the return of the wine-growing peninsula of Crimea, this growth looks likely to increase. Semi-alcoholic and home-brewed drinks and cordials are also popular in Russia, including kvas, a thirst-quenching carbonated drink made from fermented bread; and medovukha, a honey-based mead often produced by monasteries and convents. Numerous Russian restaurants now feature an extensive flavored vodka and cordial menu. On the non-alcoholic side of the menu, tea is a favorite, as is compote, a distilled berry, cherry and fruit mixture made in summer and consumed throughout the year.

Traditional Russian Flavors
Russia's climate dictates the type of food consumed at certain times of the year, particularly given the current emphasis on seasonal fare popular with many Moscow chefs. Agricultural and religious traditions, closely linked in pre-revolutionary times, remain firmly ingrained in the Russian psyche, particularly with the return of many modern Russians to the Orthodox fold. It makes sense, therefore, to organize a broad look at Russian cuisine as it unfolds during the calendar year.
The first quarter of the year (January through March) in Russia is a perfect illustration of the country's perennial feast-famine cycle. The year begins with a lavish New Year's spread on Dec. 31, featuring many favorites from the Soviet era, such as Salat Olivier, originally developed in Moscow in the 19th century by a Belgian chef of the same name as a delicately-calibrated game salad with aspic and vegetables. During the Soviet era, this dish morphed into a medley of tinned vegetables, boiled potatoes and smoked ham or chicken with a heavy mayonnaise sauce. Selyodka Pod Shuboy, which translates as "Herring under fur coat," blends beets, potatoes, hard-boiled egg, salted herring and pickled cucumbers in a similarly heavy mayonnaise sauce that is another popular New Year's dish. Both salads, along with herring under fur coat's vegetarian cousin, beetroot vinaigrette are popular appetizer headliners throughout the year. While foreigners may find them a bit heavy and lacking in taste, for Russians, they are the taste of home and the holidays and the ultimate comfort foods.
Like its Protestant and Roman Catholic counterparts, the Russian Orthodox Church's liturgical calendar floats, but the run-up to Easter festivities generally begins in February with Russia's version of Mardi Gras, Maslenitsa, or "Butter Week," a raucous weeklong celebration before the sobriety of Lent sets in. Pride of place during Maslenitsa are Russian pancakes or "bliny," one of the oldest and most symbolic foods of the region, representing both eternal life and the cycle of the seasons. In village fairs during Maslenitsa, bliny are served with jam, meat sauce, smoked fish and caviar and sour cream. The practical aspect of Maslenitsa is rooted in the demanding agricultural cycle of European Russia. Fresh dairy and meat supplies tended to run out by mid-winter, necessitating a period of asceticism made slightly more palatable by its iteration as a religious obligation.

Bliny / Courtesy of Jennifer Eremeeva
Orthodox Lent requires the faithful to adhere to a strict diet, excluding dairy, meat, fish, eggs, oil and alcohol on most days (saints' and feast days offer brief respites). For much of February and March, therefore, the Russian diet is limited to grains and vegetables and restaurants in Moscow offer Lenten menus that are heavy on vegetarian fare such as grain and vegetable rissoles called olyadi, Belarusian potato draniki fritters, and all manner of mushroom dishes, including two of Russia's most popular comfort foods: mushrooms fried with potatoes and buckwheat porridge with mushrooms. Preserved vegetables such as Russia's ubiquitous salted cabbage and pickled cucumbers also take center stage in Lenten soups such as vegetarian shchi, or cabbage soup; and rassolnik.
The arrival of spring in April and May in Russia heralds the return of fresh dairy products which are a major part of the Russian diet and comfort food line-up. Russian cottage cheese or tvorog is consumed on its own or in syrniki, often paired with late spring's first berry and cherry harvest. Russia's culinary staple, sour cream is an essential ingredient in many popular dishes, and is liberally dolloped on most soups and stews. Ukrainian sweet dumplings or vareniki make their first appearance at this time of year, another wonderful fusion of dairy and berry.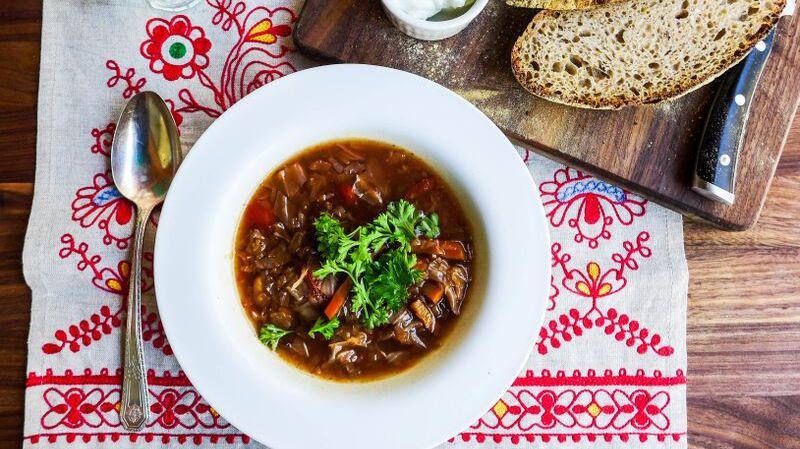 Cabbage Soup / Courtesy of Jennifer Eremeeva
In high summer, many Russians retreat to their dachas or country cottages. These small houses, many without running water or electricity, provided urban Russians during the Soviet era with small plots of land on which they used to cultivate winter stores such as potatoes, cabbage and cucumbers, and fruits for jam. This is true for many Russians today, and dachas also provide the primary form of weekend entertainment from June to September. With limited cooking facilities and easy access to fresh meat and farm produce, the summer menu shifts to shashlik, barbecued over a wood-burning mangal, accompanied by light salads of fresh tomatoes, cucumbers, herbs and onions. Caucasian sauces such as plum tkemali and red pepper adzhika are the traditional condiments that accompany these pork, lamb and beef skewers, although American ketchup has become more popular in recent years.
Dacha culture is all about growing, harvesting and storing food for the winter, and up until perestroika, for many Russian families a dacha represented basic survival in times of war, famine and the food shortages of the Stagnation Era. During July and August dachniki keep busy harvesting berries, fruit, cucumbers and cabbage to preserve, can and pickle. These winter stores are an essential component of Russian cuisine, finding their way into desserts, pastries and soups, and as tart garnishes to meat and fish dishes.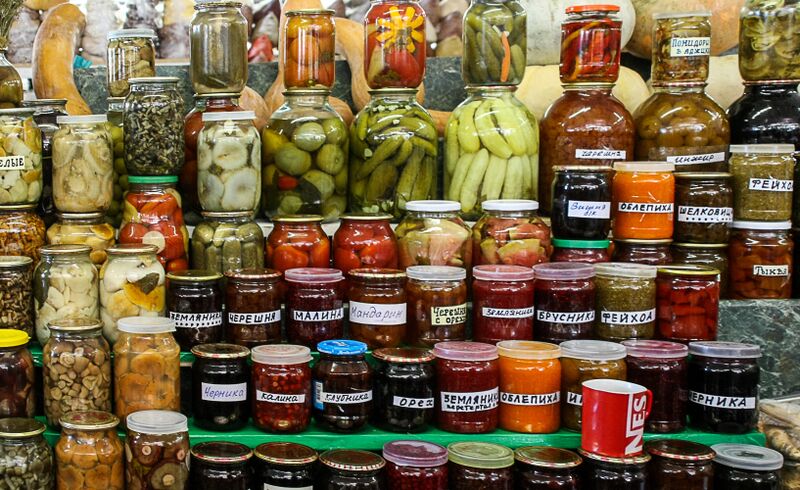 Preserving summer foods for the long Russian winter / Courtesy of Jennifer Eremeeva
Summer holidays in Russia's Black Sea regions are also coming back into vogue with the annexation of Crimea and the development of Sochi for the 2014 Winter Olympics. This lush and verdant part of the world serves up its own cuisine, including the highly popular spicy Tartar fried lamb pies known as chebureki. During the Soviet era, small shops and kiosks selling chebureki, called cheburechniye, were popular snack bars, and these have come back into fashion across Russia with the resurgence of traditional foods.
Autumn comes quickly to European Russia, and doesn't linger long. The bright days of "grandmother's summer" are associated with apples and honey and with Russia's delightful gingerbread pryanik pastries, which are available year-round, but make prominent appearances in the "Apple Spas" and "Honey Spas" festivals in late August. As the weather turns colder, true Russian comfort food comes into its own. Autumn finds Russians in the woods on mushroom hunts and these, along with potatoes (both qualify as separate food groups) make prominent appearances in the "low and slow" soups and stews from the Russian pechka, which begin to reappear on Russian menus in their bulkier autumnal and winter forms.
Solyanka, a rich fish or meat-based soup with smoked meat, pickles, sliced lemons and cabbage in a rich tomato-based broth, is particularly satisfying on a cold day. So too is Ukraine's signature soup, borsch, the delightfully purple soup of beets, carrots, cabbage, potatoes and lamb or pork. Pokhlebka is Russia's popular barley and mushroom soup, so thick it is almost a stew, always served with a dollop of sour cream. Caucasian soups such as tangy lamb and dried fruit kharcho, lamb and egg yolk-based chikhirtma, and Uzbek shurpa are a meal in themselves. Soups are served with bread or Russia's famous piroshki, leavened pastries stuffed with a variety of fillings: cabbage, meat, potato, mushrooms or fish. "Meat in a Pot," a slow braise of meat and potatoes in individual clay pots, is a popular winter entrée.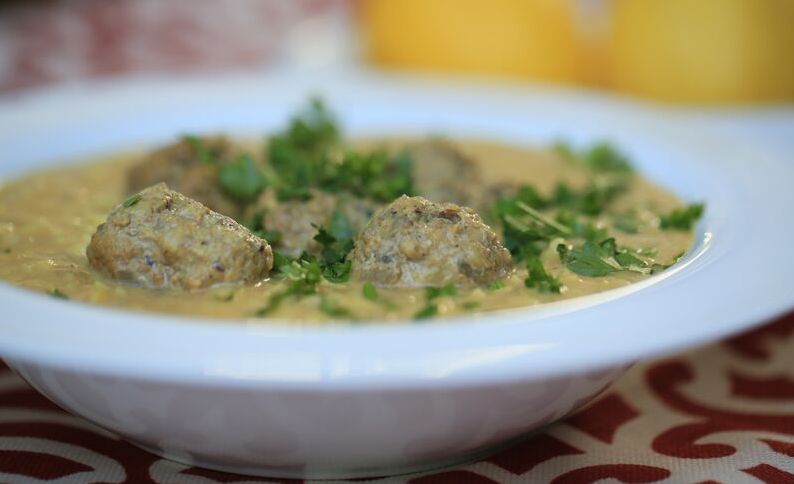 Chikhirtma / Courtesy of Jennifer Eremeeva
Like every culture in the world, Russia has its own version of dumplings, pelemeni, which may just be the world's first flash-frozen food. Developed in Siberia thousands of years ago by nomadic tribes, these small pork-stuffed ravioli worked well for people on the move, since they could be quickly assembled and frozen into lightweight bundles by burying them in the permafrost. Cooked in boiling broth or water, pelemeni are served with lashings of sour cream and fresh dill both at home and in Soviet era cafes that serve generous dishes of pelemeni with mugs of beer. Pelemeni have never gone out of fashion. Upscale Moscow restaurants are experimenting with the subtle flavors of exotic game such as duck, grouse and venison and Russian shellfish such as crayfish, crab and shrimp. Pelemeni's exotic cousins from the other former republic include Georgian lamb khinkali and Central Asian manti, and also make frequent appearances in Moscow restaurants.
Sampling Russian Comfort Food
Moscow's restaurant scene is slowly developing a middle range where value and price intersect at an attractive point. This growing number of restaurants represent the best places to begin an exploration of Russian food. The budget or affordable end of the scale is dominated by national chains of domestic restaurants that have successfully carved a niche by providing traditional cuisine at competitive prices. High-end dining in Moscow, while always a hyperbolic experience, is nevertheless a fascinating place to sample new interpretations of traditional Russian food, if your budget stretches to it.
Here is a curated list of reliable venues in each of these three categories:
High-End Russian Cuisine
Expeditsia is not one of those restaurants you head to for a quiet Sunday night dinner. It is a culinary odyssey into the wilds of Russia. Specializing in Northern Russian cuisine and seasonal game dishes, Expeditsia serves up delicious interpretations of traditional dishes in a fascinating interior covered with travel and hunting trophies (there is an entire helicopter in one room) used or bagged by the adventurous owners. It's not uncommon to catch a glimpse of Russian celebrities and top government officials at the tables of this very-alpha-male dwelling just off Lubyanka Square. Expeditsia's menu changes with the seasons. The chefs base the menus on fresh fish and game from Russia's remote regions, but the menu always includes pelemeni and vareniki, the former made from exotic ingredients such as grouse, venison and Far Eastern crab and the latter crafted from fresh berries with which the chef is mildly obsessed. Soups at Expeditsia would get a nod from "A Sportsman's Sketches" author Ivan Turgenev, whose passion for literature and French women was only matched by his love for the hunt. Loyal fans of the restaurant swear that the ukha, Russia's oldest soup made from fish from Siberian Lake Baikal, cannot be matched, and the hunter's soup is a delight.

Courtesy of Grand Cafe Dr. Zhivago
Grand Cafe Dr. Zhivago gets listed in the high-end range, thanks to its wines and spirits menu which can literally triple or even quadruple your bill but the food is surprisingly affordable, given its peerless location just opposite Red Square. I often keep Dr. Zhivago as an ace up my sleeve on cold days when I'm showing out-of-town visitors around Moscow's sites. On the ground floor of the historic Hotel National (VIP guests include Sophia Loren and Vladimir Lenin), Dr. Zhivago is an homage to Russia's rich fin de siècle culinary and cultural history. Alexander Rappoport's carefully constructed menu of classic Russian fare leaves nothing out: pickles and salted vegetables to whet the appetite and help the vodka go down, all of Russia's signature soups, elegant game and meat pelemeni, bliny, caviar, creamy juliennes, and classic signature dishes such as Salmon Coulibiac and Pozharsky Cutlets.
While Russians will fiercely argue that the best piroshki are the ones made by their grandmothers, the upscale chain of Volkhonsky bakeries and cafes does an excellent job at replicating a babushka's soft, pliable dough and piquant fillings. Although Volkhonsky specializes in French breads and confectionary, their Russian staples extend to piroshki, poppy-seed twists, Borodinsky and Darnitsky black breads, vatrushka with a range of fillings, and rum babas.
Additional restaurants:
Middle Range
For fans of 19th century Russian literature, Oblomov's interior is immediately familiar: a country estate in pre-revolutionary Russia. This elegant eatery is named after the hero of Ivan Goncharov's eponymous novel about the plight of Russia's superfluous man. Oblomov famously takes some 60 pages to actually get out of his bed. A similar relaxed atmosphere is extant in this cozy restaurant in one of Moscow's historic districts south of the river. The summertime veranda offers a lovely cool respite from the city's heat and hustle. Oblomov's traditional Russian menu was innovative when it opened; bucking the trend of foreign restaurants, but today is one of many such restaurants doing the same. The restaurant's weak point is its service, which even loyal fans admit can be uneven. Where Oblomov really shines, however, is the extensive zakuska menu which can be ordered in any quantity along with a range of good Russian vodkas for toasting. This culinary warm-up course often eclipses the main meal, and visitors to Oblomov should feel no shame in focusing their attention on the zakuska instead for the main courses. For an authentic Russian delicacy you really can't get anywhere else, try salo (salted pork fat) on Borodinsky toast and the range of excellent pickled mushrooms.
Bochka is a must for carnivores, particularly on Friday evenings when they roast an entire ox on a spit, and serve it with delectable sides and sauces. Long in the tooth for a Moscow restaurant, Bochka has been popular with the punters for its excellent steaks since the 1990s, and has impressively kept pace as the Moscow restaurant scene burgeoned. There are few surprises at Bochka which serves up Russian staples alongside international favorites. The pelemeni are excellent, as are the cold appetizers. The atmosphere is cozy with a real fireplace.
Hard to find but worth the effort is the assessment of many visitors to this little gem of a basement café. Specializing in Belorussian cuisine, this is the place to come for authoritative draniki — Belorussia's delightful potato pancakes, which Belaya Rus serves with a range of savory toppings, including red caviar and sour cream, chicken, pork and garlic, smoked salmon, mushrooms and meat. The traditional soups, including cream of pumpkin, meat Solyanka and green shav are also great options.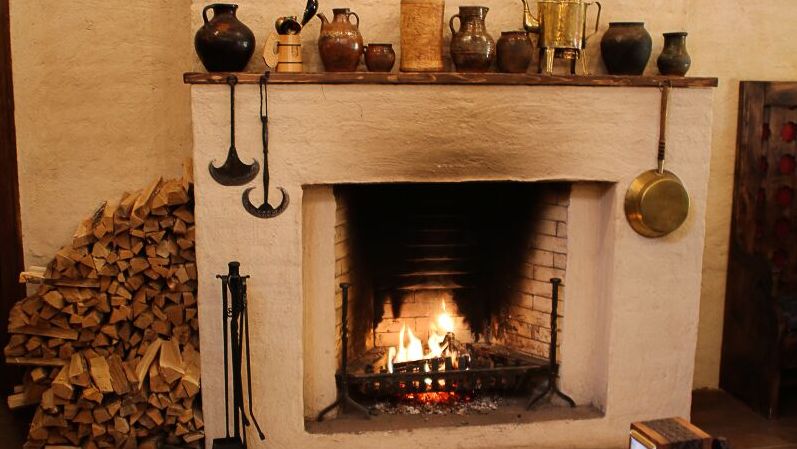 Courtesy of Jennifer Eremeeva
Gostevaya Izba is in the charming monastery town of Sergiev Posad,' some 90 minutes from Moscow. The Trinity Lavra of St. Sergius monastery is one of the holiest monastic complexes in Russia and popular with visitors for religious and tourist interests. Gostevaya Izba is designed to look like the inside of a prosperous 19th century Russian home and the ingredients are primarily sourced from the monk's gardens. The working fireplace and waitstaff in national costume, to say nothing of the clergy in full regalia at adjacent tables, all contribute to an authentic experience that perfectly complements a tour of the monastery. The menu of Gostevaya Izba features all of the standard Russian favorites with a particularly good pickle range, excellent soups, homemade piroshki and bread as well as delectable bliny. This is a great place to sample Meat in a Pot or mushroom dishes in season. And don't leave the restaurant without trying the monastery's renowned medovukha, a Slavic honey-based alcoholic beverage.
Affordable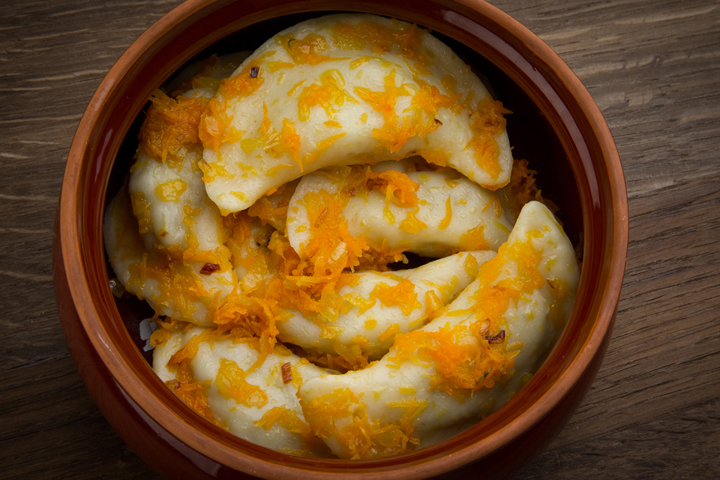 Courtesy of Varenichnaya Number 1
This bright and cheerful chain of nostalgic cafes serves affordable Russian fare on an extensive breakfast and lunch/dinner menu that comprises all of the favorites. They offer a heavy nod in the direction of Ukrainian vareniki dumplings with sweet and savory fillings, including potato and mushroom, lamb, cabbage, meat as well as the more common cherry, cottage cheese and raisin, and berry. Varenichnaya Number 1 also serves bliny and pelemeni, as well as a very good borsch and a full range of zakuska including traditional chebureki. With strategic locations in Moscow's popular downtown Arbat area, including one on the picturesque pedestrian thoroughfare of Old Arbat Street lined with antique shops, souvenir stalls, cafes and restaurants, this is a solid, affordable option for those on a budget who are hungry to explore traditional Russian cuisine.
Mu-Mu's numerous cafeteria-style restaurants in Moscow offer a wide range of no-frills, but very filling and satisfying traditional Russian food at extremely affordable prices. Harkening back to the workplace canteens or stoloviye, Mu-Mu provides numerous mains and sides (rice, potatoes and buckwheat kasha) as well as classic appetizer salads including beet vinaigrette, herring under fur coat, Capital salad and more international options such as caprese. Main courses include shashlik, meat, poultry, fish cutlets, pelemeni and Russian burgers and meatballs. Mu-Mu is an excellent place to sample Russian soups. The cafeterias offer several daily soup offerings as well as day specials with prices beginning at a very affordable 61 rubles.
Elki-Palki's signature red, green and yellow facade and rooster logo are part of many Moscow neighborhoods. The interior of these budget restaurants are designed to look like an old-fashioned Russian country inn. The service can be a bit brusque but the extensive (bilingual) menu serves up Russian fare that is consistent and authentic. During a busy day of sightseeing or work, Elki-Palki can offer a perfect quick meal or an ideal place to stop, rest and refuel with a hearty bowl of borsch, chicken noodle soup or solyanka. Elki-Palki scores high on the 3 Ps: pickles, pelemeni and piroshki, all of which are excellent value for money (a bowl of pelmeni sets you back about 270 rubles). Elki-Palki's main courses don't disappoint. The beef stroganoff is particularly good, served with noodles rather than the more popular matchstick potatoes; and the lulya kebabs, made from tender minced lamb are a recurrent favorite. Elki-Palki is slightly more expensive than its counterparts but offers table service, a more extensive menu and the option to order beer, vodka and wine as well as the traditional softer semi-alcoholic kvas. Elki-Palki won't win any Michelin stars, but popping in on a cold day for a hot bowl of soup or a plate of pelemeni might be just what the doctor ordered.
Recommended features by ExtremeFoodies
Meet the author