A Taste of Bologna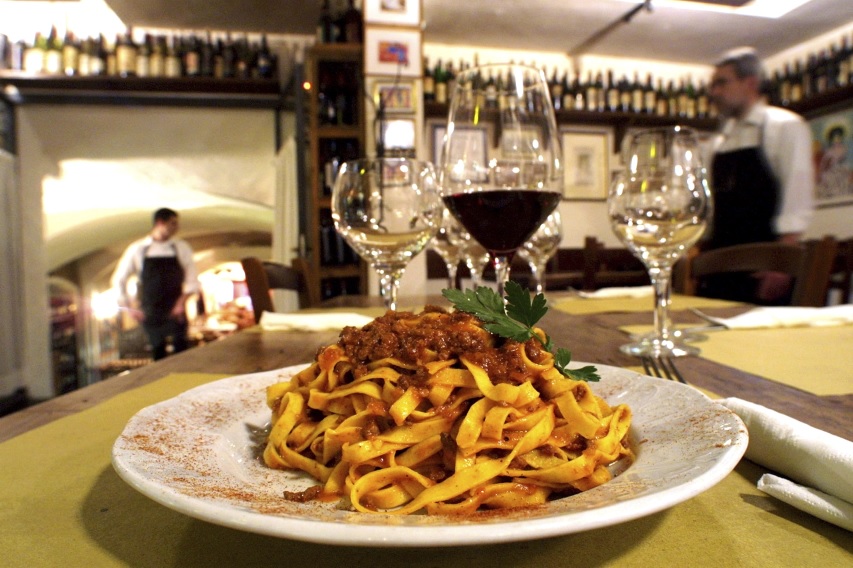 Bologna, Italy's richest culinary city, is much more than the iconic spaghetti Bolognese. / Courtesy of bolognauncovered.com
Bologna native Andrea Chierici is an engineer who travels extensively, for work and pleasure. His interest in food originated from his grandparents. His grandmother owned a food store in the Bologna countryside in 1940 and his grandfather was an experienced butcher.
"They spent their lives working to provide great food to other people and share their knowledge about where it came from," Andre said. "That's exactly what I'm trying to do, keep this tradition and let people know our food origins."
Andrea created Taste Bologna tours to share his expertise and knowledge about the city's food culture. Tours are based on what Andrea says he likes to find when he travels outside Italy: "Someone enthusiastic, who'd like to share his passion for food and guide me outside the touristic routes to find the real excellences of the town."
Bologna is nicknamed "La Grassa" (the Fat One) due to its exceptionally high-quality cuisine with rich fatty ingredients. These include butter, fatty pork products such as mortadella, pancetta and prosciutto, and lard - the heart of Italian cuisine.
On his tours, Andrea helps people understand that Italy "is not only Rome-Florence-Venice and that if you find an 'Italian' restaurant that offers spaghetti Bolognese, you should run away from it."
For the fullest flavor of the city, here are Andrea's top picks to eat in Bologna.

Borlengo by La Campagnola Restaurantt / Courtesy of A Taste of Bologna
Borlengo is a very thin bread, almost the consistency of a crêpe. The ingredients of the dough are simple: water, flour, eggs and salt. A borlengo is served hot, folded in quarters and filled with a pesto made of chopped lard, garlic and rosemary. Called cunza, this pesto contains all the strong flavors of Modena earth. Thanks to the warmth of the bread, the bacon pesto melts and releases the essential oils of rosemary. Every small town across the Modena countryside claims the authentic authorship of borlengo, and many legends were born around its origin. 
One such tale claims borlengo was the result of a joke to a housewife who was preparing the dough for traditional tigelle with flour and water. The woman, finding the dough for the daily food spread out with water, didn't think of throwing it away, but tried to obtain something edible - and she succeeded. Nowadays, you can eat borlengo in some restaurants (like Trattoria La Campagnola in Vignola) and local festivals.

Torta degli Addobbi is a classic Bolognese dessert. / Courtesy of A Taste of Bologna
Torta degli Addobbi, a rice cake, is a classic Bolognese dessert traditionally prepared during Festa degli Addobbi, established in the 17th century in Bologna and celebrated every 10 years in the city parishes. During this celebration, it is customary to expose colored drapes at the windows as a sign of celebration, signaling the parishioners' homes are open to visits by neighbors and acquaintances. Guests are offered this cake, cut into small diamonds, each topped with a toothpick. Torta degli Addobbi in Bologna is different from other rice cakes you find in Italy. In addition to rice and eggs, ingredients include candied fruits, almonds and bitter almond liquor. It's a popular dessert in town and you can find it at almost every bakery. Versions vary in taste, depending on the ingredients' proportions, often based on a secret recipe handed down through the generations. One of the best places to buy it is at the pasta shop Le Sfogline.

Zuppa Imperiale at Trattoria di Via Serra. / Courtesy of www.giallozafferano.it
Not as well-known as the more famous tortellini, Zuppa Imperiale is a traditional dish of Bologna's food culture that should be rediscovered. 
This iconic soup is made with eggs, grated Parmesan, flour (some people use semolina) and melted butter, flavored with nutmeg, salt and pepper. This soup is cooked twice. It first goes in the oven to obtain a kind of cake that is cut into small cubes. The cubes are then cooked for a few minutes in a meat broth usually prepared with beef, chicken, veal tongue, salt, celery, carrot and onion. The soup is served hot with a spoonful of Parmigiano-Reggiano cheese sprinkled on top. Traditionally prepared during winter holidays or for Sunday lunch with family, it's hard to find this dish in Bologna restaurants, but you can buy the baked cake in some traditional bakeries and then prepare it at home.

Passatelli is not as famous as its well-known cousin, tortellini. / Courtesy of A Taste of Bologna
Exclusively hand-made with eggs and kitchen scraps such as stale bread, hardened cheese and a pinch of nutmeg, passatelli, or rather passatelli soup, is a tasty dish typical of the ancient Emilia culinary tradition. The ingredients are simple but they require great skill in working the dough to the correct consistency. The azdore, the family matriarchs who represent the true "guides" of the Bolognese households, certainly don't lack these qualities. The kind of bigoli pasta obtained should be cut to about 1.5 inches, then cooked and served in a meat broth.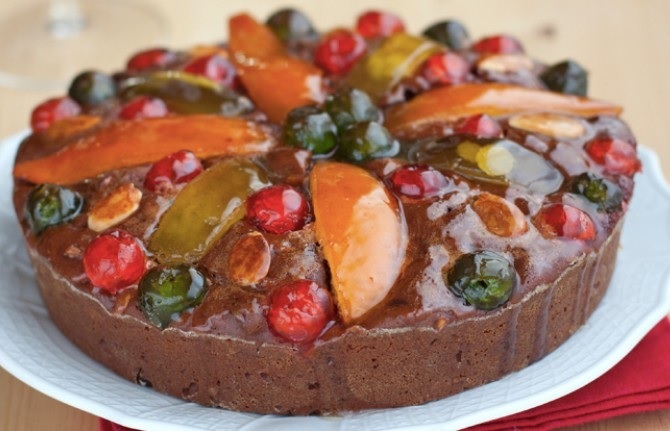 Pan speziale is a holiday cake with honey, raisins, citron, pine nuts, almonds and grated chocolate. / www.cucchiaio.it
Billi Bar stands next to the Meloncello arch that divides Via Saragozza and Via Porrettana and represents the beginning of the climb to the Sanctuary of San Luca. Just a few meters from Renato Dall'Ara Stadium, little has changed since it was founded more than 60 years ago by Giuseppe Billi and his wife. When you pass through its glass door, you immediately feel the atmosphere of ancient village
bars, where old men played cards or billiards and argued about football and politics, and the bartender was the mayor of a city with its own rules and traditions.

Pan Speziale at Billi Bar. / Courtesy of A Taste of Bologna
Billi Bar's most famous product is pan speziale, a cake made with candied fruits, honey, almonds and chocolate. It's a very strong and flavorful dessert usually served during the Christmas holidays and makes a nice present to bring home as an authentic Bologna foodie souvenir.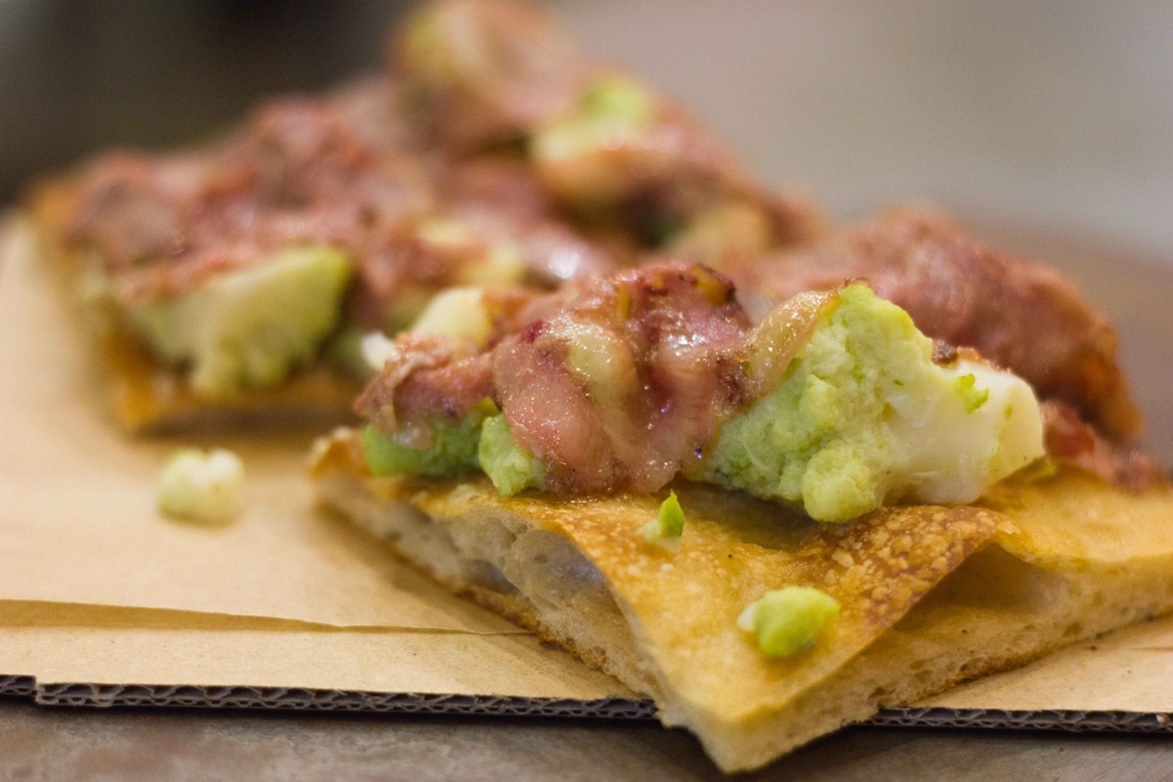 Quality, inventive toppings are the hallmark of this iconic pie at O'Fiore Mio in Bologna. / Courtesy of A Taste of Bologna
It opened just last December, but "O My Flower" already has become one of the most recommended restaurants in Bologna. O'Fiore Mio – Pizze di Strada is owned by David Fiorentini and Matthew Tambini, well known by local foodies for their previous restaurant in Faenza. They source the highest quality ingredients: pomodoro from San Marzano, extra virgin olive oil from Brisighella and mortadella from Bologna's own Silvio Scapin. The dough, made with organic, stone-ground flour and a bit of beer yeast, rises for 14 hours before being cooked in a square pan. The result is a well-cooked crust that remains soft on the inside. Pizza lovers can choose from at least 10 toppings, from such classics as margherita and bufala mozzarella cheese, to others that change with the seasons. During spring, customers can order an amazing veggie pizza with artichokes and mushrooms or the unusual mix of borage, ricotta cheese and eggs. Try that and you'll never go back to another pizza.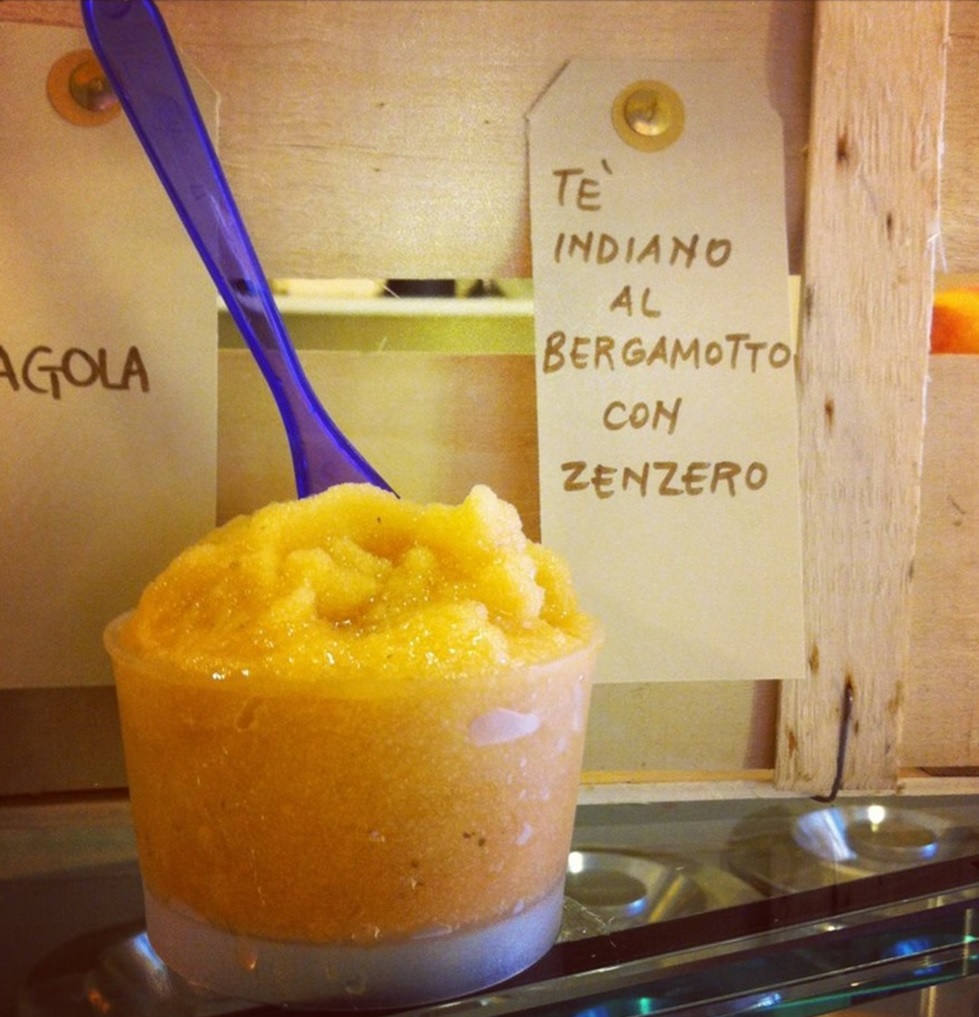 Crema al Limone at Cremeria Santo Stefano. / Courtesy of A Taste of Bologna
Bologna is "the" city of gelato. The Carpigiani Gelato Museum, built by the world's leading manufacturer of gelato machines, is set in town and you can find a lot of great artisan gelato shops. At Cremeria Santo Stefano, the shop where I conduct the gelato tasting on my Bologna food tours, you can find some of the best flavors of the town. My favorite flavor is crema al limone, an egg cream with lemon zest that reminds me of the simple dessert called "crema" that my grandmother used to make when I was a kid. It's a classic Bolognese dessert.
Recommended features by ExtremeFoodies
Meet the author