London's Essential Burgers
By ExtremeFoodies on August 25th, 2016
The last Thursday in August is probably star-marked on your calendar. But just in case it isn't, Aug. 25 is the fourth annual Mr. Hyde National Burger Day.
Founded three years ago in a fit of mild indignation that there wasn't a National Burger Day in the UK, Mr. Hyde, a daily email service for men covering style, culture, film and places to eat meat, set out to right that wrong. A huge success, 2015 saw more than 125,000 tweets and 40,000 Instagram posts tagged with #NationalBurgerDay.
On Britain's National Burger Day, restaurants that participate in the event sell burgers at a 20 percent discount. Each year, independent restaurants and chains across England, Scotland and Wales join the event. The complete list of restaurants can be found at nationalburgerday.co.uk.
But here at ExtremeFoodies, we've saved you the trouble of looking them up. Our London bloggers We Try Kai, Clerkenwell Boy and Christopher Keeling know their hamburgers. Here are their recommendations for the best burgers in town.
---

The Bleecker Black won 2013's Golden Patty Award and 2015's "Tastiest Burger in the World" by ExtremeFoodies, but Bleecker St. founder Zan Kaufman took some convincing when business partner Liam O'Keefe – otherwise known as acclaimed burger blogger The Burger Addict – pitched the idea for a black pudding burger. Today, Kaufman is responsible for creating the ULTIMATE burger. Two 4 oz. patties, made with cuts of aged beef and cooked a slightly pinker version of medium-rare, cradle a crumbly slice of black pudding held in place by stick-in-your-teeth orange cheese. Topped with Bleecker burger sauce, another slice of cheese and rings of white onion, the whole thing is sandwiched in a toasted, soft white sesame-seeded bun.
---

Burger Bear's Tom Reaney crowns one of the top burgers in London with his famous Bacon Jam. This glorious ingredient is made from 12 ingredients (including dry cured streaky) in his "disco kitchen" in South London. The Grizzly begins with a patty of aged chuck/rib cap blend from Sussex. It's topped with double-smoked bacon, two slices of American cheese and Bacon Jam, all sandwiched between a brioche bun that delivers a satisfying squish when squeezed. It's a great balance between the heavily oak-smoked bacon, slightly sweeter bacon jam and the sticky, creamy cheese. Finished with a flourish of shredded lettuce, finely chopped onion, ketchup and French's mustard, the result is a powerful burger that competes with the best London has to offer.
---

Burger & Beyond is operated by a group of guys from the country, and they brought the meat right off the farm with them. Operating from a 1970 Citroen H Van at Camden Market and drawing inspiration from burger joints around the world, Burger & Beyond serves hand-pressed and cooked-to-order burgers, freshly ground from choice cuts of dry-aged beef. THE burger to order? The Cliff. Served on a brioche bun, a 90-day aged patty of chuck and brisket aged on the bone is topped with Monterrey Jack cheese, pancetta bacon, lettuce and tarragon mayo. This burger, masterful meaty happiness in a bun, is brought to you on a street festival, party level. It's the essence of what a burger should be. OK, you can start drooling now.
---

This glass-fronted, exposed brick-walled cafe on the edge of Borough Market serves biodynamic wines and a seasonal menu cooked on a wood-fired grill. They only serve burgers for lunch on weekdays, and Elliott's burger fans pack the house. Mind-meltingly awesome, every single last thing on the burger is made in-house. Elliot's minces and presses its beef patties, incorporating aged rib-eye caps and fresher shin, shoulder or flank to perfectly balance the flavors of beefiness and age, aiming for an 80/20 meat-to-fat ratio. Beer-braised onions and Comté cheese give the burger a decidedly French je ne sais quoi and the wonderfully soft, slightly sweet buns are baked in-house using olive oil instead of butter. The buns are delicious, soft, yet sturdy. The burger is served with fried potato discs, homemade mayo and a rich, clove-infused ketchup. Uniquely, discs of sweet pickled cucumber are served skinless, which removes crunch, the perfect complement to the soft, squishy texture of the ensemble and the unusually deep flavor of the beef patty.
---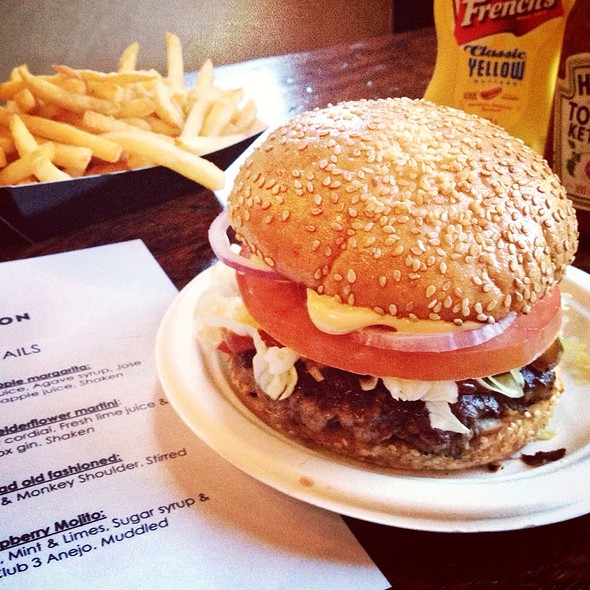 Image Courtesy of Giulia Mulè
Burger aficionados agree Lucky Chip makes some of the greatest burgers in London. Originally operating from a van in Netil Market, which still serves hungry East Londoners every Saturday, they have established themselves in two other locations: The Sebright Arms in Hoxton and The Grafton pub in Kentish Town. Go for the classic, The John Travolta Royale wit Cheese, first mentioned in Quentin Tarantino's "Pulp Fiction." An aged beef patty with American cheese is layered with crisp lettuce, tomatoes, gherkins and Lucky Chip's homemade burger sauce. The patty, cheese and sauce are perfectly matched. There's no need to add anything else.
---

Sometimes a picture tells a thousand words. Quite often a KS_Ate_Here snaps says just three: "Oh my goodness."
This has never been the case more than with the Dirty Barbie from Mother Flipper. Two 100% chuck mince patties from farms in Kent, double american cheese, candy bacon (fried in Maple), candy onion, and BBQ sauce.
Want this? Of course you do. You'll find it at Brockley Market every Saturday and also at different Kerb locations across the capital. Just make sure you book in a two hour food coma post-consumption.
---

Relatively new on the burger scene, the owner is a former rock star and the burgers are a smash hit. The Chairman features a whopping one-third pound patty of brisket, short rib with bone marrow. Topped with cheese, bun sauce and pickled red onion jam, it's sandwiched in a hamburger cream bun. In an age of gourmet burgers galore, this is one of the best by far.
---
Meet our contributors in this mission
Kar-Shing (aka KS) is a long way from his home town in New Zealand, but has cured his home sickness by eating his way through London. Starting back in 2008, he's a long time sharer of the very best foodporn in the capital...Read More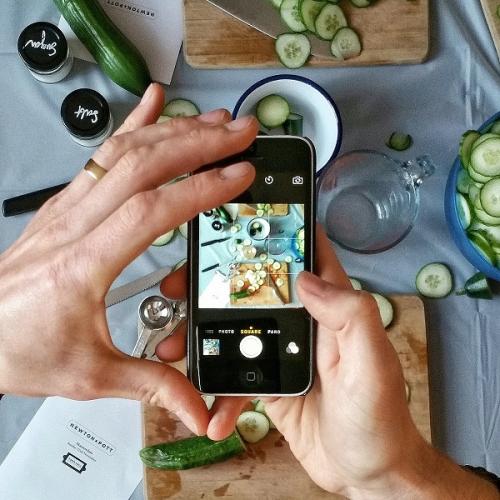 Clerkenwell Boy is an anonymous Instagrammer whose passion for sharing food and travel pictures through social media has seen him listed as one of "London's most influential people."...Read More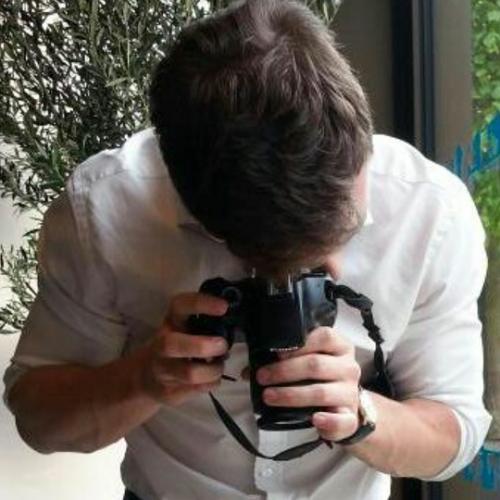 Chris, or better known as AllThingsMeaty, is a London-born and based Instagrammer who lives for finding (and eating) the best BBQ, steak, burgers and all things meaty in the UK and beyond...Read More
To know more on these burgers