The Best Barbecue in Central Texas
Barbecue in the United States is regional. Meat used, cooking style and type of sauce — or whether to use sauce at all — varies across the country. From the pulled pork of the Carolinas to the tri-tip steak of California, from the dry rubs of Memphis to the thick sauces of Kansas City, when it comes to barbecue, there is more than one way to skin the cat. With the rising popularity of barbecue and the seemingly endless "Best Barbecue" lists published and promoted via social media, the debate about whose brand of barbecue is best is quite robust, with no resolution in sight.

Beef is king in Texas barbecue. / Courtesy of texasmonthly.com
People regularly ask me to compare Texas barbecue to the barbecue in my native Southeastern U.S. I start by saying it's not an apples-to-apples comparison, because barbecue in the South is centered on pork, while beef is king in Texas. Pig vs. cow. You can find a few barbecue joints in the South that serve brisket, but pork (pulled and/or chopped) is on every menu. Growing up in Alabama, I didn't know what brisket was. If you want pork ribs in the South, you're in luck; but if you want a beef rib in the South, please let me know if you find one.
Meanwhile, in the Lone Star State, it's all about the beef. Sliced brisket. Chopped brisket. Beef ribs. Beef sausage. There is plenty of pork to be found. Pulled and sliced pork is common. But in the minds of locals, it's a protein in a lower league than mighty beef.

Central Texas barbecue joints are famous for cooking meats with indirect heat, often using a smoker fired by post-oak wood. / Courtesy of teu.co.il
Even within Texas, barbecue is regional. Take style of cooking. While West Texas is known for using mesquite wood to cook with direct heat ("cowboy style"), Central Texas barbecue joints are famous for cooking meats with indirect heat, often using a smoker fired by post-oak wood.
What about barbecue sauce? While tomato-based sauce is prevalent in East Texas, the use of sauce is frowned upon by many in Central Texas. And the meats common on menus? While barbacoa and goat are popular in Mexican-influenced South and West Texas, respectively, sausage is ubiquitous in Central Texas, with its rich Czech and German history. If you're eating mutton, you're probably in West Texas. If you're chowing down on a chopped-beef sandwich with a tomato-based sauce, odds are you're in East Texas. And a butcher paper-lined tray with brisket, sausage and pork ribs? Central Texas.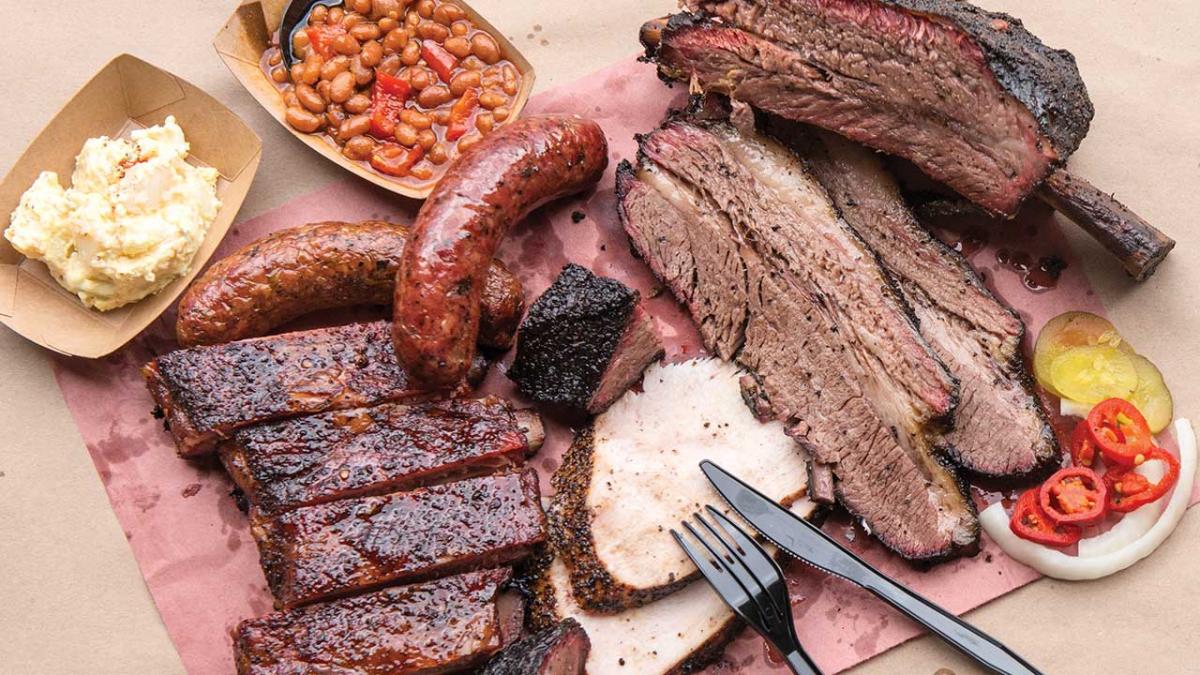 Central Texas barbecue joints often put your order on a tray covered with butcher paper. / Courtesy of texasmonthly.com
Wait a second. Butcher paper? You read that right. Market-style barbecue is common in Central Texas, where many joints began as — and some continue to double as meat markets. The quintessential Central Texas barbecue joint is one where you pick what you want (a pound of this, a slice of that, etc.), and they put it on a tray covered with a piece of red or brown butcher paper. If you want sauce, you might have to ask for it … then endure the looks of judgment from the pitmaster and barbecue-purist patrons.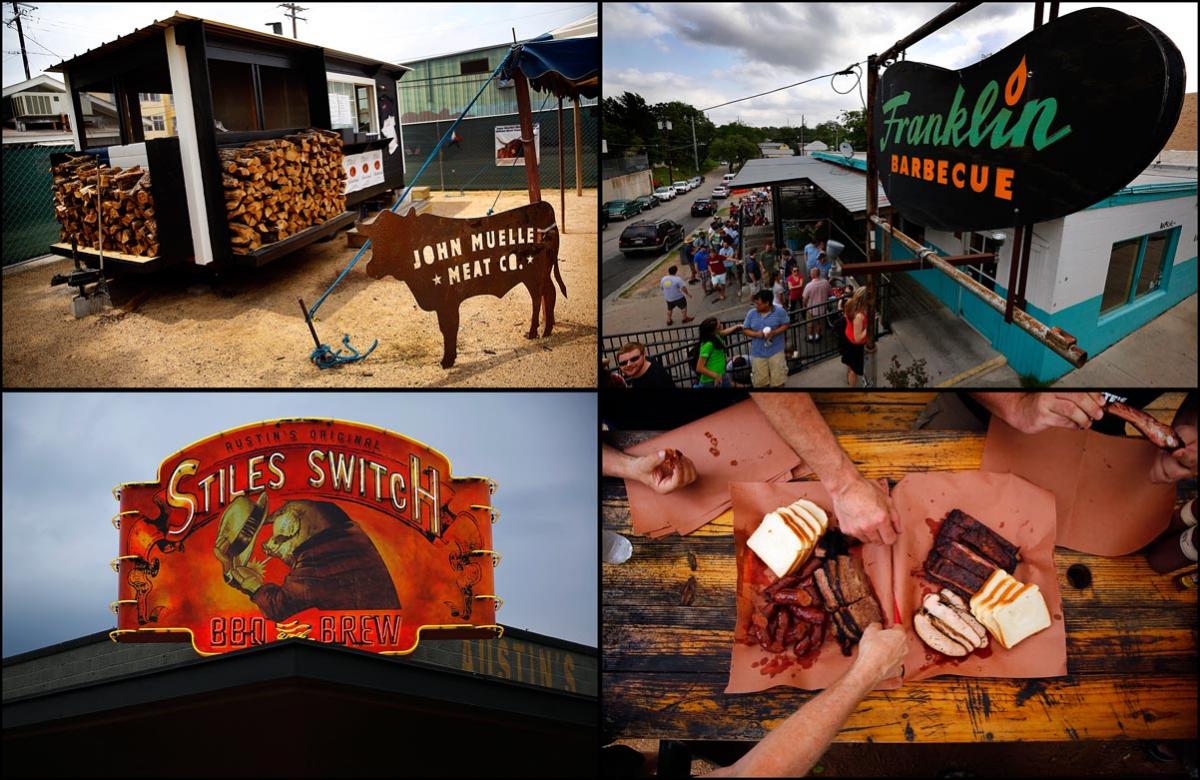 The Austin, Texas, metro area has become a barbecue mecca. / Courtesy of texasbbqposse.com
During the past few years, the quality and popularity of barbecue in Central Texas have reached new heights. There are more barbecue joints in and around Austin than ever, and there are more great joints than ever. Quantity and quality are at record highs. The region's rising population and the addition of a crop of talented craft purveyors of smoked meat are among the reasons the public's interest in Central Texas barbecue is at a fever pitch. The Austin metro area has become a barbecue mecca. Forget milk and honey, folks. Here, it's all about the meat. When it comes to quality of barbecue in Central Texas, it really is an embarrassment of riches.
What follows is just a sample of what this barbecue Promised Land has to offer
What started as a tiny trailer little more than five years ago is now arguably the most famous BBQ joint in the country. Seemingly every major media outlet has profiled owner and pitmaster Aaron Franklin and his brisket, for which people wait in line for hours. Unless you hire someone to wait in line for you (yes, people do this.), clear your schedule, bring some drinks and friends, and make a fun experience out of the wait. If you're not up for waiting in line, check out their pre-ordering system.
Recommended order: brisket, pulled pork, pork ribs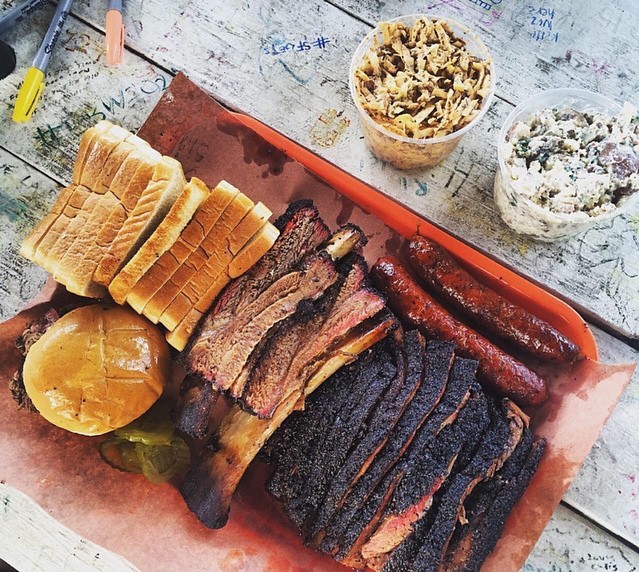 At La Barbecue, fans tuck into pork ribs, sausage and beef ribs (left); and brisket, potato salad, and beans / Courtesy of labarbecue.com
La Barbecue is a very popular soon-to-be-brick-and-mortar BBQ trailer. The line forms early and gets long but moves efficiently. Hip in person and hip on social media, la Barbecue, like several other craft joints in town, is open until they sell out. Docked in a food-trailer park on the east side of the interstate downtown, it's easy to get to. If you're staying downtown, you can even walk to it. You might be in too much of a meat coma afterward to walk back, but at least you burned some calories getting there.
Recommended order: brisket, beef ribs, pulled pork

Hungry? Try the brisket, jalapeno cheese grits, potato salad and homemade bread at Micklethwait Craft Meats. / Courtesy of craftmeatsaustin.com
Micklethwait Craft meats, a tiny trailer serving smoked meats, homemade sides, desserts and bread, sits not far off the interstate at E. 11th St. Like other popular craft-meat trailers, you can expect a line; but Micklethwait's hours are a tad longer than some, so getting fed isn't a problem. You can enjoy your meal on a picnic tables and even snag a smoothie from their smoothie-trailer neighbor.
Recommended order: beef ribs, sausage, jalapeno cheese grits, homemade bread, homemade moon pie

Dig into some brisket, turkey and pork ribs at Stiles Switch BBQ & Brew. / Courtesy of stilesswitchbbq.com
Stiles Switch is a popular market-style joint in North-Central Austin. Step up to the counter, and they'll cut a fresh brisket sample for you to enjoy while you decide what to order. Want just a slice of meat or several pounds? No problem. Pick your meats and/sides, and they will put them on a butcher-paper-covered tray and move you down the counter and on your way to your table. Throw in craft beers on tap, several flat-screen TVs and an outdoor patio, and you have yourself quite the spot to spend a meat-filled afternoon.
Recommended order: beef rib, jalapeno-cheddar sausage, turkey, macaroni and cheese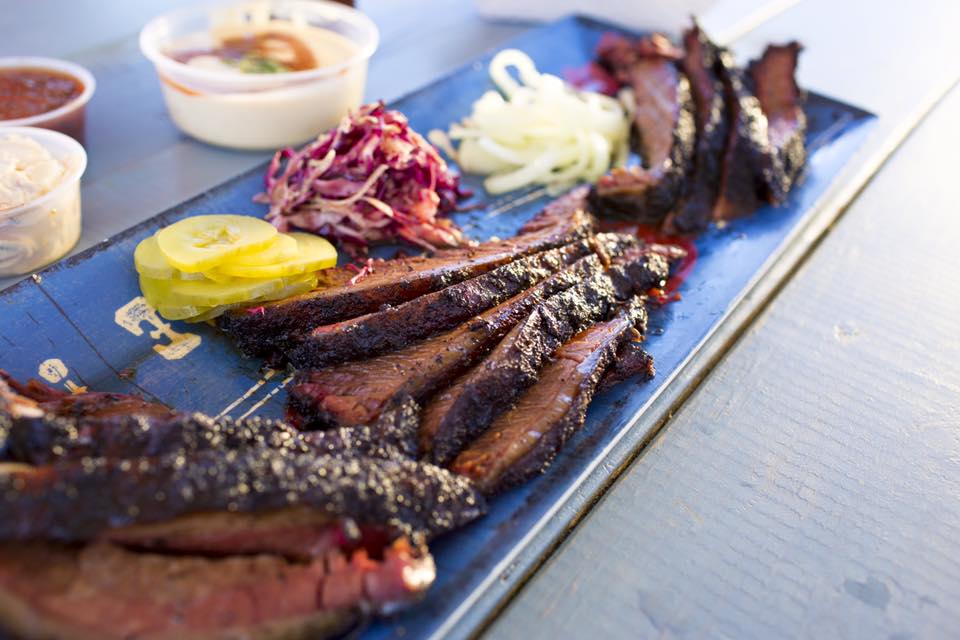 For a fiesta of smoked meat and Tex-Mex offerings, fans head to Valentina's Tex Mex BBQ. / Courtesy of valentinastexmexbbq.com
Valentina's Tex Mex BBQ, a popular BBQ trailer on bar-and-restaurant-lined West 6th Street, recently moved a few miles south of downtown. A San Antonio native, proprietor Miguel Vidal blends smoked barbecue with Tex Mex offerings into an array of barbecue tacos, served on homemade flour tortillas. Want a brisket taco with salsa and queso? Smoked chicken with pickled onions? Pulled pork on tortillas chips? Not a problem at Valentina's.
Recommended order: pulled pork, smoked chicken, homemade flour tortillas and queso
Great barbecue isn't limited to the Austin city limits. There are more great joints farther afield: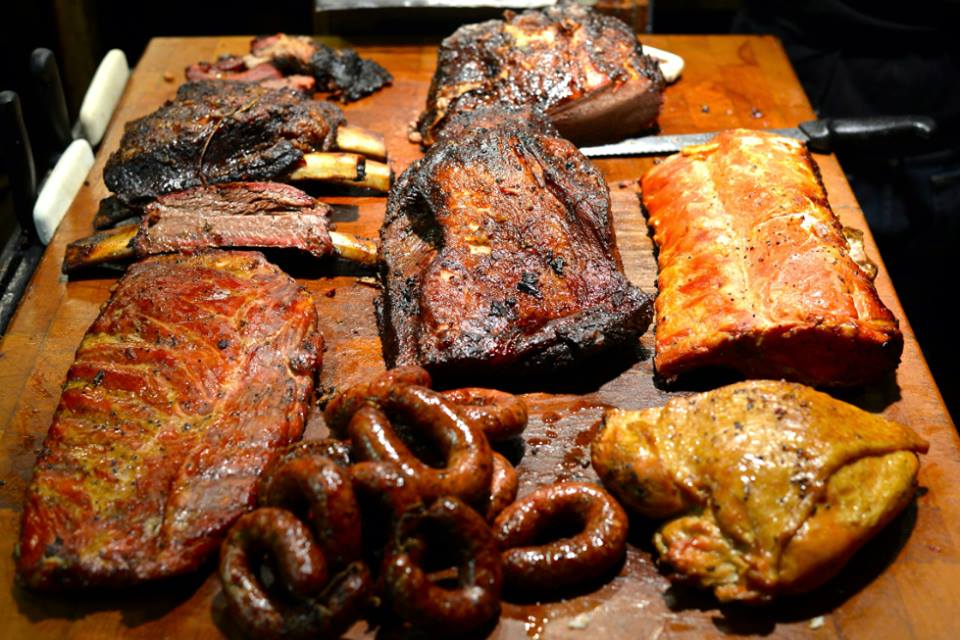 Cut into an array of meat at Black's Barbecue in Lockhart, proclaimed the "BBQ Capital of Texas." / Courtsy of blacksbbq.com
According to the friendly folks at Black's Barbecue, they are the oldest BBQ joint in Texas run by the same family. Long a staple in Lockhart (declared the "BBQ Capital of Texas" by the Texas Legislature), Black's recently opened a location in Austin near The University of Texas and another (Kent Black's BBQ) in nearby San Marcos. After you chow down, so long as their staff are not overrun, they will happily take you on a tour of the kitchen/pit.
Recommended order: brisket, beef ribs, turkey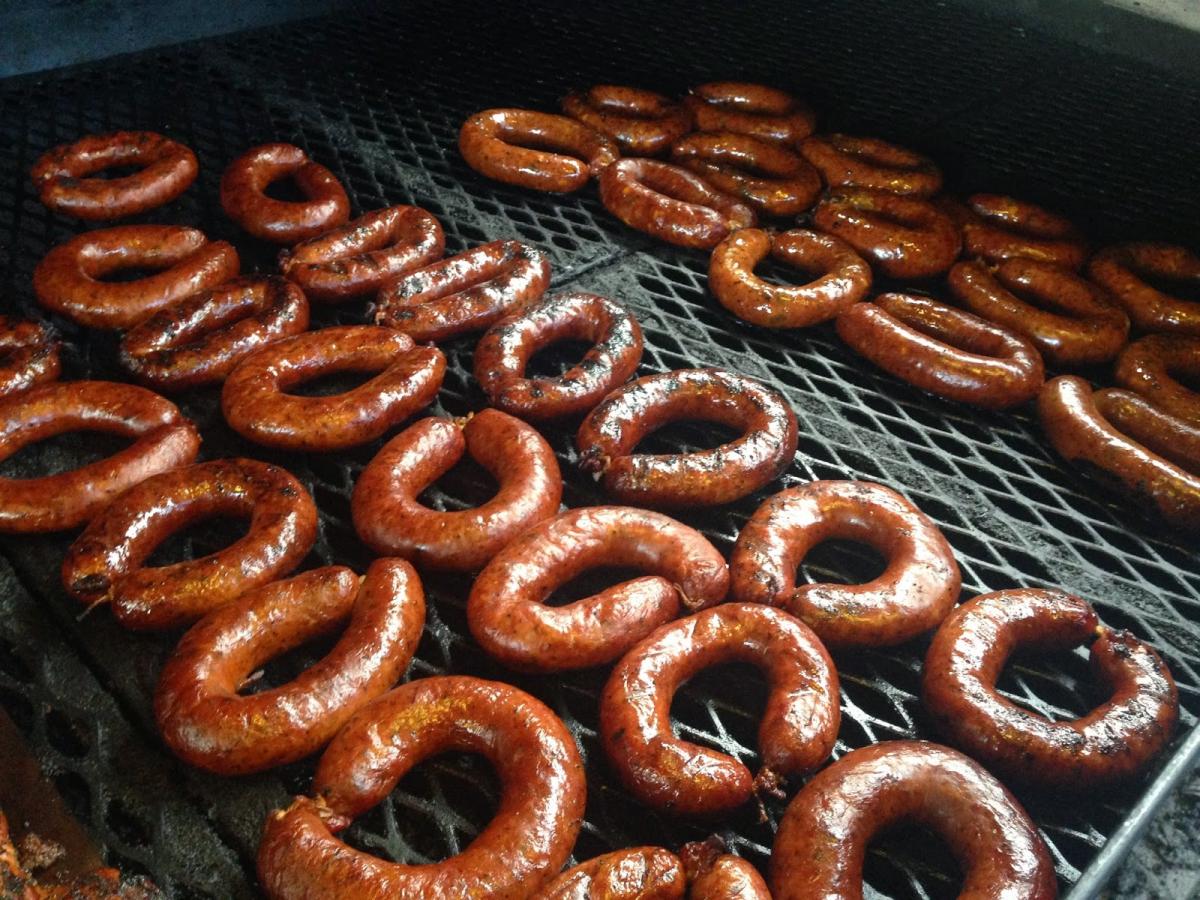 Sausages sizzle in one of several large smokers at Hays County Bar-B-Cue in San Marcos. / Courtesy of manuptexasbbq.com
On the I-35 frontage road in San Marcos, Hays County Bar-B-Que is an easy stop between Austin and San Antonio. The hardworking Hernandez family will take care of you, with an array of meats, slow-smoked in one of several large smokers. You can dine inside, or you could go to the back, where you will find a space unlike any other in Central Texas, with lots of tables, games, a stage and a bus-turned-bar.
Recommended order: pulled pork, turkey and jalapeno-cheese sausage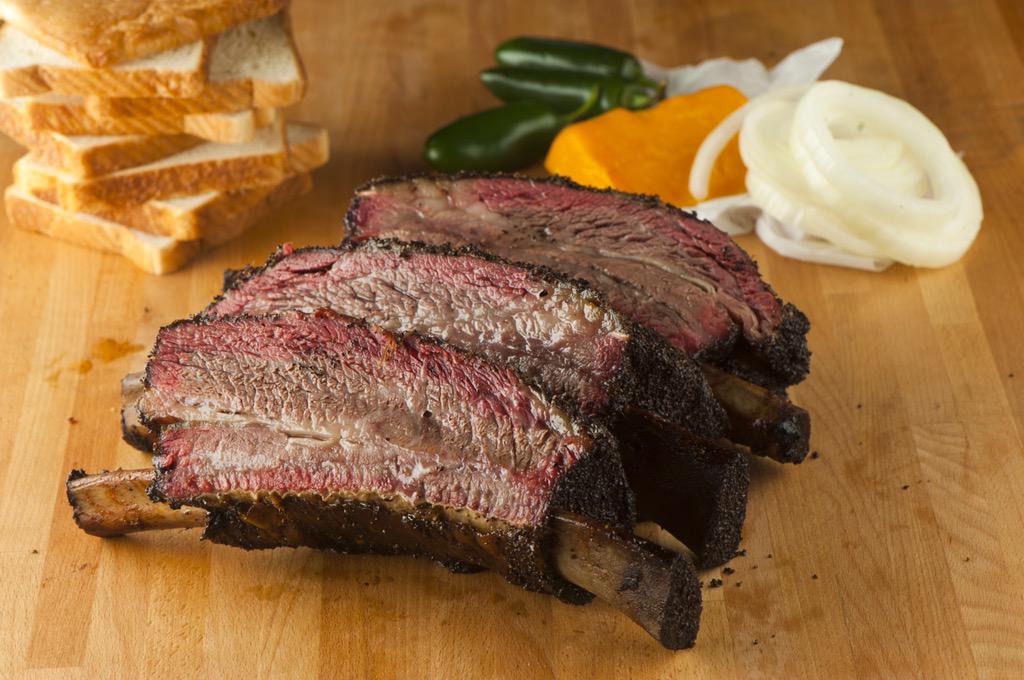 Louie Mueller Barbecue in Taylor is world-famous for its gigantic beef ribs. / Courtesy of louiemuellerbarbecue.com
If you take the Highway 79 exit off I-35 in Round Rock and head about 15 minutes past the Dell Diamond, you'll drive right to Louie Mueller Barbecue, a longtime Taylor BBQ joint and one of the most popular in all of Texas. The building is rich in history and its walls and ceilings show the signs of decades of BBQ smoked.
It's one of those BBQ joints where, as soon as you walk in, you know you're somewhere special. Take your camera, because the place is full of picture-worthy spots.
Recommended order: brisket, beef ribs, turkey, potato salad, banana pudding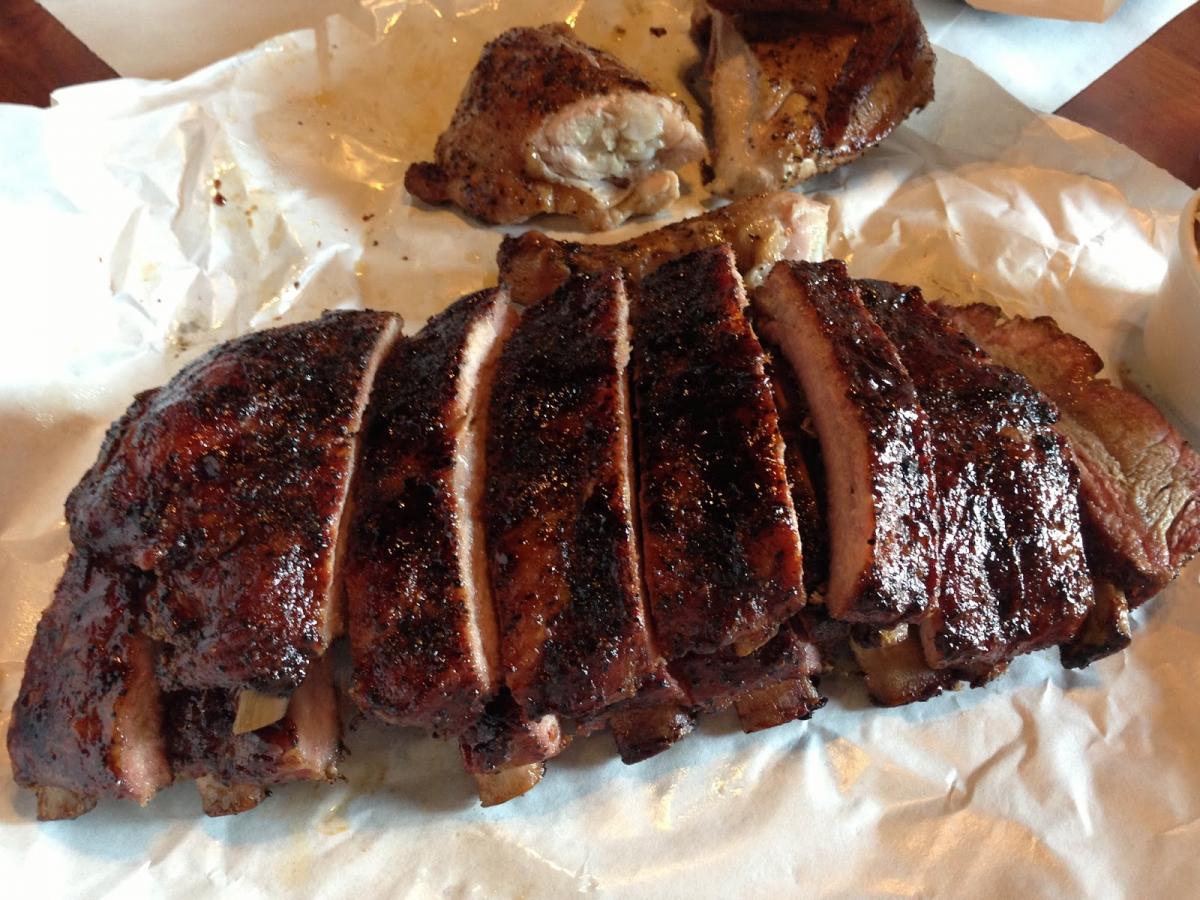 Tickle your taste buds with sweet and spicy baby back pork ribs at Opie's Barbecue in Spicewood. / Courtesy of manuptexasbbq.blogspot.com
About halfway between Austin and Llano, on beautiful Highway 71, Opie's Barbecue serves slow-smoked BBQ seven days a week. Just inside the door is a holding pit, and when they lift the top and reveal their offering of proteins, just start pointing at what you want, and they will snag it for you. Take your tray of selections to the counter, and while they slice it up for you, pick from an array of homemade side items and desserts.
Recommended order: sweet-and-spicy baby backs, half chicken, pork chop, tater-tot casserole, spicy corn, banana pudding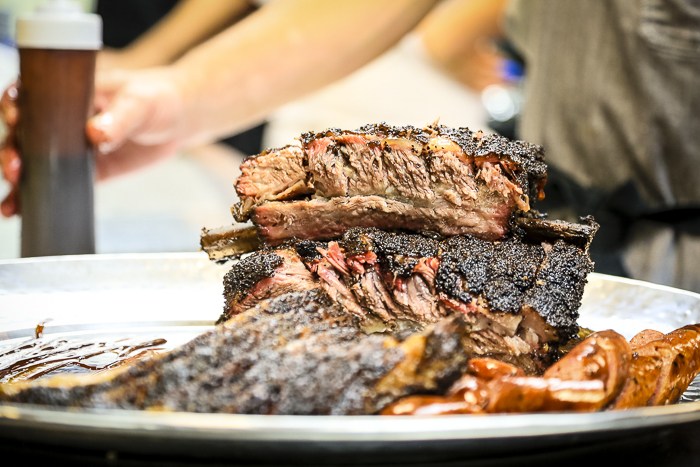 You can smell the smoker at Snow's BBQ from down the street. / Courtesy of escapehatchdallas.com
Only open Saturdays, Snow's BBQ draws BBQ fiends from far-flung areas for what has become a Texas-BBQ rite of passage. You can smell the joint as you approach the place in the sleepy town, so roll down your window upon approach. You can dine inside or outside on a picnic table, by the several huge smokers. I recommend the latter, so you can gab with the full-of-personality proprietor and pit crew.
Recommended order: brisket, pork steak, half chicken
Central Texas BBQ tourism is actually a thing. Texas Q Tours, a business I started more than three years ago, takes clients on public and private tours of Central Texas BBQ joints, and we make stops at other popular attractions like craft breweries, wineries, distilleries, dessert shops and more. We've had clients from California to Connecticut and from as far as Canada and Australia. Our business is growing, as locals and out-of-towners alike clamor for a taste of the slow-smoked meats Austin and the surrounding areas serve these days.
If you're interested in a public and/or private BBQ tour, contact us for availability and pricing!
Read more about them
Meet the author