The Essential Eats on the Barbecue Trail
A tri-state trek for 'low and slow' goodness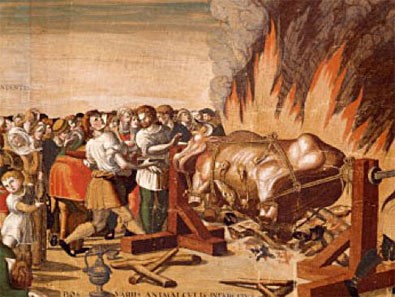 North American settlers knew a lot about roasting meat over an open fire. / Courtesy of amazingribs.com
Glowing beds of hot coals sent delicious aromatic smells of slow-cooked meat into the atmosphere long before European explorers set foot in North America. Those explorers knew plenty about roasting meat over an open fire. The Spaniards had barbacoa. The English savored spit-roasted hog. In Italy, tender slices of porchetta were a national treasure.

Author Jim Early says the tradition of 'low and slow' cooking crossed the land bridge from Russia to North America. / Courtesy of North Carolina Barbecue Society
According to Jim Early, author of "The Best Tar Heel Barbecue: Manteo to Murphy" and founder and CEO of the North Carolina Barbecue Society, North America's original people – nomads who traversed the long-gone land bridge that joined North American to what is now Russia – were already practicing "low and slow" cooking. The practice was passed from generation to generation – and ultimately to European settlers.
That practice is called barbecue. "Barbecue is a noun and it means pork," Early explains. That's shocking news to neighbors who gather for a "barbecue," the verb. However, once the syntax-curious taste the magical flavors that come from the trinity of smoke, heat and time, the word barbecue becomes forever a noun. A backyard gathering around a Weber grill becomes just that – grilling.

Early barbecue pits in North Carolina featured meat roasted over live coals. This "live drip" sent fat sizzling on hot coals, adding flavor to the meat. / Courtesy of North Carolina State Archives
Early, a retired trial lawyer, knows a thing or two about the barbecue history of his home state of North Carolina. For his book, he drove more than 22,000 miles, rolling across the asphalt in all 100 North Carolina counties and interviewing more than 2,000 people. "I ate at more than 200 places and put 140 in the book," Early said. He compiled some amazing statistics about North Carolina barbecue – including the fact only about 30 barbecue joints remain that cook over live coals with "live drip," the art of rendering off fat that sizzles on the hot coals and wafts upward in steamy plumes to add flavor to the meat. That method of cooking -- a style Early says adds to his claim that North Carolina is the cradle of barbecue cooking -- is well chronicled in historic photos from the North Carolina State Archives.

A classic North Carolina barbecue featured long tables and several whole hogs. / Courtesy of North Carolina State Archives
A big pit cooking was a community event. Several whole hogs would be slow cooked for hours while family and neighbors prepared long dining tables, played games and danced. When the hogs were pronounced ready, the meat would be pulled from the bones, chopped and served with vegetables and other foods contributed by the revelers. It's that whole-hog style that is unique to North Carolina.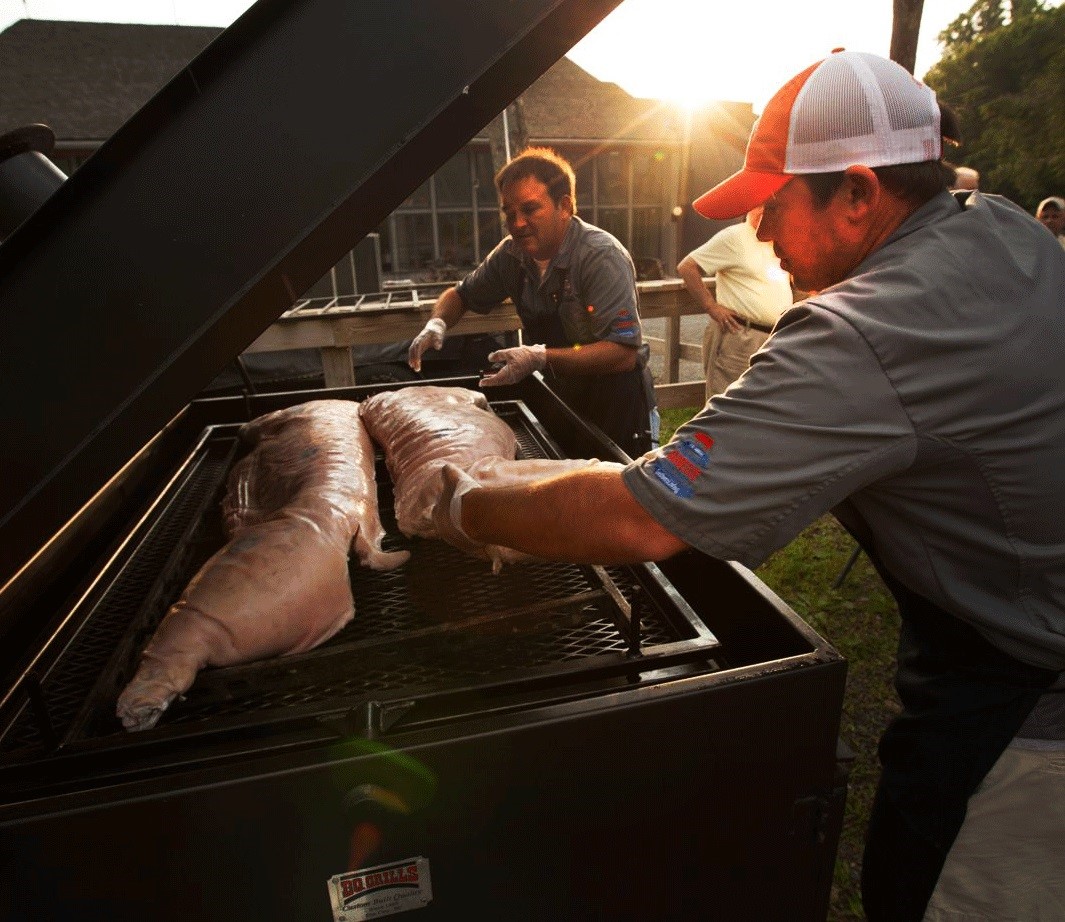 North Carolina has two distinct styles of cooking pork. / Courtesy of North Carolina Barbecue Society
"North Carolina has two major types of cooking pork," according to Early. "East of Chapel Hill, you find whole hog cooking -- chop it all together. They use a vinegar-based sauce (12 Oaks vinegar, salt, pepper, water, some sugar and crushed red peppers). The white meat of the hams and dark meat of the shoulder are combined. "West of Chapel Hill, they cook shoulders and take the vinegar-based sauce and put in tomato sauce, puree -- or ketchup -- and add a sweetener. It's a definite sweet-and-sour taste." North Carolina is definitely home to purists who identify solely with one style or another – and even favor barbecue from just one of the state's several hundred barbecue restaurants.

The NCBS Historical Barbecue Trail identifies authentic stops where barbecue is still cooked following traditional methods and styles. / Courtesy of North Carolina Barbeque Society
"It's very territorial – it's not only a preference for a particular taste," Early said. "I was surprised in talking to the state's barbecue icons – Eastern pitmasters had not tasted the Western style (the so-called Lexington-style). The same held true for Western-style folk not tasting Eastern style.
Lexington, N.C., has emerged as a hot bed of the barbecue battles. Lexington's 19,000 residents are undisputed barbecue fans: The little city has one barbecue joint for every 500 people. Lexington and its eateries play heavily into the North Carolina Barbecue Trail map – a North Carolina Barbecue Society project. The trail points 'cue aficionados to authentic stops where barbecue is still cooked following traditional methods and styles.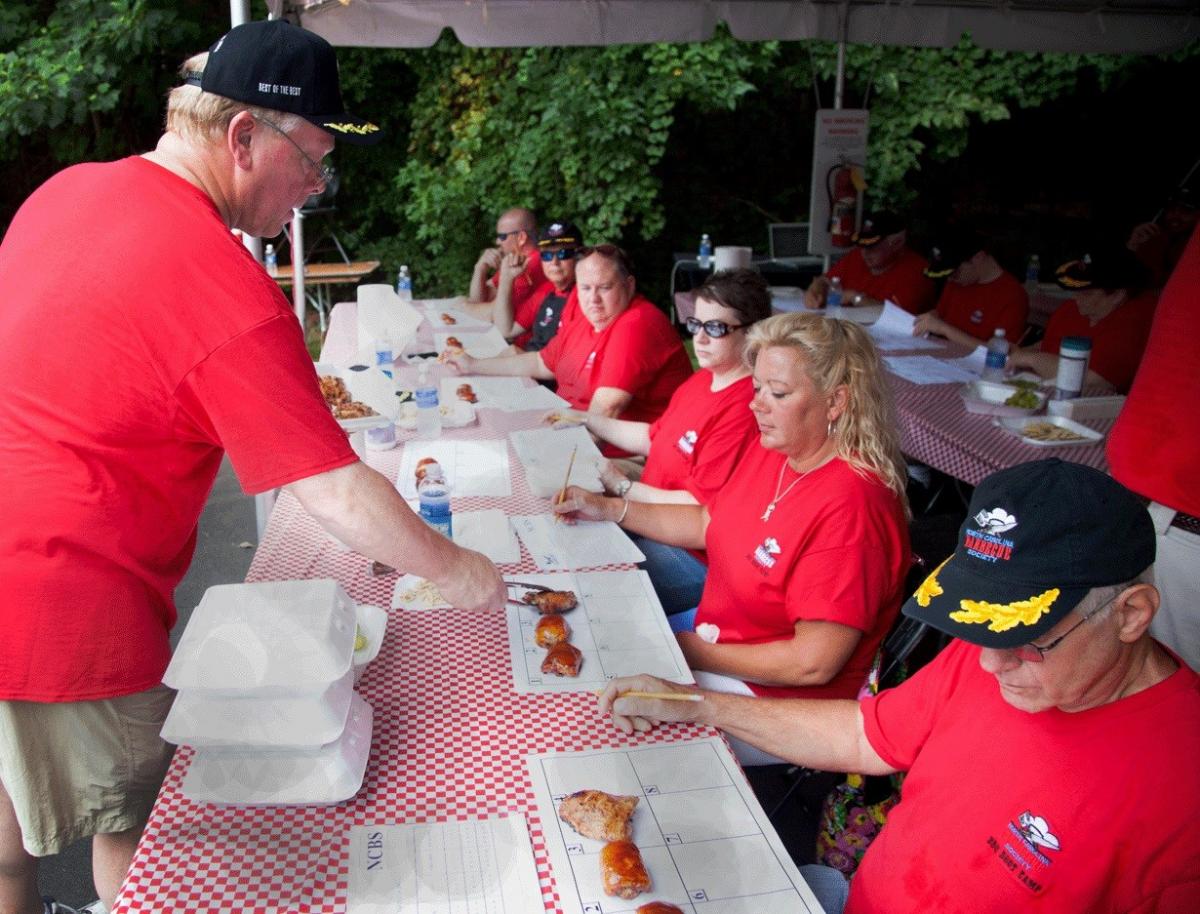 Novices and experts learn traditional barbecue cooking techniques at camps hosted by the North Carolina Barbecue Society. / Courtesy of North Carolina Barbecue Society
The NCBS also perpetuates traditional barbecue cooking by hosting several camps every year. Here, novices and experts gather to study, cook and ultimately compete. The events draw teams that vie for prizes on competitive cooking circuits, serious backyard barbecue fans and onlookers who come to taste a variety of meats. As passionate as North Carolinians are about their meat, the camp careens wildly off-center when the subject of sauces comes up.
Purists believe properly cooked meat should stand alone – expressing the flavors of wood smoke and the tender, moist deliciousness of the pork. Still, a little sauce on the side deserves attention. There are four major sauce styles: Vinegar and Pepper, Mustard, Light Tomato and Heavy Tomato. And while there is disagreement on the varieties of preparation, the many sauces used in America generally fall into one of those four basic groups.
North and South Carolina share three of the four types of barbeque sauce; only South Carolina is the home of all four and where mustard sauce is a distinct contributor to that state's barbecue culture.

Ted Huffman, owner of Bluffton BBQ in South Carolina, is considered a barbecue pitmaster. He cooks his pork in an enclosed vessel with indirect heat. / Courtesy of Tim Rutherford
In South Carolina, cooking barbecue takes a turn. Here, open pit-style cooking is rare. Pitmasters tend to slow-cook pork shoulders – called butts in this region – with enclosed vessels that use indirect heat. One such barbecue guru is Ted Huffman of Bluffton, S.C. The former pipefitter knows a thing or two about natural heat convection and has crafted a huge cooker from a discarded propane gas tank fitted with a fire box.

Ted Huffman uses a blend of oak, hickory and pecan logs. / Courtesy of Tim Rutherford
Huffman fires his big cooker twice a week. Every Tuesday and Thursday night he stokes the fire box with a carefully selected blend of oak, hickory and pecan logs. When he achieves a steady temperature of 200-210 degree Fahrenheit, he loads in up to 30, 7- to 9-pound butts, tosses in a log for smoke and begins what can ultimately be a 12-hour process. In this cooker, the pork's juices are captured by drip pans instead of falling onto hot coals to become steamy seasoning.
"The secret to good barbecue is to retain the moisture," Huffman says. His low-and-slow method does just that. When finished cooking, Huffman "pulls" the meat, tearing apart long strands of tender, juicy pork. "I'm careful to keep the juices and fold the pulled pork back into the natural juices to keep it moist." South Carolina may have dedicated traditionalists, but most barbecue joints found in the Palmetto State use this indirect cooking method and stick to preparing batches of pork butts. Still, barbecue is still a very personal preference for the state's diners.

"People commit their soul to this type of cooking – and other people want to be close to that," Hoffman says. / Courtesy of Tim Rutherford
"Why do people take their barbecue so seriously? I think people recognize there's a certain angst that goes with well-made barbecue," Huffman said. "People commit their soul to this type of cooking – and other people want to be close to that." The cigar chomping Huffman sounds philosophical, but that trait is laced with a hearty dose of eccentricity. His menu carries a manifesto explaining his business philosophy. Signs around his store admonish customers: "If you don't like it, don't order it again." His menu board also list "things we won't ever have." Things like mustard, buns, reservations, salad or tolerance for preconceived notions.
And if you want a beer, Huffman will give you one – free. It's the iconic but often lampooned American brand Pabst Blue Ribbon. "Hey, it's free beer. Where else can you get a free beer? I'll drink free beer even if it's hot," Huffman explains.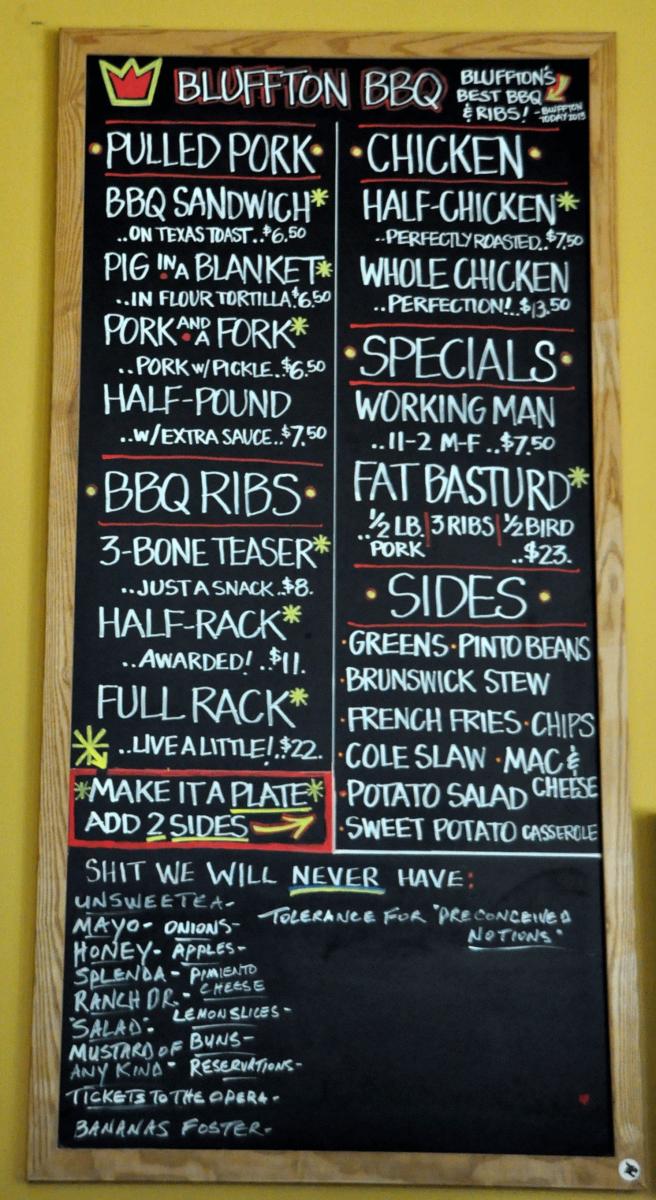 The menu at Bluffton BBQ lists things the eatery doesn't have, including mustard, buns, reservations, salad or "tolerance for preconceived notions." / Courtesy of Tim Rutherford
Huffman also offers free advice on the subject of barbecue – and has a definite stand on the debate about sauces and seasoning rubs. "You can over-smoke meat and definitely over-flavor pork," Huffman says. "The butts get a little sea salt and pepper when being pulled and then it's back into the jus to keep the meat moist. "And I don't care for mustard and vinegar sauces – they cover up the flavor of the meat. I make one sauce and it's served on the side with our pulled pork."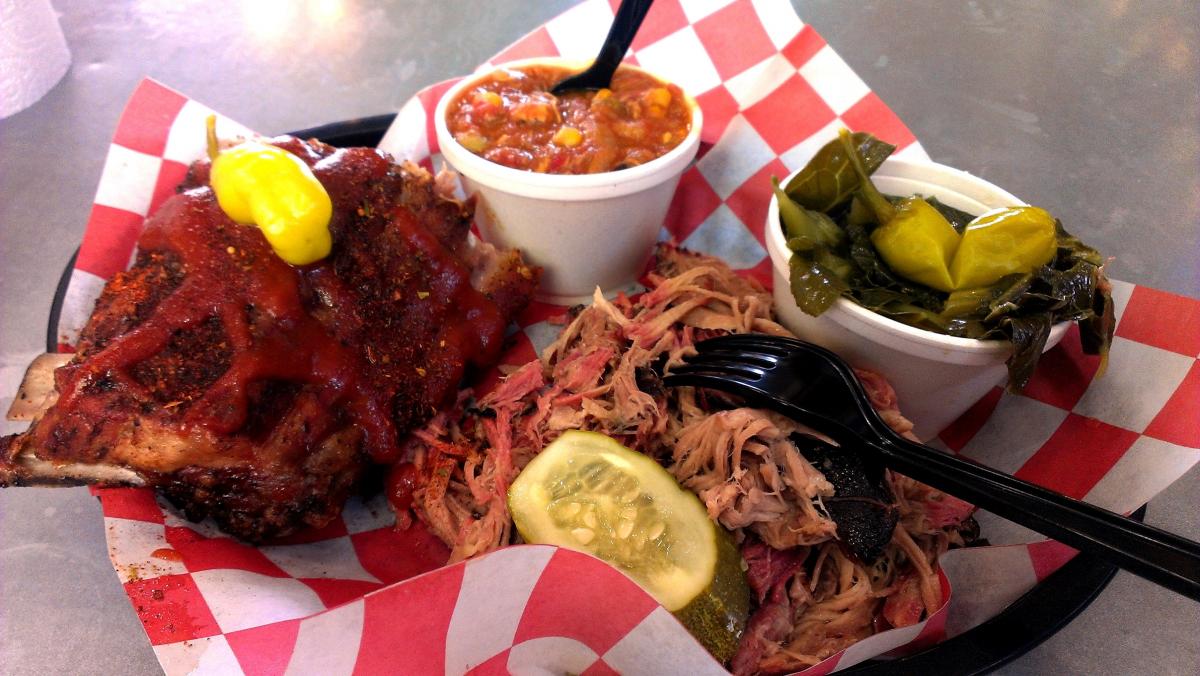 Bluffton BBQ serves its sauce on the side and lets the meat speak for itself. / Courtesy of Tim Rutherford
Huffman's little Bluffton BBQ has served two South Carolina governors, countless local barbecue fans and stands as a legendary destination for barbecue made with pride and served humbly. It is one of hundreds of barbecue restaurants, stands and joints identified on the South Carolina Barbecue Trail. But beware: Unlike North Carolina's carefully vetted list, the Palmetto State map includes every barbecue place that could be identified by the state's tourism agency.

In Georgia, gas-assisted, commercially made cookers are the norm, like the one Keith Latture operates at SandFly BBQ in Savannah. / Courtesy of Tim Rutherford
This southeastern barbecue road trip now crosses the Savannah River and enters Georgia. Savannah was founded in 1733 by the English Gen. James Oglethorpe and the 120 passengers of the ship "Anne." Oglethorpe named the 13th and final American colony "Georgia" after England's King George II. Savannah became its first city. The plan was to offer a new start for England's working poor and to strengthen the colonies by increasing trade. The colony of Georgia was also chartered as a buffer zone for South Carolina, protecting it from the advance of the Spanish in Florida.
The American Revolution and ultimate declaration of independence from England changed those plans – but not before Savannah became an international melting pot of culture and cuisine. Early settlers adapted to the native plant and animal life. Like earlier settlers further north, these new citizens also found cooking methods like low-and-slow fires helped tenderize the often tough, gamey meats from indigenous wild hogs and deer. The barbecue culture of North and South Carolina crept into Georgia, but what has evolved is a regional difference that sets Georgia apart from its northern neighbors.
Modern barbecue in Georgia tends to focus on production, consistency and individual interpretation. Here, gas-assisted, commercially made cookers are the norm. These predictably manageable cookers use less wood or charcoal, generate gas-fired heat that can be dialed in with a thermostat and lend themselves to a safer, easier-to-maintain role in the restaurant.

Meat at Sandfly BBQ is pulled, not chopped, and served with sauce on the side. / Courtesy of Tim Rutherford
Keith Latture owns tiny Sandfly BBQ in a Savannah suburb. He is a former fine dining chef who studied at the famed Culinary Institute of America. Today, he's less about the five Mother Sauces than he is creating the Memphis-style sauce of his youth. Latture grew up around the west Tennessee city – a mecca of its own style of barbecue – and brings that flavor to the table with his sauce. Still Latture, like other barbecue pitmasters, insists the meat must speak for itself. And, like neighboring South Carolina, pork is pulled – not chopped or sliced. Fatty pieces and gristle are discarded, but good pitmasters always make sure diners get a piece of "bark," the black, slightly crunchy outer skin.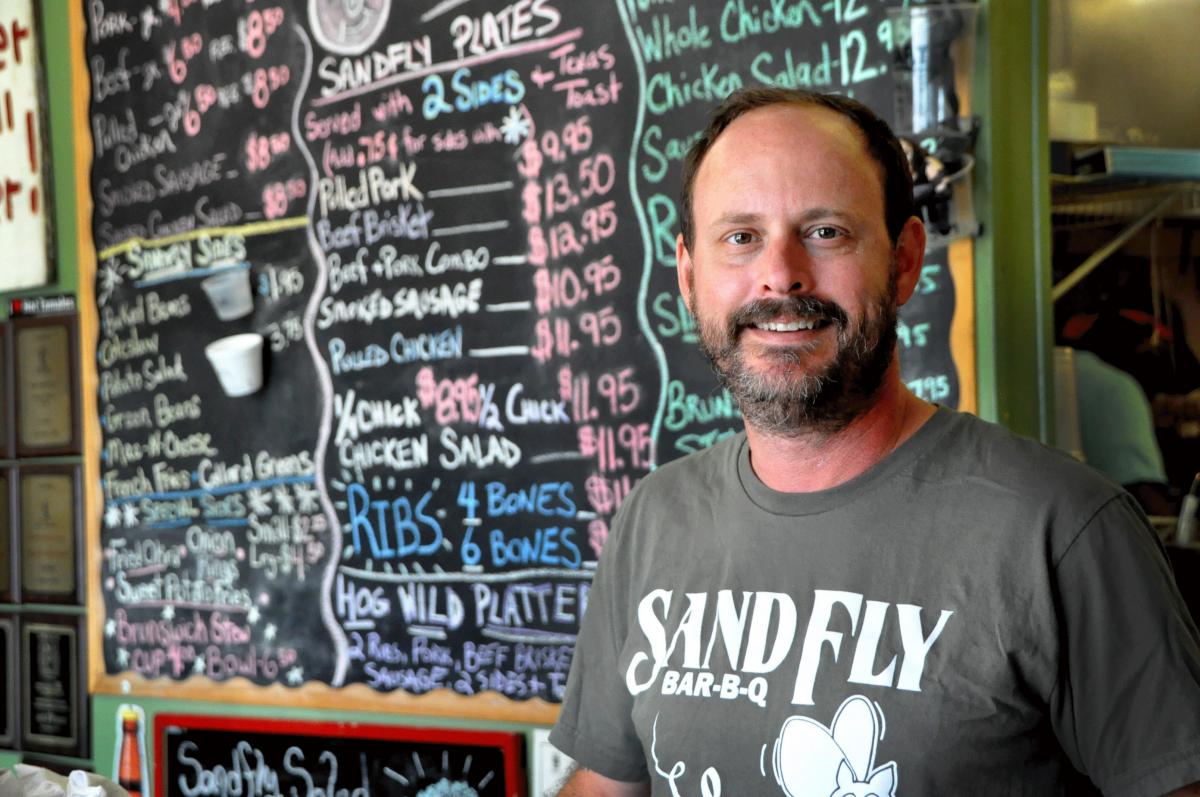 Keith Latture uses a rub for added flavor before smoking his meat. / Courtesy of Tim Rutherford
"We serve the sauce on the side here in the restaurant," Latture explains. "And I only make three: a Memphis-style that is sweet and thick, a tangy mustard sauce similar to the South Carolina style and a vinegar-based sauce loaded with spices and chilies. "I do use rub on the meats before smoking – a different rub for chicken, beef and pork." Latture, who smokes 30, 7- to 9-pound butts every day on two Southern Pride gas-assisted cookers, also includes chicken, sausage, pork ribs and beef brisket on his menu. His much more urban location serves a population that winters in Savannah from all over the U.S. – and demands the flavors of their home states. "People get sentimental about what they grew with," Latture says, "especially people from real barbecue strongholds."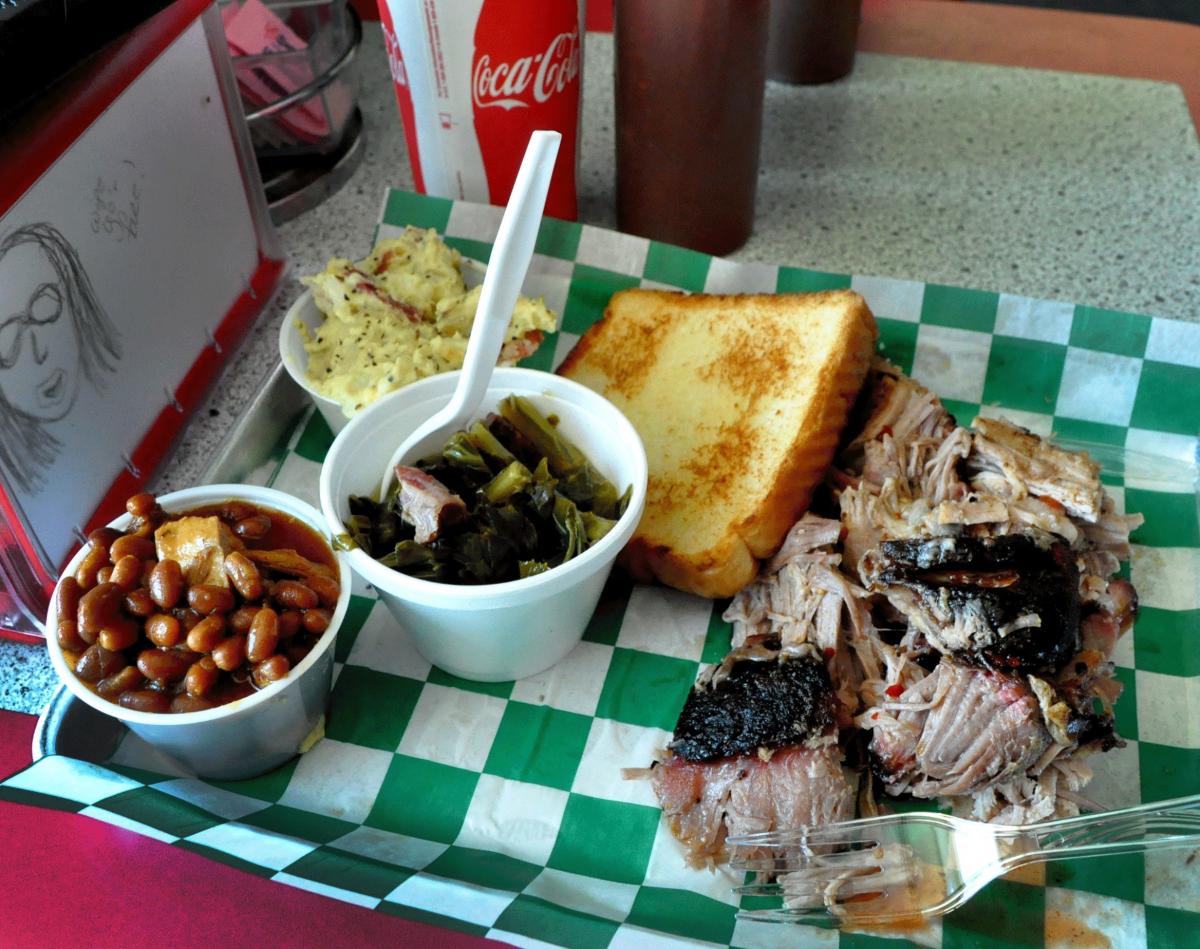 Along with chicken and beef brisket, Sandfly BBQ smokes 30 pork butts daily. / Courtesy of Tim Rutherford
Georgia does not have an officially organized barbecue trail. But nearly every little town and every city has easy-to-find barbecue restaurants. Pork – especially pork butts – are the predominate meat in Georgia. But, like Latture, many Peach State pitmasters recognize that catering to their diverse audiences requires branching out into chicken and beef brisket. Seasoned Southern drivers know that the best 'cue comes from family-owned roadside joints rather than shiny, corporate-designed barbecue restaurants. Diehard fans seek out the most obscure and roughshod eateries for the most authentic results. Look for smoke, then sniff the air for the aroma of hickory and cooking meat.

TripAdvisor users voted Georgia the No. 1 state for barbecue. / Courtesy of Tim Rutherford
It's worth the hunt. In May 2014, TripAdvisor.com users chose Georgia as the No. 1 state for barbecue. North Carolina came in at No. 2; South Carolina at 6th position. This three-state overview just scratches the surface of what barbecue – the noun – is in the United States. Individual styles and methods have staunch support in places like Memphis, Tenn. – where an entire month (Memphis in May) is set aside for barbecue competitions, tastings and celebration. Texans have their own style of cooking, introduce mesquite into the woodpile and dearly love their beef. Kansas City, Kansas, is another hotbed of barbecue restaurants and, yes, has its own preferences for meat, sauce and dry rubs. Let your taste buds be the judge.

Courtesy of Tim Rutherford
Resource List
North Carolina Restaurants
North Carolina Barbecue Society BBQ Trail map: http://www.ncbbqsociety.com/trail.html

South Carolina Restaurants
Home Team BBQ
Bessinger's Barbeque
SC BBQ trail: http://bbq.discoversouthcarolina.com/

Georgia Restaurants
Meet the author