Essential Eats: Bleecker Black @ Bleecker St. – London
Bleecker Black was awarded 2015's "Tastiest Burger in the World" by ExtremeFoodies, but Bleecker St. founder Zan Kaufman took some convincing when business partner Liam O'Keefe – otherwise known as acclaimed burger blogger The Burger Addict – pitched the idea for a black pudding burger.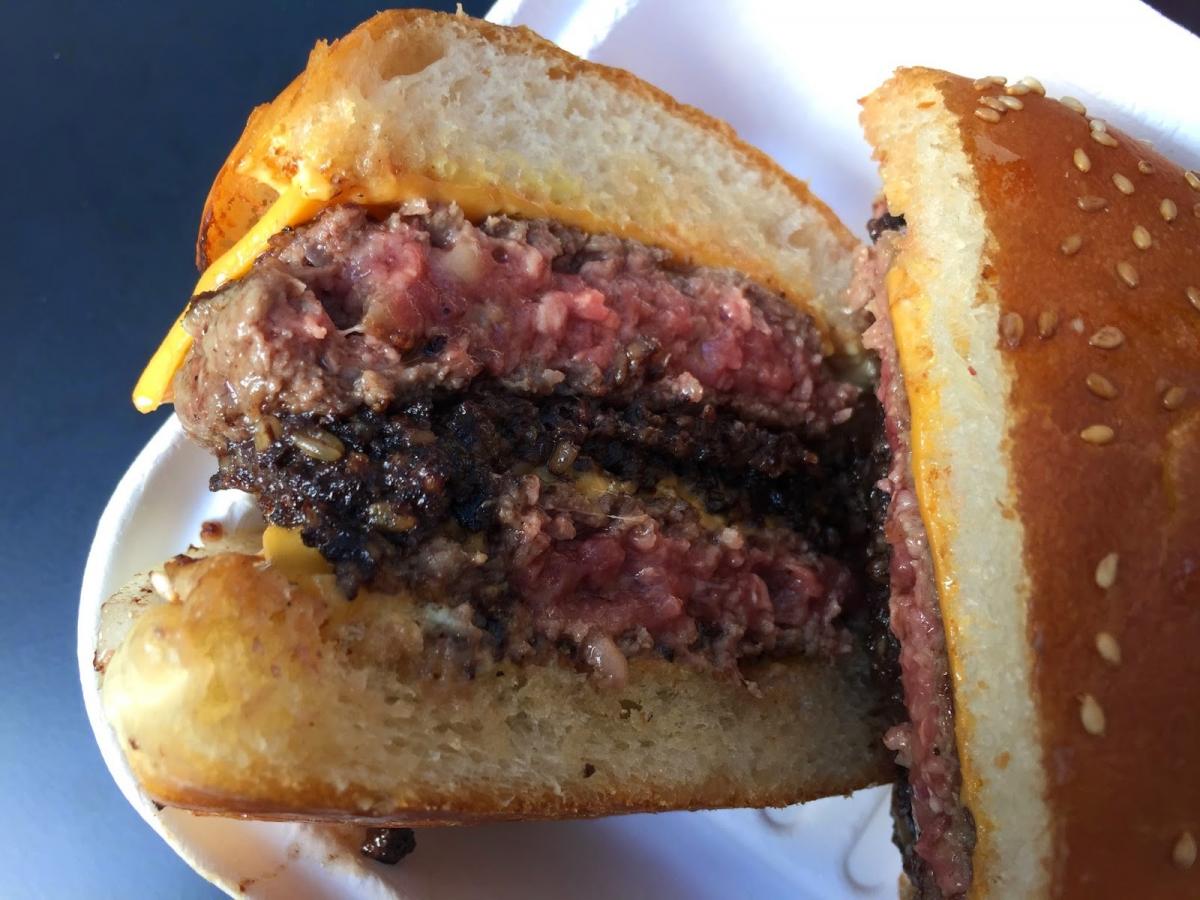 Bleecker Black at Bleecker St. in London. / Source: cheesenbiscuits.blogspot.in
A trained lawyer, Zan says her passion for burgers was ignited while working at a friend's restaurant in New York: "While I was at Zaitzeff, I really fell in love with burgers, which was strange because you think that it's All-Americans eat, but they had always seemed like a waste of time to me. But then I had this burger, and it opened up not only my burger world but my whole food world. It was the mother who was basically running the place, and what I learned from her was an utter commitment to the food. There was no compromising on any aspect, and that never really left me."
Fast-forward to 2012 and Zan's matte-black Bleecker St. Burger truck was fast becoming a regular fixture at London street food extravaganza KERB, and is now, for the most part, moored at the South Bank.
"I just bought the food truck on eBay one day," says Zan. "You think about something for so long and, in the end, you just need to do it. When we started out, we had four burgers on the menu: Cheeseburger, Double Cheeseburger, Blue Burger and Veggie Burger."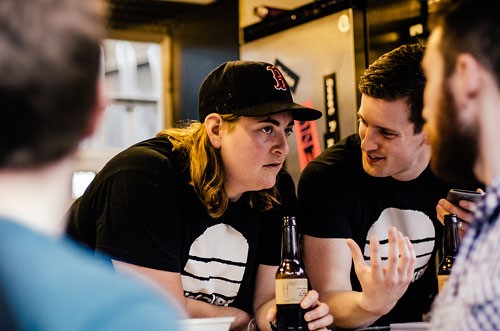 Zan Kaufman founded Bleecker St. from a food truck she bought on eBay. / Source: Bleecker St. Burger
After months of experimenting and testing in her mother-in-law's kitchen, Zan had created a burger she could be proud of and, since then, she says nothing has really changed.
"The buns have always been the same buns from a Malaysian bakery (BreadStory). I really don't like brioche on burgers, I think it just gets in the way. Our buns are like an anti-brioche, it's light and really airy. You don't really notice the bun, and I think that's the way it should be. Our butcher is Nathan Mills at the Butchery in Bermondsey and then there's our cheese, which you can barely call cheese. It's an American cheese, which has a low percentage of diary. I don't think of it as cheese, I think of it as flavorless glue. It brings everything together."
It might be this unwavering commitment to simplicity that is the key to Bleecker's success. True to keeping things simple, the new shipping container site at Canary Wharf only has two burgers on the menu – the Cheeseburger and the Double Cheeseburger – while the addition of milkshakes this summer only came about after Zan could be assured of their quality.
"The shakes are made with our own ice cream. I locked two of our chefs in an abandoned mirror factory in Hackney Wick for two months, and they came out with an ice cream recipe. We serve vanilla, black and white, and coffee, which is made using a special Caribbean roast from Brooklyn Coffee, which is ground directly into the milkshake."

Coffee Shakes are made using a special Caribbean roast from Brooklyn Coffee / Source: Bleecker St. Burger
It's this unfussiness that initially made Zan wary of adding anything that might mask the flavor of the meat.
"I think people fundamentally get burgers wrong. They try to do too much. 'Chefy' people think it's their time to put everything possible into it. Other people don't source high-quality ingredients. The goal of the burger is to be one thing that's not overcomplicated by a lot of different ingredients. I don't get these burgers where they are using really good meat but they are putting foie gras on top of it. What's the point of that? It just doesn't make sense to me."
And so Liam's attempts to introduce black pudding into the mix didn't come to fruition until the team were preparing for the final of the London Burger Bash.
"It was five rounds of six entries and at the end there was a final between us, Patty & Bun, Fred's and Burger Bear. We won our first round with the Double Cheeseburger, which was probably our biggest moment to date. But for the finals, we needed to do something extra. So we tried this burger that Liam was talking about, made with Clonakilty black pudding from Cork in Ireland. We were nervous that people wouldn't even want to try it. But we worked on it, moved the black pudding around, played with the ingredients and tinkered until it was a pretty special burger. The organizer initially wrote us an email saying, 'Are you sure you want to do this?' He was nervous about it too. But I think with the competition we were facing the only way we were going to win was if we took a risk."
And so the Bleecker Black was born, providing burger-lovers across the city with a perfect example of how less is always more: two 4 oz. patties, made with cuts of aged beef and cooked a slightly pinker version of medium-rare, between which nestles a crumbly slice of black pudding that is held in place by stick-in-your-teeth orange cheese. Topped with Bleecker burger sauce, another slice of cheese and rings of white onion, the whole thing is sandwiched in a toasted, soft white sesame-seeded bun. And yes, the Bleecker Black won the competition, walking away with the Golden Patty Award.
But despite its success, the Black was not officially on sale at first, and Zan describes it as a kind of "secret" burger. But after a lot of pestering, it secured a spot on the menu when the Spitalfields restaurant opened in February 2015.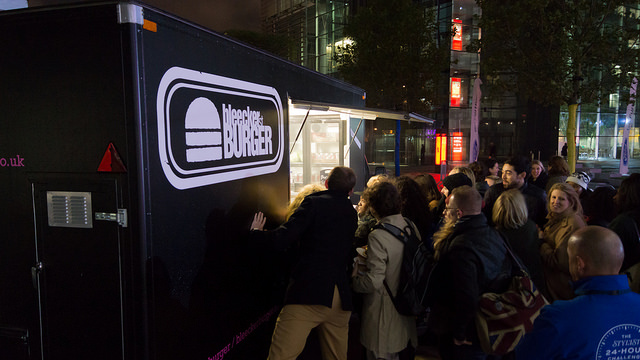 Another usual day for Bleecker St. truck / Source: Bleecker St. Burger
On sale at £10, it's the most expensive item among the Bleecker Street lineup. And while it's not the bestseller – Zan estimates about 300 fly out of the kitchen each week – it's definitely the team's most special burger.
"Black pudding is an unbelievable product," says Zan. "It has a flavor that I can't compare to anything else I have tasted, and a depth to it that I haven't found anywhere else. The makers desperately want us to go to Cork; Liam wants us to open in Cork I think. They have been doing this for decades, it's a family recipe and it's so consistently made. We get through hundreds of 650g sticks a week, slicing them into rings to make patties. It's a dream to work with."
As for imitators, "I have seen a few places on Twitter doing black pudding in their burgers, but it doesn't really bother me – I think it's pretty cool, and funny," Zan says. "We have no further plans for experimental burgers. We are special enough, we don't need specials. I don't ever want to add stuff to the menu; I just want to take things away."
Meet the author