Sydney's Best Burgers, a beefy smackdown
By ExtremeFoodies on January 6th, 2017
ExtremeFoodies asked David Hagger, author of The World Loves Melbourne in Australia, and Simon Leong, author of Simon Food Favourites in Sydney, to take part in a Burger Smackdown. The duo was asked to rate the best burgers in both cities. We flew David to join Simon to rate the best burgers in Sydney. Then we flew Simon to join David to rate the best burgers in Melbourne.

David Hagger and Simon Leong / Courtesy: Simon Leong
The duo rated each burger from 1 to 5 based on:
1) Beef - Should have a "pleasant" meaty flavor
2) Seasoning - Should have a light pleasant seasoning
3) Cooking - Should be medium rare
4) Juiciness – The center of the burger should ooze when squeezed
5) Char/Sear – Outside should have a "dry" char/sear
6) Bun – Must hold the burger together
7) Bun – Should be soft, pleasant and tasty on its own
8) Cheese – Tasty, well integrated, important
9) Condiments and sauces – Should enhance but not overwhelm
10) Overall – How does it all come together
In the first of our three-part series, here are the burgers David and Simon tried in Sydney and how they rated.
Coming next: David and Simon try Melbourne burgers and how they rated.
Wrapping up: We crown the best burger city.
The Sydney report counting down to our number 1:
---
Cost: $15.50
Score by David: 35/50
Score by Simon: 27/50
Total: 62/100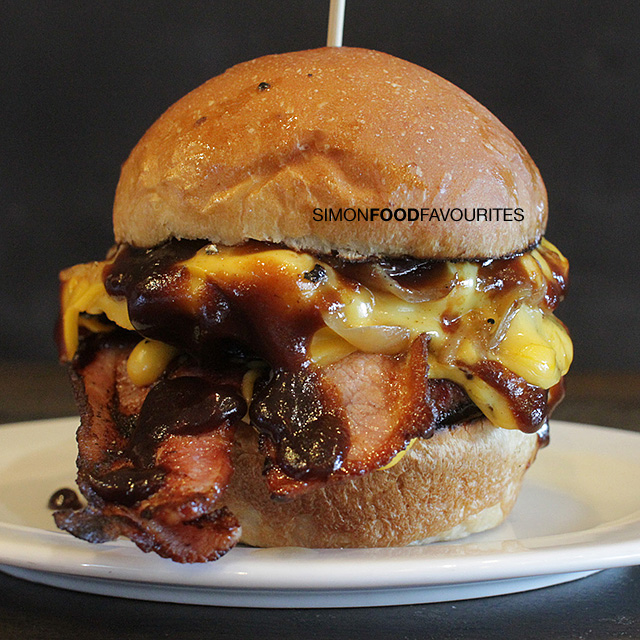 Double Bacon Cheeseburger of The Milk Bar by Cafe Ish / Courtesy: Simon Leong
"The Milk Bar by Café Ish is extremely popular for its burgers and house-made bread. We arrived later in the lunch break and found the meat patties to be quite dry; not the juicy burgers we were looking for! Even though the bun was house made, I was not a huge fan," David said. "The flavor of the patty was delightful however."
Simon summed it up.
"Unfortunately this burger fell short of our hopes and dreams. Lots of meat but was quite dry and seemed overcooked. Not much sign of the juiciness we were after. Not sure what happened here. Good to see plenty of melty cheese and the bacon was very nice. Way too much BBQ sauce, which became messy from the first pickup and overpowered the whole burger experience.
"I'm pretty sure these guys can do much better," Simon said, "and it was hopefully an unfortunate off day when we visited."
---
Cost: $16
Score by David: 42/50
Score by Simon: 30/50
Total: 72/100

Double Cheeseburger of Jack's Newton / Courtesy: Simon Leong
"Jack's Newtown is a fine burger house with neon signage," David said. "The Double Cheeseburger had a strong meaty taste and excellent patty flavor; served in a kind of open style. Interestingly they brought out a second burger to replace the first one – but we can only judge on the original burger put in front of us. The burger was suitably juicy and with appropriate char. The abundance of lettuce and tomato, as well as pickles, was somewhat curious. Yes, it cuts through the meaty burger, but there was too much and it was cold. Cheese could have been melted more across the burger. Sauce was top notch. Having said that, it was a delight to munch down on the soft bun and enjoy the overall meaty goodness of this burger."
A popular place in Newtown for a burger fix, "Jack's seems to be keeping the locals happy," Simon said. "I really liked the meat and seasoning. But due to recent changes in the NSW Health Laws, the patties were cooked more than medium rare so they didn't have that slightly pink color we were hoping for, which I think also affected the juiciness. Nice soft bun, but a tad on the cold side to the touch. Cheese definitely could have benefited from being more melted and the cold tomato distracted from the overall taste we're after about the meat and cheese. I did like the good zing of the pickle in the mix. I think if the lettuce and tomato was taken out of the burger, it would make for a better burger with a good hit of melty cheese."
---
Cost: $14, truffle fries $6
Score by David: 39/50
Score by Simon: 33/50
Total: 72/100

Hypeman with Extra Patty of Mister Gee Food Truck / Courtesy: Simon Leong
"Mister Gee Food Truck gets max points on vibe; it's more like a nightclub than a burger joint with flashing lights, long lines and pumping music," David said. "The Hypeman was an excellent burger, but almost outside the genre we were judging. In true street style it was a late-night messy kind of burger with a seemingly bolognaise type texture. If you like messy burgers, this is the place to go. Wrapped in aluminium foil, it's a messy, large, tasty, oozy burger with killer bacon! How good is the bacon! The bun fell apart easily and there was a deluge of sauce in the burger I consumed that overtook the meaty taste. Not really a classic burger, but rewarding."
Much famed and loved in Sydney, this was Simon's first visit and he said he was hoping for a classic-style cheeseburger.
"But the menu seems to change on a weekly basis," Simon said. "So, it's the luck of the draw what you'll be able to order. Great vibe and good use of the vacant spot during the night by the food truck, the Hypeman had plenty of filling, but it was structurally flawed and struggled to hold together when picked up.
"The bun was also very soft and the generous amount of sauce further weakened the structural integrity when it quickly became a bit soggy. The patties fell apart quite easily and the sauce for me overpowered the burger flavor. That bacon, however, was so good. But sadly, it's not just about the bacon. It wasn't quite my preferred style of burger, but it definitely has its passionate fans," Simon said.
---
Cost: $17
Score by David: 41/50
Score by Simon: 34/50
Total: 75/100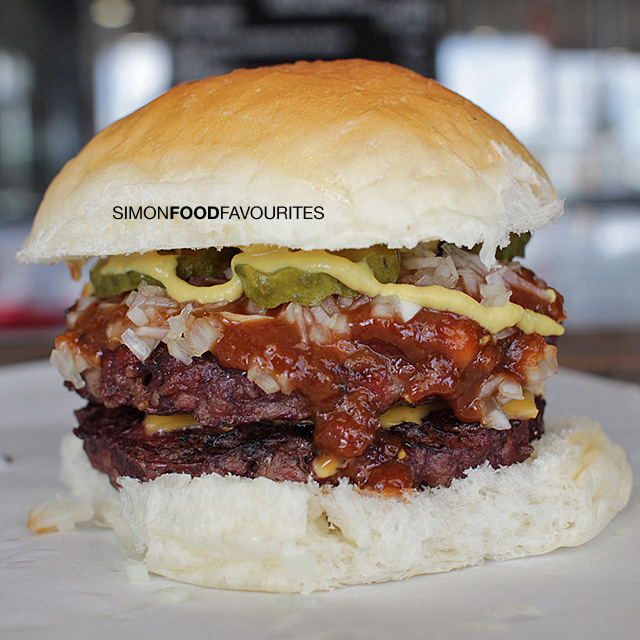 Smoked Wagyu Cheeseburger Double of Vic's Meat Market / Courtesy: Simon Leong
"Vic's Meat Market are passionate about their burgers, and they don't let you down with top grade Wagyu beef," David said. "Even though we love Wagyu, it's not always easy to get right when it comes to cooking. It can err on the side of overdone. This burger scored highly on taste, bun, quality of beef and sauce, and overall was an excellent experience. If we had to be picky, the cheese factor and juiciness weren't quite as high. Maybe we should have been more forgiving, as we arrived around 2 p.m. for lunch, possibly explaining the slightly dry patty."
Simon said he had higher hopes for this burger, as he'd had it before.
"But they've changed the way it's prepared, which resulted in a burger that wasn't as juicy as hoped. Precooked patties lacked the moistness I was craving. It's a very meaty rendition with neatly layered ingredients, which could have benefited from more sauce and melty cheese in the mix. The bun could have been softer, but held together well," Simon concluded.
---
Cost: $17
Score by David: 40/50
Score by Simon: 36/50
Total: 76/100

Cheeseburger of Pub Life Kitchen / Courtesy: Simon Leong
"The innocently labeled Cheeseburger also comes with 200g patty and some quality pickles," David said. "Also worthy of a rave, it has great meaty flavor, excellent seasoning and a lightly overcooked patty. There's not much in the way of char, but it's an excellent bun and cheese hit. We felt the sauce factor could have been improved."
"It's quite a meaty sized patty to help balance the amount of bread on the bun," Simon said. "I think the flavor of the sauce took over too much in the balance of the ingredients and there wasn't as much char flavor as I'd hoped."
---
Cost: $13.90
Score by David: 36/50
Score by Simon: 42/50
Total: 78/100

American Cheeseburger Double of Burger Project / Courtesy: Simon Leong
"With legendary Neil Perry behind these burgers expectation is high," David said. "Also chef-driven, the burger boasts high quality beef. I found the burger to be simple; it is compact compared to most others. Simplicity is a good thing, but felt it was a notch below some of the other burgers we tasted.
"Meaty flavor was on point, but our double patty action was slightly dry, and cheese and sauce were not as impressive as some of the other burgers. Our order was messed up but hopefully didn't influence our scores."
Simon says he has had better on other occasions.
"But this time around, the burger fell short compared to other burgers around town. Meat patties were pleasant tasting but lacked juiciness, and the cheese was not melted and plentiful enough for my liking. The bun was pretty good and soft though, but the other elements tended to let it down."
---
Cost: $18
Score by David: 41/50
Score by Simon: 43/50
Total: 84/100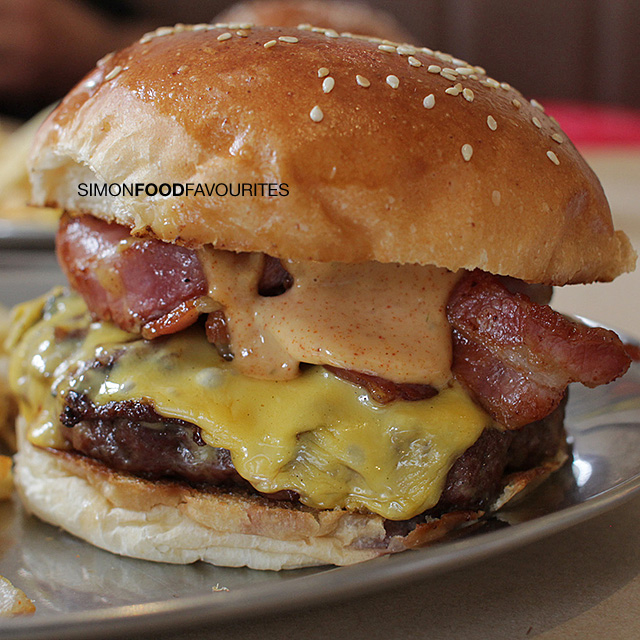 Heavy D of Pub Life / Courtesy: Simon Leong
"Many rank Pub Life Kitchen as the best. This is no dark dingy burger joint, but somewhat refined with decent architecture and light streaming through the large windows," David said. "Elegant chairs and tables greet the diner, along with tablecloths. Not really a diner style vibe, it's more like somewhere you'd take your date for a romantic interlude.
"The Heavy D comes with a massive 200g patty, making it almost like a double. Then again, I know burger lovers who would also make this a double and have no problem dropping 400g of beef patty. But the oozy American cheese also gets you. As does the streaky bacon. It's great to have bacon in a burger that has extra flavor! Then there's the awesome special sauce. A grade!"
Simon really enjoyed the Heavy D. "It covers all the right ingredients to please with a decent juicy patty in the middle. A bit more char for extra smoky flavor would make it even better for me. It has a good amount of melty cheese and nice amount of seasoning.
Pub Life Kitchen has a "great friendly staff and a pleasant seating area to relax and soak up the burger goodness," Simon added.
---
Cost: $20 ($15 for the cheeseburger + $5 for extra pattie)
Score by David: 44/50
Score by Simon: 41/50
Total: 85/100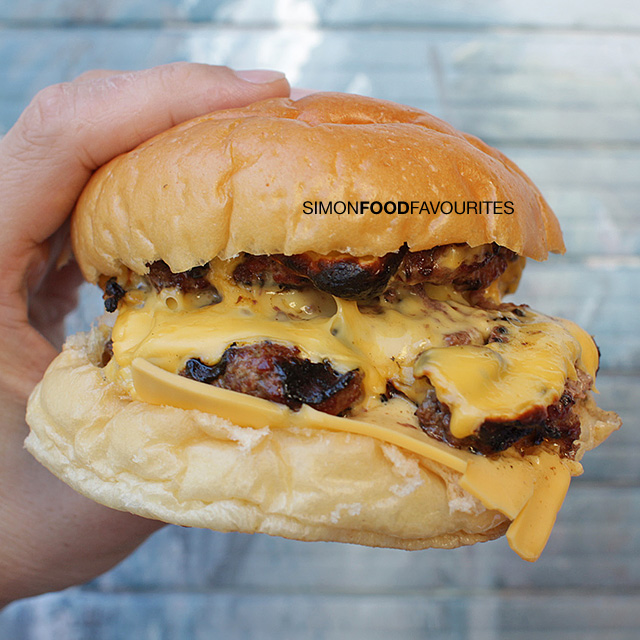 Double Cheeseburger of Lord Gladstone / Courtesy: Simon Leong
"The Lord Gladstone looks like an innocent pub from yesteryear. But once inside, it has not only grunge charm but amazing burgers," David said. "The Classic Double Cheeseburger has a wonderful char, delightfully soft NYC-style milky bun, triple cheese is a winner, and big smoky meat flavors. Meaty flavor, sauce and overall balance were top notch. Pickles, ketchup and mustard brought a welcome tang and cut through the meat. The golden chips rate a mention. We enjoyed this mother of a burger in the hip courtyard facing a stunning mural."
"This was my first visit," Simon said, "and I was pleasantly surprised to find such a great tasting burger. This burger had lots of appeal with robust smoky flavor achieved, plenty of melty cheese and a very soft bun, although it struggled to hold its shape a bit by the end. Definitely one to keep in mind for the burger punters."
---
Cost: $17.90
Score by David: 44/50
Score by Simon: 48/100
Total: 92/100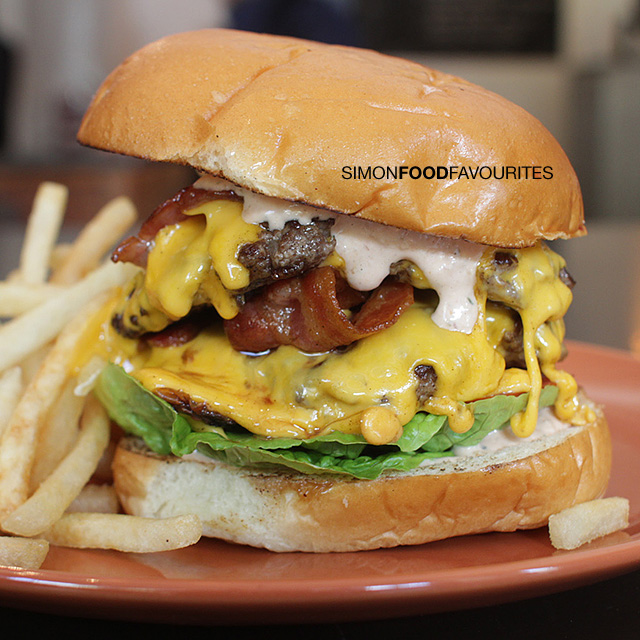 Double Banger of BangBang Cafe / Courtesy: Simon Leong
"BangBang is a modern attractive burger house in stylish Surrey Hills. It breaks a cafe mindset in serving top-notch burgers," David said. "The Double Banger resonates with quality double Wagyu patties that manage to keep their "juiciness," double cheese on point, delightfully crispy bacon, lettuce and tomato that complement and not steal the show, and a compelling BangBang sauce.
The burger looks a treat, shiny and glistening with patty revealing superb char and cheese cascading down the burger provoking maximum drool. The soft milk bun holds together and, overall, this is a melt-in-your-mouth sensation."
A definite crowd-pleaser for any burger fan, Simon said the burger has "a nice interplay of ingredients held together in a decent soft bun. Good amount of melty cheese balanced with sauce and fair amount of nicely seasoned patties. Addictive bacon within and the side of fries helps complete the meal and fill the stomach with a bit of burger joy."
---
Cost: $13
Score by David: 48/50
Score by Simon: 44/50
Total: 92/100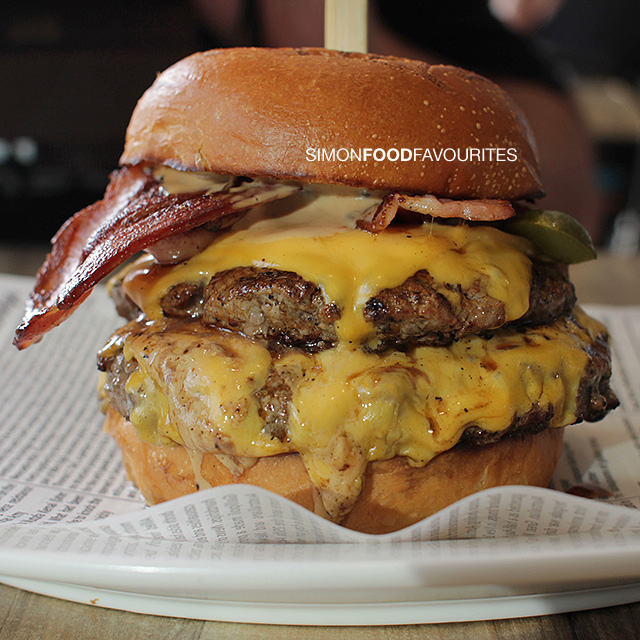 The Fatties of Bare Grill / Courtesy: Simon Leong
"Bare Grill has to be one of the best value burger joints in Australia," David said. "Pull in to the seaside burger joint and be amazed by the affordability and quality of the burgers.
"A clue is the grill: they have both the flame grill and the flat grill, a two-part process. The patty is juicy and wonderfully charred in the right places. Smoky flavors draw you in but are not overbearing. The bacon here is suitably crisp and the special sauce is addictive and compelling. Everything comes together in a cacophony of burger goodness, including meaty flavor, bun, cheese and juiciness. We love the brand name burned into the bun. One of the best burgers in Australia at a sensational price."
"A generous sized burger makes it good value," Simon concurred. "It has plenty of smoky flavor and good crisp bacon. Melty cheese to please. It's definitely a bit of a hunger buster for the price."
---
Cost: $12
Score by David: 46/50
Score by Simon: 48/50
Total: 94/100

Classic Cheeseburger of Bar Luca / Courtesy: Simon Leong
"The Bar Luca Cheeseburger is no slouch either," David said. "The burger scored highly on meaty flavor, bun, cooking, char and sauce and was rated highly for its overall balance. The only weakness was that our burger could have had more cheese for a cheeseburger."
Simon agreed it's a decent classic take on a cheeseburger with plenty of sauce and meatiness, "although an extra slice of cheese would have brought it to the next level for me. Good bun, smoky char and tasty sauce."
---
Cost: $16
Score by David: 49/50
Score by Simon: 48/50
Total: 97/100

Cheeseburger Double of Mary's / Courtesy: Simon Leong
"This place is "sexy as," and the burgers are compelling," David said. "We doubled up on the Mary's burger and it has to be one of the best in Australia. All burgers come with fries at a reasonable price, which is always giving back to the punters.
"This burger could be described as luxe. It just works. The bun is soft. This is not a large burger by any stretch, but it ticks all the boxes. Patty was superb, with a first-class meaty flavor. Seasoning is also compelling, as is the perfectly cooked patty with utmost juiciness. It was then great to experience decent char on the patty along with a superbly soft milky bun that holds together. Cheese was on point, as was the tangy sauce. Overall balance was off the charts. This is where the burger comes into its own with superb balance. This could be our new addiction. Grungy decor at the city venue is appealing.
One of his favorites in Sydney, which Simon says he owes to ExtremeFoodies founder Jeffrey Merrihue for suggesting the double when he visited Sydney, "This hole-in-the-wall burger shop in the CBD is loud and in your face, but their burger is smallish and refined to please.
"I love the balance of ingredients encased in a super soft bun. Melty cheese, smoky flavor notes and well defined layers of appeal bring this baby home as one my one faves," Simon said.
---
"We both agreed on the overall winner: Blame Canada, which must be experienced personally to appreciate what a magnificent burger it is," David said.
"Bar Luca has been a long standing favourite for many burger lovers in Sydney, Simon agreed. "Their passion and dedication to producing a great tasting burger is truly evident when you can smell the kitchen charring their patties all the way down the road."
---
Cost: $15
Score by David: 50/50
Score by Simon: 48/50
Total: 98/100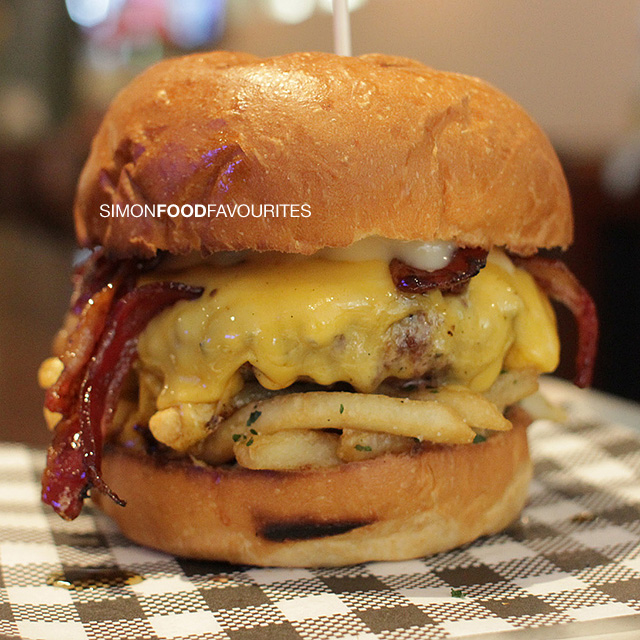 The Fatties of Bare Grill / Courtesy: Simon Leong
"Bar Luca have hit the high notes with Blame Canada," David said. "We were impressed by the team in the kitchen with Sarah and their sheer burger dedication. Blame Canada is an alluring temptress, coming at you with salty and sweet. The poutine is ground-breaking and unique, and forms the base of the burger. The quality double patty meat is on point. The candied bacon is addictive and the cheese is perfection.
"The overall balance of the burger is superb. It's all going on, and yet nothing is out of balance.
"You can judge a burger by whether you would keep coming back for it. Yes, we would. And only $15! Voted the best we tasted in Australia."
When a burger special becomes a highly popular main menu item, you know the restaurant is on to something special, Simon said.
"The Blame Canada is a must for any burger punter in Sydney. It's a large sized burger with all the ingredients working well together. Juicy, slightly messy from the generous saucing and smoky goodness prevails, he added.
Prices are subject to change. Please check for current prices.
---
Meet our contributors in this mission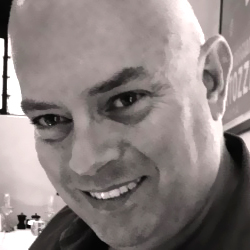 David Hagger is a self-described bald headed man and former rock vocalist with a penchant for finery, convivial dining and festive culture.David worked as an accountant in many industries and gets buzzed by numbers....Read More
I'm a passionate Sydney food blogger, keen photographer and international cuisine lover. I strive to provide comprehensive and honest reviews of restaurants, cafés, bars, pubs, festivals and products to whet your appetite...Read More
---
Download the ExtremeFoodies app for the Essential Eats wherever you are on the planet: ExtremeFoodies
For more fantastic foodie content, connect with ExtremeFoodies across social media: