Essential Eats in Bogotá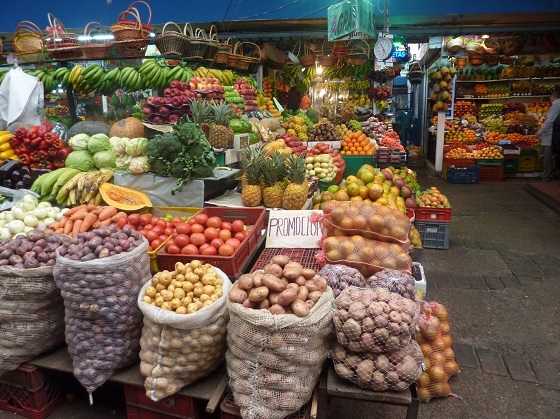 Potatoes and corn play an important role in Colombian cuisine. / Courtesy of Karen P. Attman
Essential Eats in Colombia's capital
Colombian cuisine is often referred to as mestizo, or a mix of Spanish, indigenous and African influences, with a bit of Arabic thrown in. An important player in the cuisine in Bogota is the humble potato, which takes on a variety of colors and shapes rarely seen elsewhere. Corn is also an ingredient that pops up again and again, often becoming a backdrop for the many different methods of preparing meat.
Breakfast in Bogota can mean feasting on arepas, soup, tamales or even lechona (oven-roasted pork). People break up their morning by snacking on "medias nueves" around 10 am., then eat a hefty corrientazo lunch at noon, and tank up with "onces" in the afternoon. After all that eating activity during the day, dinner can run late, from 8 to 10 p.m.
The city's restaurants are divided into dining areas that sound like an alphabet soup: Zona C, T, G or M all stand for different areas of the city where there are an abundance of restaurants, street food and cafés. Additionally, Usaquén and the Parque de la 93 have more upscale dining. There are some essential eats that can't be missed when visiting Bogota, including some traditional foods and drinks that have been eaten here for centuries.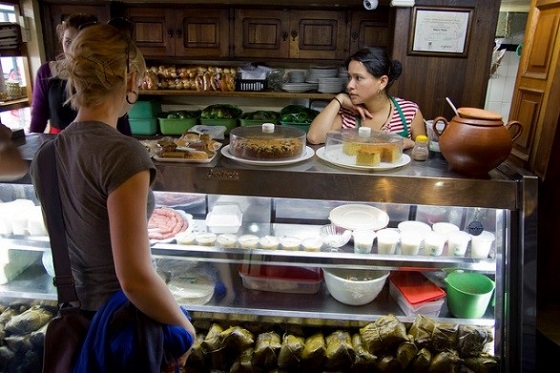 La Puerta Falsa, open since 1816, is Bogota's oldest restaurant. / Courtesy of William Neuheisel via Flickr
Just a half block from the main square (called, of course, Plaza de Bolivar) in Bogota you'll find the side door of a church. When Bogota was founded, people used to gather there to talk about the goings on around town, and it was natural that just across the street a small store would open to sell typical foods of the time. That small store became a tiny restaurant called La Puerta Falsa, which opened in 1816, and is Bogota's oldest functioning restaurant.
Rumor has it that Simon Bolivar would meet with Manuela Sáenz for a chicha here in the early 1800's. True or not, today La Puerta Falsa can give you a dose of history and satisfying food all in one visit. The hot chocolate, known as chocolate santafereño, is award winning, but what you can't miss here are the tamales. Corn flour filled with a flavorful pork and vegetable stew is wrapped in banana leaves and boiled. Open up the leaves and find a steaming hot lunch (or breakfast if you want to eat it as the residents do).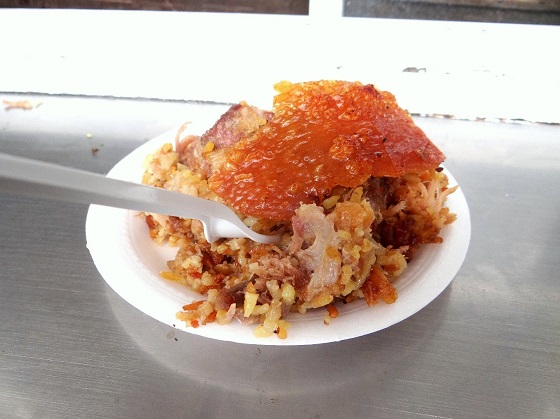 Lechón is roasted for eight hours at Lechonería Doña Rosalba at Paloquemao market. / Courtesy of Karen P. Attman
Paloquemao is an amazing, maze-like market selling everything - exotic fresh fruits, vegetables, flowers and meats. Near the loading dock behind the fish section you'll find the Lechonería Doña Rosalba. For as little as $2 a serving you can try lechón, a typical dish from the Tolima area of Colombia. It's a whole pig, about 3 feet long, stuffed with rice and vegetables, sewn up and oven roasted for eight hours. The result is a crunchy toasted skin on the outside and flavorful meat on the inside.
Martha, the owner's niece, serves the flavorful meat on a plate, scooping it out of the body of the pig and even snapping off a piece of the crispy skin to put on top. Bon appetit - Colombian style.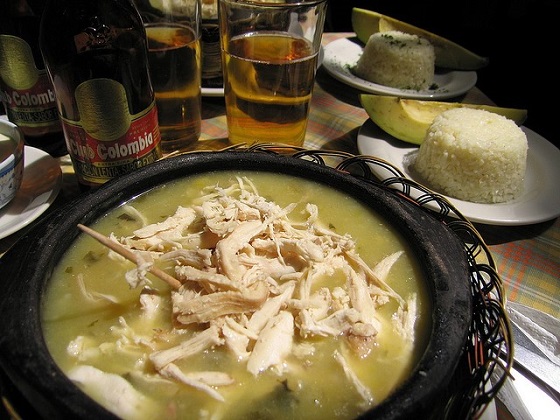 Go to Casa Vieja for ajiaco, loaded with potatoes, herbs, cream, corn and capers. / Courtesy of Morten via Flickr
Ajiaco santafereño
From colonial times, Spanish recipes have mixed with local traditions, and one of the results was a soup typical of Bogota called ajiaco. Now a symbol of Bogota's culinary scene, this soups boasts three types of potatoes (sabanera, pastusa and criolla), guasca (a green herb), and corn on the cob, with avocado and rice on the side. Spanish ingredients like chicken, cream and capers are also added. Colombia is the only place to eat a truly traditional ajiaco, since some of those ingredients are hard to find outside the country.
One of the best places to get a true ajiaco is at Casa Vieja. The decoration of the restaurant - terra cotta floors, wood furniture and window frames adorned with flowers - feels like having a meal at home … if your home is an old farmhouse in Colombia. The soup is made with the best quality traditional ingredients and the portions are large. In fact, the restaurant promises if you are still hungry after eating the first bowl, you can have a second one on the house.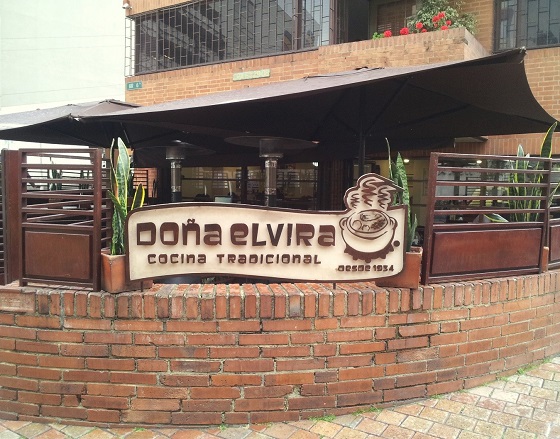 Dona Elvira, open since 1934, is renowned for its chicharron, or fried pork rinds. / Courtesy of Karen P. Attman
Next to the imposing Museo Nacional, a jail-turned-museum, Doña Elvira has been quietly serving typical Colombian food since 1934. The tables outside crouch under the giant umbrellas and standing heaters typically used to fight off the Bogota rain and cold. Peer through the glass walls into the main dining area at lunchtime and you will see business people busy eating empanadas, cocido boyacense and other typical Colombian dishes.
One of their outstanding dishes, though, is of Spanish origin – chicharrón, made Colombian style. They have chicharrón carnudo, which is the typical fried pork rinds that have layers of meat and fat, all fried to a crispy deliciousness. But don't miss their chicharrón totiao, where the pig skin is dried out, and then fried so the skin explodes into an inflated, crispy and unforgettable treat.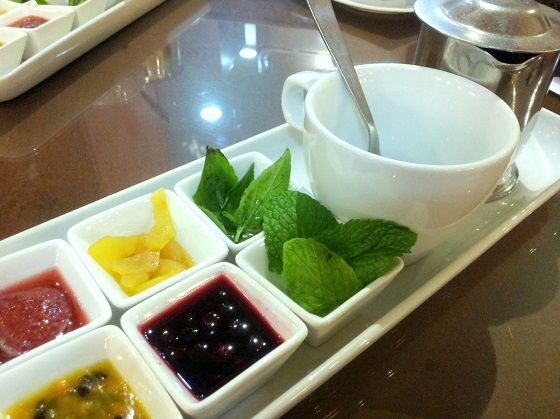 For the best herbal fruit tea in Bogota, head to the historic La Florida tea room. / Courtesy of Karen P. Attman
Established in downtown Bogota in 1936 as a tea room, La Florida is part of Bogota's history, a city heritage site and a place of urban legends. Walk up the winding wood staircase of this restored house to the upstairs dining area with its Republican decoration and waiters dressed in black aprons and bow ties, and enter into another time.
Although they have a full menu, La Florida is known as a salón de onces, a Colombian version of a tea room where you can get your afternoon hot drinks and warm breads. The menu has agua panela (raw sugar tea), chocolate santafereño, tinto (Colombian black coffee), and tea. But what you can't get anywhere else it their version of an aromatic, a type of herbal fruit tea. Here it means getting served a long tray with small ramekins filled with maracuyá (passion fruit), agraz (a wild blueberry), strawberry and papayuela, basil and mint. You can mix these fruits as you want in your tea cup, add hot water, wait for a few minutes and then taste your aromatica from Bogota.

Leños y Palos serves generous portions of carne asada with a side of live music. / Courtesy of Karen P. Attman
Carne asada
When walking around downtown Bogota, you'll often see a memorable scene. Small restaurants will place near the entrance, by a window, a barbecue grill typical of the cowboy country on the plains of Los Llanos. Bars are placed in a teepee shape with a wood fire built in the middle, and large slabs of meat are hung on the bars at just the right distance so the meat cooks slowly, leaving it juicy and full of flavor. A bit Flintstonesque, and thoroughly enjoyable.
Not far from the Gold Museum in downtown Bogota, Leños y Palos takes this a step further and gives an added ambience. In addition to the flames licking at the meat, they also have a small stage set up with typical instruments from Los Llanos: harp, maracas and a cuatro, a small four-stringed guitar. At lunchtime the band sings and plays musica llanera while diners enjoy their meal: large quantities of meat with rice, avocado salad, papas saladas (potatoes) and yucca, all served on rustic wood plates.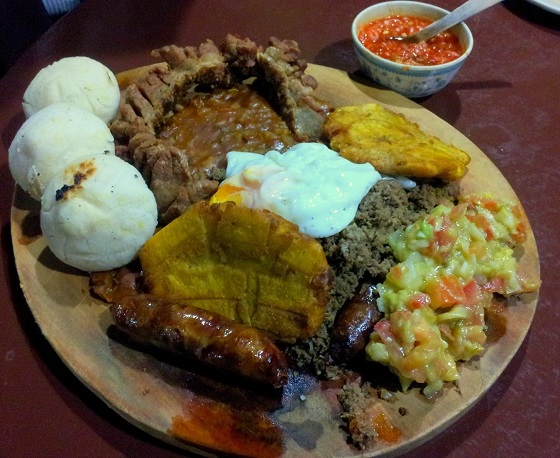 El Envigadeño is the place to eat bandeja paisa, a feast of beans, meat, veggies and more. / Courtesy of Karen P. Attman
On the way between the Gold Museum and the National Museum, take a moment to walk from Carrera 7 up to El Envigadeño. This tiny restaurant is not concerned about attracting tourists, and looking at it from the outside you'd probably never consider entering. But this is the place to eat a bandeja paisa in truly Colombian surroundings, so have a look in.
When you duck through the door you'll find yourself in a room with whiskey and Coke bottles hanging from the tin roof and random objects, like an old saddle, steam irons and radios from the 1930's, perched in odd places. There are also truly Colombian objects like pistols and machetes. Welcome to Antioquia, a part of Colombia that was the original home and birthplace of the bandeja paisa.
The bandeja paisa here is one of the most delicious I've had; red beans cooked in a delicious gravy, flavorful ground beef, house-made pork sausage, thick, crunchy patacónes (fried plantain), fat round corn arepas, fried egg, rice, a generous amount of chicharrón, and an avocado salad. This is all served in large portions, which means it is something for the brave. And the hungry. Which could, actually, be Colombia's national anthem. Enjoy.
Meet the author