5 Essential Chinese Eats in LA's San Gabriel Valley

San Gabriel Valley Chinese Cultural Association parades through downtown. / San Gabriel Valley Chinese Cultural Association
This sunny California suburb has a growing international reputation for Chinese cuisine
There was a time when Chinatown was the hot spot for Chinese food in Los Angeles. But San Gabriel Valley has not only taken over, it has gone way beyond. Best known for its historic mission, the once quiet suburb of 40,000 has become a thriving community of Chinese restaurants, Asian banks and multilingual travel agencies. The San Gabriel Square, a 219,000-square-foot retail development, is known colloquially as the Great Mall of China.
Immigrants from China, Taiwan and Hong Kong began occupying the San Gabriel Valley area in the 1970s, after the "White Flight." The immigrants preferred living in the suburban cities of Monterey Park, San Gabriel and Alhambra rather than the touristy, crowded Chinatown. The Asian immigrants became a dominant cultural force in the area -- drawing even more residents. The Asian population of San Gabriel Valley has increased from about 16 percent to almost 30 percent since 1990. By comparison, the Asian population in Los Angeles is less than 15 percent.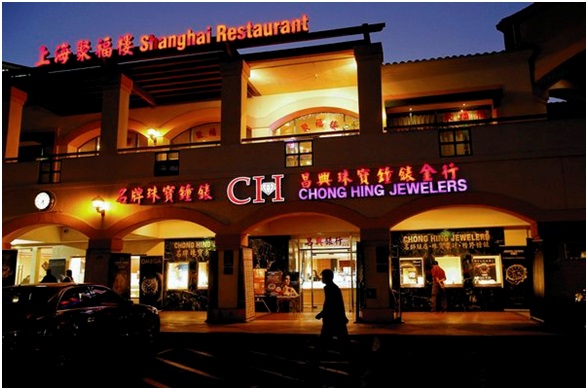 Chinese residents and tourists are turning San Gabriel Valley into a boom town. / Courtesy of newsrender.com
There are so many Chinese restaurants in San Gabriel Valley you can find specialty eateries of all kinds, from regional foods to hot pot to knife-cut noodles. When Angelenos speak about "the best" in San Gabriel Valley, they don't talk about "the best Chinese restaurant" but the best xiao long bao, the best beef noodle soup or the best Szechuan.
Valley Boulevard alone sees so many restaurant openings an entire blog could be dedicated to the one street. While it's almost impossible to narrow the restaurants in this area to a "best of" list, here are some of San Gabriel Valley's best diverse offerings:

Soup dumplings at Wang Xing Ji. / Courtesy of Gourmetpigs.com
A giant soup dumpling you have to drink with a straw seems like a gimmick, but the taste of Wang Xing Ji's dumpling actually stands on its own. This bun the size of your hand is filled with pork and crab and plenty of the best part of xiao long bao, the broth.

Toothpick lamb at Cheng Du Taste. / Courtesy of Gourmetpigs.com
This new player made a splash with rave reviews from Jonathan Gold. Soon, lines formed out the door for this Szechuan restaurant and the restaurant is soon to expand. Crowd favorites include the toothpick lamb. Cubes of lamb dusted with cumin and other spices are served on toothpicks for easy eating. Other favorites are sweet, succulent white fish swimming in a numbing green peppercorn broth, and the secret menu item (no longer a secret since its mention in the Los Angeles Times), lionfish.

Fried lobster at Newport Tan Cang. / Courtesy of gourmetpigs.com
Newport Tan Cang is actually owned by Cambodian natives and serves Chinese food with Vietnamese and Cambodian influences. The seafood restaurant draws a crowd nightly for their house special lobster. The lobster, priced by the pound, is fried with chiles and green onions.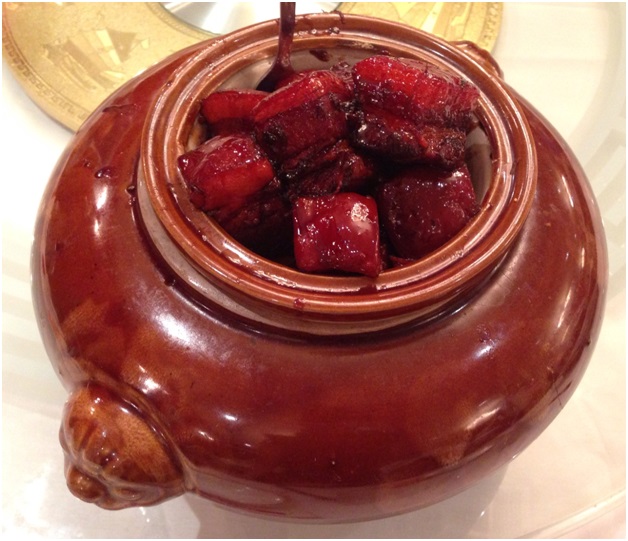 Old Alley Pork at Shanghai No. 1. / Courtesy of gourmetpigs.com
As the newest dim sum restaurant in town, Shanghai No. 1 is also becoming my new favorite. You can't go wrong with their high quality classic dim sum dishes, supplemented by Shanghainese specialties like the pan fried pork buns, sheng jian bao. When you come for dinner, don't miss the Old Alley Pork, where caramelized chunks of braised pork are served in clay pots.

Mooshu cat ears at JTYH. / Courtesy of gourmetpigs.com
No one knows for sure what the acronym stands for. When this noodle shop opened, they merely took the name of the grocery store in the strip mall. JTYH specializes in Shanxi-style dao xiao mien, or knife-cut noodles. In practice, the thick and chewy noodles are closer to shaved off a ball of dough than cut. I prefer them stir fried in a shacha sauce. An equally popular dish is the Mooshu cat ears. The cat ear-shaped noodles are thicker and chewier, tossed with scrambled egg, wood ear mushrooms and pork.
Meet the author