Essential Eats in San Diego
Local specialties in California's second largest city
San Diego is famous for its fish tacos, like this one from Pacific Beach Fish Shop. / Courtesy of
Jennifer Lee
With its nearly year-round pleasant weather and close proximity to the ocean, San Diego has attracted people from all parts of the world. As a result, San Diego has a diverse mix of cultures and ethnicities, and you can find nearly every type of cuisine represented in the city. Due to its history and shared border with Mexico, there is a significant Mexican influence. Some of the most regional specialties in San Diego are a reflection of this influence. Three well-known San Diego dishes are California burritos, carne asada fries and fish tacos.
California Burritos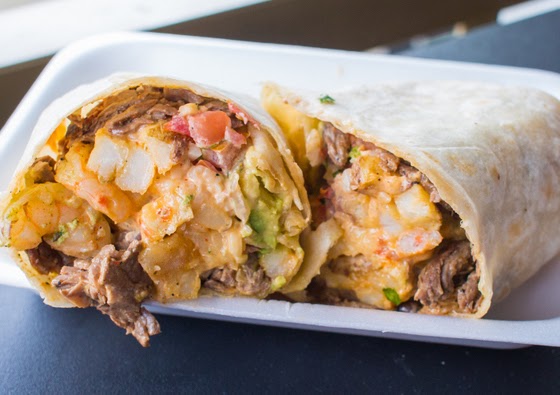 For the best California burrito in San Diego, head to Lucha Libre. /
Courtesy of
Jennifer Lee
While the name implies a state-wide dish, this local specialty is almost exclusive to San Diego and some parts of Southern California. The exact origins of the burrito are unknown, but it emerged in San Diego taco shops in the 1980s.
The burrito starts with a grilled flour tortilla, that is usually stuffed with carne asada, cheese, guacamole, sour cream, pico de gallo and, most importantly, French fries (though some taco shops use potatoes instead). It soon became very popular with area surfers, looking to load up on carbohydrates after their morning surf.
You'll find the California burrito on the menu of nearly every taco shop in San Diego. With so many places offering it, the debate of who makes the best version of this beloved specialty is highly contested. My current personal favorite is Lucha Libre.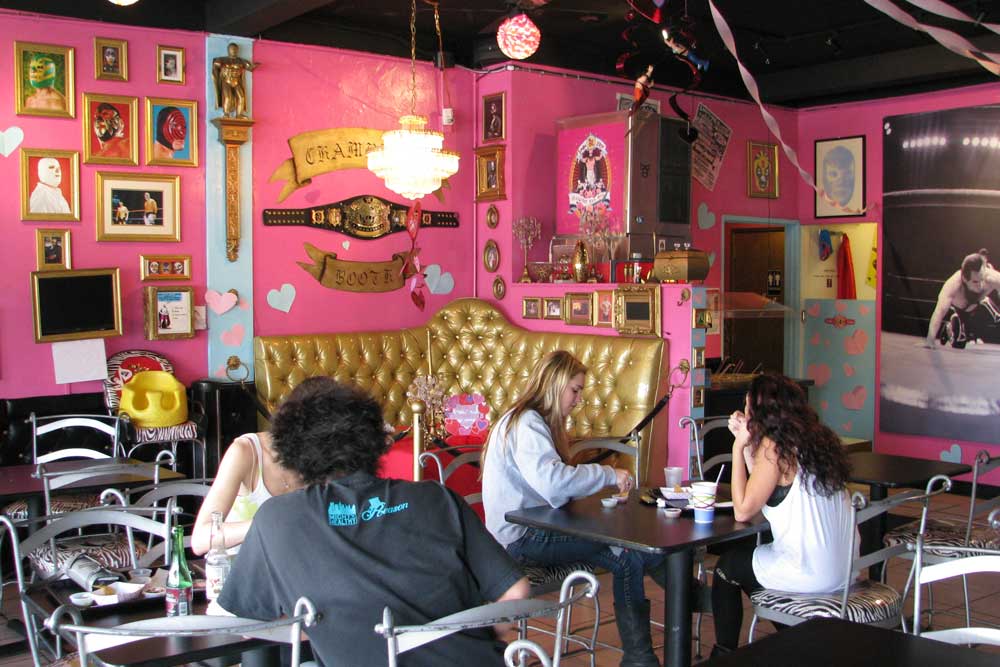 Lucha Libre garnered national attention for its Surfin' California burrito. / Courtesy of Lucha Libre
This wrestling themed restaurant has garnered national attention in the media and on TV shows like "Man v. Food." The constant line of locals shows just how popular this place is. The restaurant is most famous for its Surfin' California burrito, a combination of the surf and turf burrito with the classic California burrito. The burrito is stuffed with carne asada, shrimp, French fries, avocado slices, pico de gallo, cheese and a secret creamy chipotle sauce.
While you're there, make sure to check out the complimentary salsa bar, which has nine varieties of sauces to go with your burrito or the tortilla chips that come with each order. If seafood isn't your thing, the regular California burrito is pretty darn good, too.
Tip: If you have a party of four or less, try to reserve a seat at their Champion's Booth. Decked out in gold, those who sit at this coveted table are treated like kings, with food brought out and chips and drinks refilled for you with the ring of a bell.
Fish Tacos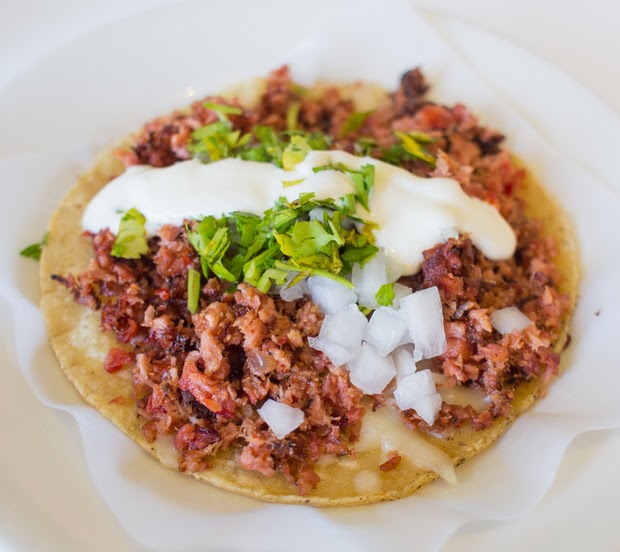 The classic fish taco is served on a corn tortilla and topped with a cream sauce and shredded cabbage. /
Courtesy of
Jennifer Lee
San Diego has access to extremely fresh seafood, making seafood-based dishes quite popular. It should come as no surprise then, that San Diego is famous for its fish tacos. While there are many variations, the most classic ones use a white fish (usually mahi mahi) that is grilled or deep fried and topped with a cream-based sauce, shredded raw cabbage and salsa, and served on a corn tortilla.
Like the California burrito, the origins of the fish taco are murky, though it is widely recognized that the current classic form emerged somewhere from Baja California. Ralph Rubio, founder of the Rubio's chain, is largely credited with introducing the fish taco to the San Diego audience after he discovered it at a local stand in San Felipe. Unable to convince the owner to open a stand in San Diego, Rubio asked the owner for his recipe and then opened up his own place in San Diego.
I've had a difficult time finding the "best fish taco in San Diego," but here are two of my favorites: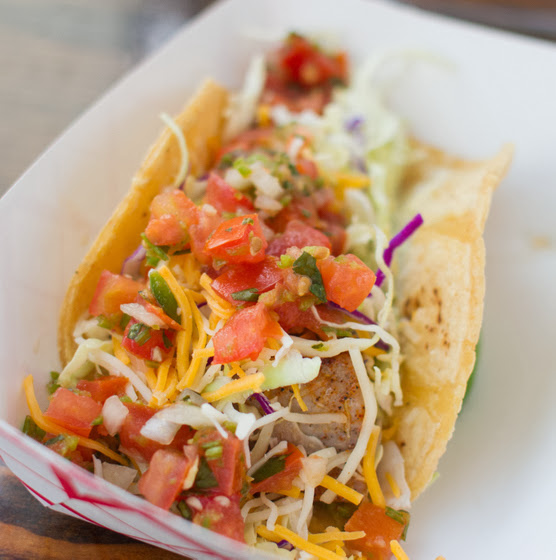 Pacific Beach Fish Shop's TKO Fish Taco cradles grilled mahi-mahi with special seasonings and tropical salsa. /
Courtesy of
Jennifer Lee
With no freezers on-site, fresh fish is brought in daily. You can choose from a variety of seasonings and preparations, but definitely make sure to try their award-winning TKO Fish Taco: grilled mahi-mahi, flavored with their special Fish Shop seasoning blend and topped with a refreshing tropical salsa.
Tip: They have a dedicated to-go orders phone line in case you don't want to fight the crowds.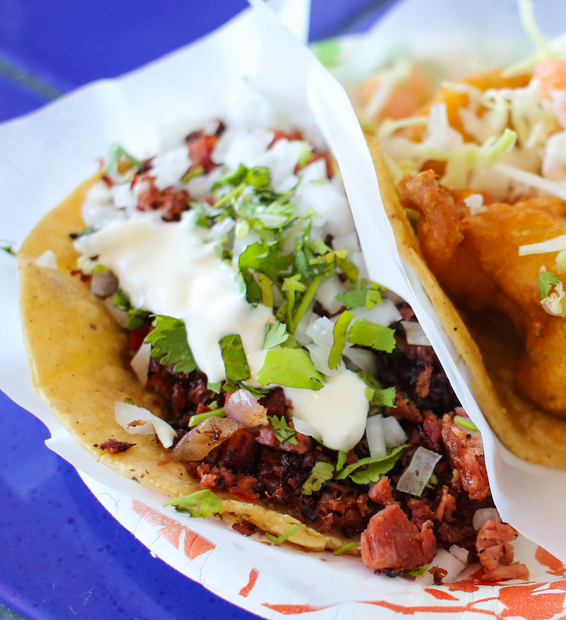 TJ Oyster Bar is renowned for its smoked tuna and fried fish tacos. /
Courtesy of
Jennifer Lee
What started as a taco and tostada cart in Tijuana has blossomed into three successful restaurants in San Diego. TJ Oyster Bar offers a variety of fresh Mexican-style seafood. Two very popular items are the smoked tuna taco and the fried fish taco. The smoked tuna taco is piled high with smoky, jerky-like pieces of tuna, cilantro and a white cream sauce. The fried fish tacos have a seasoned crunchy batter and are a steal at $1 each.
Carne Asada Fries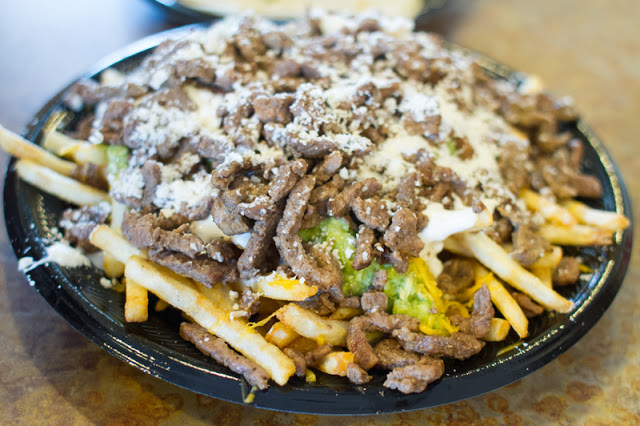 Lolita's Taco Shop tops its Carne Asada Fries with cheese, sour cream and guacamole. /
Courtesy of
Jennifer Lee
San Diego is also credited with creating carne asada fries, a dish that is mainly a southwest regional specialty. Again, the exact origins remain unknown. The ingredients are similar to the California burrito: a large plate of fries, topped with carne asada, Cotija cheese, sour cream and guacamole. Because of its high calorie count (a typical order averages around 2,000 calories), it's generally eaten during late-night drinking and meant to be shared. One of the best places to get them is Lolita's Taco Shop.
Lolita's Taco Shop doesn't skimp on ingredients. /
Courtesy of
Jennifer Lee
The thin-cut fries stay crispy even as they are piled high with carne asada, Cotija cheese, sour cream and guacamole. They don't skimp on the ingredients, creating a perfect ratio of fries to toppings.
Tip: Order your fries "extra crispy" to ensure they don't become soggy before you eat them.
Meet the author