Seven Super Sandwiches in St. Louis

Courtesy of St. Louis Eats and Drinks
St. Louis has always been a sandwich town. There are good ones everywhere, and it takes very little searching to find great ones. Interestingly, unlike barbecue and pizza, there is no mystique about it, no barstool arguments over what the best ones are or who serves them. Most folks have their favorites, but fisticuffs aren't the protocol for this.
There are a few idiosyncratic things to remember in the Gateway City. We do not, for instance, stoop to the provincial arguments over what the proper name of the poor boy/sub/grinder is. No. Here, they are simply titled "sandwiches." The pronunciation of the "n" and the "d" is totally optional. They can be had hereabouts, certainly, but we decided to look for other things. No sense in getting involved in arguments with a dozen Italian lunch spots.
Is there anywhere else in the United States where one goes to a Chinese restaurant and orders a sandwich? We have a suggestion on where to get the unique St. Paul sandwich. No, that's not a typo. You can only get the St. Paul in St. Louis, but they're pretty common.
And if you order a sandwich that gives you a choice of cheese and Provel is offered, try it. It's very local, a processed cheese to be sure, and a hallmark of St. Louis-style pizza. It is faintly smoky and melts wonderfully.
What follows is a guide to Seven Super Sandwiches in St. Louis.

Courtesy of St. Louis Eats and Drinks
Set in a strip mall in a polite suburb, the family-owned Daily Bread started out as just a bakery with a few sandwiches. No more. It grew, it moved and it's busier than ever. They're operating a smoker now, and offering pizzas, too. Still, it's the sandwiches that draw us.
Chief among the attractions is the smoked salmon filet, found in the Bistro Sandwiches section of the menu. The fish is hot-smoked, so it's flaky, and the sandwich has it broken up some, thus easier to eat. Cradled in a house-made baguette, it sports a mild goat cheese along with its lettuce and tomato, the whole thing moist but not messy, and altogether seductive. Pick up a pastry when you order at the counter, if not for now - this is a generously sized guy - then to take home for later.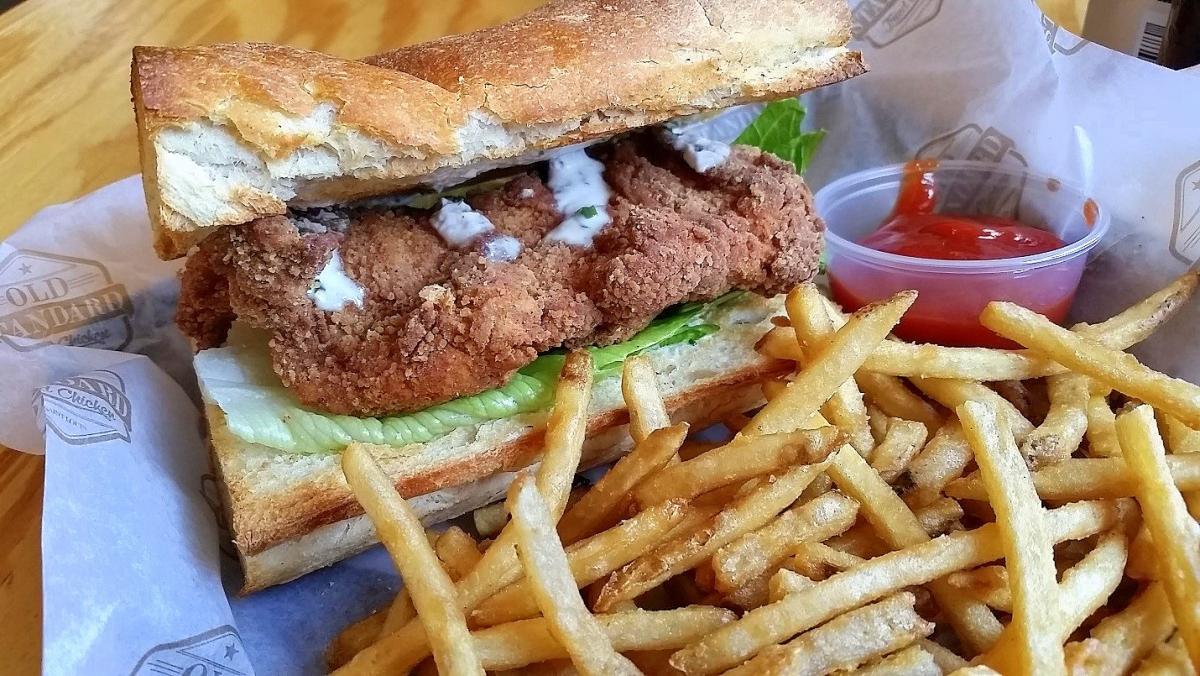 Courtesy of St. Louis Eats and Drinks
Old Standard is "all about the chicken." This converted garage was probably the most talked-about entry in the 2015 Year of the Fried Chicken in St. Louis. Chef Ben Poremba, who owns other two nearby restaurants, Olio and Elaia, brings us some first-rate sides and breadstuffs, too. But it's the sandwich we want to go for. The chicken, a boneless breast, is carefully seasoned and stands out from the crowd. Slightly peppery, with hints of garlic and onion, it is greaseless and crisp to a fault. It's on a chewy roll, but we suspect most folks abandon the bread and dig in with their fingers, the way fried chicken is supposed to be eaten. Accompanied by some country-style house-made pickles and potato chips - that's crisps, in British English - but we like the French fries - or chips, to return to the Queen's vernacular - on the side instead of their thinner siblings. A fine selection of bourbon whiskies complement your meal.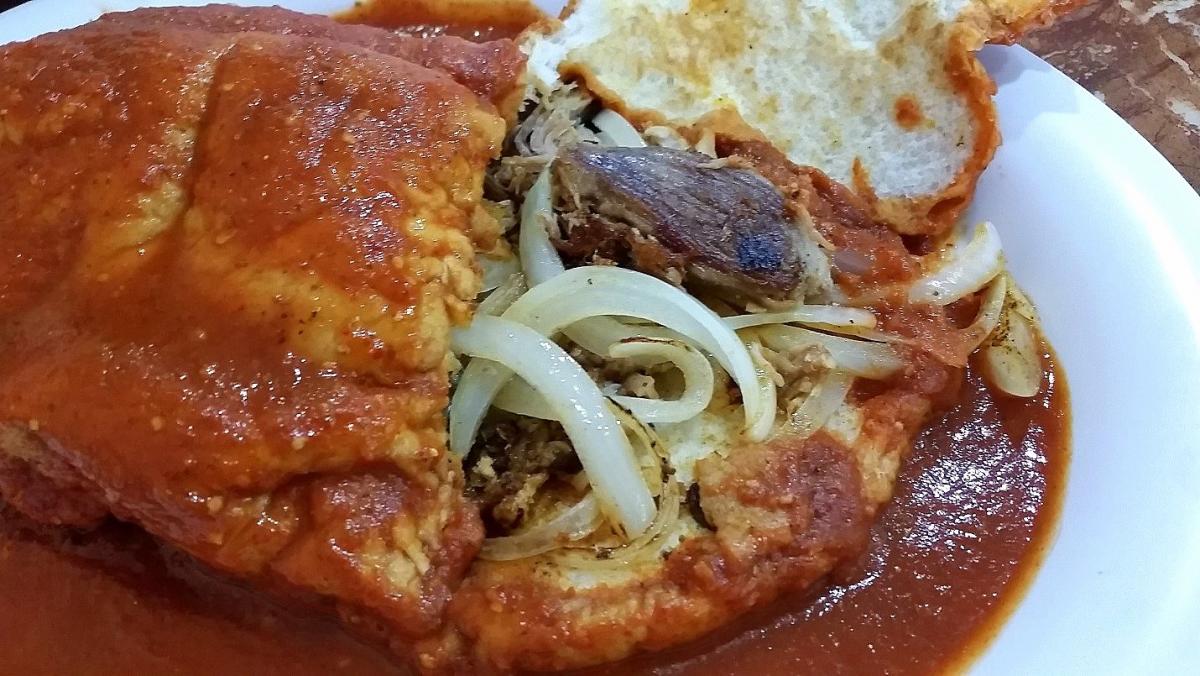 Courtesy of St. Louis Eats and Drinks
Ahogado means "drowned" in Spanish, and a torta ahogado is vaguely like a hot roast beef sandwich with gravy. Taqueria Durango's is quite traditional, the crusty roll filled with a generous amount of carnitas, savory bits of pork. That's crowned with some grilled onions. Everything is smothered in a red chile sauce, much like is found on enchiladas. That includes the top of the sandwich roll, which has been individually dipped in the sauce. That definitely makes this a knife-and-fork experience. In a nondescript line of storefronts set back from the road, Taqueria Durango offers a pretty authentic experience, and the overall menu makes it a good place to introduce pals to Mexican food beyond those fast-food emporia that mar the landscape in so many places. And, yes, that is a grocery store next door.

Courtesy of St. Louis Eats and Drinks
St. Louis is certainly a barbecue town. Unlike our cross-state rival, Kansas City (which is in Missouri, not Kansas, of course), where the steer and the hog battle it out for supremacy, we're definitely pork-centric. Beef is usually a perfunctory gesture at most 'que spots hereabouts. So it is with considerable surprise that we fell in love with a beef brisket sandwich at one of the less rustic barbecue spots in town. Salt + Smoke offers it as a platter as well, but the sandwich is irresistible. Smoky slices of the rich cut, amazingly tender, are folded onto a large bun, the whole thing topped with narrow shreds of fried onion ("tobacco onions") and mayonnaise that uses nibbly bits (and we think some fat) from barbecued pork, what are called burnt ends, catnip to many barbeque fanatics. Good side dishes, your choice of which comes with the sandwich, and good people-watching in this old-but-trendy neighborhood. They close when they run out of food or the crowd disperses.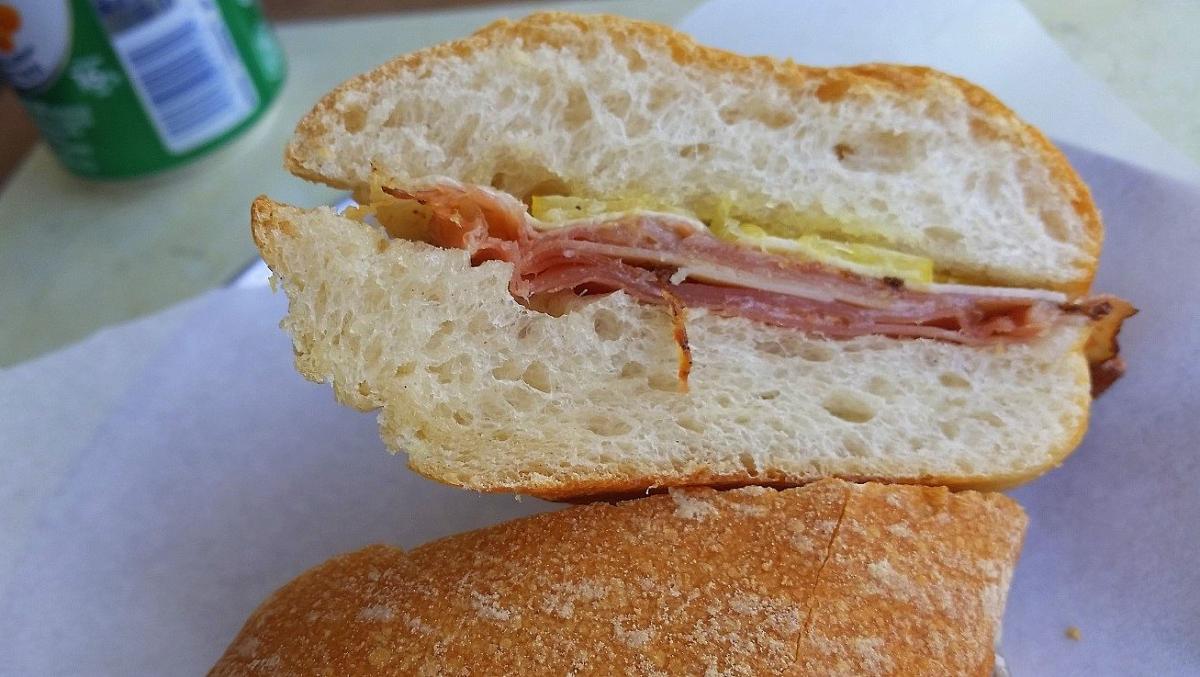 Courtesy of St. Louis Eats and Drinks
Salume Beddu, the small retail shop for cured meats and a few other carefully curated items for high-end Italian food preparation, serves lunch. Simple and rustic, the lunches provide tantalizing tastes of what's available retail. Toward the weekend, there are specials, but the regular menu is definitely worth exploring. As much as we like the 'nduja bruschetta, what really stands out is the sandwich with speck. Speck? Italian? Yes, via the Alto Adige, in the north of Italy. Unlike the German speck, this is rather like prosciutto. Paper-thin, of course, and laid out on a piece of baguette, it's accented with Gruyere cheese and thin slices of preserved lemon. That's what lifts it beyond the expected ham-and-cheese results. The retail shop is open later than lunch hours.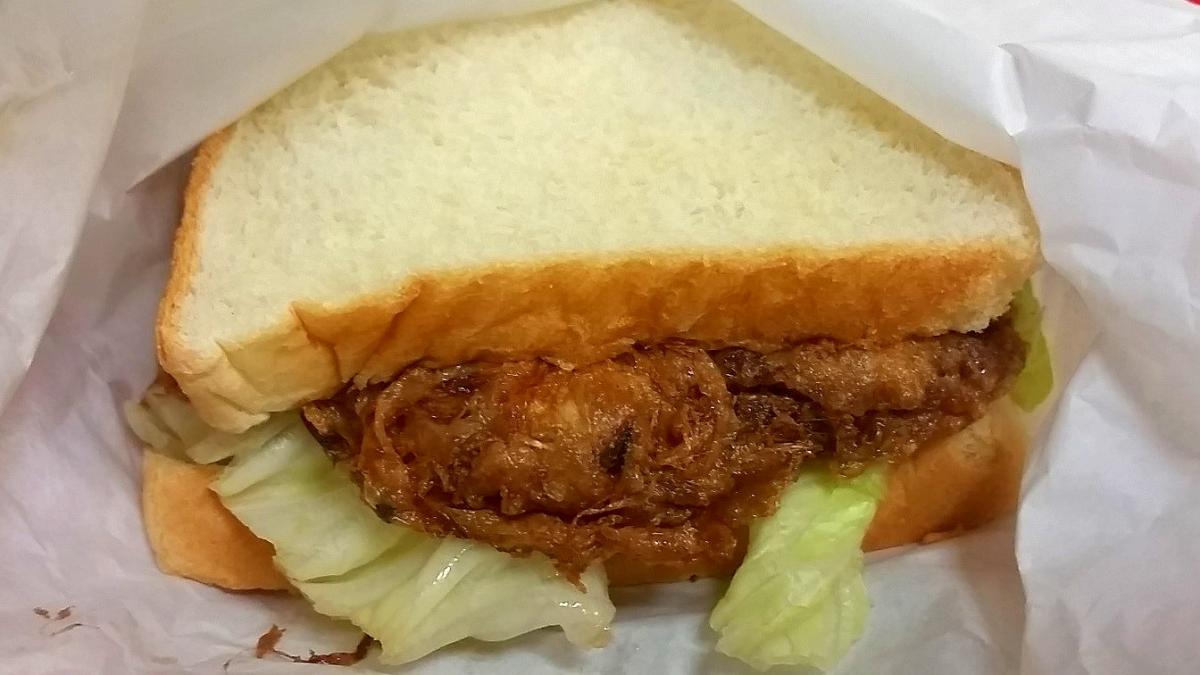 Courtesy of St. Louis Eats and Drinks
Only in St. Louis will you find the St. Paul sandwich. The history is tantalizingly vague. There's no tale at all about why it's called a St. Paul, and it began appearing in local Chinese restaurants sometime after World War II. A descendant of egg foo yung, a beaten egg is mixed with vegetables and your choice of meat, then fried as a patty and served on plain white sandwich bread with dill pickle slices. (Don't opt out of the pickles. They provide a nice balance of tartness to the whole thing.) St. Paul sandwiches can be found at every hole-in-the-wall Chinese takeout spot in town, but our preferred spot, Wong's Inn, not only delivers a hot and relatively greaseless one (get the deluxe, which is packed with various meats), it's centrally located and has plenty of parking. There are even a couple of small tables if you just can't wait.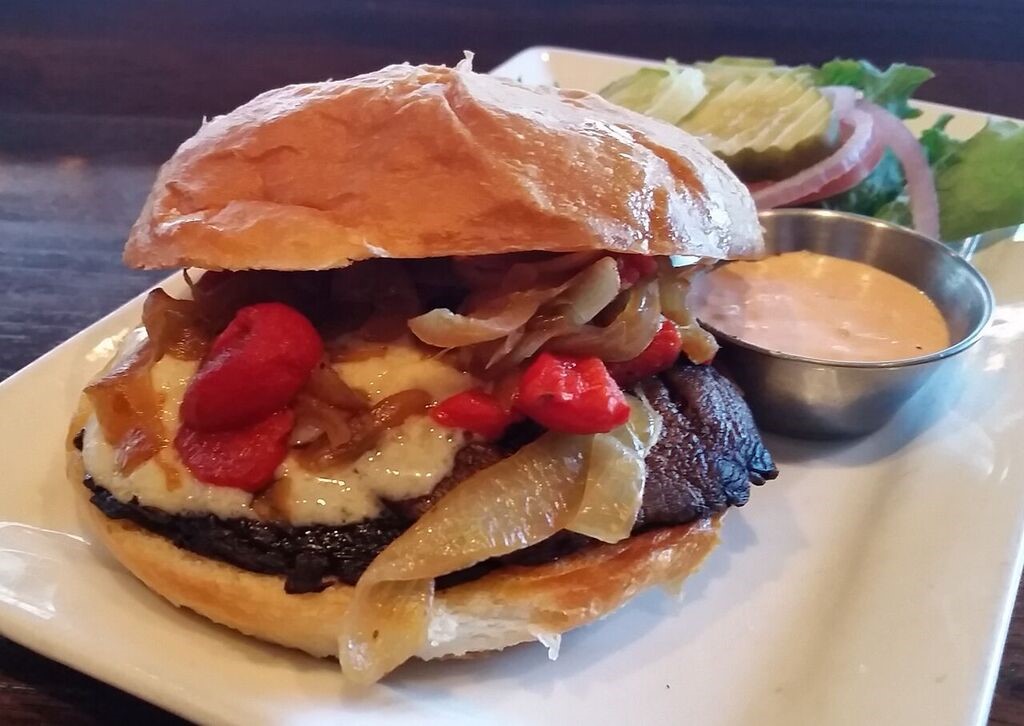 Courtesy of St. Louis Eats and Drinks
Leave it to a first-rate burger spot to put out a prime vegetarian sandwich. Steve Gontram, who ran the acclaimed restaurant Harvest for many years, took a year off from his role as chef, and then decided he wanted to do burgers. 5 Star Burgers is the result, and it's a tribute to his efforts that the portabella stack sandwich is as satisfying as even a dedicated carnivore could want. A butter-toasted bun holds one large sautéed portabella mushroom cap - or several smaller ones. They're topped with caramelized onions and roasted sweet red pepper. And somehow, they manage to get a goodly amount of gorgonzola cheese in there, as well. It's a wonderfully messy sandwich, but worth it. Also worth noting: There's a generous pour on their classic cocktails (sometimes served with music from The Great American Songbook) and fine lamb and pork burgers, as well as the variety of beef-based ones.
Meet the author