10 Questions with Michelin Star Chef Guillaume Galliot
By ExtremeFoodies on February 17th, 2016

Chef Guillaume Galliot has earned his second Michelin star at The Tasting Room in Macau. / Courtesy of www.qk123.com
The former Portuguese colony of Macau has become a globally significant game and entertainment hub where big casino hotels and resorts compete to have the most famous chefs and prestigious upscale restaurants. In the world's richest city, it requires something truly outstanding to top the competition, which is exactly what Chef Guillaume Galliot has done by winning his second Michelin star at The Tasting Room.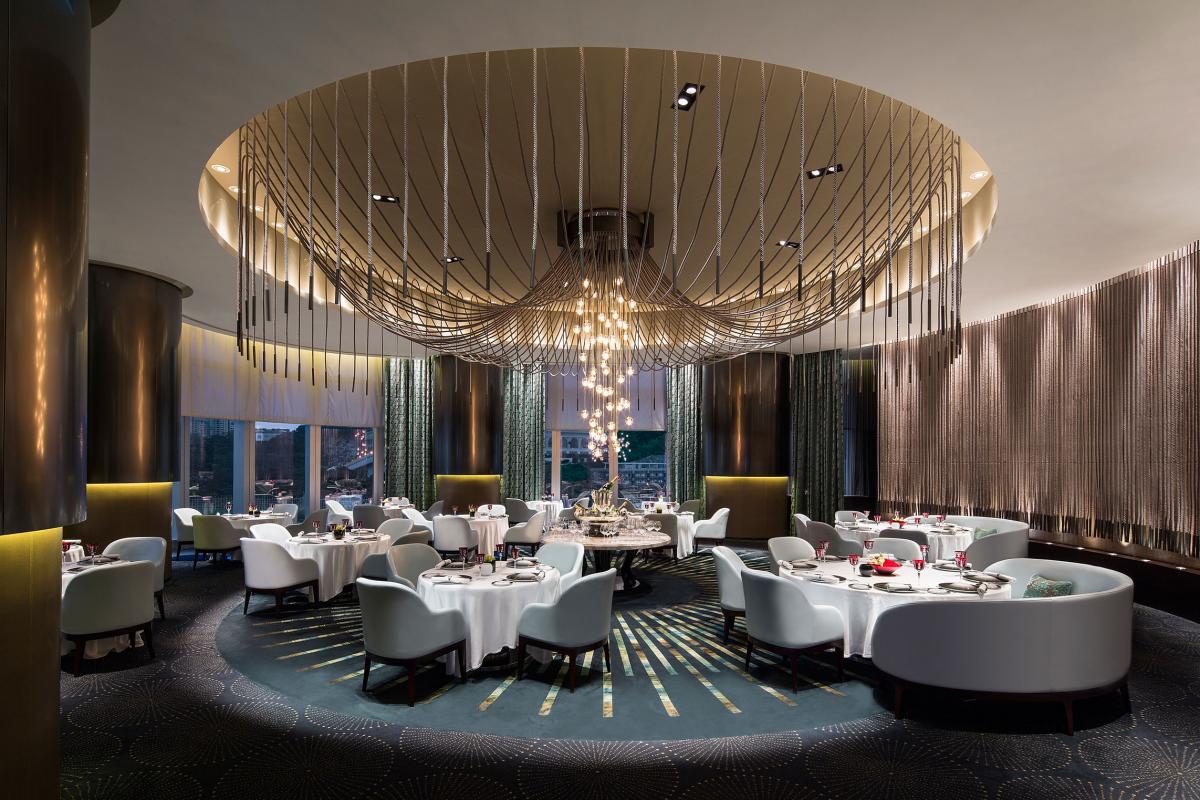 The luxurious Tasting Room in the Crown Towers at City of Dreams in Macau. / Courtesy of City of Dreams
Galliot's elegant restaurant is inside the Crown Towers, one of three hotels in the City of Dreams entertainment complex. Galliot and his team have created a truly European experience where the ingredients and their flavors are showcased in a cleverly designed and lavish environment. Galliot is French, but his creations pay homage to all European cuisines. Chef Galliot demonstrates his inspired creations in such dishes as Lobster Nage. Using coconut milk, coriander and mint, he pays homage to the lush abundance of tropical Asia.
Galliot takes his ingredients and attention to detail seriously. Diners are served the very best, from organic meat supplied by Hugo Desnoyer to Mons Cheese's cheese, 150-year-old cognac from Hardy Cognac and chocolates from Amedei and Valrhona. Galliot believed no detail is too small to ignore in creating a truly great restaurant.

Chef Galliot's Lobster Nage / Courtesy of The Tasting Room
ExtremeFoodies interviewed Galliot to learn more about his journey to achieve his second Michelin star.
Question: How would you describe your culinary journey to become the chef you are today and what sparked your interest in becoming a chef?
Answer: My culinary journey started when I was 15 doing vocational training in a little restaurant in my hometown in the Loire Valley to figure out if it was something I really wanted to do. Then, at 16, I went to culinary school for two years and worked in many restaurants (both small and starred restaurants) where I learned to cook everything from scratch.
Q: What changes did you make to the Tasting Room to achieve the second star?
A: Actually we didn't change too many things. We kept the same culinary direction - authentic, pure, selecting and working with the right produce. We kept the focus on the taste, flavors and consistency, which takes a lot of time and commitment from our entire team.
Q: How did you feel when you heard the news?
A: It was a great moment for me and the team because we have been working very hard through the years to maintain our first star and it was both a surprise and relief that we maintained our one star the last three years and took it up a level on the fourth year since we opened. I also did not sleep the night before as I was very nervous!
Q: Would you say you had a signature dish?
A: Yes. We have a few and we respect and work with seasonal produce. Currently the black truffle season is back. Now is the time to try our celeriac soup with truffle.
Q: Can you give an example of how you take a classic French dish and create an updated rendition while maintaining the essence of French cuisine?
A: Our French onion soup is a favorite of many regulars. The classic bouillon and confit onions are topped with onion ice cream, which is a playful rendition on the temperature and texture. We finish with Parmesan cheese on top, as it brings a lovely saltiness and seasoning to the dish that we serve in a teapot at the table.
Q: What would your last meal be and who would you eat it with?
A: I would cook my last meal at my mum's house and we will open all our best wines in the cellar that we've been collecting over the decades. I would eat it with my family.
Q: What do you miss (if anything) about living in France?
A: I miss doing my morning daily marketing. In Asia, we work through suppliers to get our produce, but in France I would go marketing daily. It's where inspiration is at its best. When I'm back in France, I love going to the markets and creating my menus as I shop.
Q: Where do you find your inspiration in the kitchen?
A: It's always based on what I want to eat, and the association of flavors that I trust work well together. Traveling is also a large part of where new ideas come about - everything from the food culture of these different countries, the people, art, history and culture.
Q: How would you describe the current state of the Macau restaurant scene? Where do you go to eat?
A: The local dining scene in Macau is colorful and flavorful. From the variety of street food to local Portuguese restaurants as well as traditional Macanese food alongside a slew of Chinese regional food offerings. We are spoiled for choice here. The Macau fine dining scene is also growing, especially with more celebrity chefs coming to open their outfits.
I follow my wife's direction, as she does the legwork for where to go eat - from a 50-year-old family-owned congee shop to the latest new concept, she knows it all. So, depending on what we feel like, there's plenty of choices for all sorts of cuisine.
Q: What are your future plans for the Tasting Room? Are you looking to achieve three Michelin stars?
A: Well, three Michelin stars is the culinary Holy Grail. Most chefs in pursuit of culinary excellence would pursue the honor. We just got our two stars, so my focus is to continue working really hard to maintain it. Hard work pays off and someday, I hope that our team will reach the Holy Grail.
Watch here a video of Galliot creating his famous Contemporary French Onion Soup.