The World's 10 Oldest Restaurants
By ExtremeFoodies on December 21st, 2015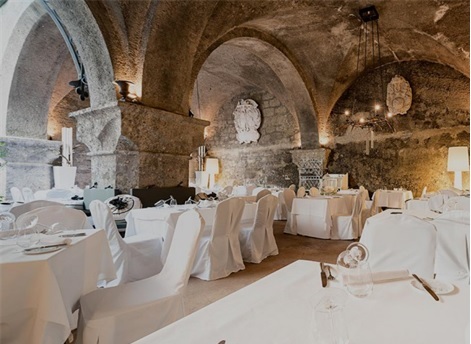 St. Peter Stiftskeller in Austria, has been in continuous operation since 803. / Wikipedia.com
These days, restaurants come and go in the blink of an eye. Studies show 90 percent of restaurants that make it past the five-year mark will only operate for a decade, making a 1,200-year-old restaurant seem extraordinary. Still, a handful of centuries-old establishments have survived. From an Austrian restaurant founded by monks at the end of the Dark Ages to a tavern that saw the early constructs of the United States government, here are the world's 10 oldest restaurants still in operation.

Courtesy of stpeter-stiftskeller.at
The world's oldest restaurant is still housed among its original structure built in 803 at St. Peter's Abbey in Salzburg. The Austrian restaurant was first noted by the scholar and monk Albuin, a devout follower of Charlemagne. While the structure has been renovated and expanded numerous times, some of the numerous dining rooms, often decorated in grand baroque style and vintage chandeliers, are still carved into the stone cliffs adjacent to the Abbey's original structure and has served royals, dignitaries and celebrities for centuries. Most recently, Karl Lagerfeld hosted a grand fête celebrating the premiere of his film "Reincarnation." In addition to the historic landscape, Stiftskeller is also famed for its weekly Mozart-themed dinners in which performers in period costume play Salzburg's most famous music.
While Bianyifang no longer operates from its original structure — a small workshop that produced duck and chicken food — it still holds its title as the oldest Peking duck restaurant in Beijing, carrying on the tradition that started during the Ming Dynasty. The restaurant opened its doors in 1416, when the Forbidden City was still under construction. Along with its storied history, Bianyifang claims its duck is cooked in a closed oven and — unlike ordinary roast ducks — never touches a naked flame. Prized for its thin, crisp skin, the duck is sliced in front of the diners by the cook. The meat is eaten with scallion, cucumber and sweet bean sauce with pancakes rolled around the fillings. Diners at Bianyifang enjoy an exceptionally high pancake-to-duck ratio, so you'll never reach that maddening moment when you run out of wrapping.
Founded in 1421 by German monks in what is now present-day Old Town Stockholm, Zum Franziskaner has become a legend with locals and tourists. While not in its original structure (it has been rebuilt numerous times), the current building dates to 1906 and boasts the same brew as the day it opened. Throughout the years, it has served as a sailor tavern and a high-end restaurant. Today, fans into its interior of wooden stalls, ornate cabinets and ceiling artwork to savor bottled German and Austrian beers, hearty sausages and such local offerings as roe deer with lingonberries, fennel, goat's cheese and potato cake.
What started as a confectionary in 1465 is now the oldest known restaurant in Japan. Still renowned for its desserts, Honke Owariya has been serving monks, shoguns and emperors its famous soba dishes for hundreds of years. The buckwheat noodle dish can be eaten hot or cold, depending on the season, and the restaurant uses Kyoto spring well water to make its delicious soup broth. Its signature soba is topped with shiitakes, shrimp tempura, Japanese leeks and grated daikon. It's a favorite dish of the Imperial family, which often dines at Honke Owariya upon their return from Tokyo. But don't let that intimidate your visit. Locals love the outpost set within a quiet street just south of the Imperial palace. Its beautifully aged wooden exterior houses traditional tatami-matted dining areas and beautiful gardens typical of the area.
Be prepared to dine like Parisian royalty when visiting the Michelin rated La Tour d'Argent, or "the Silver Tower," which claims to have once been frequented by King Henri IV. Established in 1582, impeccable views of Notre Dame Cathedral and the Seine can be enjoyed alongside some quintessential French fare — roast duck (which are raised on a private farm and come with a numbered certificate), pâté and fish. The restaurant even inspired the 2007 film "Ratatouille." The wine cellar — one of the best in the world — survived World War II and is guarded around the clock. It houses more than 450,000 bottles detailed in its 400-page wine list. In its ornate salon, diners can expect over-the-top formal service and opportunities for celebrity watching.
Mention of this East Berlin eatery has been documented as early as 1561, but it wasn't developed into a tavern until 1621. Having served everyone from Napoleon and Beethoven to Angela Merkel and international dignitaries in the years since, Zur Letzten Instanz has endured a lot of history. A block from the historic Berlin Wall, which divided the city's communist-controlled East Berlin and free West Berlin, the building is one of the few remaining houses that adjoined the old town wall, now a crumbling medieval structure. The building had to be rebuilt in 1963 after extensive damage from the Second World War was finally deemed irreparable. Today, the two-floor bar and restaurant with wood paneling and tile offers such iconic German dishes as grilled pork knuckle and meat patties along with freshly poured pints in its beer garden.

Courtesy of whitehorsenewport.com
Known as the oldest operating tavern in the United States, Newport's White Horse Tavern exudes New England charm and history while serving serve the freshest fish, clams and lobsters from Narragansett Bay along with just-picked produce from local Rhode Island farms. Founded in 1673, it soon became a meeting place for the Colony's General Assembly, Criminal Court and City Council and became billed as the "birthplace of the Businessman's lunch" when public officials would often charge their meals to the city treasury. One of its first owners, William Mayes Jr., was a well-known pirate, which embarrassed the British troops who had taken over Colonial Newport amid the American Revolution. Mayes' mischievous behavior only gave him brief control over the tavern before his sister took over. For a brief period in the late 19th century, White Horse Tavern became a rooming house before receiving a massive restoration in the mid-1900s, thanks to donations from the Van Buren family. It reopened as a tavern in 1957 under the guidance of the Newport Historical Society and has served traditional American fare to locals and tourists ever since.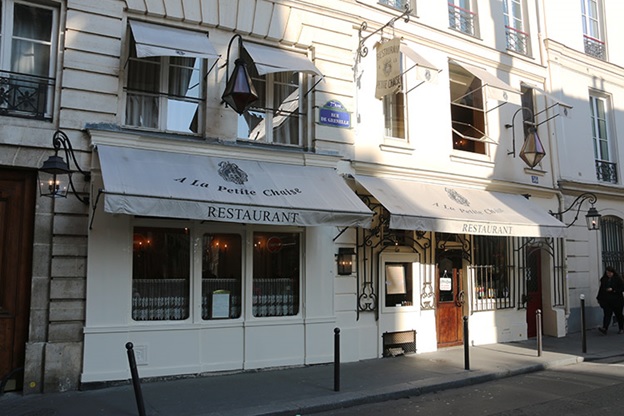 Courtesy of alapetitechaise.fr/zoom.php
Guarded by its original iron gate in the 7th district of Paris, A la Petite Chaise continues to serve exquisite examples of classic French cuisine. Since its establishment in 1680 by Georges Rameau, a wine merchant, it has been a central meeting spot for political, social and artistic circles, hosting impromptu cabaret acts, heated political discussions — sometimes ending in arrest, and literary readings by such prominent writers as Colette. Diners pack the house for its slabs of foie gras, escargots and French onion soup capped with sharp gruyere cheese, truffled asparagus, decadent fish dishes and salads of boudin noir with fresh greens.
Botín is the oldest restaurant in the world, according to the "Guinness Book of Records." In the heart of Madrid, at the foot of the Arco de Cuchilleros and next to the Plaza Mayor, it was founded in 1725 and was a meeting place for Madrid's bohemian and literary set. Such famous authors as Ernest Hemingway ("The Sun Also Rises"), Frederick Forsyth ("Icon and the Cobra") and James Michener ("Iberia") have made mention of the Castilian-style restaurant and its rich history. Popular dishes include suckling pig, roast lamb and baby eels, often cooked within the restaurant's original wood-fired oven. Its other signature dish is sopa de ajo, an egg poached in chicken broth and laced with sherry and garlic. Spanish artist Francisco de Goya is rumored to have worked as a waiter there while waiting to get accepted into the Royal Academy of Fine Arts.

Courtesy of frauncestavern.com
In terms of American history, New York City's Fraunces Tavern has played a prominent role in shaping the future landscape of the United States. First named the Queen's Head in 1762 by Samuel Fraunces, who purchased the former mansion from New York City Mayor Stephanus van Cortlandt's son-in-law, the Georgian-style building was an early meeting place for the Sons of Liberty — a secret society that fought to protect the rights of colonists. By the time the American Revolution was in full force, Gen. George Washington had taken residency in the building, making it his formal headquarters and eventually using the facility to negotiate peace with the British as well as form the early constructs of the United States' government. Today, Fraunces Tavern operates as a whiskey bar and restaurant, serving traditional American fare from Manhattan's South Street Seaport.