The World's Best Chefs: An Evening at Attica with Ben Shewry
David Hagger, ExtremeFoodies's expert from Melbourne, spoke with owner and head chef Ben Shewry about why Attica is the best restaurant in Australia and ranks No. 32 on the San Pellegrino World's Best 50 Restaurants. He also enjoyed a Chef's Table evening at Attica, grateful to get a booking with a waiting list that stretches for months.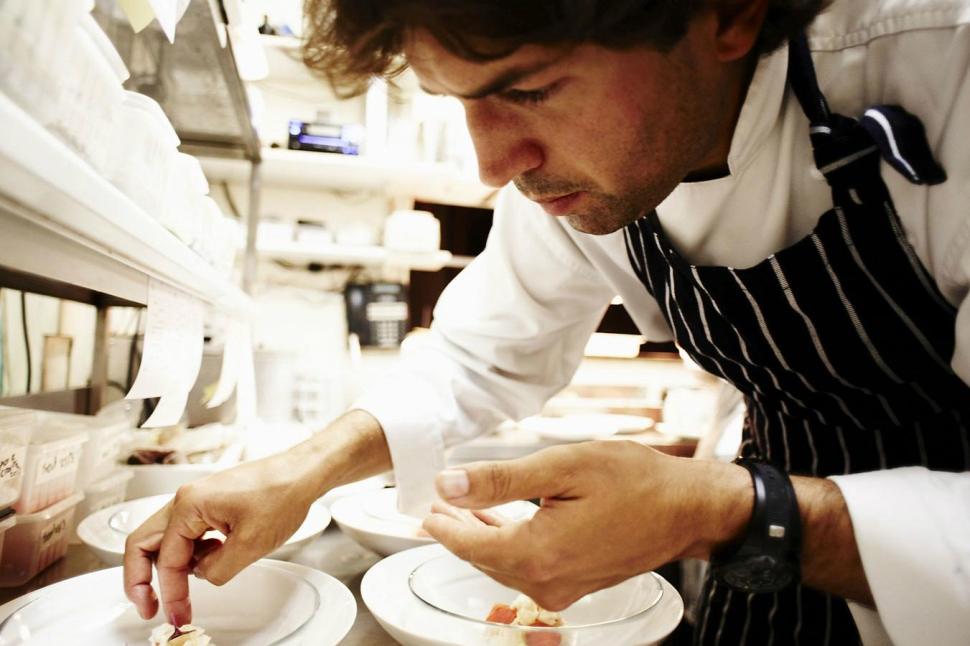 Ben Shewry is the award-winning chef at Attica in Melbourne, ranked No. 32 on the World's 50 Best Restaurants list.
Forged by quietly spoken genius Ben Shewry, Attica has been an inspiration for those who innovate native ingredients with modern food techniques. Shewry was raised on New Zealand farms, where he cultivated a passion for cooking from an early age.
"I was 5 years old when I decided to be a chef, which is unusual growing up in New Zealand in 1982. There weren't a lot of chefs on television or cookbooks around," Ben says. "We were living in a very isolated area and I can't point to anything that really inspired me, other than my grandmother and mother, who were keen cooks."
After moving to Australia, Ben took on Attica in humble suburban Melbourne with a plan to not go broke.
"At age 27, there was a turning point when we had our first child, Kobe. The needs of my family required me to take a head chef position. So I responded to an advert in the newspaper for a head chef position at Attica. Ten years later, I'm now the sole owner of Attica. And it's been a hell of a journey," Ben says.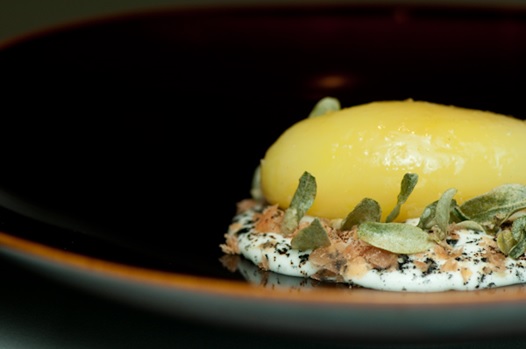 Attica is known for such dishes as Potato Cooked in the Earth it Has Grown. / Courtesy of starchefs.com
Through "brutal hard work" and with such famous dishes as "Potato Cooked in The Earth It Has Grown," Attica made a meteoric rise. Attica debuted at No. 21 the World's 50 Best Restaurants list in 2012, and was the only Australian restaurant in the top 50, before dipping slightly last year to No. 32.
When he first heard the news Attica had been named among the World's 50 Best Restaurants, Ben said "it basically came out of the blue. I was blown away and it reduced me to tears. We were working so hard, but I didn't think anyone really knew about us."
"I was OK when I got the letter," Shewry continued. "But when I arrived at work to tell the staff, I just began to cry. I couldn't express to them how grateful I was for everything they'd done."
At his Chef's Table at Attica, the dishes are described with simple titles such as "Ox and Carrot." But you know a lot goes on preparing these simply described dishes. Unpretentious and unassuming undertones pervade at Attica while the brilliant food and fine service does the talking.
How does he turn native Australian ingredients into captivating cuisine?
"I found native ingredients fascinating, because they spoke about the land," Shewry said. "I was trying to find out what it meant to be a cook in Australia. Without the strong heritage that other countries enjoy and without that element of regional specialties many countries enjoy, how do you define our Australian cuisine? You start to cook with the native ingredients unique to Australia."
And it is his treatment of Australia's native ingredients that sets Attica apart.
"You need to go about it the right way and not force it," he said. "Just using native ingredients for the sake of using them is not good enough. The dishes have got to make sense in a delicious way. There needs to be education in the cooking, as native ingredients aren't the easiest to work with. You need to harness the uniqueness of them and that takes a lot of time. You can't just put them on a plate."
Shewry was possibly the first chef to discover the deliciousness of native saltbush.
"When I first began using it, I felt it wasn't automatically delicious. I found that by frying saltbush, it became delicious."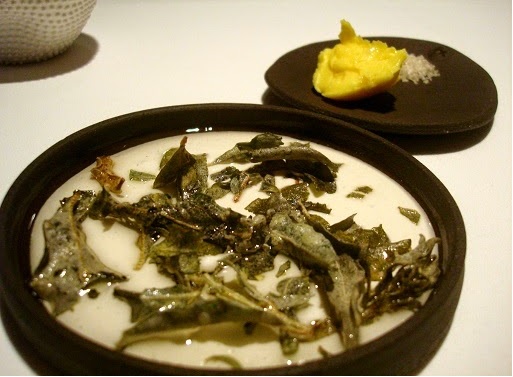 Bread arrives with Cold-Pressed Macadamia Oil and Fried Saltbush Leaves./ Courtesy of julianteoh.blogspot.com
Shewry describes his cooking philosophy as "the natural ingredient is the hero."
"You have to start with the best ingredients, but that's not enough. The chef has a strong role to play. If it was just a case of buying and assembling the best ingredients, then everybody would become a chef. You have to have some unique thinking or have some creativity. If we do something to an ingredient in the process, it has to taste better than before we started 'mucking around' with it. Otherwise, there's no point."
Shewry says he is often inspired by the cuisine of his childhood or eating simple things when he travelled, "like my first $1 taco in California and how incredible that mouthful was. I'm always reminding myself that it can be interesting and challenging at times. But overall, the sensation from the meal should be "it's really delicious."
Shewry had to overcome the fact that the use of native Australian ingredients at a top restaurant was not widely accepted at the time.
"I had seen what had been done and what had failed. I launched out with a new outlook on things," Shewry said. "I wanted to be my own person and not follow others. I was taught that from a very young age. It was like a natural thing for me to cook this way."
"At the start, there were probably people who didn't love the cooking. But we were resilient enough or stubborn enough to keep pushing. We were thinking one day the tide would turn, and people would believe in the restaurant and start to enjoy it. That took a while, longer than what we would have liked."
"But hey, I wouldn't change that part for anything in the world. If you've been through some hard times, then you can appreciate the good times."

A crew of 30 helps Attica's kitchens and dining room run smoothly. / TheWorldLovesMelbourne.com
We were taken to the Testing Kitchen by one of the chefs, Matthew, who said the team arrives early Tuesdays to hear Shewry's new ideas. The team then spends hours turning Shewry's imaginative dishes into reality. Ben sends them back to the chefs with corrections and additions until they are perfected.
The chefs have only a matter of hours before the Chef's Table dinner service begins to master dishes they've never cooked before. This process keeps the restaurant constantly evolving. From the Testing Kitchen and Chef's Table evenings, great dishes are forged that go on the main menu for service Wednesday through Saturday.
"Six years ago, Chef's Table was born out of a desire to progress faster with the development of our cuisine, throw caution to the wind and to offer guests more variety at a reasonable price," Shewry said.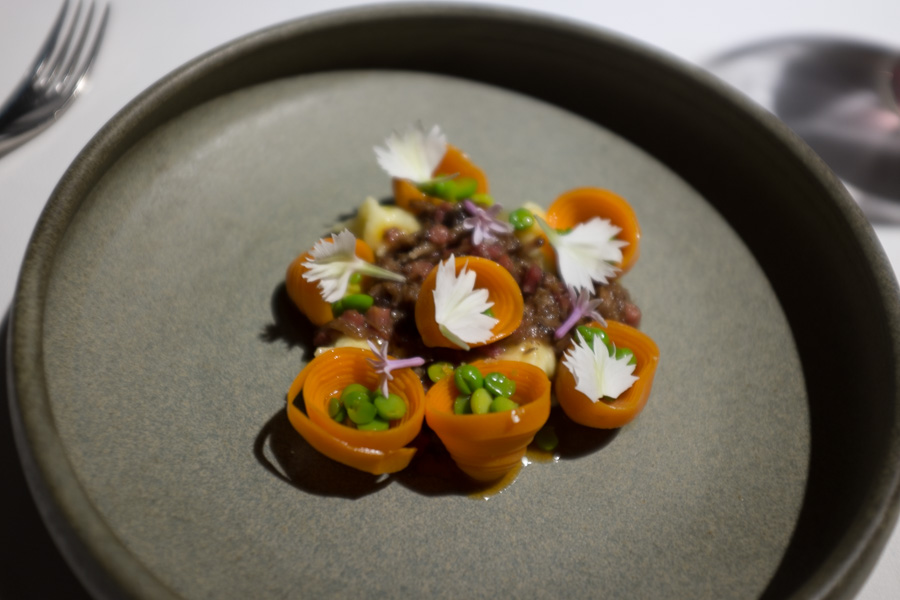 "Carrot and Ox" highlights carrots cut into fine strips and made into capsules with peas inside. Earthy flavoursome rich ox inside the carrot capsules turns it into a rustic dish. / TheWorldLovesMelbourne.com
Shewry says he is inspired by "all kinds of influences. I've always got an open mind to things. Lately I've been inspired by the band Yo La Tengo (American Indie rock). Creatively, they're remarkable. Yo La Tengo has been around for 30 years. I'm interested in how they keep their connection with their fans and how they perform live on stage. It's humbling to watch them live and see how powerful their performances are after all these years. Maybe even more powerful than ever.
"There's something to be learned there. At Attica, every night we need to 'get ourselves up' to 'perform' for our guests. I'm interested in how long you hold that passion. I'm still reasonably young," Shewry said. "How many years am I able to put my heart and soul into this?"
When asked who he would want to eat his last meal with and what he would eat, Shewry said he would share it with his greatest inspiration, his wife, Natalia, who also is involved in the business.
As for the meal, "Just give me a great hard cheese (say Comté) and some decent bread, because I can still have a conversation with someone. If it was my last meal, it would be very simple. And when I'm eating, I always want to talk a lot."
Like all top restaurants, dining at Attica is a full sensory experience. In a humble suburban location in Ripponlea away from the CBD, diners are greeted by an impeccably presented and experienced floor staff. The restaurant is like a theater with black stage curtains and spotlights that shine on the tables as if they were a stage.

Attica's muted decor allows Ben Shewry's food to shine. / TheWorldLovesMelbourne.com
Under the glare of the world's spotlight and the daily pressure to live up to its reputation, Shewry says it's a "great challenge" to run one of the World's Top 50 Restaurants with three small children at home.
"Finding the balance between being a good father and being a good chef, mentor and business owner is not an easy thing. If I'm being completely honest, I've given a lot more to my restaurant than I have to my family in the past.
"But I make the most of the small amount of time I do have with my family. I make them count. I don't take those times for granted. We don't just sit and watch TV. We actually do something. I try to give my children some of the amazing experiences that I had as a child.
"I'm conscious of the fact that your kids are only young once. As chefs, you can feel a lot of guilt with what you're doing. Sometimes you feel it's a selfish thing to work the long hours and have the single-minded commitment required.
"But there is something powerful in saying to your children, 'You should chase your dreams' and then modeling that. I could be doing a job with a lot less hours, but hate it and be a miserable father. Even though I'm not there as much as I'd like to be, at least I'm a passionate dad. Overwhelmingly, the experience is that it's all worth it."
When he's not at Attica, Shewry says he usually eats at home. When he does go out, he says his favorite place to eat at a refined level is Brae. I had a great meal recently at Flower Drum, and another at Lee Ho Fook.
"In terms of casual places, I just like to dine in somewhere like Footscray and eat Chinese or Vietnamese food. Sometimes I feel like a great hamburger and I enjoy going to Tuckshop Takeaway. My chances to eat out are few and far between."
Shewry says he wishes more young chefs, staff, sommeliers and waiters would take the opportunity own their own restaurants.
"It feels like there's been a decline in that in the last 10 to 15 years. And it makes me a little sad. Melbourne's restaurant scene would be more vibrant if more hospitality people owned restaurants."
He is excited about the imminent renovation of Attica's kitchen into an open-kitchen experience, adding to the restaurant's theatrical atmosphere, and says he just wants to keep evolving and trying new things.
"The biggest challenge for us is to continue to find new and quality ingredients and to find new farmers in a country as vast as Australia is."

Attica wants its customers to "forget the worries of the world." / Courtesy of http://attica.com.au
So what makes an evening at Attica a sublime experience?
"For the staff and myself, we try to make Attica more than just a business. We want it to be a community. We try to connect with people who come to Attica.
"If you're a guest and you've had a tough day, maybe an argument with your partner, or say your boss is giving you a hard time, then come to Attica for three or four hours and we can help you forget the worries of the world.
"We try to treat people with the utmost respect. We don't take people coming here to Attica for granted. I think we're sincere about what we do and we try to tell a story through the cooking."
Meet the author