10 Essential Eats in Rio de Janeiro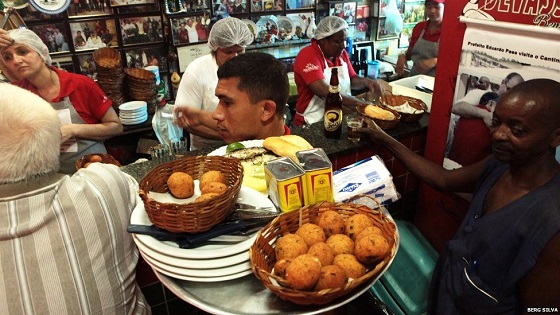 Courtesy of Berg Silva, bbc.com/news
There have always been great reasons to visit Rio de Janeiro: the beautiful beaches and mountains, the joyous mayhem of carnival and perhaps more than anything else, the warm, friendly people with their rich culture of music and dance. 2014 brought one more reason – the FIFA World Cup – and as expected, people have been coming from all over the world to get involved in what has turned out to be one of the most successful tournaments in decades.
One thing that has not been traditionally associated with Rio is the food. Unlike other destinations around the world, visitors arrive in Brazil's former capital with little or no clue about the dishes that await them. Sadly, this means many visitors are fobbed off with lackluster dishes prepared without the care and love for food that is required to make a great dish. Yet Rio is home to a whole host of delicious and unique dishes waiting to be discovered. With Portuguese, African and indigenous influences, Rio hides culinary treasures for those who know where to look. Here are some of the best dishes to eat when in Rio.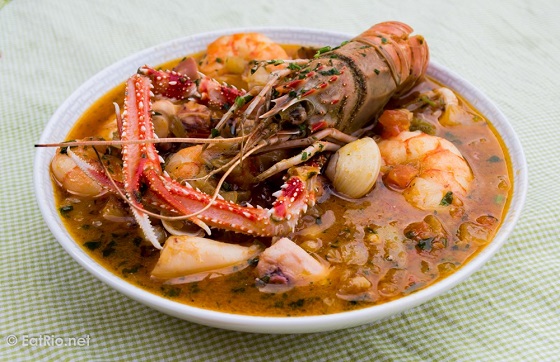 Sopa Leao Veloso @ Sobrenatural / Courtesy of Eat Rio
This thick, rich seafood stew dish was created by and named after Pedro Leão Veloso, a Brazilian politician and diplomat who served as Brazil's Minister for Exterior Relations between 1944 and 1945. After visiting France and developing a love of bouillabaisse, Leão Veloso created his own version of the dish with ingredients that could be easily found back home in Brazil. He used Brazilian native urucum (annatto) in place of saffron to give his dish color and introduced a touch of cilantro and malagueta, a chili pepper native to Brazil. The end result is a gorgeously rich and tangy stew, stuffed full of white fish, shrimp, crab, lobster, octopus, mussels and clams. You can find this tasty dish at rustic seafood restaurant Sobrenatural in the bohemian neighbourhood of Santa Teresa.

Caldo de Mocotó @ Caldos e Sopas / Courtesy of Eat Rio
Another of Brazil's dishes that reflects the nation's Portuguese past, this is a rich, velvety calf's foot soup. Though perhaps more suited to chilly European winters, this soup is enjoyed year round in the heat of Brazil. There are many variations, but most recipes include potatoes, carrots and tomatoes, with cloves and bay leaves to round out the seasoning. But it is the calf's foot itself that gives this dish its rich, restorative effect, making it a popular end-of-night snack in Rio's most traditional bars.
Caldo de Mocotó is served on weekdays from 5 to 11 p.m. at the Caldos e Sopas street stand in Rio's Botafogo neighbourhood. Fronted by Carlos and his wife, Sônia, Caldos e Sopas has become a favorite purveyor of after-work snacks for office workers in this busy region of Rio.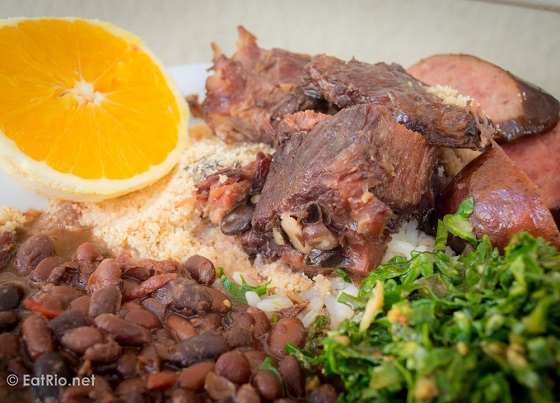 Feijoada Completa @ Bar Mineiro / Courtesy of Eat Rio
This rich, heavy stew of black beans, pork and carne seca (sun-dried beef) is the closest thing Brazil has to a national dish. A commonly held myth in Brazil is that feijoada was invented by slaves in the sugar plantations. The story goes that the Brazilian slave owners would keep the prime cuts of pork for themselves and give the "offcuts" (tail, ears and feet) to the slaves, who would cook them up with cheap and plentiful beans. The less-romantic truth is that this dish hails from Portugal and can be traced to such classic European stews as Southern France's beloved cassoulet.
Traditionally eaten on Saturdays, feijoada is served with couve (collard greens), farofa (buttery toasted manioc flour) and slices of orange to cut through the richness of the main stew. There is plenty of competition for Rio's best feijoada – but one of the best is served on weekends and holidays at Bar do Mineiro. Bar do Mineiro was opened in 1992 and quickly became one of the essential stops for anyone visiting Rio's charming Santa Teresa neighbourhood.

Baião de dois @ Severyna de Laranjeiras / Courtesy of Eat Rio
Baião de dois is named after a "dance for two," popular in the Northeastern states of Brazil. The two main partners in this culinary dance are rice and beans, but they are joined by a crowd of extras such as paio (traditional pork sausage), carne seca (sun-dried beef), queijo coalho (a Brazilian cheese much like halloumi), chunks of crispy bacon and plenty of manteiga da garrafa (clarified butter) drizzled on top. As one of northeast Brazil's most popular and delicious dishes, Baião de dois can be found almost anywhere you find a family from the Northeast. In Rio, your best bet is Severyna, a traditional Northeastern restaurant on a nondescript side street in a sleepy corner of Laranjeiras.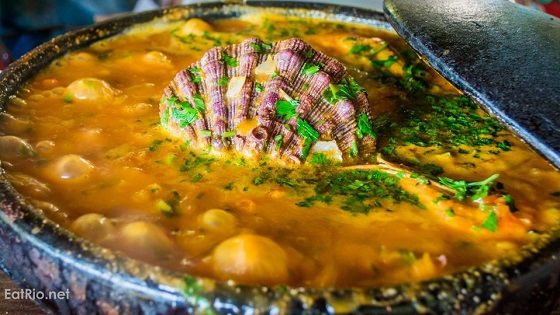 Moqueca Baiana @ Bira / Courtesy of Eat Rio
Moqueca is a rich seafood stew popular in several of Brazil's states. Probably the most famous and most delicious is the Moqueca Baiana, which originates from the northeastern state of Bahia. Any combination of white fish, shrimp, lobster and other shellfish are cooked in a rich broth of coconut milk, bell peppers, dendê (palm oil) and cilantro. The most spectacular moqueca in Rio is served in one of Rio's most spectacular locations: perched atop a seaside cliff on the far western outskirts of the city. Bira de Guaratiba was placed in Newsweek's list of 101 Best Places to Eat around the World. Owner and chef Ubiratan de Souza Leal, Bira for short, serves up this delicious dish made with fish he buys locally and ingredients he grows in his gardens.

Acarajé @ Uruguaiana Metro station / Courtesy of Eat Rio
When slaves were taken from West Africa to Northeastern Brazil, they brought with them their language, their religion and their culinary traditions. Many of these links still exist today and acarajé is a prime example. These fritters made from black-eyed peas are sold on the streets of Brazil and Nigeria (although in Nigeria they are called akara). The fritter (not unlike a falafel in texture) is cut open and filled with vatapá (a paste made from salted shrimps, peanuts, coconut milk, ginger and palm oil), caruru (a mix of okra, onion and ginger), salted shrimps and a devilishly spicy hot sauce. Pick up your acarajé from the stall outside Uruguaiana metro station from midday on weekdays.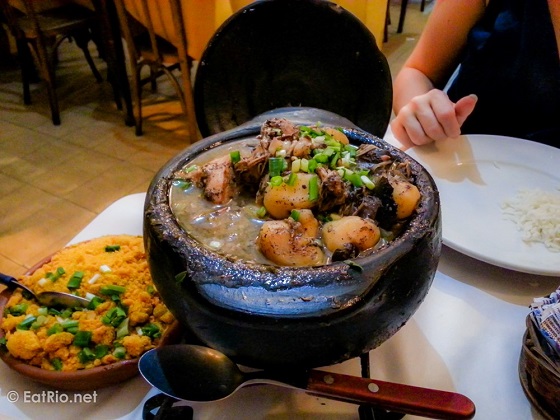 Galinha Cabidela @ Bar do Arnaudo / Courtesy of Eat Rio
Galinha Cabidela (also known as Galinha ao Molho Pardo) is another dish that came across the Atlantic with the Portuguese and made its home in the northeast of Brazil. It also is a dish that looks a lot better on the plate than it does on paper. The blood from a freshly slaughtered chicken is mixed with vinegar to prevent coagulation and then incorporated into this rich, delicious stew of chicken, bell peppers, tomatoes and garlic. The recipe at Bar do Arnaudo in Santa Teresa also includes velvety chunks of perfectly cooked potatoes, all served up in a traditional clay cauldron.

Tapioca @ Ponte de Tapioca / Courtesy of Eat Rio
Tapioca (pronounced 'Tappy-OCK-a' in Portuguese) is one of Brazil's great street-food snacks. Starch extracted from the mandioca root (AKA manioc, yuca, cassava) is dampened with water until chalky lumps form. These lumps are pushed through a sieve and the resulting powder is cooked in a dry pan. The heat makes the slightly damp particles fuse to form a thick and slightly chewy pancake or tortilla. At this stage, the tapioca has a fairly neutral flavour, making it an ideal carrier for sweet or savory toppings. In the sweet corner, try coco com leite condensado (grated coconut with sweetened condensed milk). If you prefer savory toppings, try queijo com oregano (cheese with oregano – pictured) or go all-out for carne de sol com cebola e manteiga da garrafa (shredded sun-dried beef with onions and clarified butter). Pick up your choice of tapioca at Ponte de Tapioca, a stall at the wonderful Feira da Glória street market, which runs every Sunday.

Pastel @ Boteco D.O.C / Courtesy of Eat Rio
Another street-market snack beloved of Brazilians, the pastel (plural: pasteis) is a deep-fried pastry parcel surrounding a savory filling. Researchers believe this popular snack was introduced to Brazil by an influx of Japanese immigrants who came to São Paulo in the 1940s (today, São Paulo is home to the largest Japanese community outside of Japan). The most popular fillings are cheese, shrimp, minced beef or sun-dried beef, but in recent times there has been a surge in bars and restaurants diversifying and experimenting with new and more sophisticated flavor combinations. A dash of cachaca (Brazil's national spirit made from sugarcane juice) is added to the dough to give the finished pastry a crispy, bubbly texture.
Possibly the most delicious pasteis in Rio can be found at Boteco D.O.C. in the neighborhood of Laranjeiras. The pasteis at D.O.C. are smaller than the traditional versions served in street markets, which is a bonus as it means you will have room to enjoy both fillings: cheese with onion confit and thyme honey, and slow-cooked beef bourguignon.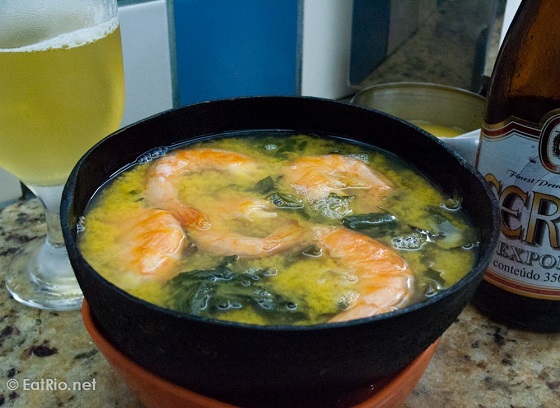 Tacaca Soup @ Tacaca do Norte / Courtesy of Eat Rio
This bizarre soup comes direct from the Pará, in the Amazonian region of Brazil, and is comprised of four main ingredients:
Tucupí: "Mandioca Brava" is a form of cassava, which contains dangerous levels of cyanide. Somehow, indigenous people of the Amazon found a way to process this vegetable to eliminate the poison and the end result is a bright yellow, tangy liquid that forms the base of the soup.
Camarão seco: Dried shrimps give the soup an extra salty kick.
Jambu: This flowering herb is native to the Amazon and, once added to the soup, resembles watercress or spinach. The herb has a marked anaesthetic effect, which is accentuated by the acid of the tucupí and leaves the tongue and lips tingling or even a little numb.
Goma de mandioca: Tapioca starch is mixed with water to form a somewhat alarming colorless gloop. With only a subtle flavour, this ingredient is optional and mainly added to make the finished dish more filling.
This salty, tangy soup has something in common with some Thai soup dishes, but the sensation from the jambu is like nothing else. The best place to pick up a bowl of this Amazonian delicacy is Tacacá do Norte, in the neighborhood of Flamengo.
More on Rio's Essential Eats
Recommended features by ExtremeFoodies
Meet the author